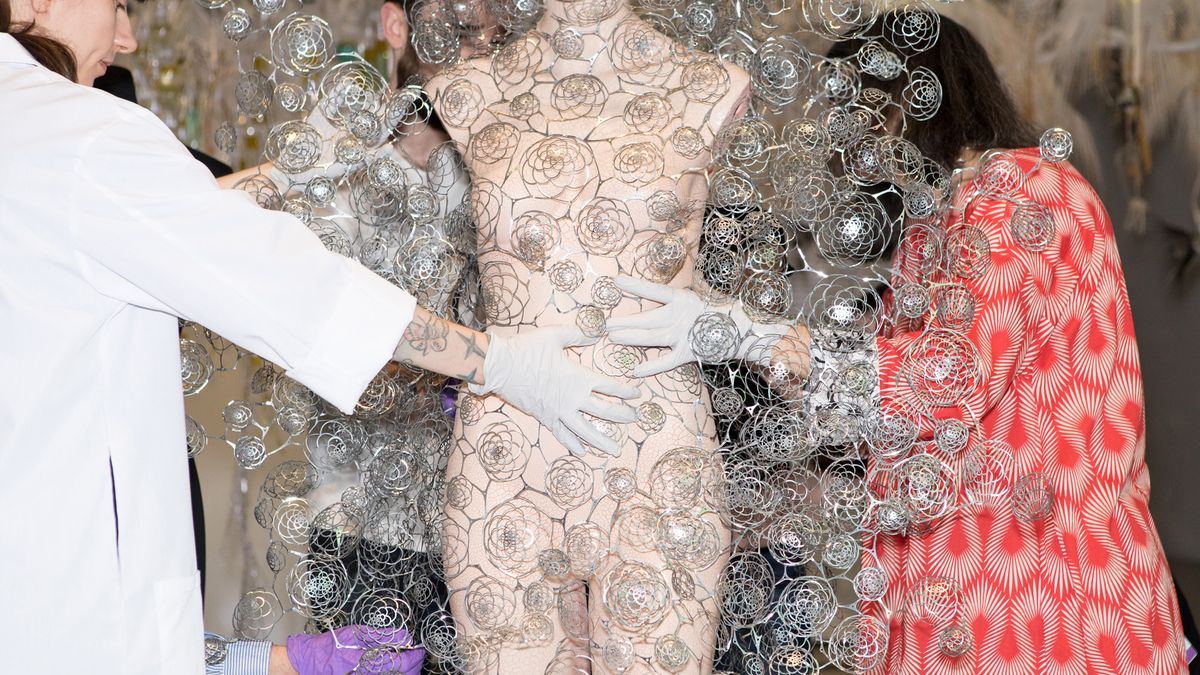 Designers
Van Herpen's work has long utilized technology to do the unimaginable, so what's next?
Nathan Legiehn
Fabricated steel thread so delicate and pliant it billows into a cloud like new-age crinoline; laser-cut floral domes fused together into a womanly form and beyond to mimic atoms of air, if they were visible to the naked eye; a nude-colored, handcrafted-from-Dragon-Skin-silicone (a skin-mimicking material often used for movie prosthetics) feather dress that's so wild you'd think it could fly out of the exhibit at any moment. These are the experiments and chefs d
'
oeuvre created in the atelier of Dutch couturier
Iris van Herpen
.
Van Herpen's works of art (because truly, that's what they are—to call her a designer would be a misnomer) are on the last leg of their two-year-long North American tour. Now 54 one-of-a-kind pieces from 15 collections spanning 2008 to 2015 stand in Toronto's
Royal Ontario Museum
, adequately displayed under the Daniel Libeskind-designed jagged crystal facade of the museum (its angles almost mirror van Herpen
's
mirror dress—get it?). One special piece, which was acquired into the private collection of the ROM, sits below van Herpen's longtime friend 
Philip Beesley
's Artificial Intelligence-infused piece of work, which captures the essence of a living organism through architecture. Let's just say, you have to see it to believe it.
I sat down with van Herpen—
I first met her in 2015
for the inaugural showing of Iris van Herpen: Transforming Fashion at the High Museum of Art in Atlanta—to talk new technologies she's fascinated by, the future in sustainable fashion, and her nontraditional creative process.
---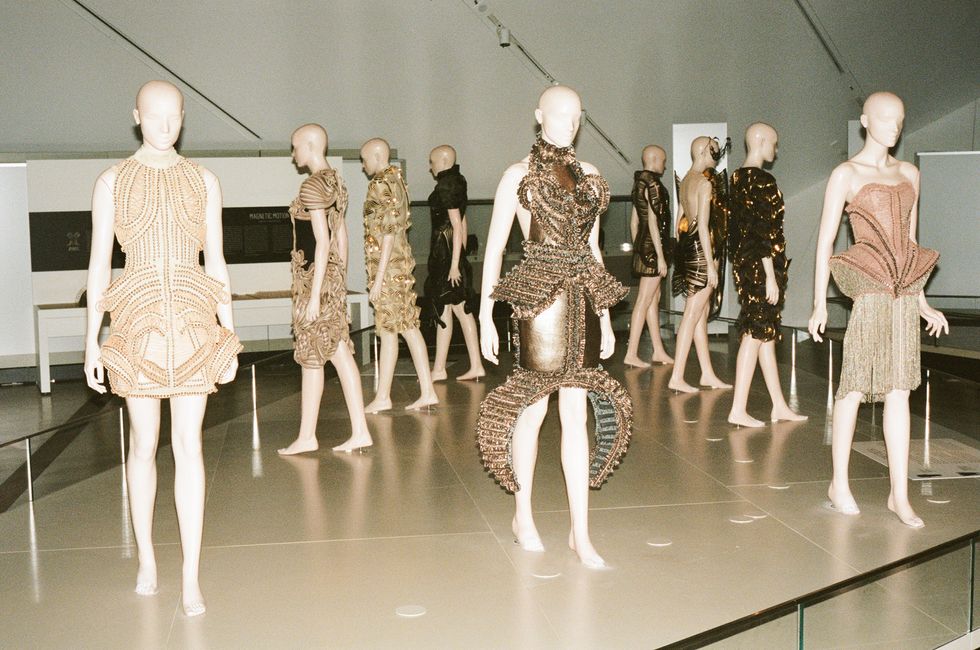 On collaborating with Canadian architect Philip Beesley:

"We met in 2012. I felt very inspired by his work, and he came to Amsterdam to see the studio. We found many ideas and wishes we would like to develop in both fashion and architecture. We started working on the Voltage collection, and since then Philip has been helping with development of materials and textiles on many collections. It was a very natural process, and the studios really inspire each other.

"Sometimes I come to [Toronto] with some members of my team, and sometimes [his team] comes to be [in Amsterdam]. A lot of emails, a lot of Skype, and Philip always comes to Paris to the shows. Then we had the solo tour traveling, and the ROM was very interested. Philip is Canadian and from Toronto, so it just made sense to really combine [our work] visually—we've never done that before."

The questions that fuel her creative process:

"The one sort of unknown factor that I'm always looking for is the space around me. I think that started when I was a dancer—that has always been a fascination for me. What's the relationship between my inside and my outside? And how does the body turn around the space around her? Also the idea of femininity—what that is and how the definition has changed throughout time and what it will be in our future. How some materials that we will never be able to work with can still be transformed conceptually into the work. To give an example, my studio is by the water, and I think water is one of the most beautiful materials there are. I mean, a real water dress, I will never—maybe? never say never—I will probably not be able to make [one], but those materials that are uncatchable are really inspiring. To me, the more impossible it seems, the better the challenge."


The technology she is most fascinated by:

"I cannot talk about the upcoming collection, but not in my own work, but for example, in this sculpture [referring to Beesley's work], I think it is super beautiful in the way it combines techniques. Artificial intelligence is in there. I think the whole idea of combining the digital and the materiality of today is just fascinating."

Her nontraditional creative process:

"I don't sketch, so everything I design is an image I have in my mind that I translate to the people I work with or I do directly on the mannequin. It's a quite intuitive process—I really look at the material, I start draping, I have no idea about the outcome. It's completely uncontrollable. Sometimes it's literally done in half an hour, and sometimes it can take up to two weeks, so it can be really frustrating. The draping is sort of my sketch, then the whole process of the making begins. That is done with my team, and each dress has a difference process. But mostly we start making a plan—usually it's a combination between some digital work and hand work."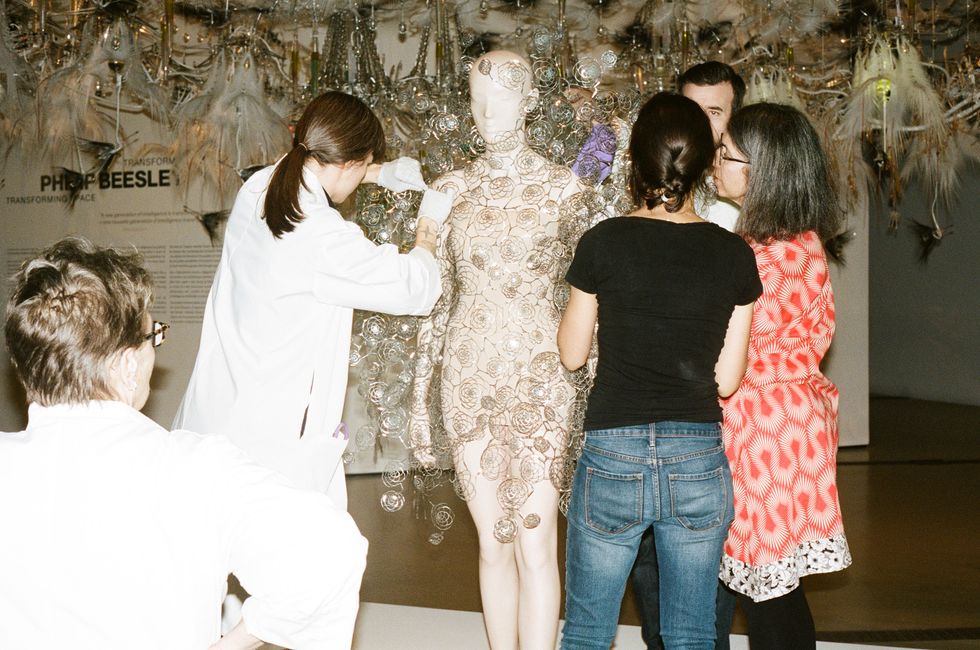 Her collection doesn't start with one idea:

"It's several at once. There are always some ideas that work out and some that don't work out. It's quite a process of chaos."

What she's learned over the past decade:

"[With] this exhibition there is a really nice overview [of my work] throughout the years, and to me, every piece has so many memories. In a way the work really reflects me. Sometimes I even think the reason I'm doing this [exhibit] is to get to know myself. Not so much the other way around—it's really a learning process of learning who I am and where my future will be. It's really like a diary.

"One thing I definitely learned is how to create my own freedom. Freedom in general is a concept, if we are free or not, but I think my work really creates freedom in my life. It really taught me what is of value in my life. In the beginning, I would jump from one collection to another and would feel very different each time, but when I look back there's so much continuity in it that I think it's really showing my learning process as well."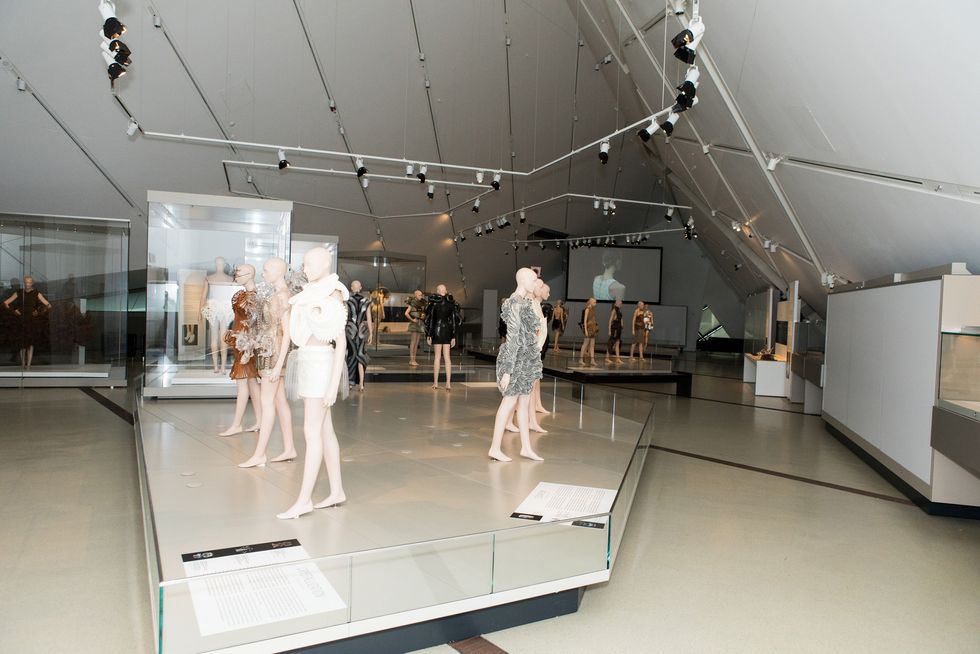 How her process has changed over the years:
"In the beginning I tried to get full control in my own discipline—like in fashion, I wanted to know all the techniques and do them really well. I was at a point where I had the skills with the handwork and the materials and textiles. If I had a textile in my mind, I could sort of make it in 3-D, I really didn't know where the challenge was. Then I started finding inspiration in architecture and science, and there is so much to discover. I think each collection now is really a discovery into a new world. I really think fashion will open up more and more into having a dialogue with other disciplines to really share knowledge."
How technology plays into sustainability:
"It depends on us people. Technology is just a tool, and you can do anything with it. You can make the whole system more sustainable, but you can also do the opposite. That's a projection I cannot have for our future—it will really depend on a lot of minds coming together to make that decision. At least on a small scale, I see a lot of designers—especially the new generation—very focused on sustainability and changing that way of making, and the materials that they use. It's also an important process in my own work. I work a lot with universities and other institutes to develop materials in that area. The big mass production just can't change that quickly—so I have no idea what will happen there."
Want more stories like this?

Louis Vuitton Showed Resort 2019 on the French Riviera and We Were There
Mary Katrantzou on Sustainable Fashion, Branching out of RTW, & the Most Ambitious Dress She

'

s Ever Made
Hollywood

'

s Most Powerful Stylist Shows Us How to Wear a White Tee