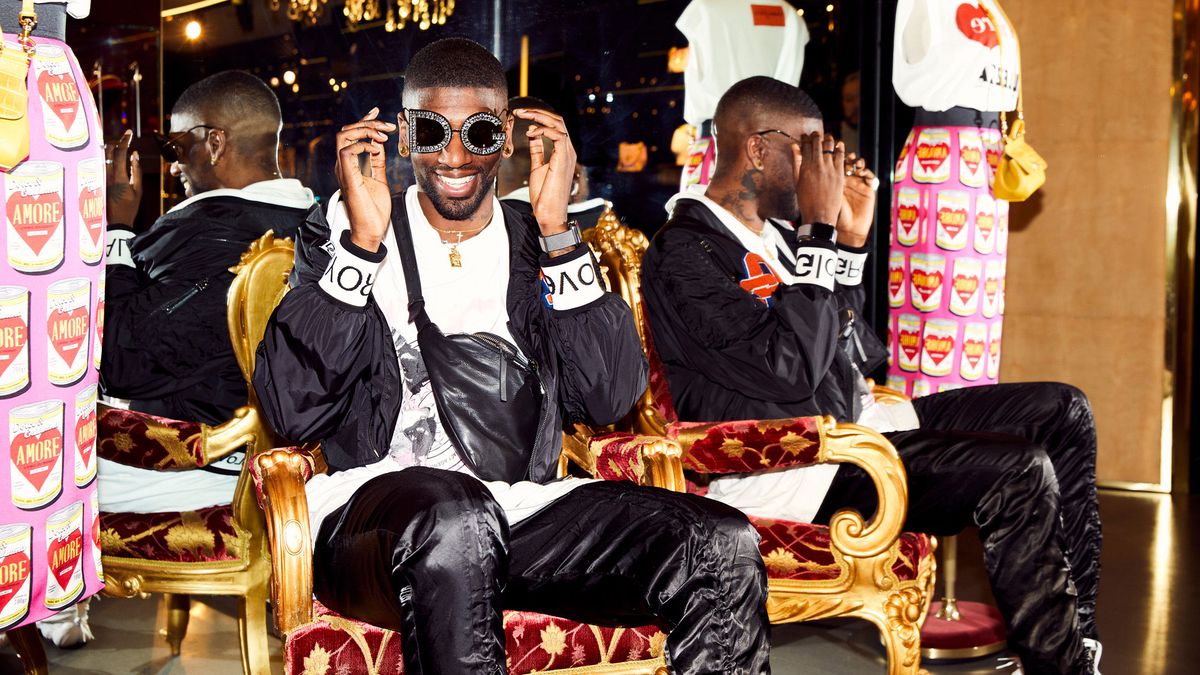 Career
The same stylist who DM's with Rihanna, styles Bella Hadid on the regular, and has a fashion collection on the way.
Tristan Kallas
Rihanna's March 2017 Paper magazine shoot (you know, the one where she's in a bodega, has spiked green hair, and is wearing *that* Dior bra?) will go down in history as the GOAT. As will Bella Hadid's December 2016 immortal-esque shoot with the same publication. Farren "Fucci" Jean Andrea, the stylist behind both, is someone we're betting will do the same. Not only did his styling career blossom after he found himself DMing Rihanna (she'd had his eye on his Polyvore lookbooks for a minute, and he began to send her clothing that he had posted), but he's hit the ground running ever since, styling everyone from Jhené Aiko, Saweetie, and Bella Hadid. He's also walked in multiple Dolce & Gabbana shows and is now working on designing his own capsule collection with H&M's latest brand, /Nyden.
When we met up with Jean Andrea (a West Coast native) in sunny downtown L.A., he was fully immersed in a meeting for said collection. Patterns and swatches took over the conference room table in /Nyden's headquarters, and as we wrapped up, piled into an elevator, and rode down to valet parking, the creative excitedly told us how much he is looking forward to the launch. Jean Andrea's high energy and positive vibes kept up all day as we ran around Dolce & Gabbana on Rodeo—pulling his favorite looks—and danced around the changing rooms and staircases, trying on different sunglasses and jackets (work hard, play hard, right?).
After that it was up Rodeo to Kreation Juice to meet with recording artist Jojo. The two chatted business and sipped on CBD water as we snapped a few photos and then were on our way. Check out how else Jean Andrea spends his days shaking up the fashion industry, below.
---
7:00 AM: RISE & SHINE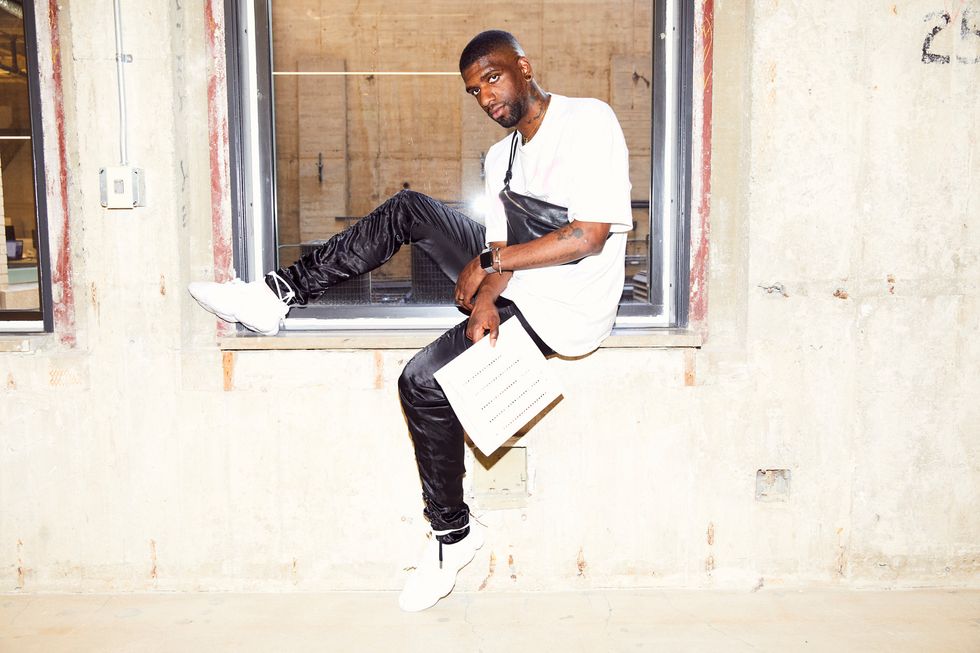 "I wake up, I brush my teeth, wash my face—I always use vitamin E oil and jojoba oil for my hair, face, and my body. I do push-ups, squats, and leg-ups, and then I start my day. I start checking and responding to emails. My clothing line [that's coming out] is on my mind 24/7. It's 'How can I make this better?' and then, 'OK, once it comes out, [what] is my marketing strategy going to be?' That's pretty much what I do—think of ways to make money. From the moment I wake up to when I fall asleep. Make money while being my own boss at the same time."
11:00 AM: MEETING WITH /NYDEN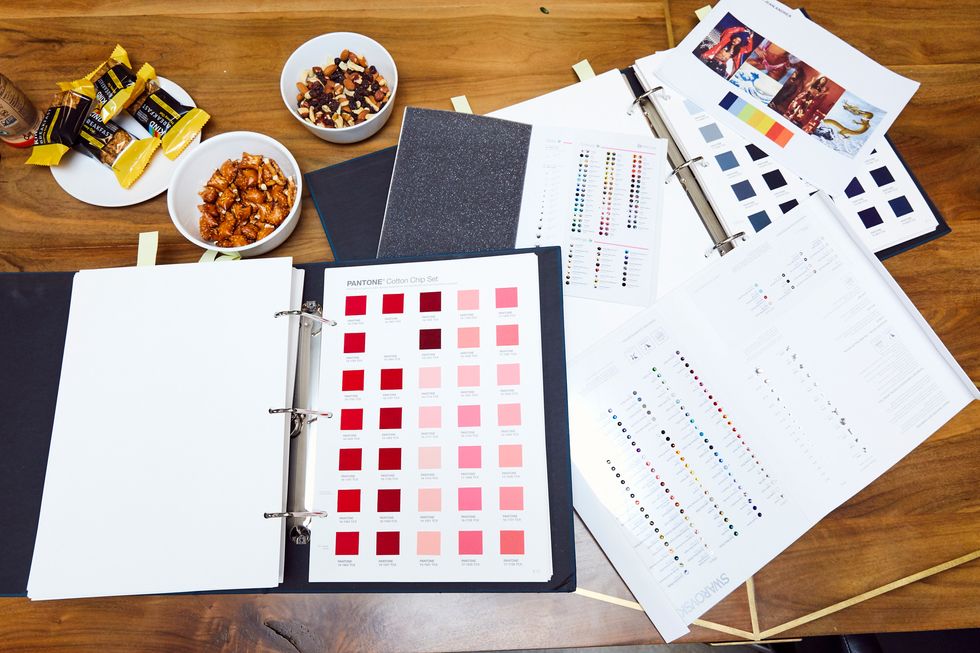 "Originally, [I was asked] be an ambassador for another brand, but then when it came to talking I decided to shoot my shot and [told them] that I had just started designing and collaborating, and that the thing about me is that I'm associates with pretty much every girl in the industry that is either coming up or 'it,' and if I did a womenswear line it would be easy to get it to these girls.
"I turned to anime, like Cowboy Bebop, Avatar, The Last Airbender. A lot of anime that are very much female-lead-driven. They usually know how to dress women in animes because in Japan they don't play with their fashion [laughs].
"[The design process] has been streamlined because they were so impressed by my ideas. It was supposed to be a year, but we split the time in half. I've only been working on it for [almost three months] now, but we're heavy into it. We want to release it soon."
2:00 PM: PULL UP AT DOLCE & GABBANA ON RODEO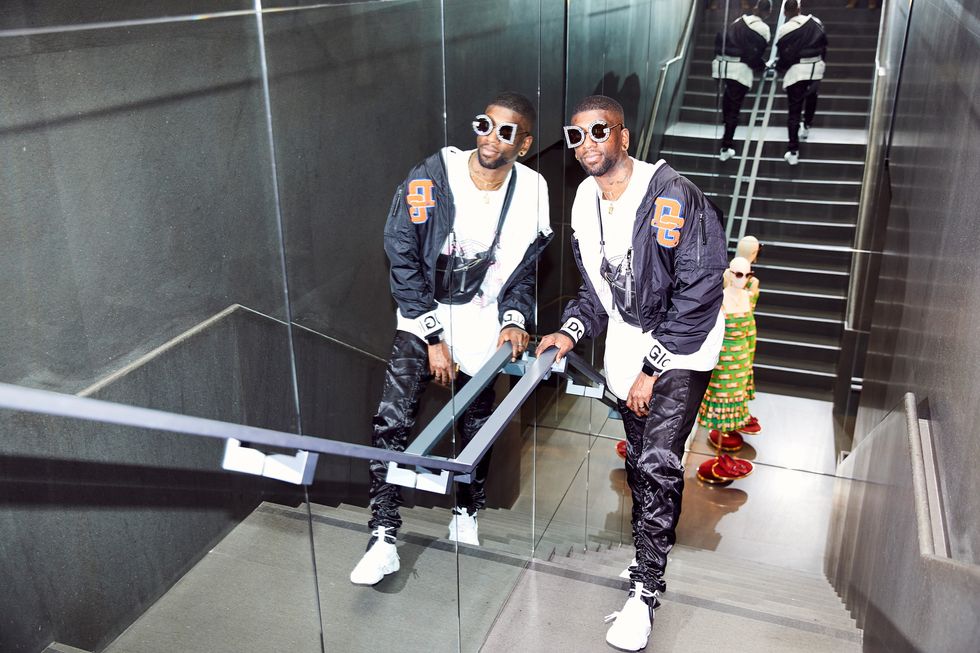 "I've been working with [D&G], I want to say, since March of 2017. I started off with two editorial campaigns for them, I built a good rapport with everything that I was shooting with, and then after that I told them [I had some other ideas]. That's when I started helping with cash things and getting them influencers. I'm the one that got them with Diddy's son [Christian Combs] and Cordell Broadus. I've been doing a lot of mingling with influencers and other people they can collaborate with."
2:30 PM: LET THE PULLING BEGIN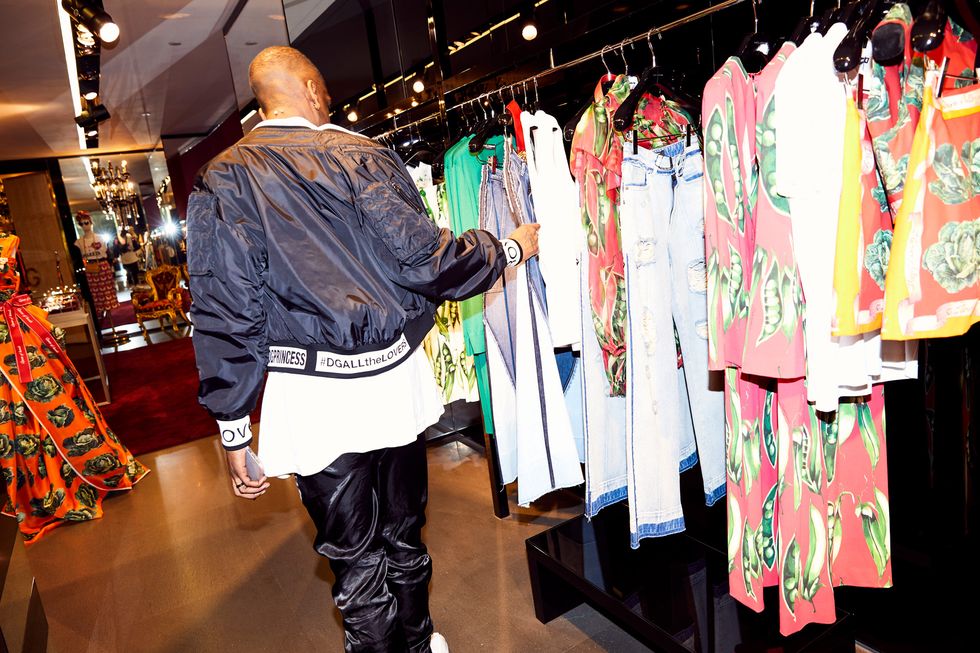 "My process for pulling for a client is typically [this]—talk to them about what they want, get them to be as visually helpful as possible. A lot of times my clients just want me to do whatever—it really depends. The most tedious part is packing everything up and returning it, but honestly, it really isn't that hard. Now that I have an assistant and I'm working with a team, it's a little bit easier. Of course with more time and more team people coming on, it'll be like clockwork.
"I like when D&G does sexy. It's very much for a rich woman with a cigarette extender. Very timeless. Even the high-waisted bikini and bra [set] with the leopard robe. That's very, very opulent and luxurious [laughs]. That's what I get from them."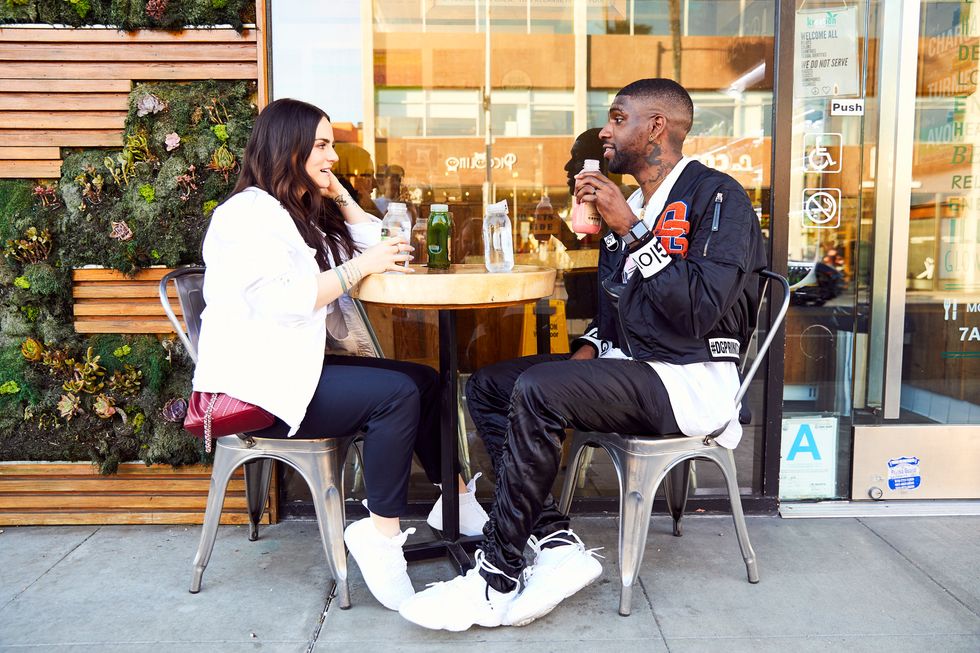 "Normally [my meetings are] at a restaurant. Not only do I have taste in clothes, but I have taste in food, too. Taste all around [laughs].
"This was my first time meeting with [Jojo] in person. She connected with me on Instagram, and we started talking there. Almost all my clients that are not through my agency [are from] them reaching out to me or me reaching out to them. That's how I got Bella [Hadid] for Paper; that's how I got Rihanna for Paper. Social media is changing the game.
"[Jojo and I] have some big things coming. I'm styling, but like I said, I'm trying to transition styling into bigger things.
"I think it's important [to meet with someone before working together]. There was a time I walked on set, had never met the person—that was the only time I ever did that, and I'll never do it again because I didn't really like that person. With me, if I don't feel comfortable, you're not going to like me. It's best to work with people that you mesh with because when you're styling or being artistic and creative, it's a collaboration. If you like the person that you're working with, it's going to be shown in the work that comes out.
"I'd rather work with people that I like. That's how I came into the industry. I'm sure there were a lot of other girls that I could have reached out to that weren't Rihanna or Bella, but I didn't want to inauthentically support someone. I supported two people that I really, really like outside of their work. I like Rihanna almost like my sister, even though she's not. The amount of respect I have for her rivals that of family members. Same with Bella. I think that's what helped me—it was a genuine relationship, not just something that was fabricated for a come-up."
6:00 PM: HEAD ON HOME