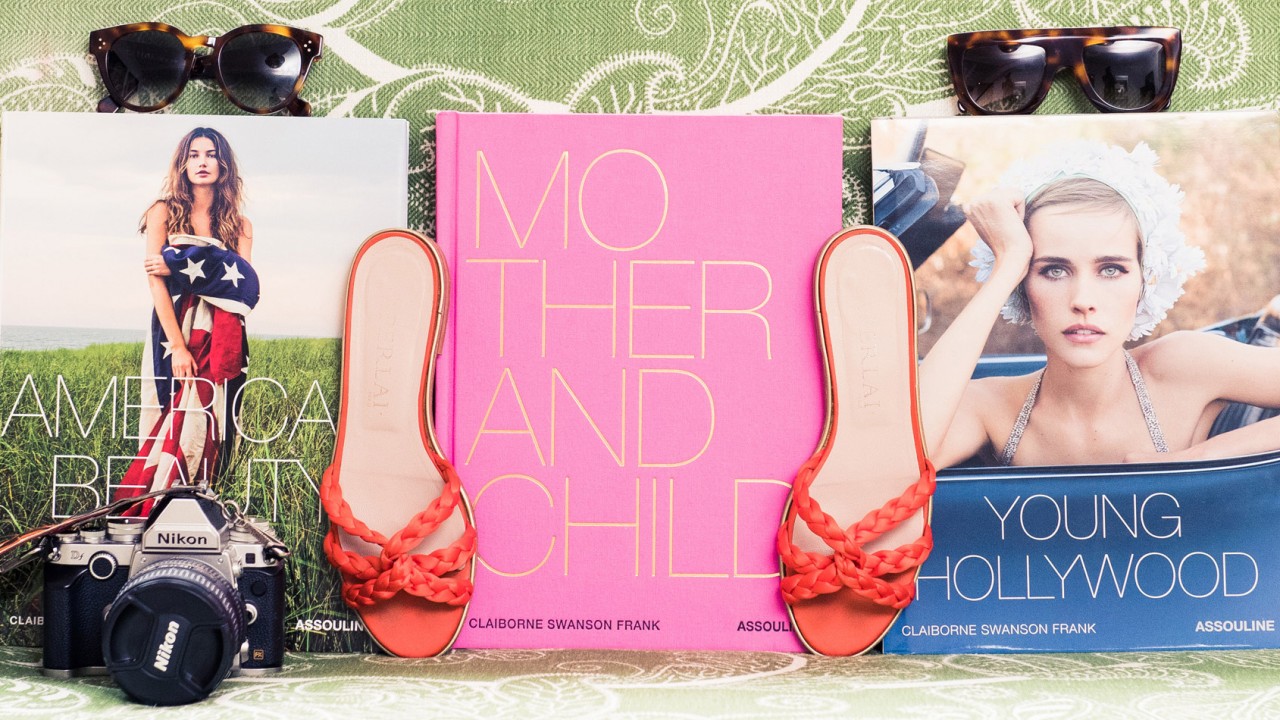 Meet the Insanely Stylish Photographer Behind Our New Favorite Coffee Table Book
Claiborne Swanson Frank on her newest book and some of her best beauty tricks.
The last time we caught up with photographer Claiborne Swanson Frank, she was living in L.A., and she had just released her second book, Young Hollywood. This spring, we visited the former Vogue staffer at her Upper East Side apartment in Manhattan (she had since made the move back to New York) to learn what we'd missed in the last four years. Namely, we learned, it's been a lot about motherhood. Now a mom of two, Swanson Frank is introducing the world to her third book with Assouline, Mother and Child (which she created in collaboration with Cle de Peau Beaute) just in time for, you guessed it, Mother's Day in two weeks.
"I needed to have my second child and sit in that classroom of motherhood to tell the story that I was hoping to tell you [with this book]," she says, while we look over the images of fellow moms like Carolina Herrera, Lauren Santo Domingo, and Aerin Lauder. "It seems like the most perfect time for this book and the celebration of women, of modern motherhood, and also of bringing love into the world." What hasn't changed in her life? Her impeccable taste. Dressed in plenty of Veronica Beard (aka her sister) and Carolina Herrera with a collection of color-blocked Herrera x Manolos and heirloom jewelry, Swanson Frank will always deserve a closet revisit. And in between spouts of smart, maternal relationship advice for us (please, we'll take all of it!), we asked about her favorite beauty products, her creative process, and, of course, being a mom.
You already have two iconic books; how did the third come about?
Through my pregnancy with my first child, Hunter, which absolutely blew my mind, I realized immediately that there was an amazing story to be told of motherhood. I called my publisher and said, 'I want to document women who are inspiring me within my world and celebrate modern motherhood.' At the same time I was scheduled to move back to New York City, and I ended up getting pregnant. All my past books I've jammed out in six months, but the timing [for this one] didn't feel right. I did not pick it back up until my son Wilder was six months old, and I felt deeply inspired to tell the story. I'd been so immersed in this newborn phase of my child and pregnancy, I felt really excited to create again. I shot almost 70 families—98 percent of the book from May to October of last year. I've been in contract for this book for four years. And as I started shooting, I realized why it had taken me so long. I needed those years of experiencing motherhood in order to tell the story. I feel like in all ways, it was meant to come out now.
Any funny stories from the photo shoots?
Every family is unique, so every shoot had its own story. Each was in such different locations. I shot this beautiful mother in the mountains of Calabasas on a 110-degree day. Last August, I arrived to a heatstroke in L.A. I was supposed to shoot mother and children all weekend in 110-degree weather—small children. I remember walking out with this beautiful mother—she was seven months pregnant with her child who has now been born. It was so hot that we literally had to go back into the car to sit in AC and then go back out five minutes later and shoot. I was so scared that she would have heat stroke and pass out on me in the middle of Calabasas or that her child would! It was just amazing the lengths that women and children and families would go to bring this book to life. The most beautiful shot came out of that day. It was this hard light and bright blue skies and this beautiful mother and these tall, tall grasses. She was there in the middle of nowhere holding her child in her belly, and this other baby was hanging on her, and it was magic. There were so many moments where I just felt honored to be holding the camera.
What are some things about motherhood that never occurred to you until you had children?
People say that when you have children, that there is no greater love than a love of mother and a child. And I heard that always, but until I became a mother I never understood what that meant. I think what has been so profound about my experience of motherhood and the experience of these women is how no one can ever prepare you for that love, and how overwhelming that love is, and how the ability that love has to take over your life, to take over every choice you make in your life, and to own your world. And I think knowing that feeling and living that feeling—the power of love between a mother and child—was beyond anything I could have ever imagined.
Does it make you a different person?
I don't think it's a different narrative. I don't think it's an intellectual process. I think it's a truly primitive, primal instinct that you access once you become a mother. That was always there. That was sleeping. I think with the birth of your child, there's almost this birth that's a part of yourself that you never knew but was always there. And I think that in many ways I was a child until I had my own children. I feel that my children have forced me to evolve as a human being and forced me to look at my life and my morals and values, and really look at who I want to be in the world. I think that also is the gift of motherhood is in the cultivation of self and the growing of one's self. It absolutely "grows you up."
And how has being a mom changed your beauty routine?
Oh my god, I was so much more narcissistic before children. Today, before you came I hadn't looked at myself all day, nor have I washed my face. Because I had been up with one baby, up with another baby, running around, planting orchids, cleaning, getting flowers... And I looked up, and I was like, "Oh my god. No. This can't be real." No joke. I threw myself into the shower. I did actually use the face mask, which I live for—the Cle de Peau face mask. The old me would have been doing a face mask the night before. Now I rely on serums and masks in a way I never did before because I don't have the time for the level of maintenance that I had when I was younger. You can have a photo shoot, and within an hour you can do a face mask and you look rested. I can't stress [enough] to mothers the power of a mask.
What about makeup?
I've worn the same makeup my whole life, since I was 15. I wear a really light foundation. I love a bronzer, always. I love a stained lip. [The shade I prefer] has gotten a little like more orange as I get older here. But it's like a bricky-red orange stain. And I'll do mascara. I don't change very much day to night. I'm really a creature of habit with my look to a fault. I feel like I should probably try [laughs].
Who do you go to in New York for treatments?
I love Julien Farel [for my hair]. I was on a photo shoot with him at Vanity Fair, and he turned me and was like, "You have a really bad haircut" [laughs]. This was three years ago. He didn't say it straight-up like that, but he said, "I love your hair. It's so beautiful. Why do you have such a bad haircut?" I started going to him since I moved back, and he turned me on to all his products. But he's the only person that cuts my hair, and he is the most lovely man. And he's a true artist.
I go to barre class at Exhale, and I go to yoga there. They also have a great facialist there as well. And then at times I go to Bergdorf for the Cle de Peau facial as well. Another thing that I love with facial massage, which I use, is Vintner's Daughter Oil. I think that that oil is one [of] the finest oils and truly impactful and makes meaningful change in your skin. And I've been wearing Dr. Haushka since I was 18. My mom always wore Dr. Haushka. I remember when I was 18 she turned to me and said, "I think it's really time that you start washing her face" [laughs].
Tell me about your mom.
Oh my god, my mom is magic. My mom is a true natural beauty. And definitely has inspired me and the way in which I see beauty. My mom was a photographer, so that's how I learned to shoot. To this day, I think, even as an adult and as a mother, the way in which she moves in the world, the way in which she greets people, the way in which she's present, the way in which she writes her thank-you notes, my mom is truly one of those women that radiates from the inside out. And everyone says that [laughs]. She's beautiful on the outside, but even far more beautiful inside. She just turned 74, and she has never had any work done to her face. She never drank; she never smoked; she never had coffee; and she never tanned. It's amazing to see how beautiful 74 can look. I think that's also really important that we all find role models to show us the art of aging and the art of what that looks like to age beautifully, and to lean into that. And for all of us to find peace and to find grace in aging. I think it's real. That's actually a really real conversation I'd like to explore in my further work.
Top photo: Sunglasses (right), Céline; Sunglasses (left), Céline; Sandals, Aperlai.
Want more stories like this?
We're Styling Our Apartments After This Chic SoHo Store
A Brazilian's Dream Closet Full of Silk Scarves and Vintage CHANEL
How to Make Your Home Look More Expensive