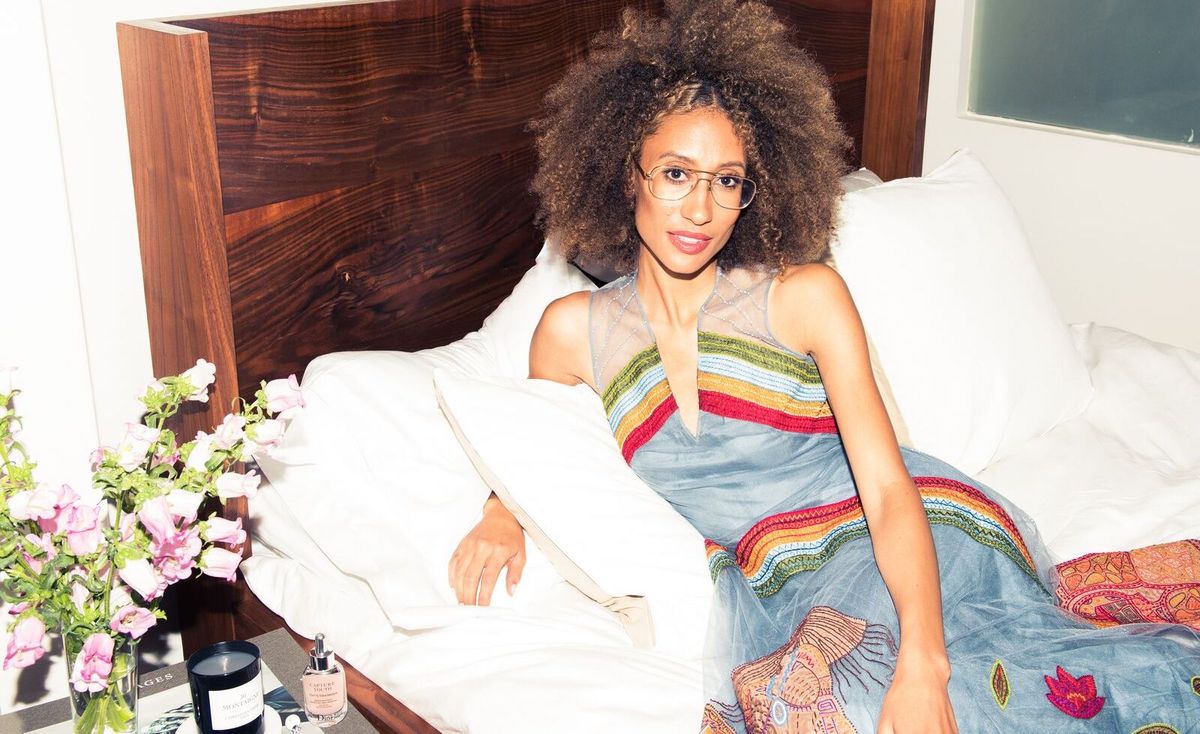 Skin
Aging may be all in your mind, but we'll take it with some really good skin care. In collaboration with Dior Beauty.
Stephanie Mark
Graphic Designer
Ashley Combs
Styling Assistant
Daniella Deutsch
You might not be able to pay us to revisit our early 20s, but we'd gladly take the glowy, taut skin that came with it. While turning 30 was once portrayed as the end of the world, culturally, we're beginning to see getting older as something to look forward to, even get excited about. But that hardly means there's anything wrong with wanting to keep the skin you had in your 20s. In a way, there's a real sweet spot in your late 20s and early-to-mid 30s. You've finally overcome some of the, ahem, trying moments that come with youth, but your skin still looks, well, bomb. So how do you keep it that way?
Elaine Welteroth, the 31-year-old Boomerang queen with regular cameos on Black-ish, now a writer on the spin-off show Grown-ish, fully relates. Having recently left her post as editor-in-chief at Teen Vogue, during which she helped usher in a new era with politically charged, inclusive stories (gaining an audience of readers well beyond its 12-and-up demo in the process), she has a particularly keen understanding that age is mostly a mind-set. And as the title's one-time beauty director, Welteroth is equally aware of the role a good beauty product can play in feeling your best too—regardless of the date on your driver's license.
---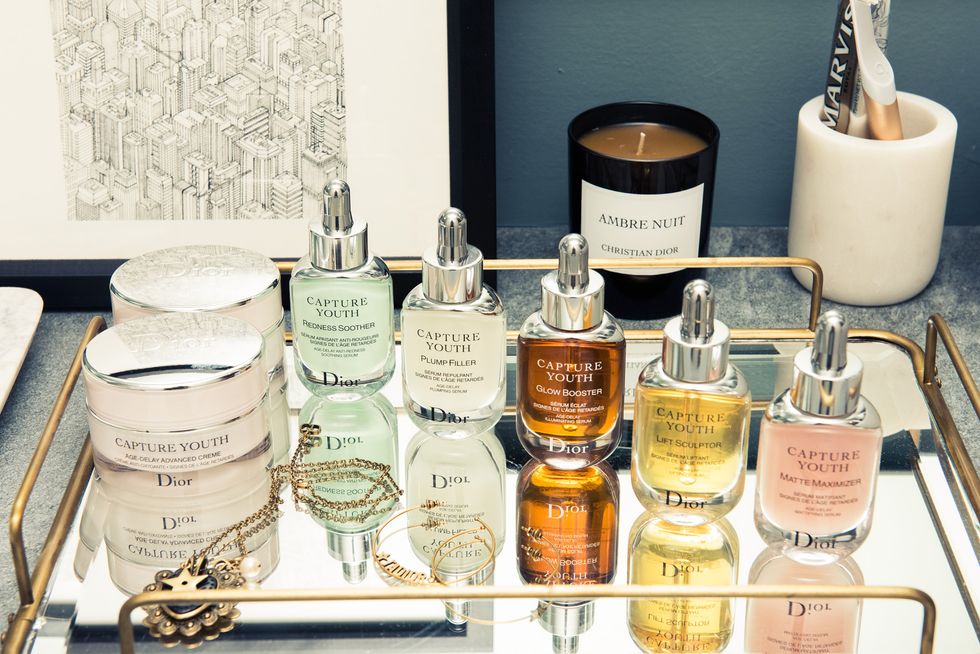 Enter the new Dior Capture Youth skin-care line. The concept is simple enough—before slathering on their holy grail Capture Youth Age-Delay Advanced Crème, apply one of the five Capture Youth serums—whatever your skin needs that day. For example, looking a little dull? Layer on the Glow Booster for a much-needed hit of vitamin C. Pulled an all-nighter? Try adding the Lift Sculptor to your AM routine. Oily? A few drops of the Matte Maximizer will balance skin. Plump Filler is made with hyaluronic acid to add vitality and moisture back to element-sapped skin, while the gentle Redness Soother calms the complexion and soothes irritation. It's a highly appealing system for anyone whose skin is slightly temperamental and who loves customizing their routine (so, everyone?). As Elaine, a fan of the line's namesake Crème, can verify, "The texture is ridiculously creamy and luxurious. While I'm not typically big on creams because they tend to be too heavy for my oily, breakout-prone skin, this absorbs easily, leaving your skin feeling clean and soft. Never heavy or greasy."
With the best approach to maintenance being equal parts state of mind and skin care, we wanted to ask Welteroth what she thinks about aging as she gets into her third decade. Read the interview below to learn her commandments for staying (as) young (as she feels).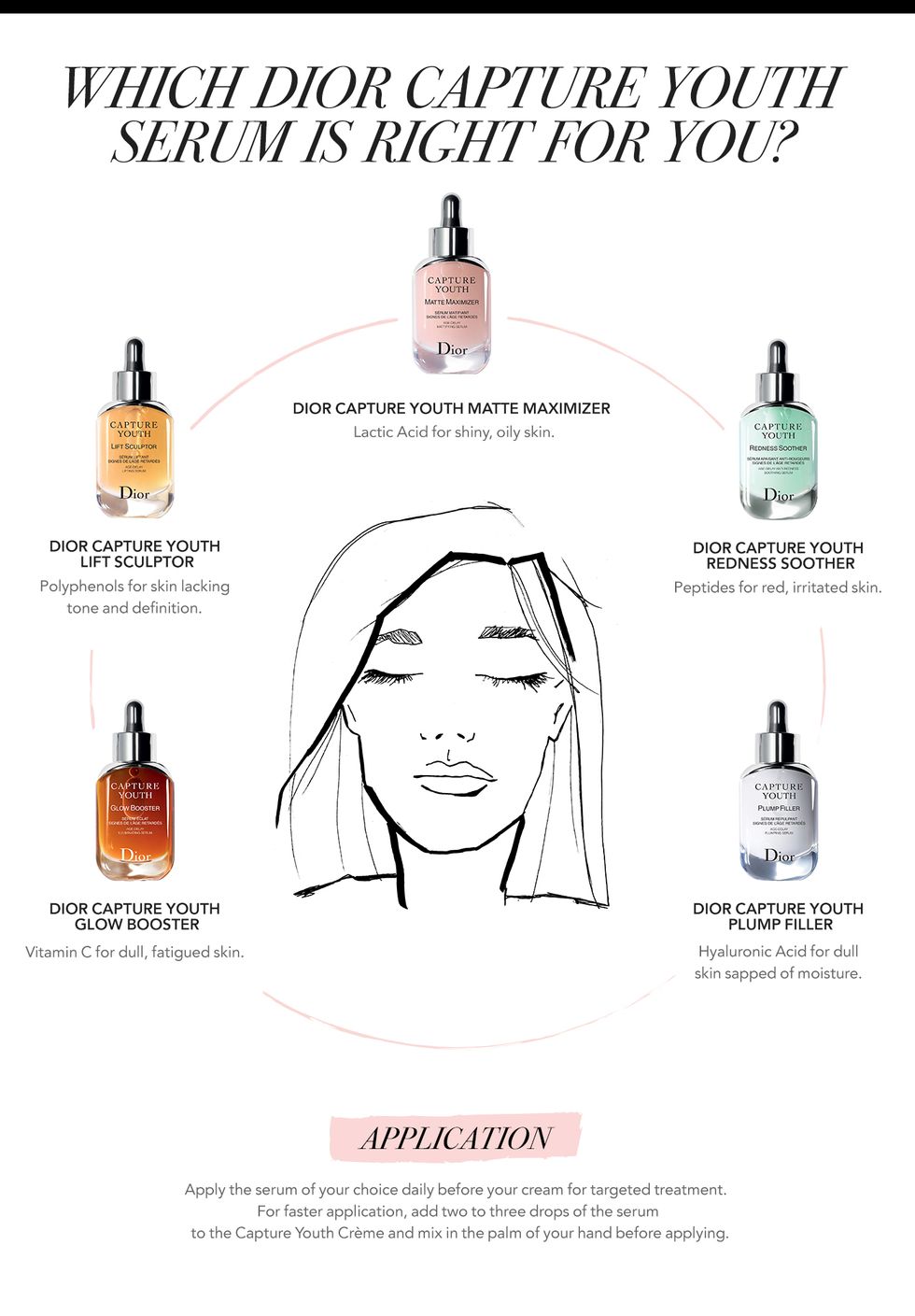 Embrace Your Own Process
"I'm into the idea of embracing whatever aging looks like for you. It's about feeling good in your skin—no matter the age of that skin. We need to have conversations around what it's like when you start to notice the first signs of aging, and embracing it. But also, how do you maintain your skin so that you age gracefully and joyfully?"
Do What Makes You Feel Good
"It's about forming habits that make you feel good and having a ritual that's soothing, that makes your skin feel soft, and with which you can see results. If you feel beautiful in your skin, you carry yourself in a different way. If a product makes you feel more confident, then hell yeah, you should use that product. And if it gives you a reason to stop and do one nice thing for yourself that day, then that's awesome."
Indulge Your Eyes Regularly
[On her first impression of the Dior Capture Youth line]: "Gorgeous, luxe packaging. The variety of serums make me feel like a kid in a candy store—I instantly wanted to try them all!"
It's All about Attitude
"Aging is totally about your attitude. Even at Teen Vogue, our audience reached all kinds of people—young, old, everything in between—because it's about speaking to a mentality. It's about pushing conversations and culture forward.
"I think that we can learn a lot from Gen Z. It's a progressive headspace. They have a very fluid identity, from gender to their career paths. There's much more freedom in how they see themselves moving through the world. I love that I've had the opportunity to study them up close and speak to them through Teen Vogue, through Grown-ish."
Don't Take Yourself So Seriously
"Explore different sides of yourself through beauty. I actually looked and felt ten years older than I was when I got into this industry. I was much more serious, I had much more conservative office lewks. I feel like once I got the job as the beauty director at 25, I started being much more experimental and almost aging in reverse. I call it the Teen Vogue effect. It's like we all go through puberty again. I dyed my hair green. I cut my hair all off. I embraced this huge, Angela Davis-style afro that I never even knew I had."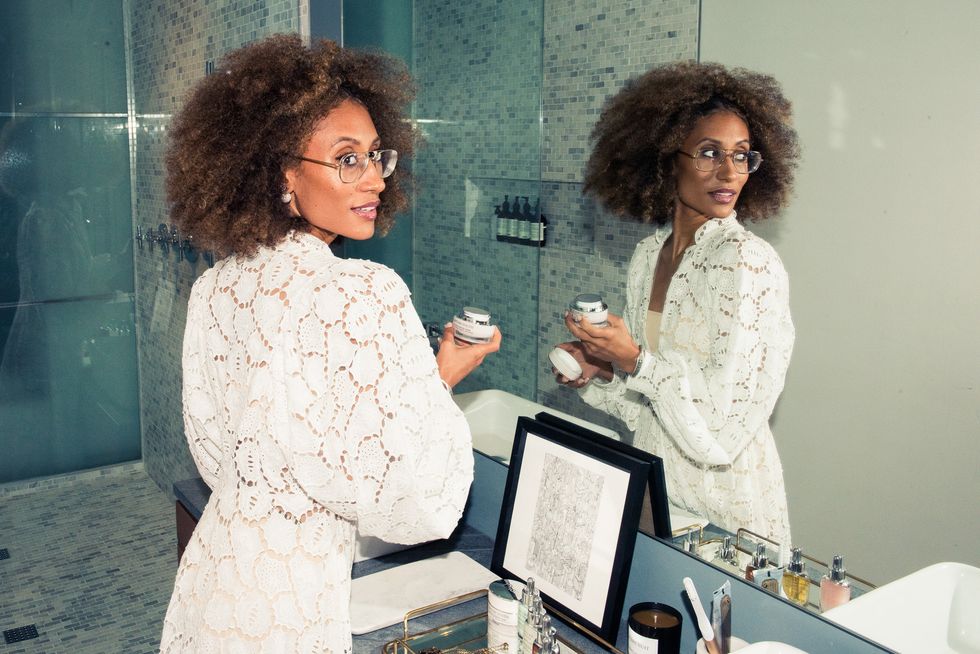 Write Your Own Rules
"Pushing myself to try new things, breaking out of boxes, all of that stuff has an effect on my spirit. I feel youthful in a way that I don't think I felt at 23, trying to conform to corporate culture, when that's not who I really am. I have a big personality. I like to have fun, and I like to get sh*t done. Working around 21-year-olds for six years helped me throw out all these boxes, all those old models, and embrace who I am."
Commit To Your Skincare
"My skincare regimen is pretty much the only constant in my crazy, ever-changing life on-the-go. I have been basically living on planes and doing a ton of hotel hopping lately for work—and that's the quickest way for all my routines to get thrown off. But I refuse to allow busyness to keep me from caring for my skin. No matter where I am, my favorite daily indulgence is taking an extra ten seconds between my face wash and sunscreen to blend a few drops of Dior Capture Youth Glow serum into my moisturizer. I close my eyes and pat it into my face like I'm my own DIY facialist. Even if it's the only time I stop in a day full of going, for those two seconds, I feel so spoiled! Then, of course, there's the aesthetic perks. It instantly lights up my skin and helps my makeup go on more smoothly. Without it, my jet-lagged, dehydrated skin would look dull and dry."
Know Age Is Truly a Number
"I've always surrounded myself with older people. When I was a young girl, I used to always hang out with my mom and her friends. Now that I'm 31, I find myself having a lot of younger friends and I'm realizing how much we actually have in common. Like Rowan Blanchard—even though I'm her mentor, or like her big sister, I learn a lot from her. She does put me up on things, she'll send me new music. We just care about very similar things. I don't know if that's just a result of age or if that's just our mind-set."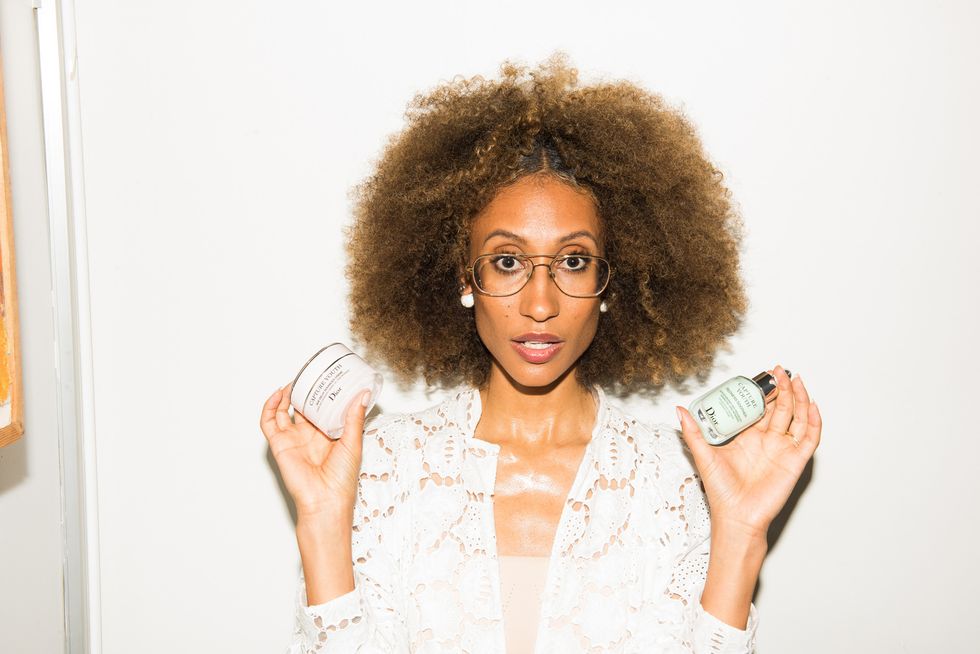 Ask Questions
"You just can't take yourself too seriously to the point where you're not willing to ask a question that might make you feel silly. That's what kids do! They aren't weighed down by self-consciousness: they have a question, they'll ask it.
"Being curious keeps you looking for opportunities to learn new things and expand your world. Young people are so interesting to talk to because they have this curiosity about the world. They want to understand it. They ask questions. They aren't afraid to challenge the status quo."
Listen to Your Mom
"My mom never obsessed over her age, she was never one to dread getting a year older. She always said, 'Bring it on. This is better than the alternative, girl. If I'm trying to be here, I gotta move forward.' My mom's spirit is the most exuberant, brightest thing ever. I don't even see wrinkles when I look at my mom. I want to be that fly old Black auntie one day—where I just walk into a room and light it up because I'm kind, because I'm comfortable in my skin. Who just doesn't give a sh*t anymore and will wear all of the furs!"
Embrace What Makes You You
"I live there, at the place where I'm questioning everything. I can't help it, but it's something that I used to feel weird about. Now I recognize it's a superpower to be transparent and to be super authentic, and to just own who you are and all of your quirks—and being unafraid to say the things that people in the room are too uncomfortable to say."
Celebrate Every Milestone
"Turning 30 was triumphant. It was like, 'I made it. Drop the mic on my 20s.' You couldn't pay me to go back and to live through some of those hard-earned lessons. But it was also a big year in my career. It felt like everything I had been working toward for this entire decade has been realized in [that] year.
"I was always the youngest person in the room or in a role. I was the youngest editor-in-chief in Condé [Nast] history. I've had experiences of being a young leader, feeling underestimated, and having to prove myself. I finally feel like age has caught up to me, and that's partly why it was liberating to turn 30. I've earned my damn authority!"