Food
It was just as much fun as it sounds.
Alec Kugler
Think back to the first time you ever ate a pot brownie—it was probably crazy-strong, and you were convinced the couch had permanently suction-cupped your thighs to the leather. Maybe that's just me, but the general consensus when it comes to edibles is that you never really know what you're going to get. Without a standardized form of regulation, it can be difficult to understand or manage the dosage that's right for you, so that instead of quietly panicking because the furniture has got it in for you, you feel blissfully carefree, giddy, and relaxed. Isn't that what we all want out of a beloved recreational pastime?
Entrepreneur Doug Cohen and Chef Miguel Trinidad felt similarly when they met at a dinner for DJ Neil Armstrong three years ago. As native New Yorkers and die-hard foodies, they quickly realized they should embark on a project together that featured another shared interest: cannabis. "It was very organic," Cohen explains as we meet for coffee a few weeks post-dinner (for obvious reasons, my reporting skills were somewhat compromised at the time of the event). "We came up with this idea that we should do some edible projects and went to San Francisco to visit a friend of mine [at] his farm. We used some of his product and rented this little out-of-business ramen restaurant. The chef made a four-course meal, and we were all so blown away by the fact that you could still taste the cannabis without it [having] the negative labels that you always associate with [it]. We were like, 'We're onto something.'"
---
Fast-forward two years later, and their venture—99th Floor—is not only effectively destigmatizing cannabis, but connecting like-minded creatives and food-lovers for a truly unforgettable experience (even if the memory's a liiiiittle hazy). "Everybody understands food, so if you take away some of those negative stereotypes through an elevated experience, then you have the ability to slowly chip away at the idea of what cannabis can be," says Doug thoughtfully. "If you look at wine, it's an intoxicant, but its connection to food makes it seem a bit more culturally normal." As someone who frequently orders a bottle of wine at dinner with friends, I wholeheartedly agree. "Food and alcohol go together well. So does cannabis and food. We're trying to meld those things together in a higher-end way that [is] a bit more relatable."
Following our own coveted invite to the 99th Floor dinner, myself, our photographer, and a friend found ourselves gathered with a small group of fellow diners behind a nondescript building in Brooklyn. Plumes of marijuana smoke spiraled upward as we passed around a communal joint—an appetizer, if you will—and excitedly discussed who amongst us was new to the club. "You're going to be so blazed," promised a 30-ish man in a backwards cap and collared shirt. "The food is out of this world," his friend elaborated. At five past the hour, the metal door swung open to a flood of artificial light, and we climbed the steps to a stunning third-floor loft with an open kitchen and two long tables set for dinner. We hurriedly found our assigned seats and settled in for the five-course meal.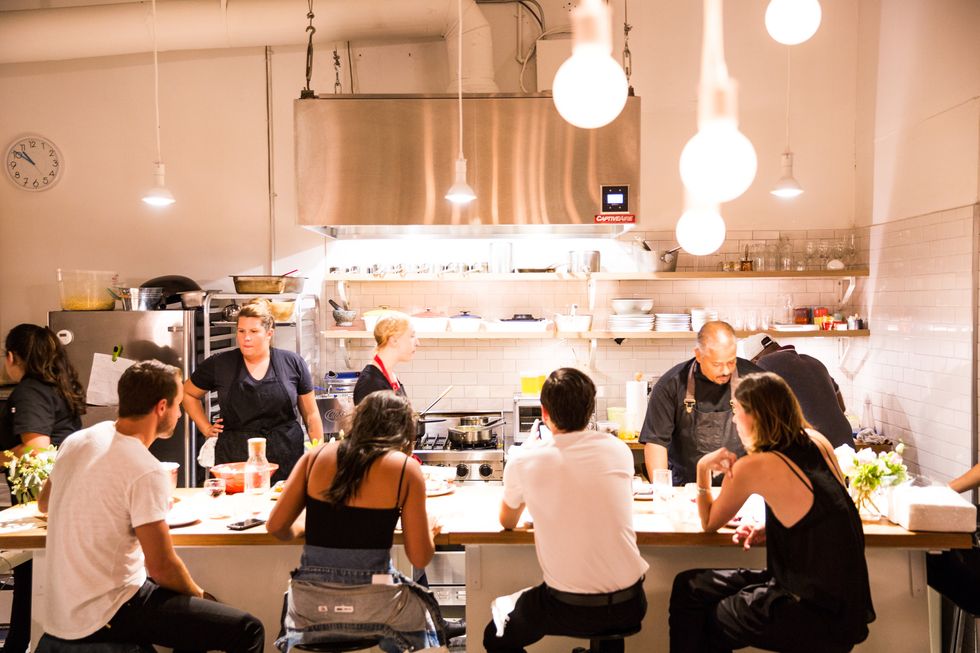 "Our goal is not to get you wasted," explained Cohen as we tucked into the first course of tomato bisque with grated egg (which totalled 2 mg of cannabis). "We would rather you dose properly and have a good experience, and use it more like wine to enhance the meal." Chef Miguel and his staff busily prepared the next round of food as we chatted with our neighbors, raving over the quality of the ingredients (all locally sourced from Union Square Market) and reflecting on our individual levels of drug-induced euphoria. Reminder—these were not your standard-issue baked goods. The 99th Floor team designed the overall meal as a progression of microdosing—essentially 2-3.5 mg per course, for a rough total of 20 mg. By dessert, Cohen encouraged us to either "level-up or pull back" depending on how we were feeling (I'm a level-up kind of girl, FYI), and passed around tins of 5 mg candies as a parting gift.
"Long-term, we would love to have the first Michelin star cannabis restaurant," he reveals later at our coffee meeting. "We always want to be really food-forward rather than worrying about getting people high. We're just excited to keep bringing that to people and letting them see the power of cannabis from a culinary level." As I think back to my train home after dinner, feeling delightfully mellow and stuffed with delicious food (seriously, the bone marrow and onion jam was to die for), I can attest that these guys are onto something great. I can't wait to go back for round two.
Want more stories like this?
A Cannabis Candle Turned This Side Hustle Into a Full-Time Career
A Father-Son Duo Created the Starbucks of Cannabis
Do Cannabis Beauty Products Actually Work?