The Cannabis Candy So Chic, I Broke My No-Pot Rule
Lord Jones is the CBD and THC brand you're seeing everywhere.
Career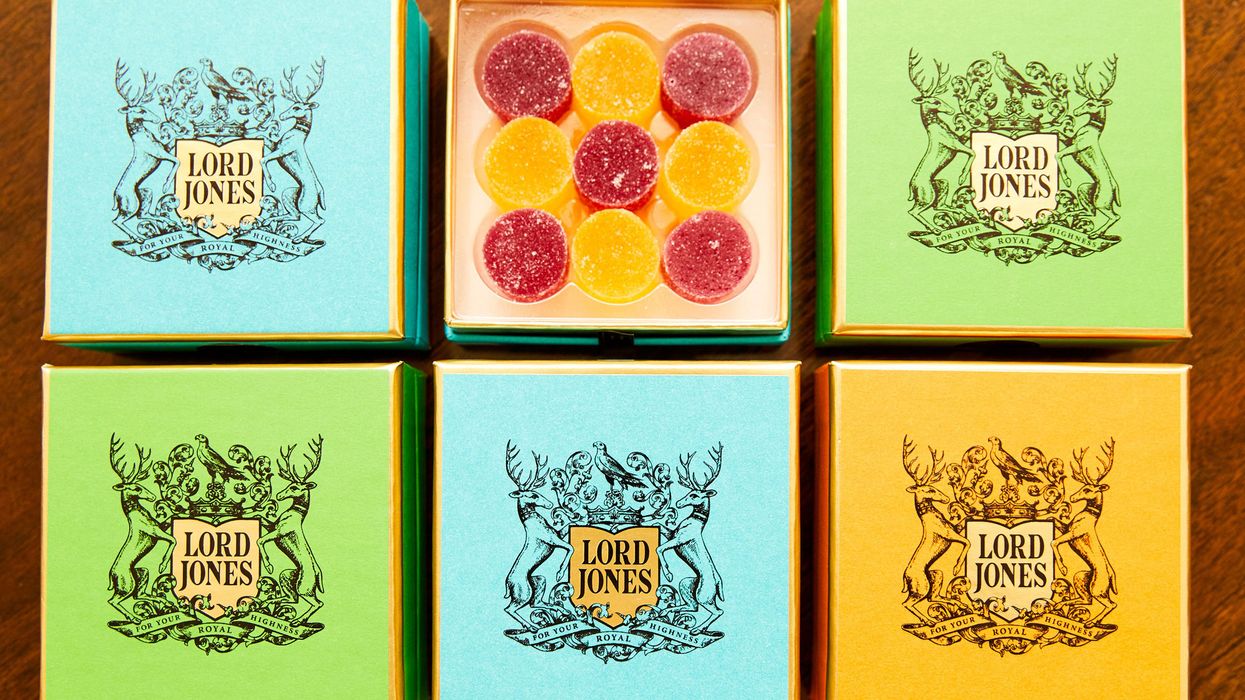 I stopped smoking pot at 20. Maybe it was the difference between East Coast and West Coast buds in the early 2000s (I grew up in Seattle and went to college in Pennsylvania), but, like it is for many people, one very terrorizing, hyper-paranoid night in college led to a vow of cannabis celibacy that lasted more than a decade. No THC anything. Not even the now highly popular CBD—just no. But then, this January, I found myself with a luxurious box of Lord Jones CBD gumdrops sitting on my desk thanks to a special gift from celeb-favorite kundalini teacher Guru Jagat.
I love chewy candies (Gushers, soft licorice, fruit leathers), and the nine sparkling, sugar-coated drops inside this box were so bouncy and delicate, in citrusy yellow and strawberry red, that I could almost feel them sitting on my tongue just by looking at them. Or staring at them, rather. Of course, I know CBD is meant for an innocuous body high, not a head high, but it wasn't the chemistry that finally convinced me to cave that night at home—it was totally just the box. The nearly-Hermès orange, the royal seal logo with gold leaf, the board so thick you could use the empty packaging to store jewelry… In other words, I am so, so shallow. But sometimes the cover does tell you about the book inside, which, in this case, was a deliciously fruity, marshmallow-y candy with a peaceful little buzz that lulled me into a chill-ass, less-anxiety-tinged evening and a much better sleep than I usually know. Also, it didn't hurt that I had been seeing Lord Jones everywhere—they did a huge collaboration with Icelandic cult band Sigur Rós, and their CBD lotion has been touted by celebs like Mandy Moore and Olivia Wilde. (Like I said: shallow.)
The next morning I wondered if I had experienced a luxury placebo effect, or if these candies were actually super f*cking good. Fortunately, I was already headed out to L.A., so I asked the co-founders, Cindy Capobianco and Robert Rosenheck, for a meeting. I met the couple—New York City transplants who both have illustrious careers in the creative and fashion worlds on both coasts—at their Laurel Canyon home. Multicolored boxes of their famous THC (available in California only) and CBD candies were scattered across the coffee table, dappled sunlight poured in through their lush trees, and I finally got to ask them what I've been dying to know: Why are you so smart? Here's what they said.
---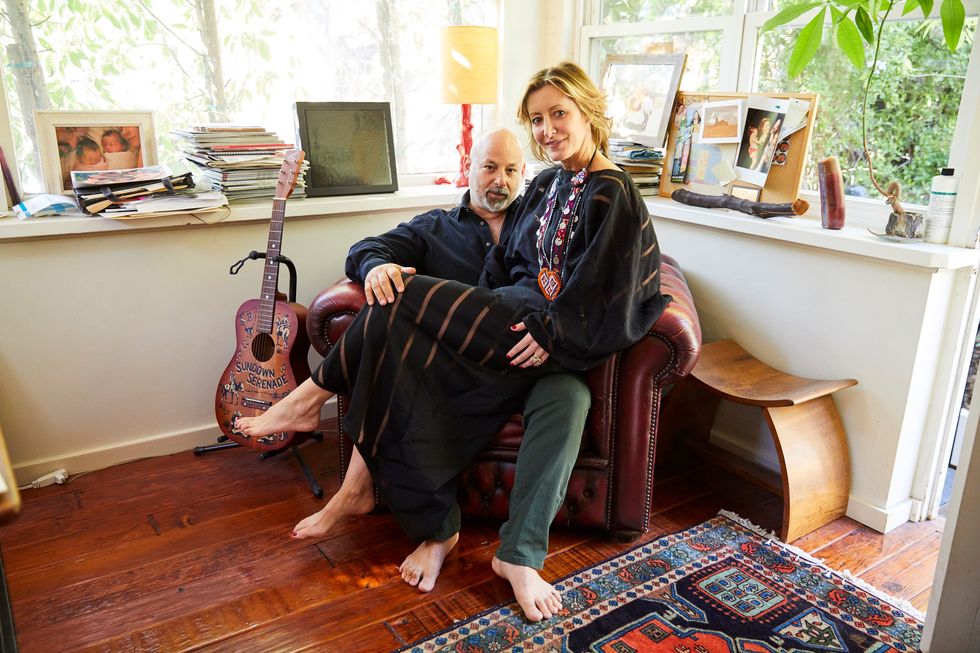 What was the lightning-bolt moment to create Lord Jones?
Rob: "When we moved to California, we immediately became medical marijuana patients. It was an underground subculture, and trying an edible was a little like Russian roulette. You might have this incredible experience, but you might have this nightmare experience. A typical edible was a giant cookie or a brownie in a plastic bag with a staple; it wasn't labeled. You didn't know what the potency was, you didn't know what the ingredients were. A week later, you go back to get the same cookie, but it is completely different because the cannabis is different. We realized there was a huge opportunity to normalize cannabis, to elevate the category,  to standardize it, to make something that people could rely on. We wanted to appeal to the Whole Foods shopper or Equinox member. Or Coveteur reader. There was nobody speaking to that person."
There must be a lot of complex stuff happening behind the scenes to start a cannabis company:
Rob: "Starting any business is difficult, but when you layer on the fact that cannabis is federally illegal, it makes for adventure. Cannabis is labor-intensive, capital-intensive, and requires a high level of expertise. It's the most complex business we've ever been involved in. We spent over two years researching the industry, learning about the cannabis plant, understanding the laws. There were three tenets of the brand that we set out to accomplish. First, we wanted to elevate the category by creating a best-in-class brand, which meant we wanted beautiful packaging and identity, an elevated brand experience. Second, we wanted to have best-in-class products—product formulations and ingredients, including the non-cannabis ingredients. The third tenet was cannabis superiority. We wanted to make products that made you feel good that were designed to elicit a specific effect and that were consistent every time you used them."
Cindy: "There are so many different expectations people come to a cannabis experience with, so we wanted to keep that in mind as we were developing the brand. Some people want to get high; others want to get well; some are in pain; they're anxious; they hate to fly; they want to transition off of prescription medication and onto plant-based medicine. We wanted Lord Jones to speak to all of them. "
So why is it so good?
Rob: "We wanted to make candy that we could sell if it didn't have cannabis. We wanted to make really delicious adult confections. We've worked with a group of talented, classically trained candy chefs to develop the foodie part of our formulas. They taught us how to make candy, and we would work with them in the kitchen developing our recipes. For the first eight months of the company, we made all the candy."
How did the lotion come about?
Rob: "I had a rock-climbing accident and have chronic pain in my ankle. I discovered topicals by accident. I tried it on my ankle and became an instant believer. That's how it happens. Something works. We designed our lotion formula for pain relief, but we didn't realize at all the many ways it can provide relief."
Cindy: "It seems like every day we hear from a patient or a customer who tells us about how it has helped their migraines or menstrual pain or skin conditions or cuticle health. And of course, it's fantastic to use it on your feet before you go out for the night in heels."

What makes the lotion different than other CBD lotions?
Cindy: "We wanted to make sure that people knew exactly how much CBD they were using. Our bottle dispenses exactly one milliliter of lotion with every pump. Every milliliter of lotion contains two milligrams of CBD. There's also a proprietary natural cooling agent that lets you know where you put it, but it also starts to bring blood flow to the area. Then, obviously, the CBD starts to take effect. People are always shocked at how quickly they feel relief. The lotion has high absorption and a beautiful hand feel. The most common question we get is 'Will it make me high?' No. Our CBD topical will not get you high, but it will help you relax [and] provide pain relief and aid to skin conditions."
Is there a story behind the Lord Jones image?
Rob: "We set out to elevate the common weed. Jones is the name of the common man—there can be no 'Lord Jones.' So we decided to make cannabis for royalty and name it Lord Jones. We brought it to all the dispensaries, and they thought we were nuts."
Cindy: "They said, 'You should give up right now. You can go do something else, guys.'"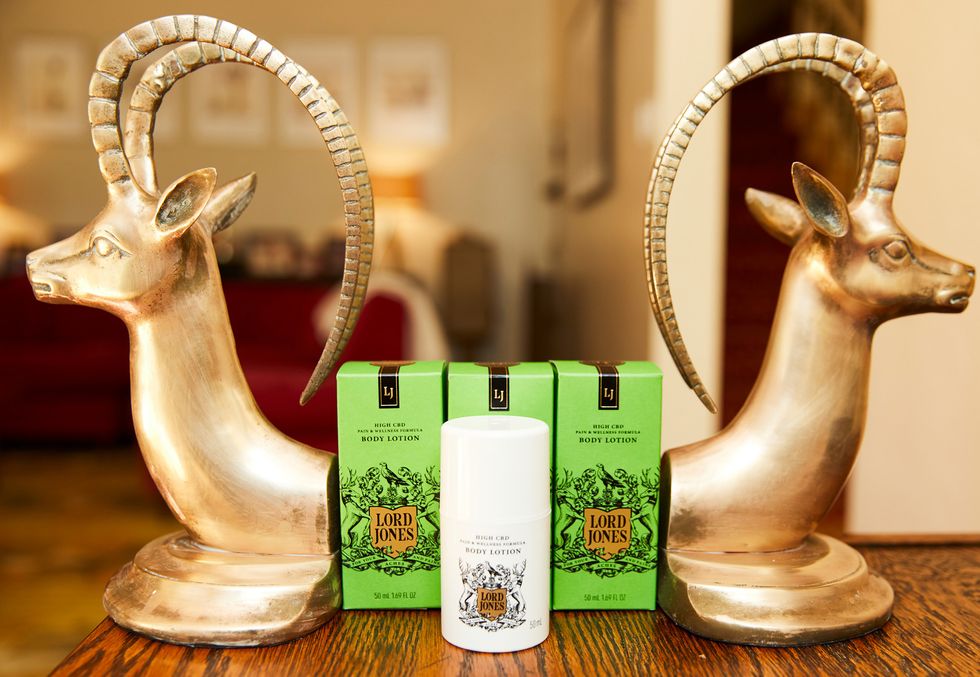 You were both in creative industries before this. Can you give me your backstory?
Cindy: "I started as a magazine editor at Allure, Vogue, and the launch of American Marie Claire. I ran Todd Oldham's showroom and then went on to become the head of PR for Donna Karan, Banana Republic, and GAP. After leaving GAP, I started a public relations agency. Rob had a creative agency, and in 2008 we had the opportunity to produce an Oscar party at Prince's house. We were sitting at Shabbat dinner with my kids and Rob, and the phone rings, and it's a client who said, 'Can you meet me at Prince's house in 20 minutes?' I was like, 'Yeah, definitely.' And then I was sitting at Prince's house at his kitchen table. He said, 'I want to produce this party.' I called Rob, and we started working. In 48 hours, we had created this amazing production. Stevie Wonder was performing with Prince and Doug E. Fresh and John Legend."
Rob: "It was an incredible, magical night. We looked at each other and said, 'We should merge our businesses.'"
Cindy: "And that's what we did. Through our agency, we worked for Fortune 500 companies and start-ups.We were regularly in and out of food facilities and learned a lot about food manufacturing. So a lot of our previous work turned out to be training for Lord Jones."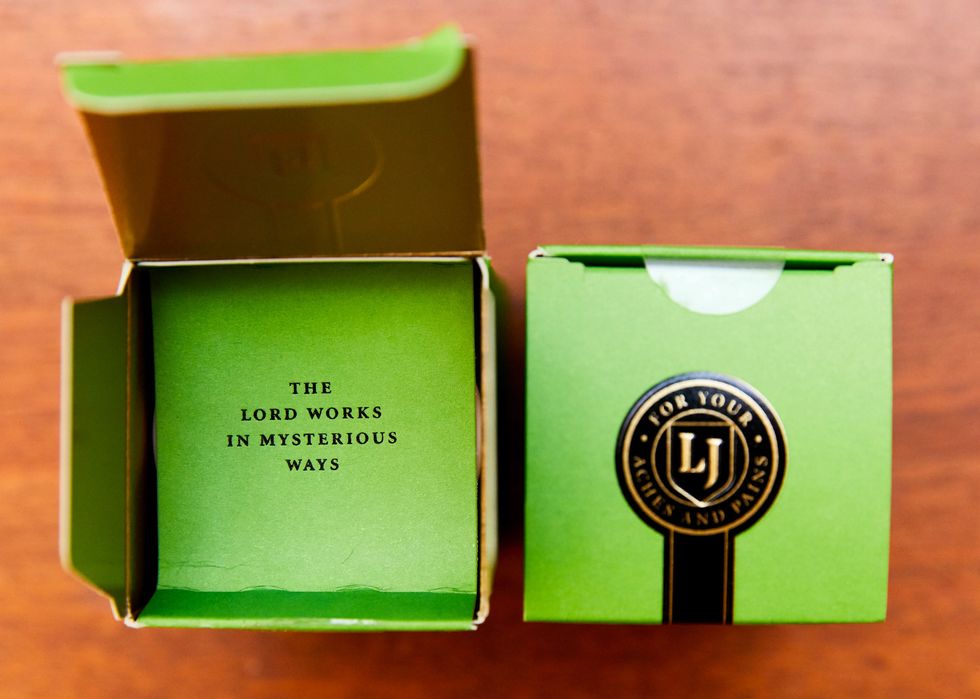 When you moved to L.A., did it inspire Lord Jones in a way that never would have happened in New York?
Rob: "For sure. Laurel Canyon [is] a special place. We have deer, coyotes, and hippies in the middle of a city. Laurel Canyon gave birth to Lord Jones."
You just didn't feel that in New York?
Rob: "New York was our home. We met in New York, and we lived there together, but I was determined to move us out west. I find L.A. to be a much more collaborative place than New York. People are always looking for the next big thing here. At the studios, executives are mindful that the guy pushing the broom might be writing the next big screenplay that wins an Oscar. That whole mind-set, I didn't find in New York."
What's your next big launch?
Cindy: "We're about to release a tincture. It's a whole new category.  Some of our customers have asked, 'Do you have a sugar-free option? Vegan? Gluten-free? Raw?' We wanted to make a product that delivers CBD in a clean, everyday format. We think the tincture will be a big hit."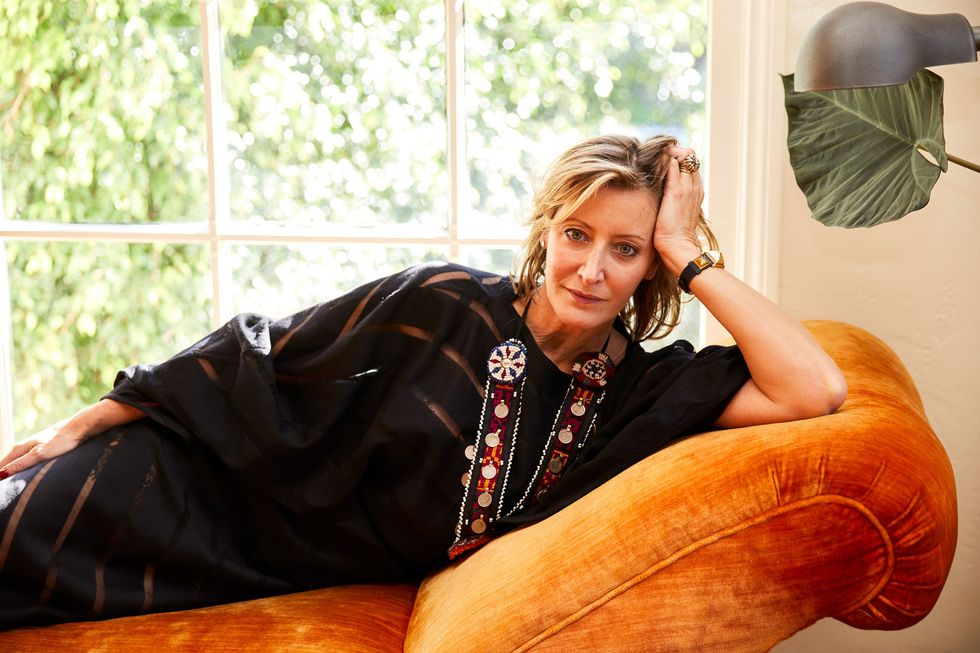 And it really is medicine:
Rob: "The cannabis plant contains unique compounds called cannabinoids. And our bodies have an endocannabinoid system that makes use of these cannabinoids. Endocannabinoids are made by our bodies, and Phytocannabinoids are made by plants. The two most famous cannabinoids are THC and CBD. Tetrahydrocannabinol (THC) is what gets you high. Cannabidiol, CBD, is the one that's associated with all these medicinal benefits." 
Cindy: "We operated a non-profit collective called Hollywood Hills Wellness for several years prior to the passage of Proposition 64. Through the collective, we learned a tremendous amount from our patients. We treated people with cancer, AIDS, autoimmune disease, and chronic pain. We also provided cannabis to people who could not take opioids for pain relief and were post-operative or post-accident. We set out to create a great brand and wound up becoming caregivers. To this day, it's the most rewarding part of our job. It's a blessing to go to work each day with a great sense of purpose."
Want more stories like this?
What Happened When I Went to a Super-Secret Cannabis Club
My Vagina Got High and It Was Glorious
Cannabis Accoutrements You Can Leave on Your Coffee Table