Sneaker Week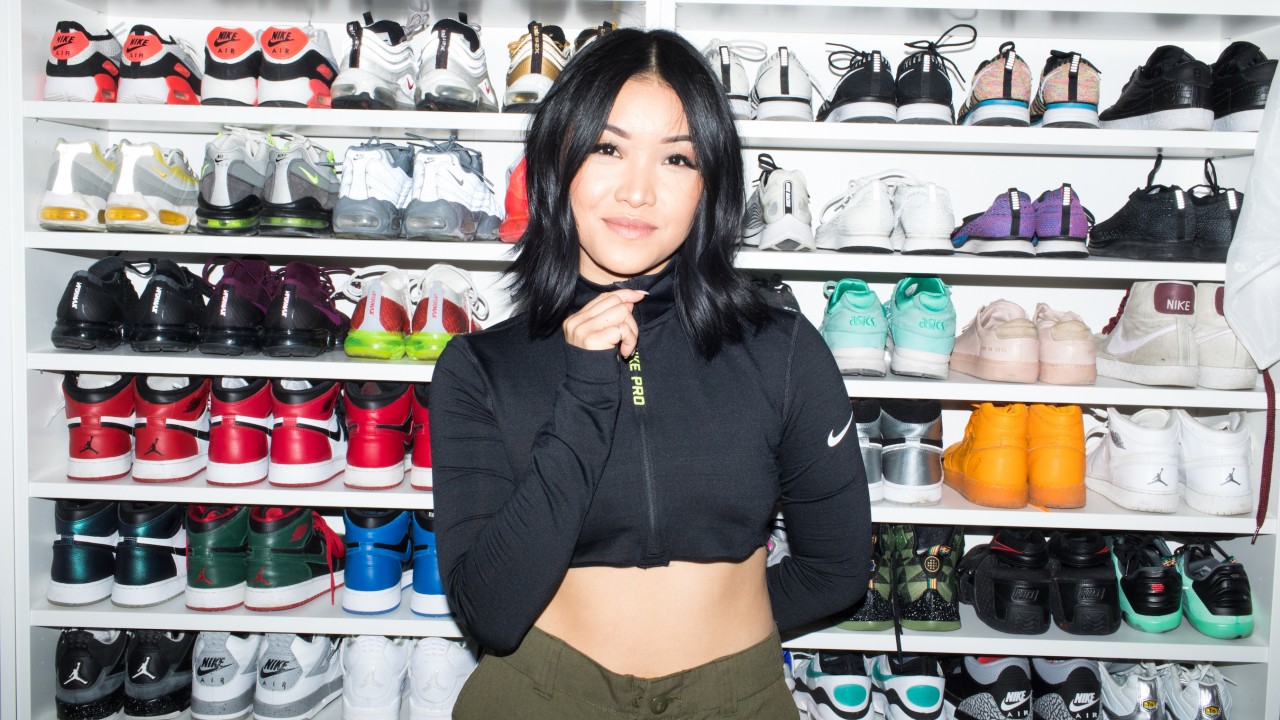 The Creative Who Is Equally Obsessed with Wellness & Jordans
Anna Bediones on the one product she always has in her gym bag and how she stays on top of her mental health.
Sneakers and wellness often go hand in hand. They make you feel good, look good, and are pretty much (OK, so they are very much) necessary when it comes to the gym. Anna Bediones grew up playing basketball, and her successes in the sport were rewarded with pairs of Jordans. They always signified something special to her. So when things came full circle for her in her career, working with Nike and Jordan regularly, it felt serendipitous.
While she's constantly on the go, between her creative work and maintaining a semblance of her personal life, she doesn't claim to have mastered it all. She makes a real effort to carve out time for friends, needs serious help sticking to her newfound vitamin routine, and wears nice new sneakers to the gym (anything to get her motivated).
Her sneaker collection started by way of her athletic successes:
"At an early age, my incentive from my dad to play well in basketball was a new pair of sneakers. And whenever I got a new pair, I'd play really well. When I was in high school, my first job was at Footlocker. I was basically working to get more shoes. Everything I made I would spend back in the store. Then it became a problem, and I got in trouble a lot because nobody needs that many pairs of sneakers.
"I got rid of a lot of them when I had to go to university—sold them for textbooks and stuff. Then I met my boyfriend [Phil Aglipay], and he reignited my love for sneakers. He's a big collector."
She's all for the Jordan women's launch:
"I was so excited. Jordan is the brand I bought the most growing up because of basketball, and they made kid sizes. Anything that a boy could have, I could have because they came in kids [sizes]. In the past, women's shoes have always been pink, and not all girls like pink. I was anticipating a lot of that, but there are so many colors that it doesn't matter. Pink is on trend. It's not because it's for women. Men's shoes are pink, too. That collection was really exciting—it meant a lot to me. I was lucky enough to work with them to launch it here in Toronto."
Her workout regimen is admirable:
"For the past two weeks, my friends and I have been really into boxing. We've been going to Big Hit [Kickboxing Studio] right downstairs. It's a new sport for us to try. Myodetox [Performance] is my primary—it's functional training, [and] a lot of the trainers come from athletic coaching backgrounds, so there is a purpose to every move that we do versus other classes where you're literally just moving to sweat.
"I try to go at least like, three times a week. Pilates is a new thing that I've been doing. We got the whole squad to start going. We go once a week, and it's just a completely different muscle group that you would never know to work. It's a lot of core and mobility. You think you're strong until you start doing pilates—I don't get it. The weights are like, two pounds, but it's extremely difficult. At Myodetox, I can squat my own body weight, but at pilates I'm holding two-pound weights, and I can't do anything."
Her go-to sneakers for the gym:
"I know Nike will be upset with me, but the Air Max 270s. I've been wearing those to the gym because I think they're so nice. They're so nice. They're so comfortable, and at Myodetox I don't have to do a ton of jumping or running—the most I'll run is a 15-second sprint. I've been wearing those lately, and I wear them casually as well. I'm obsessed. I also wear the Flyknit trainers a lot. I got the [Nike] Metcons, but I'm still breaking them in."
She uses herself as motivation:
"I feel the worst when I don't do something healthy. I don't like not feeling confident in what I can do—how I look in my clothes. And eating as well. As much as it's fun to eat certain things, I feel sick, physically ill, after. I talk about self-care a lot—not really out loud anywhere, but mostly with friends. To me, self-care is doing things that are good for you. I understand that self-care is letting yourself have fun and eat pizza and, don't get me wrong, I eat a lot of what I want. But then I feel terrible after. It isn't self-care if you eat an entire pizza and then feel physically ill. My stomach will hurt; my head will hurt. That's my only motivation—not feeling bad."
Her hero skin-care product for post-workout:
"I try to keep makeup wipes with me all the time. In my gym bag, just in case. That's when I find that [I] break out the most—when I leave makeup sitting all day and then fall asleep or take a nap. When I wake up the next day, it's an instant [breakout]. I use the Neutrogena makeup wipes."
She has a morning drink she swears by:
"In the morning, I've been making my own immunity drink. It's a mixture of apple cider vinegar, honey, garlic, lemon juice, and cayenne. I have these mason jars that I bought from the dollar store, and I make three or four at a time."
And is getting the hang of vitamins with a little help from her friends:
"I don't always remember to take my vitamins, which is why I bought the Off-White pillboxes [laughs]. Maybe I'll take better care of myself with those. I'm still getting into the habit of doing that because vitamins are not my strong suit. I don't know a lot about them, but my friends are teaching me. I have vitamin C, iron, a multivitamin. And magnesium—I don't know what that's for [laughs]. I think I saw someone who was like, 'Magnesium is so great for my skin and hair,' and I was like, 'Sold!'
How she stays on top of her mental health:
"For the most part, talking to my friends is usually the best way to stay sane. Amy [Patel], Meghan [Yuri Young], and Chloe [Wilde]—we're together almost every day. Chloe travels a lot, so she doesn't always get to participate, but for the last two weeks, we've been going to boxing at 6:00 AM [and] Tim Horton's at 7:00 AM. We talk for an hour and then go our separate ways. Speaking out loud is my way. Speaking out loud to somebody who cares. That way it doesn't turn into a venting session when I get home to my boyfriend."