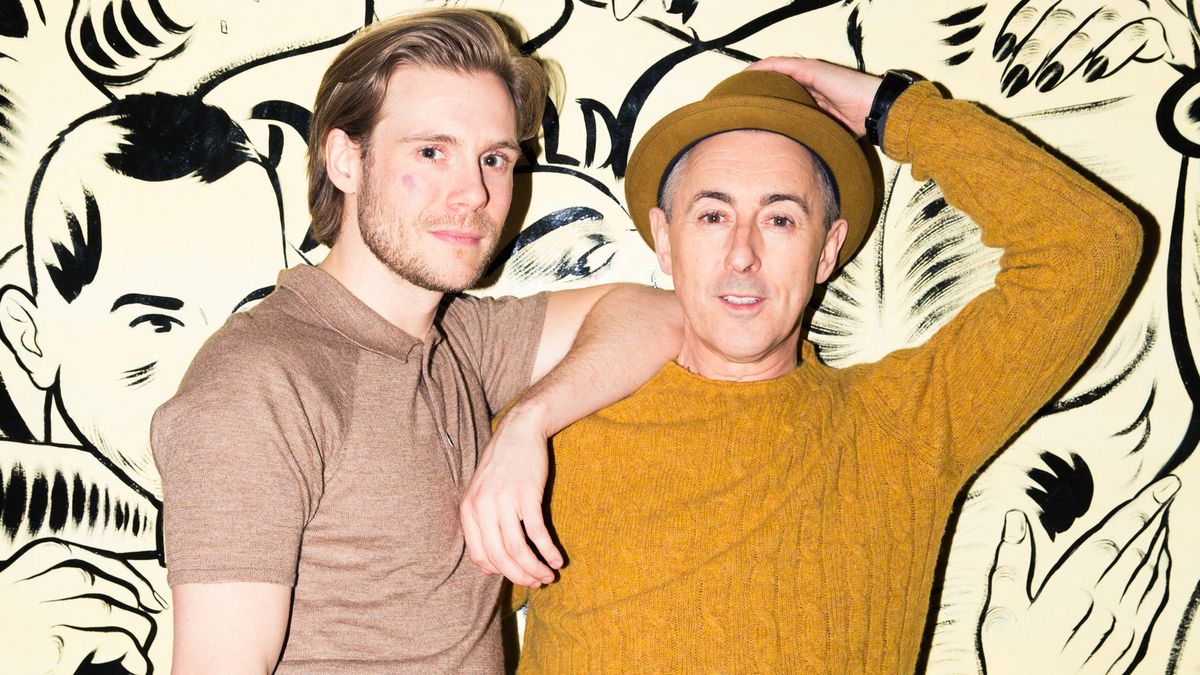 Celebrity
The two actors talk about their latest film.
Alec Kugler
"I'm glad you talked to Alan first," confessed actor Zachary Booth at the start of our interview. "Between the two of us, he's definitely the more interesting one."
Booth is talking about Alan Cumming, the man who plays his on-screen lover in the new film After Louie. And he certainly wouldn't be the first person to gush about the 53-year-old actor. Known for everything from The Good Wife to co-hosting Heidi Klum's Halloween Party, Cumming is an international icon of fashion, theater, art, and nightlife—basically all things glam.
"I've followed Alan my whole life," Booth continued. "I so specifically remember seeing him [as the master of ceremonies] in Cabaret the first time around. I actually organized a school trip just to go see him."
---
So when the opportunity to meet his hero arose 20 years later, Booth was excited, to say the least.
Let's set the stage: The pair was introduced by After Louie director Vincent Gagliostro. They met for lunch at Peacefood, a vegan café in the East Village. Booth had just attended a meditation class across the street and remembers being "in a really good space."
"I remember thinking Zachary was lovely, cute, and very intelligent," Cummings mused of the encounter. "He asked lots of questions. But I think the first thing I said was that I'd Googled him naked prior to our meeting, and then he admitted he'd done the same to me."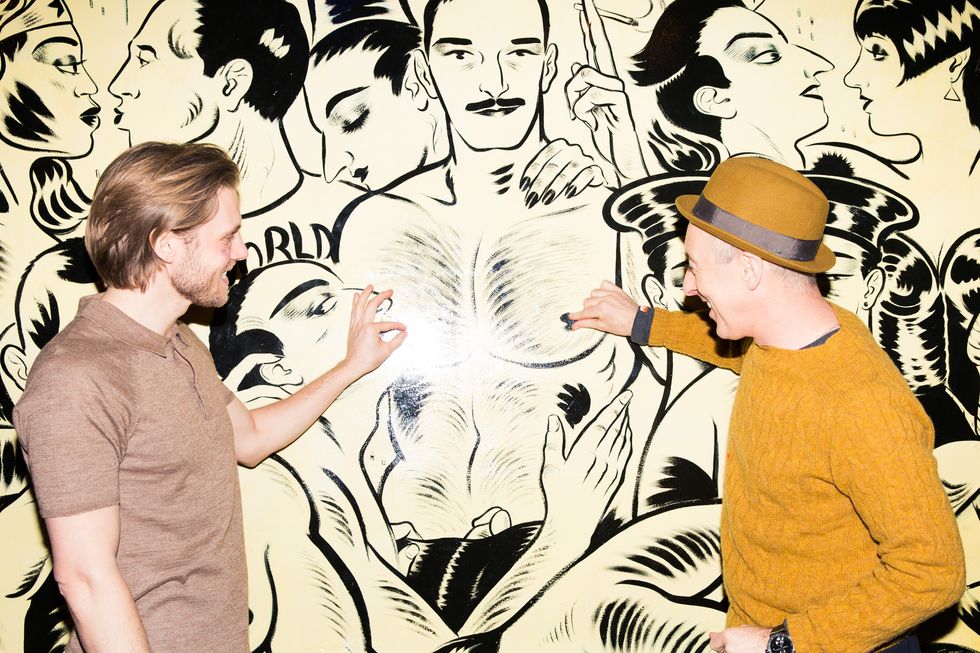 Booth, however, doesn't remember things the same way.
"I don't remember the exact play-by-play, but Alan's a much better storyteller, so, I'll defer to him," he said with a laugh. "What I will say is that when you're doing a film with such intimate scenes, you have to acknowledge those images will be preserved forever on the Big Wide Web. I accept that Alan and I will be GIFed for eternity, and I'm OK with it."
While After Louie is a film about love and sex, at its core it's about the impact AIDS and its surrounding activism had (and continues to have) on the gay community—about what Cummings calls "the collective PTSD" felt by those who lived through it.
"There's a distinct difference between gay men who lived through [the 1980s epidemic] and the younger generation who often has no idea what things were like on the front line," Cummings added. "I think some older men feel angry—like there's not enough respect. And then the younger generation feels pushed away… It's unfortunate because a lot of the people who would pass those stories on—who could tell them what things were like… Well, the majority of those men are dead."
In the film, Cumming plays a 50-something former activist who embarks on a relationship with a much younger man (Booth) and the tensions that arise from their different perspectives. The movie's hope? To help the two generations understand one another and the experiences that defined their community. It's something Booth, who was born in 1983 and is too young to remember much of the crisis, considered often while on set.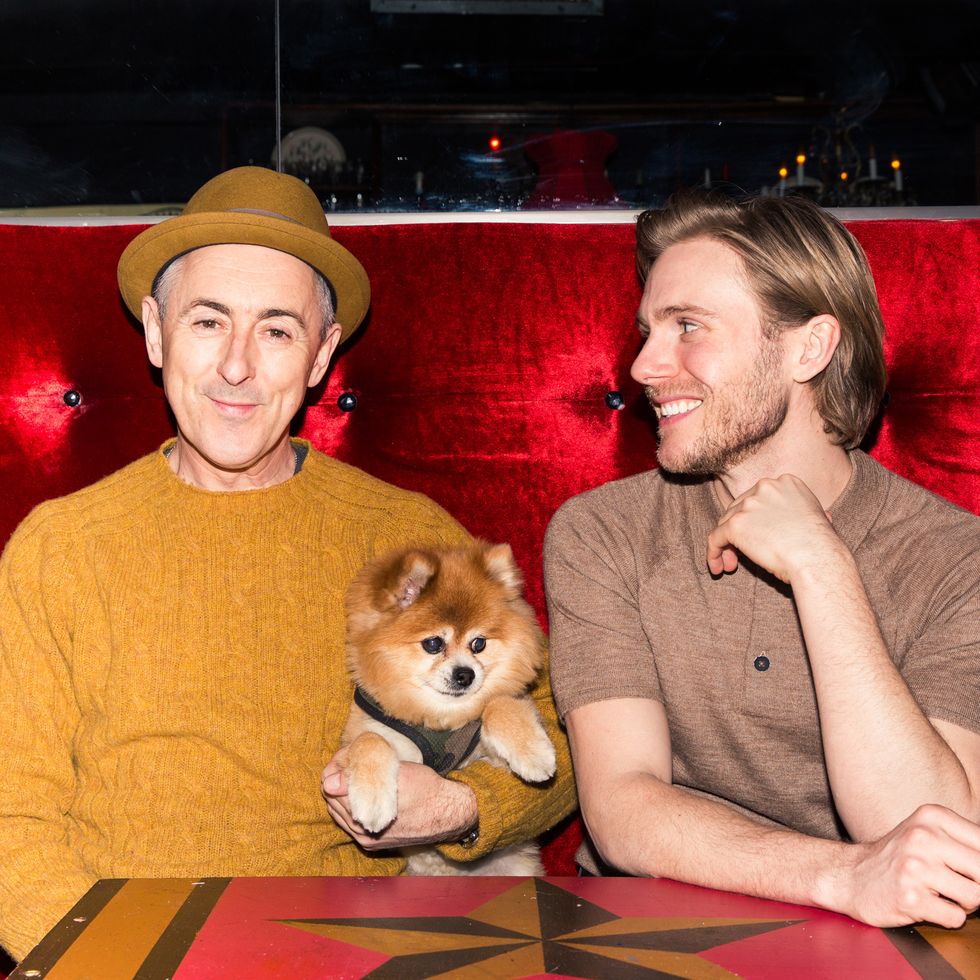 "There were so many members of [advocacy group] Act Up working on the film," he recalled. "And when you add to that an icon like Alan Cumming, there was a sense of respect I felt every day on set... It wasn't intimidating, but it was constantly inspiring."
So if you could take one thing away from the film, what would its stars want that to be?
"I know this is a trite thing to say, but we need to remember that there are two sides to every discussion," Cumming finished. "And the most important thing we can do is try to understand one another's experiences—to know that everyone has gone through something awful in their life, and it's not a competition. We should just be kind to each other."
Want more stories like this?
When Khloé Kardashian Met Emma Grede
How We Met: Elaine Welteroth & Phillip Picardi
When You Develop Your Obsession with Moschino in the Womb