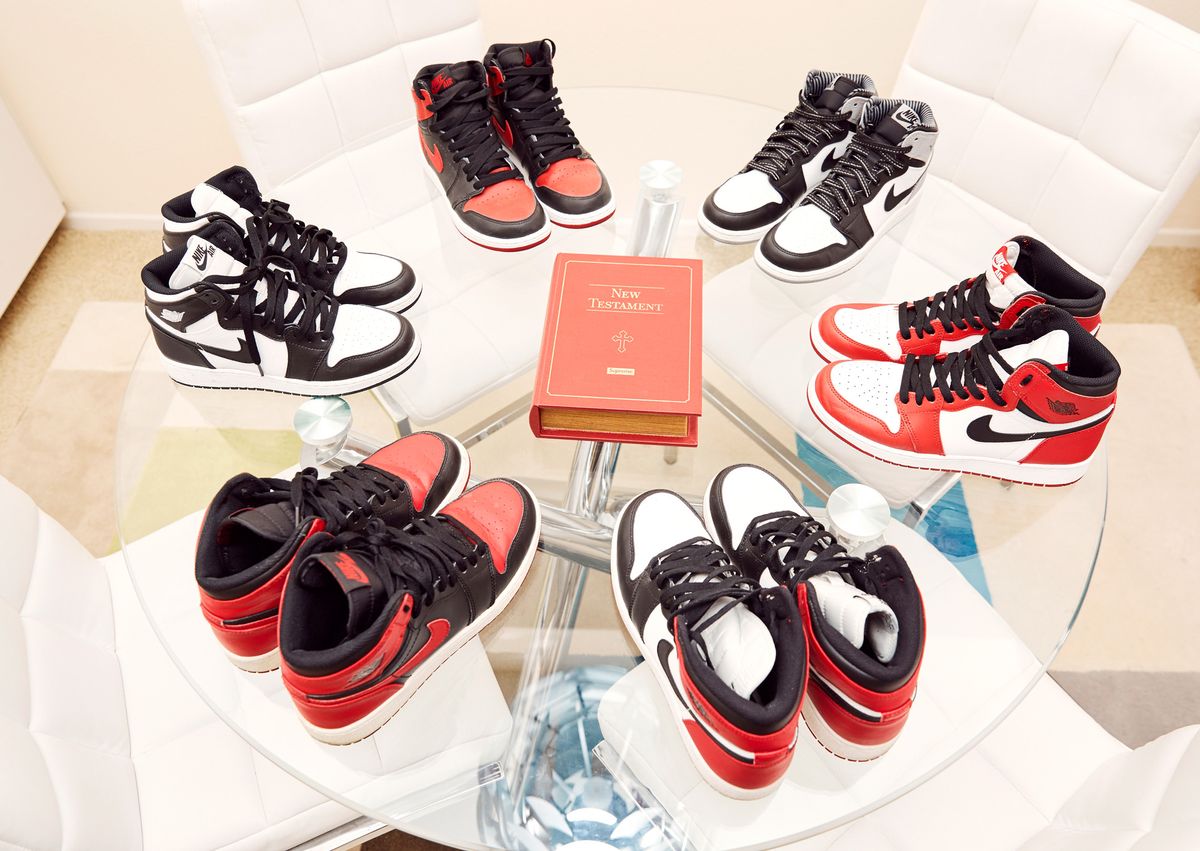 Living
The co-author of Sneakers shared his favorite tales of Tinker Hatfield and DJ Clark Kent.
Sneaker history is rich, alluring, and one of our favorite things to read up on. It's right up there with shiny designer garb, strange beauty hacks, and culture. Howie Kahn, Alex French, and Rodrigo Corral, authors of Sneakers, filled an entire book with some of the most inspiring and downright crazy stories from the most iconic names in the sportswear industry—ft. Serena Williams, Tinker Hatfield, Kobe Bryant, Rachel Muscat, and Ronnie Fieg, to name a few—and we can't put it down.
"When you think about product design, you have to wonder what has been more powerful and more enduring than the sneaker," Kahn explains when we ask him how the book came to be. "Retro releases wouldn't matter if their designs didn't continue to intrigue, [and] we started by thinking about the huge significance of that. The last line of the book really says it best. Aaron Cooper, a major designer at Nike, broke it down for us: 'A shoe by itself doesn't mean jack. It's the stories that matter.'"
Kahn shares his top five favorite story excerpts from Sneakers.
---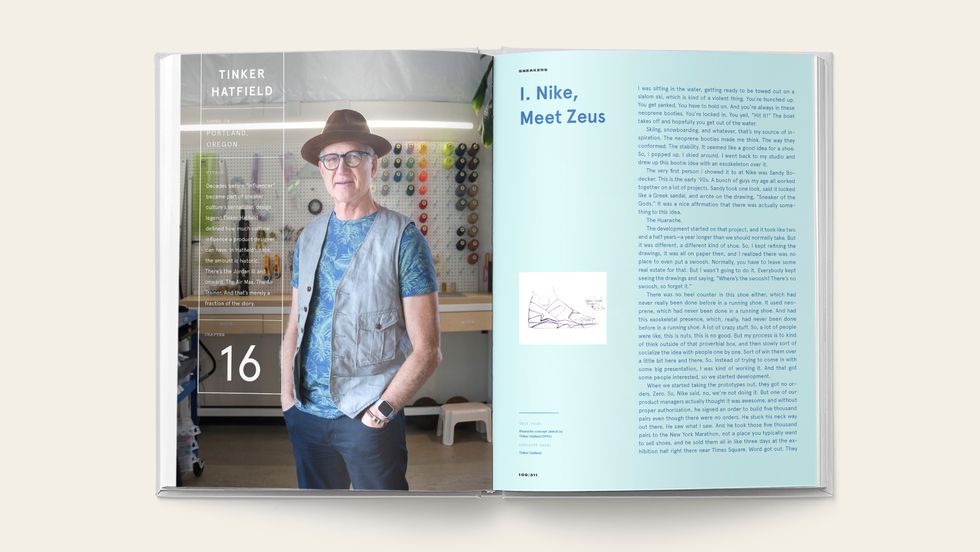 "A few hours before Cooper dropped the above bit of wisdom that we all knew would eventually conclude the book, we sat with Tinker Hatfield, the most influential sneaker designer of all time, as he told us a tale not of an epic success, but of a shoe that was, in his estimation, a total failure. He called it the foot tent, and he had based the idea on the design of a camping tent.
"'We actually made it,' Hatfield said. 'Because it required a little space around your foot, it was fat; it was chubby. It was kind of like this dumpy-looking tent thing on your foot. We sold them, but it went nowhere. It was one of my worst projects of all time.' Then Hatfield shook his head, smiling and radiating his usual knowing warmth. 'I have heard some clamoring about people wanting us to remake the Foot Tent now,' he said. 'I'm like, please don't.'"
DJ CLARK KENT & BOBBITO GARCIA
"DJ Clark Kent and Bobbito Garcia both painted pictures of New York City in the 1970s that were downright cinematic. 'We saw him in fur coats. We saw him with a Rolls-Royce. In the hood, a good car was the Thunderbird. He's in a Rolls-Royce. That shit was a spaceship.' That's DJ Clark Kent, a towering figure in the music world with a first-rate eye for sneakers, talking about Clyde Frazier and, ultimately, the Pumas he wore on his feet.
"'I'm nine years old in 1975 when I get my first brand pair of sneakers, the Super PRO-Keds,' Bobbito Garcia told us. Garcia, a DJ, author, and director, is amongst the sneaker scholars we admire most. He was also the first interview we conducted. 'By '78-'79,' he continued, 'that's when I'm starting to get my brother's hand-me-downs, wearing five, six pairs of socks to wear sneakers that are two sizes too big on me. But you gotta remember, dudes in the '60s and '70s, we used to do that. It looked like casts around the ankles. That was the cushioning before brands started making cushioning.'"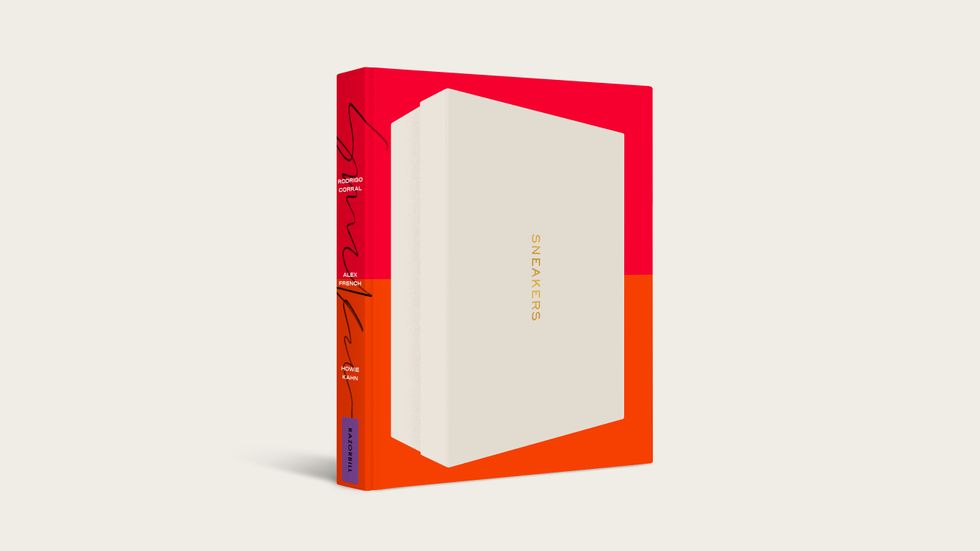 "Adidas's global creative director, Paul Gaudio, explained to us how his company is using a thing called Digital Light Synthesis to usher in a new era of sneaker manufacturing. 'Literally, we shoot light and oxygen onto this resin,' he said, 'and it turns the material into a solid. It turns a liquid into a solid.' The shoes made from that process, the adidas Futurecraft 4D, are currently selling on the secondary market for around $1,000 a pair."
"Because our selection of dreamers are so highly accomplished, there's a way in which Sneakers also doubles as a book about entrepreneurship and self-actualization. Tiffany Beers, one [of] the Nike designers who worked on the company's self-lacing shoes, the HyperAdapt and the Air Mag, and has since left to join Tesla, told us, 'I'm always problem-solving so I'm rarely short on new ideas. New experiences and constant learning fuel the best ideas for me. Many of mine are not initially grounded in reality because I literally believe anything is possible.' Audacity like that is at the root of why our sneakers matter."
Photos courtesy of Sneakers.