A Series of Unfortunate Events' Malina Weissman Is 15—and Dresses Better Than You
The actress shows off her eclectic style while talking about the hit Netflix show, holding babies, and her dream day (which involves lots of pizza).
Celebrity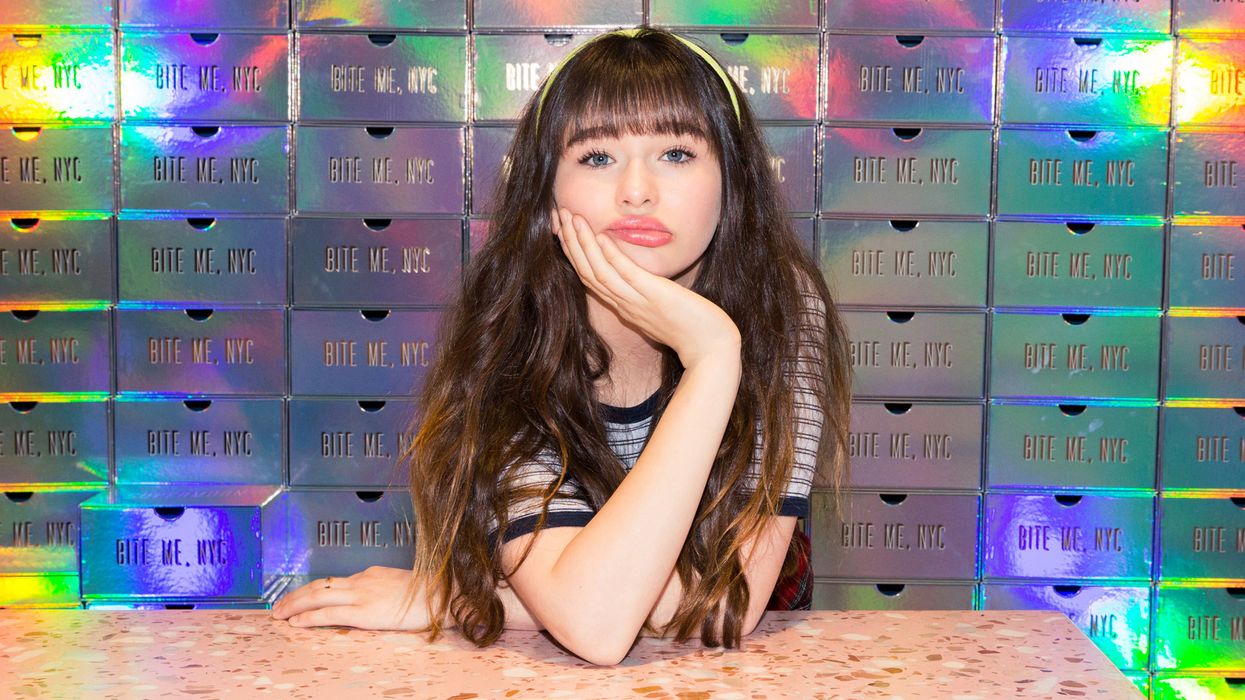 "It was kind of a chill birthday," Malina Weissman tells me as we sit cross-legged on small metal stools in the middle of Supermoon Bakehouse. The actress, who plays Violet Baudelaire on Netflix's A Series of Unfortunate Events, just turned 15, and as I awkwardly ask her how she celebrated—while trying to sound cool to this supercool teen—her answer proves she is more mature than her years. "I was in Vancouver filming season three," she says, noting that she also got a lot of "cute clothes." "I was working all day."
Of course, if you've ever watched even *part* of an episode, then you'll know that means the young actress' birthday was likely really, really fun. She was doing what she loves: acting out all the crazy adventures her character goes on, while working alongside Neil Patrick Harris and, starting this season, Allison Williams. I feel a bit jealous, to be honest, and all the more curious to learn about what goes on on set, if this is what Weissman wants to do forever, and how she picked out the eclectic outfit she wore to our shoot.
So Malina gets right into it, telling me a bit about herself and the show's second batch of episodes, which are streaming as we speak. Still a bit unsure if this show is too juvenile for you? The young actress sums it up to me perfectly: "There are so many jokes that adults might get that kids might not, and there are jokes that kids will laugh at and adults will be like, 'What?' It's for everyone!"
---
Did you read the books for A Series of Unfortunate Events?
"I read them a long time ago, but I definitely had to reread them once I found out about the show. I kind of forgot what everything was. What's exciting about season two is that it's never been done before. With season one, there was a movie, which was the first four books. Now we're doing the rest of them. We really try to follow the books, 100 percent."
What's the biggest difference between season one and season two?
"There's a lot more mystery than the first season, and a lot more coming for my character—and everyone else, too. I'm waiting for when I have a solid five hours where I can just binge it."
Do you like watching yourself?
"Oh, I hate it. I hate my voice. I'm like, 'Wait, that's what I sound like? What?' I'm definitely just going to watch by myself, in a closet, with my phone. That's it. [My parents] will watch it in their own time—if they need to see it, they can see it. But not with me!"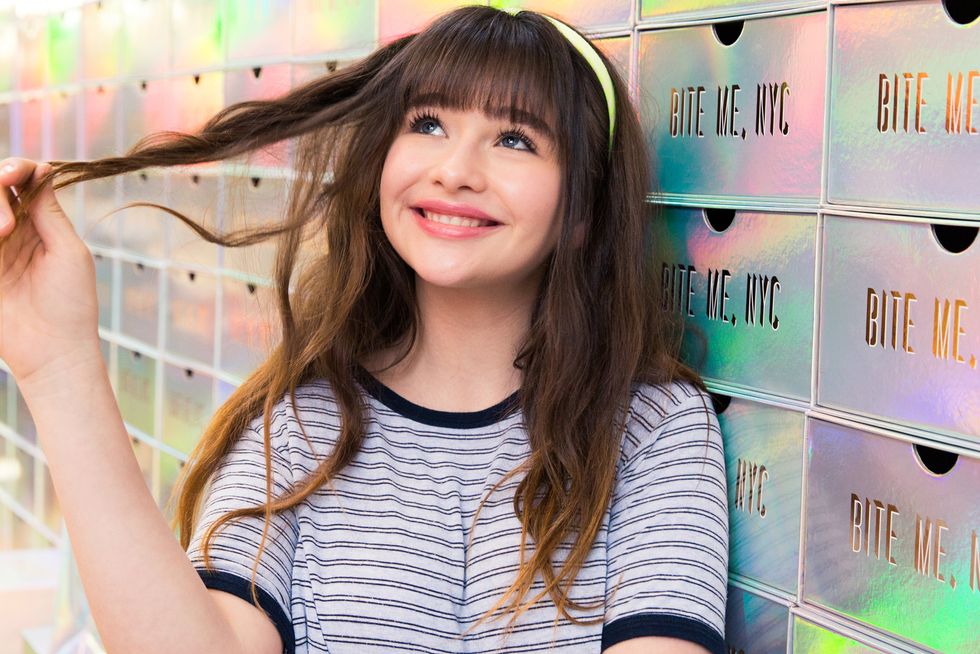 Your costars on the show are great, too—obviously there's Neil Patrick Harris, but now Allison Williams!
"She's incredible. We've been filming season three, so she's with us right now in Vancouver. It's been incredible just to watch so many different actors work and be inspired. They know so much more than I do, so I learn from them."
Is acting what you want to do for your whole life?
"I want to continue acting for now, but I do want to go into directing. I also love fashion, so we'll see where that goes. I want to experiment, but I definitely want to continue acting."
Do you like problem-solving, like your character, Violet?
"When I was little, I would always make little doll houses and things for my dolls. Things that my mom wouldn't buy me, I would make myself. That's something I have in common with Violet; she's an inventor."
 
You're always carrying around your baby sister on the show, Sunny. Is that difficult at all?
"We have a photo-double baby who is also on set—his name is Colby. They're a few months apart, but Presley [Smith], who plays Sunny, sometimes she'll cry or get snappy or want to go to her mom, so we'll bring in Colby, and he'll do the scene. We also have a jelly baby that's a dummy baby. It's heavier than the real baby, I'll tell you that. I remember the first season, I would carry [Presley], and she would be so heavy, and I'd have to give her back to her mom like, every two seconds. But now I just hold her the whole time, which is awesome. We're getting stronger. [laughs]"
What would be your dream role?
"Probably to work with Tim Burton. He's really cool. We'll see…"
Do you believe in the paranormal?
"Yes. The first season [of A Series of Unfortunate Events], when we were filming "Lucky Smells Lumbermill," we were at this location that was really creepy. It was a shipwreck, and they roped it all off, because if something fell, we would have gotten hurt. It looked like workers [had] just got up one day, left, and never came back—it was crazy. I was like, 'We're gonna get haunted. We're gonna get killed. We're all gonna die.'"
You mentioned you were into fashion; did you put this outfit together yourself?
"I did! Me and my sister put it together. Recently I've been getting more into fashion because... I guess I'm just getting older, and putting stuff together is so fun. You can make something so unique. Fashion can show somebody's personality so well."
What do you like to do on a normal day?
"I live in New York, so me and my friends will walk around the city. I take photos for fun sometimes; I have a camera. When I'm not doing anything, I wake up in the morning, go to school. The show has changed my life in a unique way, but it also hasn't in such a way that when I'm home, it's so normal with my friends. Which is awesome."
What would be your dream day?
"OK… I'm waking up at like, 12… I'm eating pizza for breakfast… Then I'm going to see all my friends. Then we're going to eat the worst junk food in the world—it's good, but it's like, bad for you—and then, we're going to go get dessert. Then we're going to have more pizza and go home and just chill with popcorn. That sounds like a good day."
Want more stories like this?
Stranger Things' Newest Character May Have Told a White Lie to Get Her Part
Stranger Things' Natalia Dyer Has Strong Feelings About Barb's Death, Too
Riverdale's Hayley Law Proves Spring's Biggest Beauty Trend Is Completely Wearable