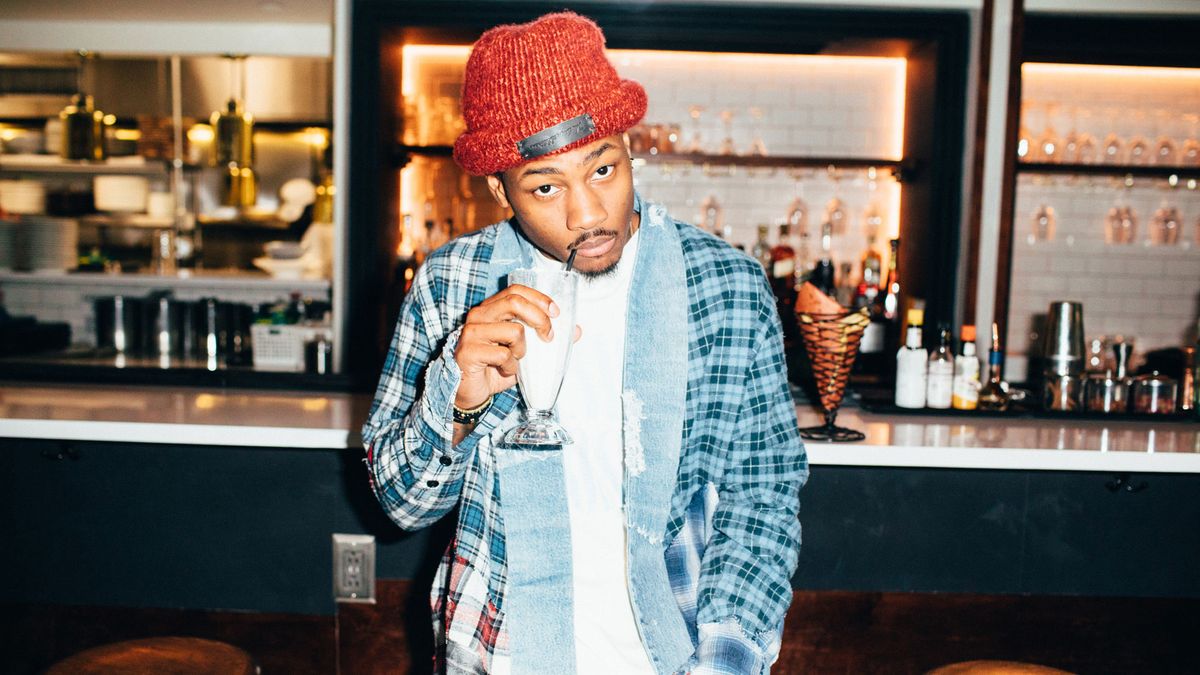 Celebrity
The NFL star has style for days.
Ben Ritter
If pursuing my dream job meant breaking an ankle and enduring a lacerated kidney in college, I'd swiftly move on to plan B. To Minnesota Vikings wide receiver Stefon Diggs, however, those injuries were merely a test of faith and perseverance. Towards the end of the 2017–2018 NFL season, Diggs scored a 61-yard touchdown—with zero seconds on the clock—that sent the Vikings to the NFC Championship with a 29–24 win over the New Orleans Saints. After the play, there was a deafening celebration among fans in the stadium; a teary post-game interview in which Diggs thanked God, profusely; and the culmination of what he'd been working towards since his childhood Pop Warner days. Suffice it to say, Diggs passed the test.
Born and raised in Maryland, Diggs is the oldest of three brothers and was a breakout football star at Our Lady of Good Counsel High School. He received scholarship offers from USC, Ohio State, and Auburn, among other top-tier programs, but ultimately picked University of Maryland. "I wanted to stay home, close to my family," he says during a recent trip to NYC. "My dad passed away when I was 14, and my little brothers still needed somebody. I wasn't ready to leave them all by themselves."
---
An avid fan of fashion, Diggs is in town from Minneapolis to enjoy the abundance of NYC shopping (Barneys, Faith Connexion, Kith), and I spend the afternoon with him discussing his career, personal style, and off-the-field aspirations—first at 11 Howard to see his travel wardrobe, then at Nickel & Diner so we can have some fries and a milkshake.
"My mom always told me, 'Make sure you have on nice shoes, make sure your smile is nice, and make sure you smell good,'" he says. I give him a once-over; it's another test he's passed. Highlights from the rest of our conversation, ahead.
So one day you're a college student and the next you're in the NFL. What is that like?
"After I deposited my first check, I looked at my account like, 'I don't want to spend it right now,' because I'd never had that much money [laughs]. But then I ended up going to get a pair of shoes that I really wanted. There were Jordans that I couldn't get when I was young, and I'd always told myself, 'When I get older, I'm going to get those shoes.'"
Let's talk more about fashion. Tell me about your style when you were growing up:
"[In elementary school] I never wanted to wear what my mom wanted me to. I would hide clothes in my backpack so I didn't have to [laughs]. Middle school is when I started to pick out everything by myself. Not having a lot of money was hard, but I always wanted to look nice. My close friends and I used to share clothes. If I didn't have something, I'd be like, 'Can I borrow that jacket, bro?' None of us had a lot, but we all had something, so we'd piece things together."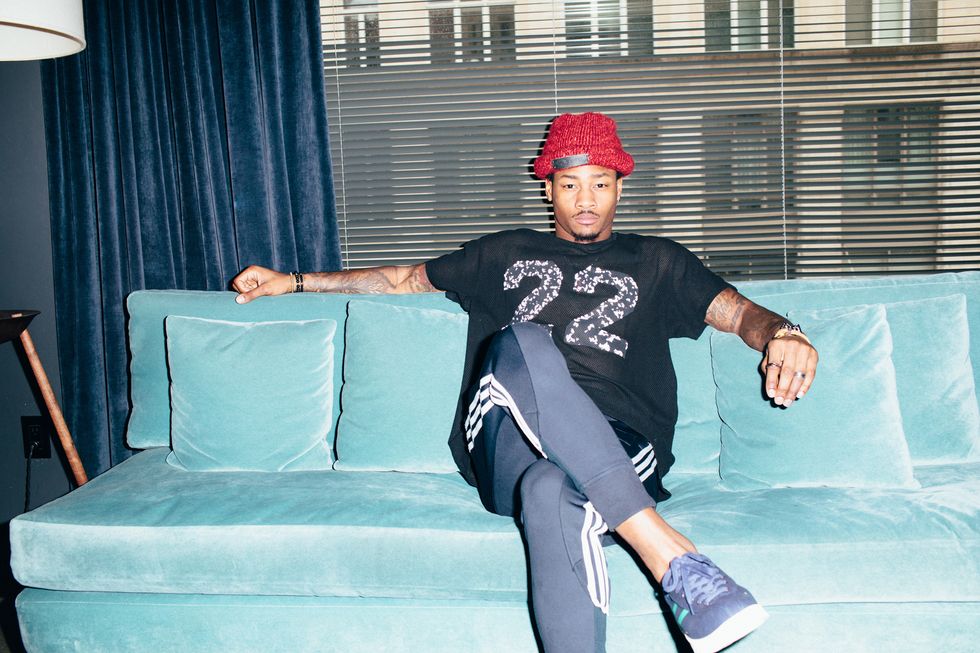 What are some of the labels you're into right now?
"I hate to shout out favorites because I don't really have them, but I wear Fear of God, and I have some R13 and some Greg Lauren. I just got this leopard-print hoodie from Faith Connexion that I really like. [My leather jacket with hearts] is J.W.Anderson. It's my Love Jones jacket [laughs]."
I noticed your Off White x Nike sneakers. Do you consider yourself a sneakerhead?
"I'm not really a sneakerhead, I'm more of an outfit guy—the whole ensemble. I'm a big Vans guy, though. They're my old faithfuls."
What are your interests outside of football and fashion?
"I want to go to culinary school. I'm gonna tell you right now, I'm not the best cook, but I really do want to learn because I like to eat. I'm a foodie."
What do you like to eat?
"I love tacos. Like, that whole Taco Tuesday thing? I'll go anywhere for Taco Tuesday. If it's not tacos, it's chicken parmesan. Those are my two favorite foods."
Do you follow a strict diet when you're training?
"During the season, I try to eat clean. A lot of non-GMO stuff to keep my body intact, because it's a long season and I take a lot of abuse. So a lot of carbs and vegetables."
What's your workout routine like?
"We work out pretty much every other day during the season. I take a break afterwards to let my body recuperate, but once I start again, you'll see me training two or three times a day. Since I play receiver, I do a lot of training for my hands and feet. Our game is more about finesse and strategy—outsmarting [the opponent] by being fast and athletic."
You often talk about God and your faith. What does that stem from?
"God has shown me time in and time out to appreciate your blessings. When I was in college, I felt like I couldn't get hurt, but my body was telling me I needed to slow down. That's when I broke my ankle. That time really taught me patience; it taught me that you need to take care of yourself and you need to make sure you're doing everything the right way, not just on the field, but off the field, too. I give all glory and praise to Him because on any given day everything could be gone. I'm so blessed, and that's a beautiful thing."
You have a little girl. What's being a dad like?
"It's dope. I'm a little softer now because I've got a soft spot for my daughter. I just love her so much, and I do everything that I can to make sure that she's OK. I want to be her first love. I want to be her example of how a man's supposed to treat her."