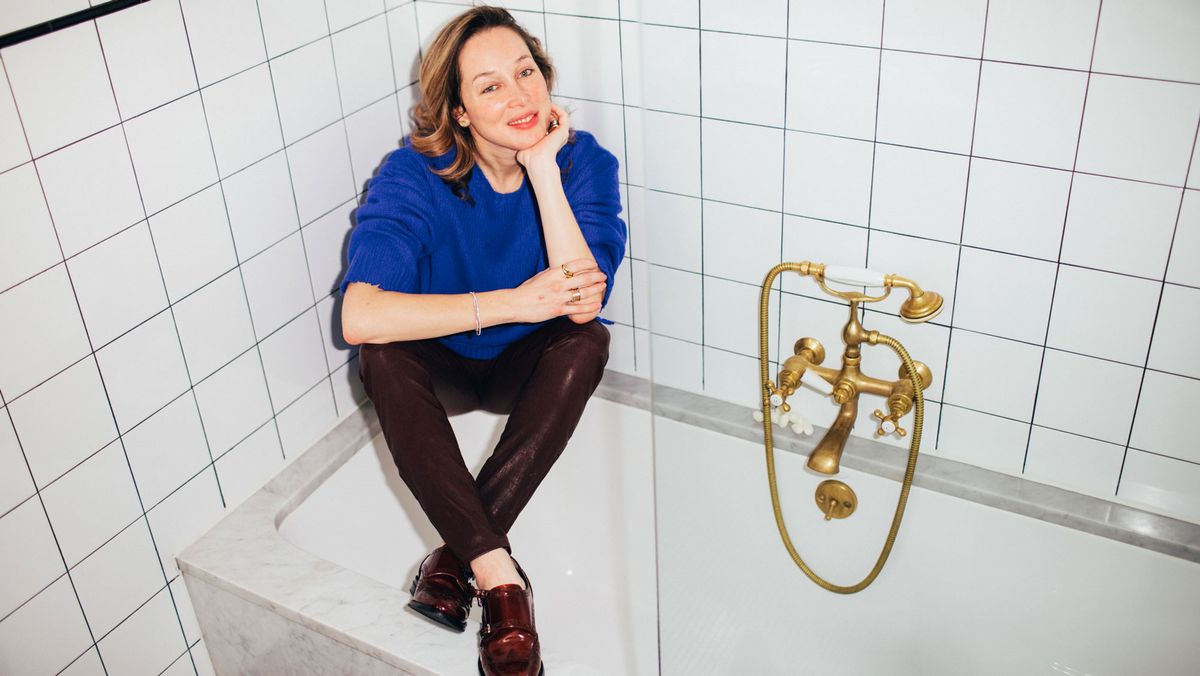 Skin
Skin-care veteran Tata Harper reveals her top beauty secrets.
Ben Ritter
The most basic tenet of skin care is to wash your face morning and night with an appropriate cleanser. But if you *really* want that otherworldly glowing skin, it's not as easy as wash-and-go. This is why we decided to consult beauty veteran and founder of her cult-favorite namesake brand Tata Harper. She is a walking testament to the effectiveness of her products (her complexion is off-the-charts dewy). "I feel that a lot of people think that cleansing is a very basic step," she explains when we catch up with her at The Ludlow Hotel in New York. "Some people even use bar soap, but it's so bad for you, and so drying, because it degenerates your [skin] barrier. It's about the quality of the cleanser, avoiding all of those crazy detergents, [and using] great tools." Below, Harper shows us her six steps, techniques, and in some cases, *unique* tools (silkworm cocoons, anyone?) she uses to cleanse and treat her skin every. single. day.
---
1. Double-cleanse and exfoliate…with silkworm cocoons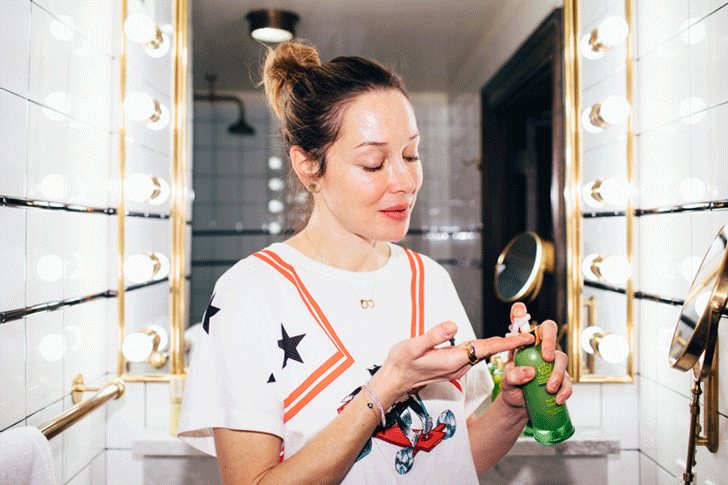 "Cleansing is critical for skin health. The first oil cleanse will help you remove all of the pigment particles and dirt that have accumulated on the skin, and the second cleanse is an internal, deep cleansing treatment, like a juice cleanse for the skin. The silkworm cocoons are great for re-texturizing your skin and helping you clean out the pores really well."
2. Mask with a steam towel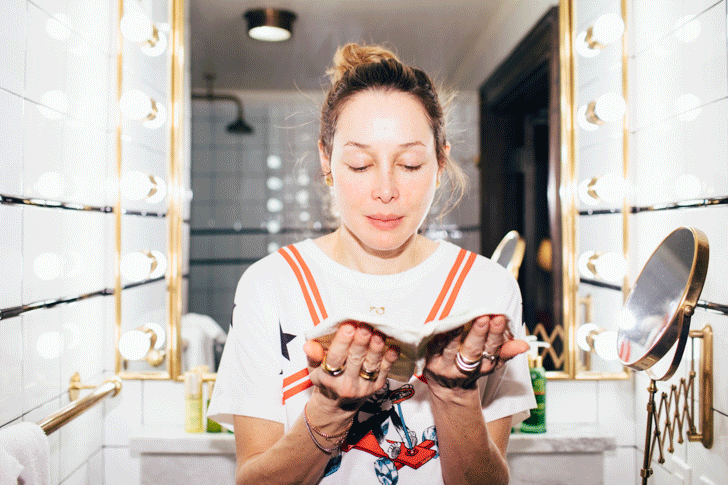 "[I use] this Volcanic Steam Towel, but you can use any towel before you put a mask on to open up your pores; [you'll] trap all that heat in the skin. [Dip it in] warm water, and leave it for 30 seconds. When I have the mask on, I use a steamer for one minute. But people can also boil a pot [of water] and use a towel."
3. Apply a mask depending on what your skin needs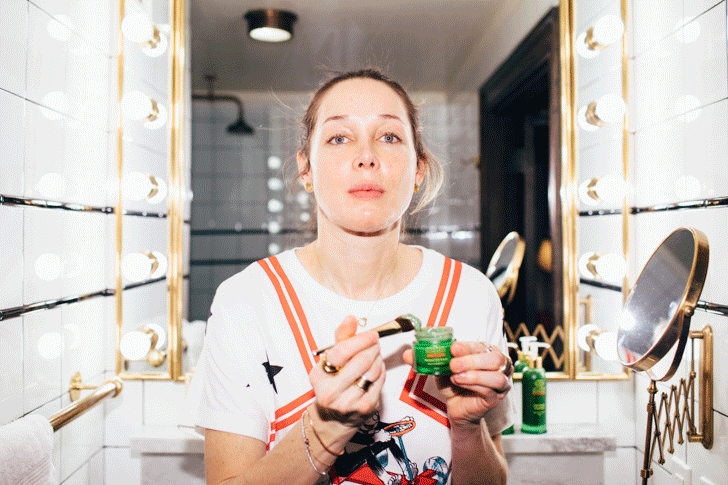 "Masks are like medicine cabinet items for me. It really depends on what's happening to you at the moment, or what condition you are battling. If today I am dry, tomorrow I'm not glowy, and the next day I'm breaking out. When I have a special event and I need my skin to be super glowy, I do a resurfacing mask. When I feel dry, I use the moisturizing mask."
4. Increase facial circulation with a light roller massage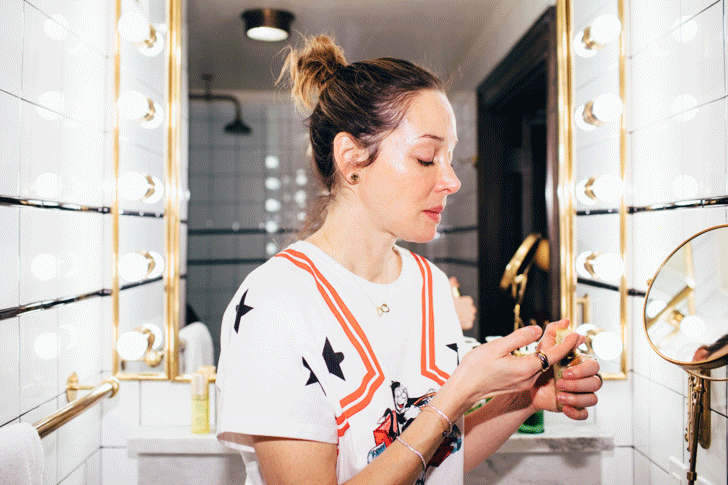 "I use this Méthode Jeanne Piaubert Stimuloval toning roller. It's silicone and really delicate. It just brings a lot of circulation to the skin, and when you have more circulation, you have more blood flow, and then your skin gets more nutrition, just by stimulating the skin. Just [use] a pump of serums, and always starting with the neck with medium pressure, enough that you feel that the skin gets a little pink. Use it in different directions—perpendicular, then across, and diagonal."
5. Apply your eye cream in circles, and don't forget your lips!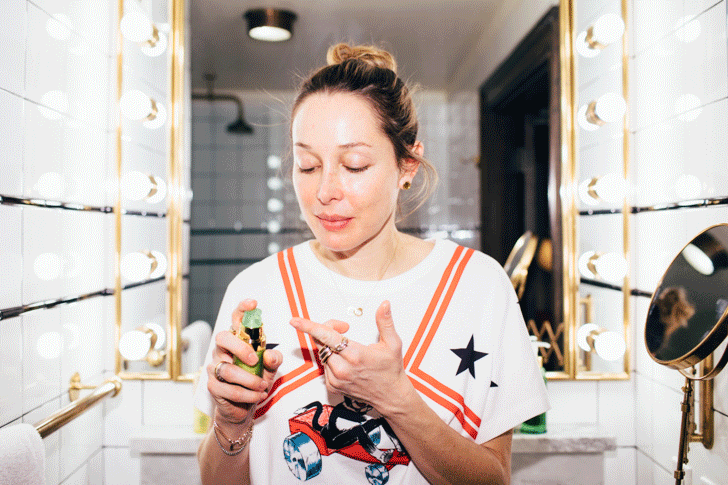 "The skin [around your eyes] is so delicate, so thin, and you break your collagen fibers easily by pulling with friction. The only way that you can massage the eye area is when you have a lot of slip [with your eye cream]. We accumulate a lot of fat, a lot of fluid [around the eyes]. Stimulating it every day in the right direction, you make sure that a big bag and any dark shadows never accumulate. So it's great to massage this out, [using your finger around] in one direction, and then the other. [Remember to] apply to the temple! I also love to apply it around my lips, because the skin is so thin, that typically eye creams work really well in the lip area."
6. Moisturize and massage for maximum glow
"[Facial massage] gets a lot of micro-circulation back into the skin. It's stimulating the skin so that blood flows easily, so that oxygen gets transported into every area of the skin. By doing that, you stimulate a lot of collagen growth, to get back the youthful, glowy tone. I actually take moisturizer and I mix it with a few drops of the oil, and I put them together on my skin. [Then massage] up the cheeks, then up [over the nose] and across the forehead. Then upwards on the neck, then across the forehead again."
Want more stories like this?
I Used a Jade Roller for 30 Days and It Changed My Whole Face
The Nighttime Routines Our Editors Swear By
How to Use a Jade Roller