This NSFW Podcast Has Been Downloaded 35 Million Times
Corinne Fisher and Krystyna Hutchinson know how to get serious and silly about sex. And now, they wrote a book.
Love And Sex
Comedians Corinne Fisher and Krystyna Hutchinson are most definitely silly. That's the word that came to mind when I met them, watching the two play with their food—and stick it up their noses—at Nickel and Diner in NYC. Perhaps it's just that they felt super comfortable; they've been in the funny business for years now, essentially starting their stand-up duo, Sorry About Last Night, after Hutchinson was Fisher's intern. But the truth is, their humor isn't all crazy and kooky. They've also found a way to be informative (or "hide a lesson in comedy ice cream," as they so eloquently put it).
After earning international recognition with Guys We Fucked: The Anti Slut-Shaming Podcast—which has been downloaded 35 million times, includes interviews with past partners, and was formed, as their TED-talk-famous story goes, after Corinne was dumped at a Panera Bread—they wrote a book: F*CKED: Being Sexually Explorative and Self-Confident in a World That's Screwed. In it, they tackle a variety of serious sexual topics…with a bit of humor.
---
"We are not sexperts; we're not the kinkiest people you ever met," Krystyna tells me during our chat. "But the rub is that we're very honest about what we're clueless about. When we started the podcast, there was one instance where a guy [Corinne] was hooking up with handed his flaccid dick over to her and expected [her] to make magic out of it. We would talk about that in a 'This seriously happened, but the end result was funny' [way]. Sex can be ridiculous and hilarious, we found."
To many, Corinne and Krystyna are refreshing; the world needs more women who talk openly about sex—both the good and the bad. But I couldn't help but wonder about the people who might find this uncomfortable.
"Everyone wants to fuck women, but then when the women want to fuck them back, they're like, 'Oh wait, no,'" Krystyna says with a laugh. Corinne chimes in and takes things to a more serious level: "That's why you're seeing all of these cases—these Cosbys and Harvey Weinsteins," she says. "Women are not thought of as fully functioning, 100 percent human. We're thought of as half people who are primarily here for guys' sexual pleasure, when it comes to straight people. I truly believe that a lot of men think of us as less important, weaker, and think they can just kind of take us out when they want to be sexually pleased."
It's that sort of bouncing around, alternating between the lighthearted and the deep, that can be expected in everything these two women do. They tell me about times they were sexually assaulted on the subway, which leads to a story where Corinne got her butt grabbed by a 12-year-old.
"I chased them through the subway," she reveals. "I was like, 'You're not going to look cool in front of your friends. You're going to look like a little bitch.'"
According to Krystyna, the reason their work has resonated worldwide is because so many people feel some sort of shame surrounding their own sexuality. "But all of those people enjoy a sense of humor. That's one way to make feminism and sexuality more digestible."
"I also feel like, in a world where you can't say anything, it's very hard to have conversations that we need to be having," Corinne adds. "There's a constant fear of slipping up and saying something stupid, not P.C, or just incorrect. You need to say the wrong thing to be able to be corrected and then go on in your life and use whatever the right thing is."
F*CKED works to inform in many ways—there are two full pages dedicated to emails they've received with the word "rape"—but they're also hoping it will inspire women to support one another.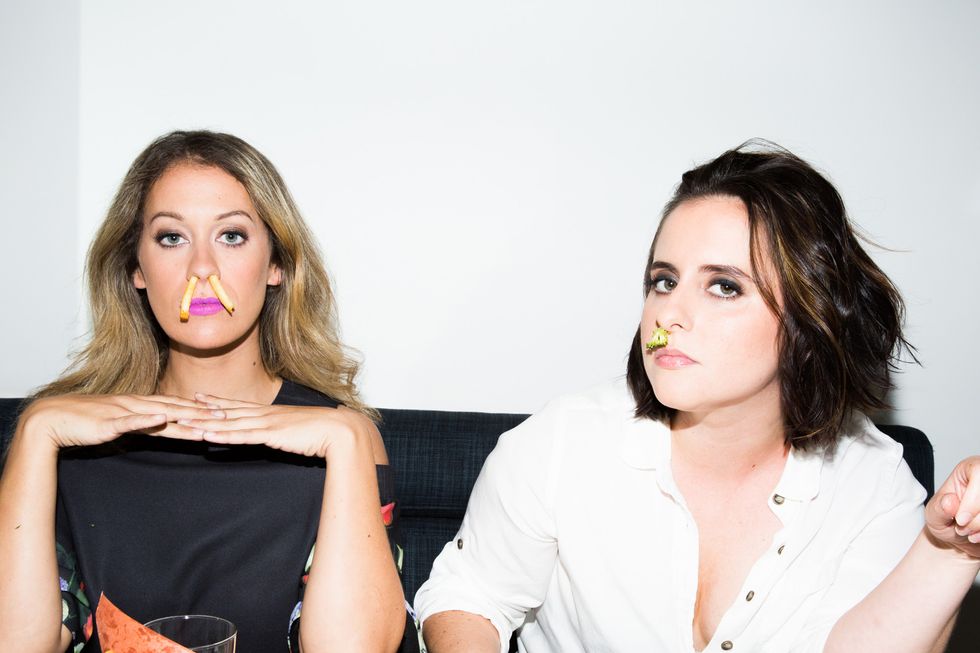 "I spend so much time feeling like, 'What can I do if other women won't even be on our side?'" Corinne says, clearly upset. "It's really disheartening. Our book is uplifting, but it's also like, hey, fucking stop doing these things. Stop hating yourself. Stop shitting on other women. Get out there and have a safe, wonderful sex life, but also be a productive woman in society. Be a woman who lifts other women up."
Thankfully, Corinne and Krystyna are two of those women. They work well together, being silly and serious. They stick fries up their nose and do stand-up, but are also hoping to get a conversation going about some pretty messed-up topics.
Their book is out now, and you catch them doing their thing live by checking out show dates on sorryaboutlastnightcomedy.com.
Makeup: Reiva Cruze for Exclusive Artists using Cle De Peau
Want more stories like this?
Meet the Women Starting the Next Sexual Revolution
You Can Feng Shui Your Bedroom for Better Sex
Trade Secrets about Beauty's Most Buzzed-About Podcasts