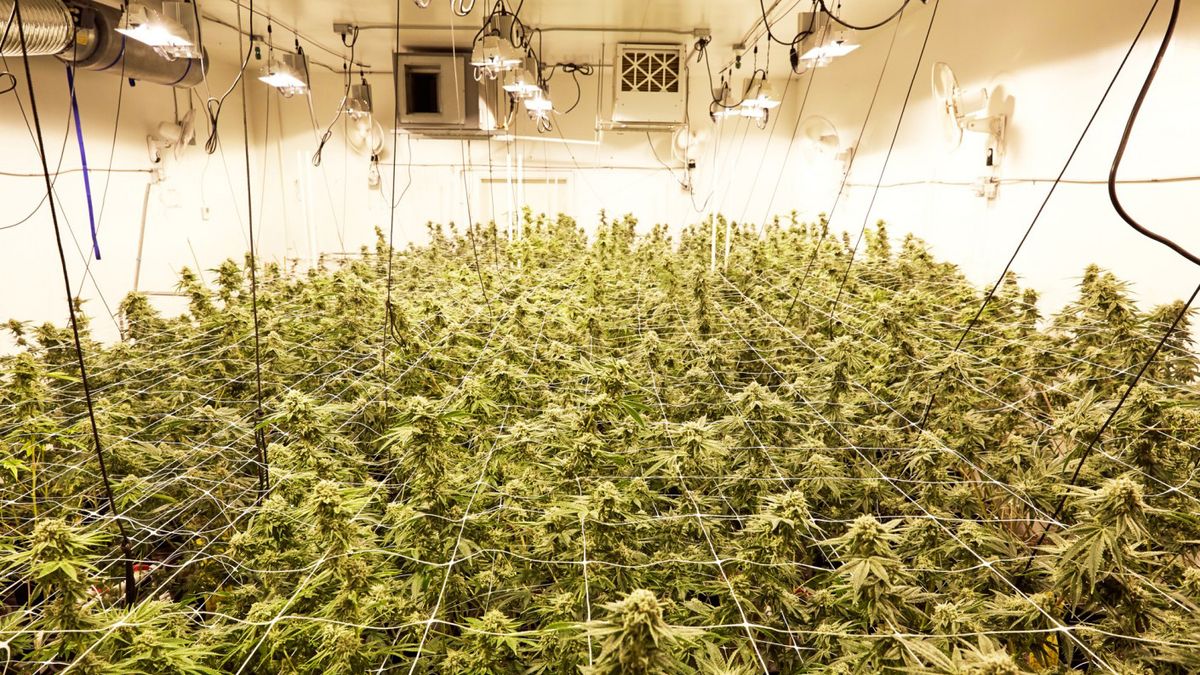 Love And Sex
Adventures with THC-laced cannabis lube.
Over Christmas, I was home in Seattle where marijuana is now very legal. As in, it's as easy to buy as alcohol. I haven't really touched pot for over a decade, but when a friend reminded me that there's plenty of other iterations of THC—including, yes, cannabis lube—I figured it might be fun to dip my toe back in. So to speak.
I went downtown to Herban Legends (there's a pretty serious pun situation happening right now in legalized cannabis marketing, by the way), showed my ID at the door, and went in. To give you a sense of how cool I am in a dispensary: I asked if it was OK to take pictures. I quickly overlooked case after case of cutely packaged joints and went to the topicals section where a lube called Velvet Swing (their tagline is "Come Long, Come Hard, Come Again") seemed to be the best bet. Forty-nine dollars later—the entire transaction can be done on a card, even if it's a federally-backed bank, as the money is rapid-fire transferred through multiple agencies—I had my first legal cannabis purchase.
---
To give you a sense of how cool I am with THC in general: I literally scheduled time on my calendar to "Test THC Lube" on a Saturday when I had nothing to do just in case I felt high—a feeling I'm not really a fan of, to be honest. That was a 100% unwarranted concern. The entire .44-ounce bottle contains 100 MG of THC and 33 MG of CBD, so the recommended five smalls pumps of the odorless, colorless serum don't do anything for your head space. The way it works down below, according to Velvet Swing: "THC dilates the smallest capillaries, which increases blood flow and heightens sensitivity, and can lead to longer, stronger orgasms." The lube takes 20 minutes to take effect at which point you feel a sort of tingle, reaches full potency at about 40 minutes at which point you can start to feel turned on, and lasts between two and four hours. All true, but the last part I didn't learn until after the fact, which made for a fun surprise as the day went on.
As for body space or, more precisely, vagina space, it was pretty great. The claims on the Velvet Swing website—"Proven longer and stronger orgasms for eight out of 10 women"—rang true, and I would also add faster. I don't know exactly on what scale to measure my personal benefits without revealing a little more than I'd like, but let's just say, based on my solo research, things went from a typical seven to eight-ish to a solid nine, if that makes any sense. And that's as far as I'm going to go on that part.
Aside from just being fun, though, lubes with THC and/or CBD can really help make sex more comfortable for many women who struggle with pain during sex, which is a very underreported issue. Another popular cannabis lube with a lot of press is Foria. Since you can't buy these products online, look on their websites for a dispensary near you in Alaska, California, Colorado, Maine, Massachusetts, Nevada, Oregon, Vermont, or Washington where marijuana is legalized. And if you have to travel to a state where marijuana is legalized to score some, try not to spend the whole time in your hotel room.
Want more stories like this?
Are Yoni Eggs the Secret to Better Sex?
What Happened When I Went to a Super Secret Cannabis Club
Why Marijuana Needs to Be Part of Your Beauty Routine Now