We Tried It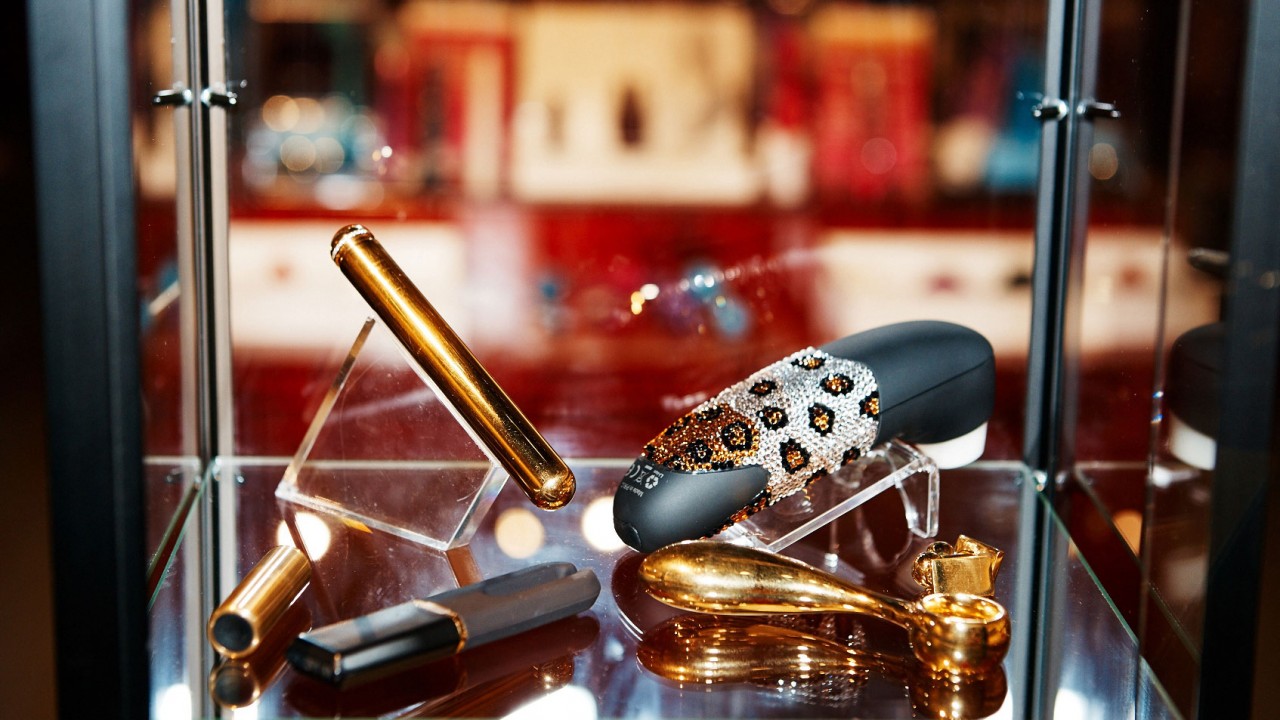 Our Sex Writer Tried Out the Best Vibrators on the Market
'Tis the season to treat yourself.
"I've got gadgets and gizmos aplenty…"
—Ariel, The Little Mermaid
—Also, me, currently. Regarding the best vibrators.
Here's a fun fact that I probably shouldn't share on the internet: For the past three weeks, I have been masturbating with the ferocity of a teenage boy who has just discovered the joys of Vaseline.
Yes, friends, I'll admit it: I've been spending some quality time treating myself with the help of some very enchanted equipment—the best vibrators crafted in steel, silicone, and in one instance, Swarovski crystals, each designed for the express purpose of getting a lady off. Let me tell you, it's been quite a ride.
It goes without saying that I did this for fun, but more importantly, for journalism…and, like, science. My journey began when my lovely editor suggested I review a bunch of vibrators for you, dear readers, to find the best vibrators currently on the market. I was more than happy to oblige. Several weeks have passed since that momentous day, and I have spent this time hard at work applying what are essentially power tools to my lady garden. THE THINGS I DO FOR THIS COLUMN, YOU GUYS!
What follows is a diary of my adventure.
THE VIBRATOR DIARIES
*Code Name: Operation Treat Yo'self *
I arrive at Coveteur HQ, where I am presented with a monster bag of sex toys. It is decorated with purple tissue paper and ribbons, which makes it less threatening. Still, I am a bit anxious about the journey home. Carrying this sack of sex toys around New York makes me feel like a deeply perverted Santa Claus. It occurs to me that I have become precisely the kind of person tourists are afraid to sit next to on the subway.
When I get home, I decide the best way to get started is to take stock of my existing supplies before opening my new bag of wonders. This takes all of two seconds because, evidently, while I have spent a significant amount of time interviewing people about their sex toy collections, I never put much effort into building my own.
Presently, my toolbox contains the following: a trusty no-name bullet vibrator (made of plastic, not silicone, because clearly I don't love myself) and the We-Vibe 4 Plus, my kick-ass couples' vibrator. Unfortunately, due to my current single status, the We-Vibe has fallen out of rotation. Can I use a couples' vibrator solo? Yes. Will that maybe make me cry? Also yes. So, to summarize, it's currently me and a plastic pocket rocket. How fucking tragic.
NOT FOR LONG. I crack open my bag of X-rated tosy and discover a certifiable buffet of sex toys. Fortunately for me, none of them look the least bit like a dinglehopper (yes, my Little Mermaid references are on point), so things are off to a good start. In fact, these vibrators are really quite pretty! I line them up on a shelf like trophies, and as cliché as it is to say, almost instantly I sense my house turning into a home. But there is work to be done…
First up on the Vagenda?
The Magic Wand Personal Massager has been a bestseller since the 1970s and continues to dominate the vibrator market today—a pretty impressive feat, especially considering the fact that the Magic Wand was not designed to be a vibrator at all. Indeed, unlike the rest of the vibrators in my treasure box, the Magic Wand looks very much like a medical device: It is off-white, plugs into a wall (though a cordless option is now available), and is large enough that it could be repurposed as a battering ram in the event of an emergency. It has a head shaped like a tennis ball, which vibrates at two speeds, providing release to your, um, sore muscles as needed. The enclosed manual even outlines various places on the body where it can be used, and to my surprise, the entire lady-bits region was conspicuously absent from the list. Evidently, I am about to go off-piste.
I had been warned in advance about the Magic Wand's legendary power, which made me a bit nervous about giving it a test-drive. To quote a dear friend of mine, "I swear to god, Lindsay, that thing will burn your clit off." If used improperly, that is. I planned on testing this guy over underwear, but after turning it on and watching it literally roar to life, I decided to keep my boyfriend jeans on too. For safety purposes.
Results: Holy shit. I CAME THROUGH MY JEANS! MY JEANS!
This is certainly unprecedented. I cannot overstate how much horsepower this vibrator has. Like, Bruce Willis and Ben Affleck could have taken a bunch of these up to space and used them to drill through the asteroid in Armageddon. It is that intense. It also gives an excellent shoulder massage.
Clearly there is a reason this baby remains a bestseller. While the Magic Wand did the job, I found it a bit too powerful for my personal taste. That said, I can definitely see the appeal. I imagine this particular power tool will be a game-changer for women who have never reached orgasm before, or who struggle to get there for any reason, such as being on certain medications. (P.S. This is super common; check your prescriptions, people.)
Best for: Women who like a LOT of horsepower, who struggle to reach orgasm, and anyone who is too lazy to take off their jeans.
Confession: When I took the Rabbit Habit out of the package, my first thought was "I need to be drunk to try this." Admittedly, this is my reaction to a lot of things in life. But the fact remains, I am intimidated by the Rabbit from the get-go. Why? Well, this motherfucker has a LOT of moving parts! The Rabbit Habit provides both clitoral and internal stimulation, delivered from a selection of four intensities, five vibration patterns, and five rotational patterns. Yes, rotational patterns. It. Does. The. Twist.
The best way I can describe the Rabbit is to compare it to a one-man band: You know that musician dude at the fall fair wearing an instrument-printed vest and a jazzy hat? This is him in vibrator form: Drums are banging, cymbals are crashing, rims are spinning, and pussies are whistling. The result is one triumphant symphony of sound. The only thing the Rabbit is missing is a pocket for snacks. It is truly a marvel of engineering.
Results: The Rabbit is often sold with an orgasm guarantee, which, as a consumer, I totally appreciate. I especially appreciate that it fucking delivered, because whatttuuup this savvy consumer totally came. Hard.
The Rabbit makes a strong case for pulling a Charlotte York and remaining in bed all day, perhaps because, as a vibrator/dildo hybrid, it is a delightful dick replacement. That said, the Rabbit wouldn't earn a permanent space on my bedside table (for regular use, I prefer something less intense; perhaps less dildo-y?), but I will definitely save it for celebrating special occasions.
Best for: Those who prefer internal and external stimulation at the same time. Fans of The Music Man. Anyone who wants to give a really festive and sexy Christmas gift.
The Form 2 is a dual-motored clit stimulator. It also happens to be surprisingly adorable for an X-rated pleasure machine. Compact, bright pink, and small enough to fit in the palm of my hand, the Form 2 is everything I want in a vibrator and everything I do not want in a dick. It reminds me of an extremely rare Pokémon, and this little monster is NOT to be underestimated. The Form 2 is shaped like a bubble-letter U, featuring two flexible, motorized, vibrating tips. It is designed to basically cradle your clit, stimulating it from all sides. Do I really need to tell you how this turns out?
Results: I am in LOVE. You guys, the Form 2 blew my fucking mind. It provides a slow, delicious build, with a massive orgasmic payoff that left me borderline incapacitated for several minutes after the fact. So yeah, you could say I'm a fan. The Form 2 isn't just a vibrator, it is a towering accomplishment of human ingenuity!
Best for: Me. Regularly. Forever. My legs are still shaking.
Update on the Form 2: In my previous diary entry, I failed to mention just how easy the Form 2 is to operate. So easy, in fact, that even a puppy could turn it on. I know this because, to my complete horror, mine somehow managed to do just that. I literally found my dog barking while it bounced gleefully across the carpet. I KNOW. It was quite a scene. Wrong on so many levels.
So why the fuck am I risking an intervention from the ASPCA telling you about this? Good Question! For one thing, "the incident" illustrates just how resilient The Form 2 is. Much like a wizard confronted by Voldemort, a vibrator should not survive an encounter with a four-month-old puppy. And yet, the Form 2 survived completely intact, with zero damage done—not even a thunderbolt scar! This vibrator is basically the boy who lived! This is also an excellent opportunity to mention the importance of proper sex-toy cleaning. Jimmy Jane, who makes the Form 2, sells a Sensual Care Duo which contains both lube and sex-toy cleaner, which I promptly used. Three times in a row.
Yes, the name is stupid. But get over it. The Womanizer W500 Pro deserves your attention. It will probably get it, too, for a variety of reasons. First of all, aesthetically speaking, this baby is hands-down the winner of the jazziness competition. It is FANCY, y'all! Like, partially-plated-in-gold-and-adorned-with-Swarovski-crystals fancy, in case you didn't think I was dead fucking serious. Just holding it makes me feel like J. Lo during her "Jenny from the Block" phase, or Mariah Carey circa her entire career.
That said, decorative pussy bling is not what makes the Womanizer so special. Much like Mariah, the Elusive Chanteuse, this vibrator has one-of-a-kind capabilities. You see, unlike pretty much every other device on the market, the Womanizer doesn't depend on vibration to get you off. Instead, it provides a light suction (yes, I agree, suction is a gross word…sorry) with just a bit of vibration via a small silicone nozzle that you position over your clit. Essentially, it mimics slow, deliberate, expertly performed oral sex—FINALLY. This is truly technological innovation at its best. Basically, you get the benefits of hooking up with an older dude who knows what he's doing without having to talk to him about '90s rock bands and "how much New York has changed." This is an absolute godsend.
Results: Here's how I would describe the experience: Imagine you are going for a nice relaxing boat ride down a lazy river, super chilled and enjoying yourself so much that you don't notice the current is slowly picking up speed. Then all of a sudden you turn a corner, and BOOM you are on the precipice of a big-ass waterfall. You and your boat careen over the edge of said waterfall, you have an out-of-body experience, and when you come up for air you believe in God again.
Best for: Everyone. Literally every vagina should experience this.
Opening the Vesper Vibrator Necklace is like opening the world's most promising jewelry box. Unlike the other vibes I've encountered, this one is packaged like a glorious piece of jewelry, which, btw, it is. The only thing that gives the Vesper Necklace's true purpose away is the warning label that says "Do not insert in anus or vagina!" which feels redundant because, hello, that would be like fucking a fancy gold pen. As the warning label makes clear, the Vesper Necklace is designed for external stimulation only, which is exactly what I'm into. You know what else I'm into? Statement pendants and sex toys plated in 24-karat gold. Turns out this is both! I immediately imagine bragging about this new accessory to my friends. Why, yes, I DO own a vibrator entirely plated in 24-karat gold. Only the best for my magic triangle! I cannot wait to wear this out. And I don't. I put on my new pussy pendant and head to a bespoke organic artisanal raw food type of restaurant. (Obviously, no one knows me here. A deliberate precaution taken in case things got weird.)
Results: Guess what? No one notices that I am wearing a vibrator around my neck. I feel like Inspector fucking Gadget, and frankly, that in and of itself is enough to get me off.
In the days that follow my public test-drive, I find myself still wearing the Vesper Necklace regularly, despite the fact that I am not a jewelry person. I realize this goes beyond feeling like Inspector Gadget (though I dig that immensely). I think it's because this pendant is the most badass feminist piece of jewelry I own. And in the midst of the year filled with the most fucked-up sexist rhetoric we have seen in a very long time, I find myself growing as attached to this necklace as I am to my reproductive rights. I would like to keep both for the rest of my life, thank you very much. Maybe I shouldn't be writing about politics here, but if you've come this far in the article, I sense you're not a die-hard fan of politicians grabbing or legislating in and around your vaginal region. Bottom line is, I fucking love wearing the Vesper because it reminds me what I learned as a Girl Scout: Always be prepared. Also, that I can quite literally take care of myself. Like…right after I finish this conference call, in the ladies' restroom.
Finally, if anyone tries to grab me by the pussy without my consent, I can use this pendant to stab the offender through the eyeball.
Best for: Women who get shit done. Anyone heading home for the holidays, who has limited carry-on space, or just wants to be discreet. And finally, for all the nasty women who enjoy feeling like Boss Bitch Inspector Gadgets.
So here's the thing: I can't decisively pick a favorite vibrator. I CAN'T! That would be like asking to choose between one of my imaginary children.
But I will say this: 2016 was a hell of a year, and there has literally never been a better time to treat yourself. As my adventures into vibe-land demonstrated, there is an INSANE amount of new devices on the market to help you do just that. We are, and I say this without hyperbole, living in the golden age of vibrator technology. I strongly suggest that you toss your plastic pocket rocket to the side and try some of them out. As for what will work best for you? I can't answer that. All I can tell you is what I've learned, which is that when it comes to vibrators, what works best depends on your mood, personal preferences, and, occasionally, the ply of your jeans.