Travel
In a nutshell: She goes all out.
Gabrielle's List founder Gabrielle Abraham knows a thing or two about luxurious travel—given that she handcrafts once-in-a-lifetime travel experiences for some of the most stylish people on the planet. Whether you want to go to Patagonia or Namibia, she knows where to stay and what to do. Here, she gives the ultimate luxury guide to Rajasthan.
India's Rajasthan region, nicknamed "The Land of Kings" (and rightfully so), is located in Northern India. Differentiated from the rest of India's states by its vibrant culture and abundance of majestic palaces and forts, travelers flock to Rajasthan to experience its romantic history, exceptional architecture, and ultra-luxurious hotel accommodations (many of which served as homes to India's former queens and kings).
In other words, it's a destination where you can, quite literally, treat yourself like a queen. Here's a look into some of the area's most luxurious experiences that will enable you to immerse yourself into this once-in-a-lifetime trip the royal way.
---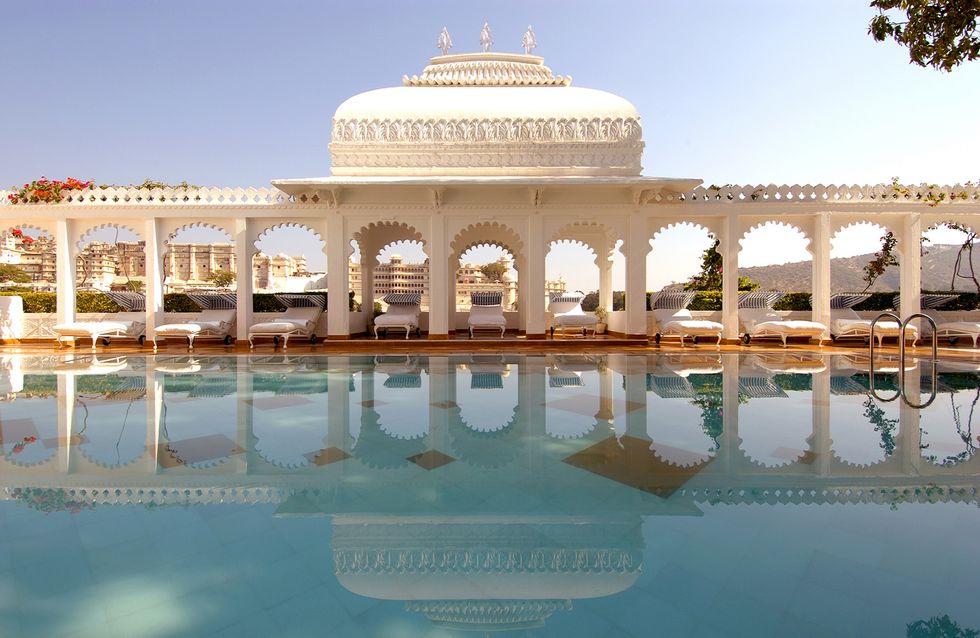 The Taj Lake Palace was built in 1743 as a summer getaway for the royal dynasty of Mewar, and was transformed into a hotel in the 1970s by the Taj Group. The Taj Lake Palace in Udaipur (Rajasthan's Lake City) is situated on the tranquil waters of Lake Pichola, with stunning 360-degree views of Udaipur. Guests arrive to the hotel by boat; the residence is both extraordinarily unique and romantic, as it is one of the few hotels in the world to be completely surrounded by water.

Today, the hotel holds 66 opulently decorated suites (each individually designed with the finest Indian silks and fabrics), three fine-dining restaurants, a world-class spa, and a stunning pool area that boasts the most superb views of Udaipur's City Palace.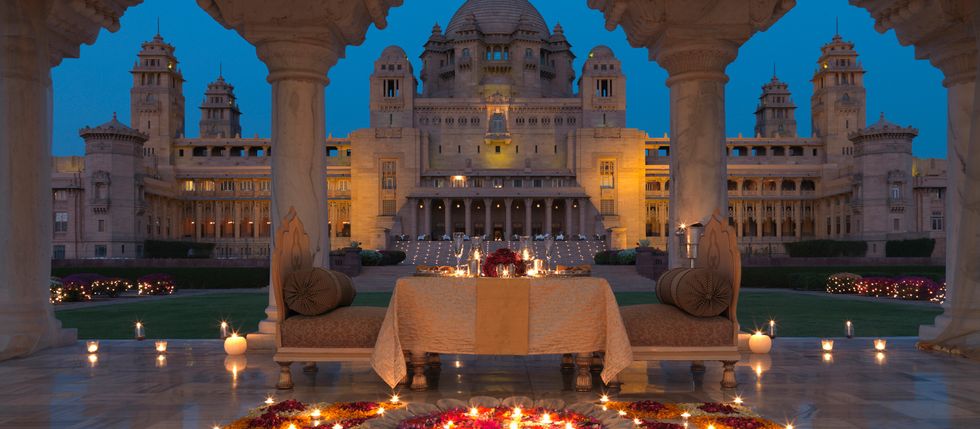 Umaid Bhawan Palace is located in Jodhpur (Rajasthan's Blue City). Built between 1928 and 1943, Umaid Bhawan Palace is an incredible palace built by the Jodhpur royal family (which still resides in the residence) and is today the world's sixth-largest private residence. The palace's interior and exterior beautifully combine eastern and western architectural styles, and are surrounded by 26 acres of manicured gardens with peacocks roaming throughout. The rooms are designed with an Art Deco touch, and are furnished with magnificent antique furniture.
Celebrities like Angelina Jolie and Brad Pitt, Olivia Palermo, and Bill Gates have stayed at this palace. As it is one of the few remaining great palaces of India, guests can truly experience luxury like the royals did.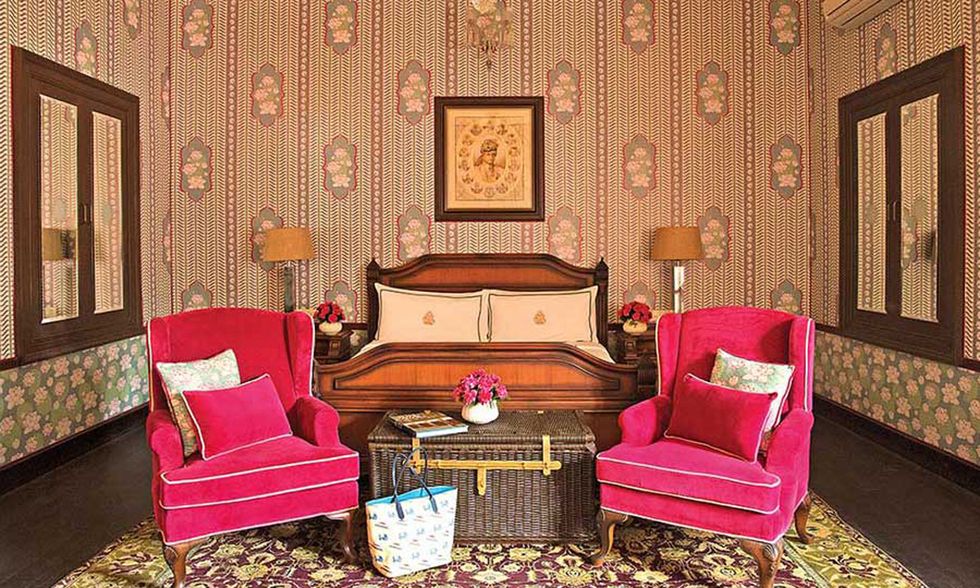 The Sujan Rajmahal Palace, a Relais Chateaux member, is located in Jaipur (Rajasthan's Pink City). The palace was built in 1729 as a pleasure pavilion and is still where the Marahaja (or Indian Prince) of Jaipur resides. The Sujan Rajmahal Palace is distinguished by its unbelievable use of meticulously designed wallpapers, colorful textiles, precious family possessions, elaborate chandeliers, and gorgeous gardens—the epitome of Indian Royalty.
Today, the hotel has only fourteen sumptuous suites (in which no two rooms are alike), five unique dining venues, and a variety of exclusive experiences including access to royal box seats at an iconic polo match. The Rajmahal Palace has hosted Her Majesty Queen Elizabeth II, Jackie Kennedy, and the Shah of Iran.
Shop
The Gem Palace is one of the world's most exquisite fine jewelry stores and a must-visit when visiting Jaipur, let alone India. The Gem Palace is owned by the Kasliwal family and has been providing fine jewelry for over eight generations to India's Royals. More recently the store has been visited by Mick Jagger, Jackie Onassis, the Prince and Princess of Wales, Oprah, Gwyneth Paltrow, and Tory Burch, to name just a few.
Entering the Gem Palace is a truly mesmerizing experience within itself. The store, which is beautifully decorated with luxurious Indian wallpaper and ornaments, offers an immense collection of fine jewels, ranging in rare stones, colors, and designs that reflect Indian heritage and style. At the Gem Palace you can find jewels varying from $300 to over $500K.
Do
Jaipur City Palace, located in the heart of Jaipur, was the seat from which the Maharaja Sawai Man Singh (Prince of Jaipur) ruled. The Palace's architectural style is an exquisite blend of traditional Rajasthan and Mughal styles, depicted by its famous vibrantly decorated interiors and romantic gardens and courtyards. Today, the City Palace museum section boasts royal formal costumes, embroidered shawls, Kashmiri pashminas, and silk saris that once belonged to the prince.
Udaipur's Crystal Gallery, located inside the Fateh Prakash Palace, houses the largest private collection of crystal in the world. This exclusive collection was established by and customized for Maharana Sajjan (King of Udaipur) back in 1877, and today exhibits precious crystal pieces assembled from various parts of the world. The collection includes dining tables, sofa sets, crystal utensils, perfume bottles, decanters, and even a crystal bed!
Want more stories like this?
How to Spend $74K in Aspen in 24 Hours
6 Reasons to Make Switzerland Your Next Vacation Spot
I Tried a Super-Luxurious 5-Hour Spa Routine to Reach Peak Chill