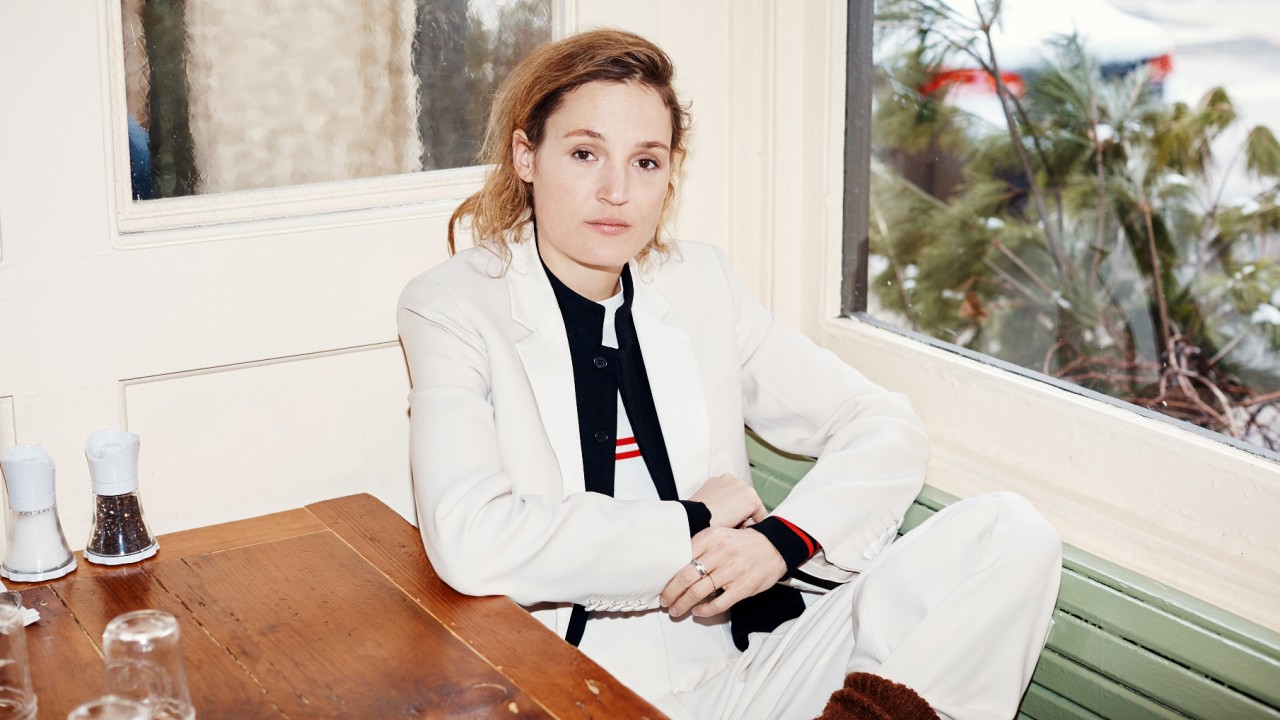 Why Hollywood's Most Recent Breakout Star Refuses to Wear High Heels
Phantom Thread's Vicky Krieps has an interesting theory on the classic shoe.
A few minutes into talking to Phantom Thread's Vicky Krieps, I realize I could easily sit there, at a small wooden table at Bubby's, for the rest of the day. Not just because the breakout actress is the epitome of cool—complete with an accent (she's from Luxembourg), laid-back style, and hair that looks fantastic even when it's "messy." It's that Krieps is constantly questioning life's little things throughout the conversation, like why women wear high heels, or why actors are singled out for their performances at awards shows when so much of what they do is feeding off of one another.
That's how Vicky describes her portrayal opposite Daniel Day-Lewis, who was nominated for a Golden Globe for the role of Reynolds Woodcock: a "duet," she says. "Our performance cannot be separated," she tells me, adding that working with the actor was nice and a learning experience. "It's teamwork."
I don't doubt that it is, and apparently, neither do most critics: Krieps continues to receive high praise for her portrayal of Alma in the fashion-meets-intense-love-story, out now. Perhaps it's that constant quest for answers that made her so wonderful at playing a complex character, but there are things that Vicky is still questioning today—including the twist at the end of the film.
Read on for our full conversation, where the actress talks about the real meaning of the film, her everyday style, and why she doesn't feel pressure to look a certain way.
How is the movie different from a typical fashion film?
"It's about fashion, but if you talk about it in an honest way, it becomes something deeper. This costume designer lives in his own world with his sister, and they have a very unique and strange relationship. He's built walls around him, out of rules, and structure, and superstition. Then he meets a woman who is very different, from a very different background, and they fall in love. Everything becomes difficult from there. It's about fashion in the sense that it's about art and craftsmanship—an homage to the old times, when craftsmanship was respected and worshipped. But it's not using the fashion to make you want to see the movie. It's just there because that's what this person lives and it's his background. But he could be anything else, too. It's really a story between two people."
Is the twist at the end up for interpretation?
"I think in all of Paul [Thomas Anderson]'s movies, he leaves it up to you to find your own answer, which I love. I myself don't know what the ending means—is it real, is it not real? This film is like a painting that you can look at, and it does something to you, but you don't know why. The movie invites you not only to think what you want to—many movies do that—but it also leaves you to feel your own feeling."
Your style seems very laid-back. How do you dress normally?
"If I wasn't here to do press, you would see me probably in a jumpsuit with a hoodie and sneakers. I like to mix all kinds of styles, because I think it's really important that you're free to express who you are and not calling to any uniform. I realized after I saw photo shoots and how people dress that everyone's kind of obliged to fulfill certain rules, but no one really knows where they are written. Like, where are the fashion police actually hidden? Are they coming out now, telling me to get into my high heels? Why do I have to wear high heels? They're uncomfortable, you cannot walk in them, and they mostly don't look nice. I wanted to understand, so I took time to look at high heels on women's feet. They look nice [by themselves], like a piece of art, but on the feet of women, they mostly distort the foot. The skin cracks. For me, the only message that high heels have is 'I cannot run away.' That's what high heels are saying."
Now that everyone is calling you a "breakout star," are you feeling any pressure?
"I've never felt any pressure. Most pressure people feel is from things that are invisible—it's like a ghost. For instance, who tells me as a woman that I have to be pretty? No one. Men love women who like themselves—that's what's sexy. Why do we wear things where we hide our belly, which is the only thing that makes a woman a woman? It's the only magical thing that's left on this planet—we don't know how to make babies still. But instead of celebrating it, we are hiding it. The same with makeup: most men—like in the movie, when he takes her lipstick off—they want to see the woman. They don't want to see the makeup. I also wonder where [that rule] comes from. Honestly, it doesn't make any sense."
Want more stories like this?
Pitch Perfect's Anna Camp Is Done Playing the "Uptight Blonde"
Every Empowering Moment from the Golden Globes
Rowan Blanchard Says She Feels Insecure "Every Day"