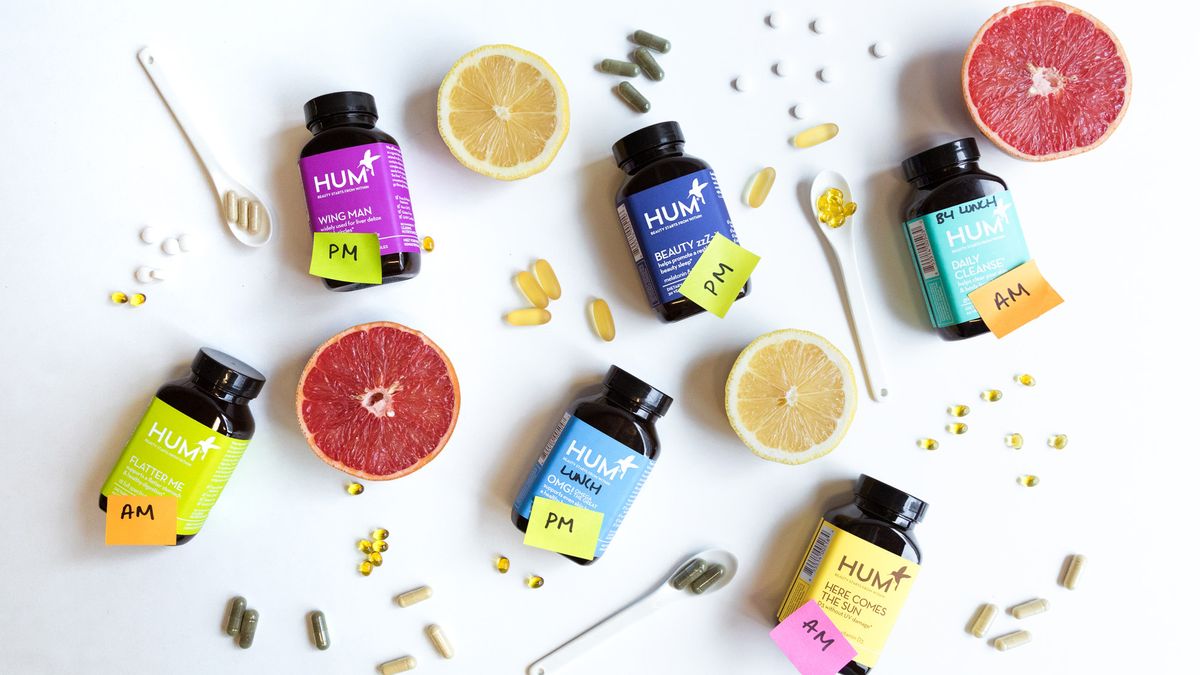 Nutrition
Two editors took three different vitamins & supplements for acne and better sleep. In collaboration with HUM Nutrition.
Jackie Beale, Renée Rodenkirchen
When you think of a wellness routine, be it morning or evening, or whether it's time-honored or just commencing, supplements and vitamins seem to have a standing place. Yet it can be frustrating (not to mention time-consuming) to figure out which supplements are right for you—it can be a lot of trial and error. Thankfully, HUM Nutrition streamlines this process by way of their quick online evaluation, which uses the expertise of one of their registered nutritionists to curate a menu of supplements specifically for your needs. We had two editors, Noah Lehava, Senior Editor: Health & Wellness, and Jodi Taylor, Associate Editor, put these customized options to the test for 30 days to tackle their varying concerns. For one, it was about better sleep, more energy, and digestion; for the other, it was all about clear skin and faded under-eye circles. Here's what they experienced.
---
Jodi Taylor
Associate Editor
I was a little nervous to take three new supplements—even though they promised great things (clear skin and a healthy gut, to name a few), I've learned the hard way that my body is incredibly sensitive. But in the name of research, I did it anyway (and am so glad I did). My first day, and the 30 that followed, looked a little something like this:
Before lunch: Take two Daily Cleanse capsules to support digestion and minimize breakouts
Lunch: Toss back two OMG! Omega The Great Fish Oil capsules, letting the Omega 3s work their magic on my skin, brain, and body 
Before dinner: Down two Wing Man capsules as an amuse-bouche for liver detox and dark circles
The biggest challenge initially was getting the hang of the routine (pro tip: label your bottles "AM" and "PM"). But the first thing I noticed from my nutritionist-prescribed supplement routine was a change in my skin. I've been battling with adult acne for over a year, and gradually, over a month of consistently taking Daily Cleanse (capsules packed with antibacterial and anti-inflammatory nutrients like red clover, copper, and manganese, all of which support skin clarity), I noticed a considerable difference in my skin. My acne subsided, and a few of my scars faded into oblivion. I owe it to Wing Man for reducing the dark circles that love to hang out under my eyes, made possible by its restorative (milk thistle), detoxifying (dandelion), and toxin-flushing (artichoke leaf) ingredients. Honestly, I was surprised I noticed results *that* quickly, but perhaps the fact that I was making sure to drink a significant amount of water each day helped ramp up the effects.
Fish oil pills have always been a mainstay in my routine (as well as vitamin C and D) because it's so essential to healthy skin. Fish oils are also anti-inflammatory, and for my sensitive and acne-prone skin, reducing redness is essential. I wasn't too surprised with the results of the OMG! Omega pill but loved that it is sustainably sourced, GMO-free, and best of all, no fishy aftertaste.
Listen, it can be tough to add supplements to your routine, but based on the results I saw (some more obvious than others), I'm keeping these a constant in my daily life.
Noah Lehava
Senior Editor: Health and Wellness
Full disclosure: I never take supplements. It isn't that I don't believe in their benefits (enough people in my life wax poetic about the wonders they do for the body—and my job affords me access to some of the best research and experts that swear by the benefits), it's more the requisite consistency that I have trouble sticking to. I stock my pantry and fridge with any good-for-you tablet I can get my hands on—but look, and you'll find a whole collection of half-full bottles. It's why I sign myself up for tasks like this story (and so many others), where I have accountability and stick to a real, solid plan. Because, ultimately, it's going to make me a healthier person.
When I really had to think of the inefficiencies and deficiencies I felt in my body, I realized that digestion was a big one for me. I've done enough elimination diets to know that simple carbs and dairy throw my insides off kilter—but I'm also human and have a weakness for the occasional cheese board. And like everyone else that lives close to the poles, half of our year is spent in winter darkness, and so we're lacking in all the goodness of vitamin D (healthy cells, energy, and strong bones). Lastly, the buzziest word of 2017: sleep. Or lack thereof. Overstimulation from every single brightly lit piece of technology, and just...life and stress, is likely the culprit, so I'll take anything to help me chill out and get a good night's sleep.
After chatting with HUM's nutritionists, we determined that this was the perfect recipe of supplements to help me iron out all my bodily kinks:
Flatter Me (one tablet, taken twice a day): a mix of digestive enzymes—a whole slew of targeted guys to break down milk sugars, fiber, carbs, and anything else that causes bloat.
Here Comes the Sun (two tablets, I decided to take in the morning): straight-up vitamin D.
Beauty zzZz (one tablet taken 20 minutes before bed): a combo of melatonin, the OG sleep hormone, and vitamin B6, to make sure your metabolism is running to maximum efficiency.
Almost overnight after taking Flatter Me, I noticed I felt less bloated and fit more comfortably into my jeans. As the month went on, foods that would normally irritate my stomach had a much milder effect. The effect of the Beauty zzZz was more subtle; looking back and comparing pre-supplements, I now notice my sleeps are deeper and more restful—it took my body a few weeks to really notice a change in energy. I guess I truly needed a big, deep recharge. With vitamin D, it may not have manifested physically, yet, but I know that it is crucial—especially now that the sun sets at 5PM and doesn't rise again until after I've had my morning coffee. HUM's high potency D3 also helps support immune function, hormone balance, and bone and skin health (to name a few). All in all, you'd better believe I'm planning to stick to taking these—heck, it's already a habit.
Tbh, HUM makes it easy to get into the habit. Once you have your personalized beauty RX, you can choose one of their flexible plans to stay stocked up long-term. It's something that finally makes it easy to stick to a vitamin routine.
Because we love you and want *you* to look and feel your best too, use the code "COVETEUR" at checkout for 20% off at HUM Nutrition.
Editor's Note: As ever, we are not doctors or medical know-it-alls. And everybody is different, so make sure to check with a doctor before trying anything new.