Career
24-year-old Millie Stallings left her job in the beauty industry and never looked back.
Alec Kugler
I can't imagine I'm the only person out there who's fantasized about leaving behind a life of emails and deadlines in favor of opening up my own restaurant. Despite everything I already know about the service industry, there is still an element of romance to the idea, yet executing it seems impossibly daunting. For Millie Stallings, the young restaurateur behind Minnie's in New York's Lower East Side, there really was was no time like the present.
---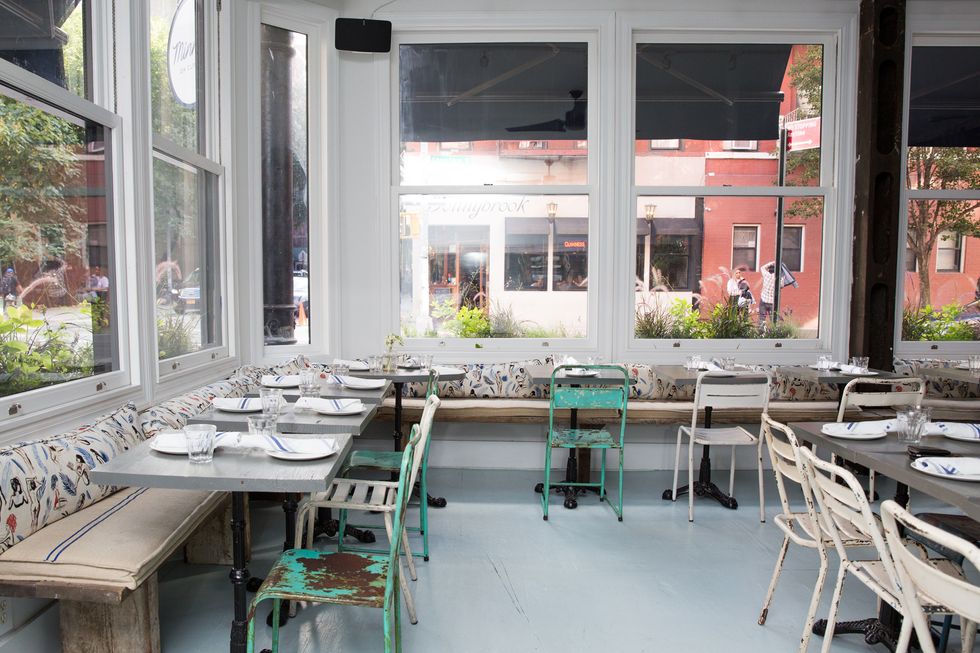 "I left PR and I went on a soul searching trip around Italy, Greece, and France," explains the native New Yorker as we post up at the intimate bar at the back. Two full walls of windows, flanked by exposed brick, peer onto bustling Clinton Street outside. Custom embroidered cushions rest on the wooden benches around the perimeter. Everything is punctuated by a showstopping portrait of two Lolita-esque girls at the back. Millie laughs, assuring me before that neither of the larger-than-life girls is her. "I made a series of lists of what the next path was going to be, and a restaurant was something I always thought about. It seemed like a much later in life venture, but, no time like the present."
Minnie's blends seamlessly into the once gritty Lower East Side neighborhood surrounding it, but with a 24-year-old at its helm, there has been an understandable amount of buzz. It's also no accident that you might mix up the owner and the name of the restaurant, as I do multiple times throughout our photoshoot. "My full name is Mildred," she clarifies. "When I was much younger my older brother messed up and called me Minnie and everyone picked [it] up. Now, because everyone that comes in here calls me Minnie, I've become Minnie full time."
It's fitting that her restaurant's moniker has a childhood backstory, as the place is truly a family affair. Stallings' mom is even on hand floating in and out of the kitchen to help with various tasks as we chat. "A lot of the design comes out of the apartment that I grew up in," she explains, referencing the bright floors and industrial chairs. "The menu is built out of what my family eats at home, and I'm sort of a health fanatic, so [to make] everyone happy we definitely have a little bit of everything. I knew I had to have an amazing salmon because I eat [that] probably six days a week. It's a half-cooked salmon, with pickled vegetables. It's so good."
As evidenced by our photographer and I scarfing down the two proffered dishes, I can say that the food definitely lives up to the hype. But rest-assured, she's not limiting herself or Minnie's to only healthy dishes. "[My guilty pleasure food is] the pink cake. That's been my birthday cake forever. [Also] all the checks here come with chocolate chip cookies because that's my sister's passion. She would never give anyone her recipe, so it was a big deal when she let us have them at the restaurant. It's dangerous though—I eat so many. But it's okay. Cookies are good for you."
So how exactly does a woman in her early twenties manage a bustling restaurant in New York, a place that is notoriously harsh on new businesses? "Space is the biggest challenge. It takes 45 minutes to plot out this room [with] our reservations at this point. Our kitchen is so tiny, especially as we move into brunch. It's craziness, but it also makes it exciting and easy to have fresh stuff all the time." As Stallings grows her desired crew of regulars, you'll typically catch her hanging by the door, where people are often shocked to discover she's not the host. "[It's] because I'm young and I'm always here. People come in three days a week, four days a week. It's getting very homey in here."
As we toast with a late afternoon glass of white wine and eat spoonfuls of sugary pink frosting, I ask what's the best part of leading her eponymous restaurant. "I love the team. We just have so much fun together, so it doesn't really feel like work, which is great! It's nice being independent and coming up with my own set of rules."
Want more stories like this?
The Most Instagrammable Restaurant In NYC
Nom Wah's Owner Loves Seamless And Late-Night Pizza As Much As You Do
Everything A Co-Founder Of A Vegan Restaurant Has In Her Kitchen