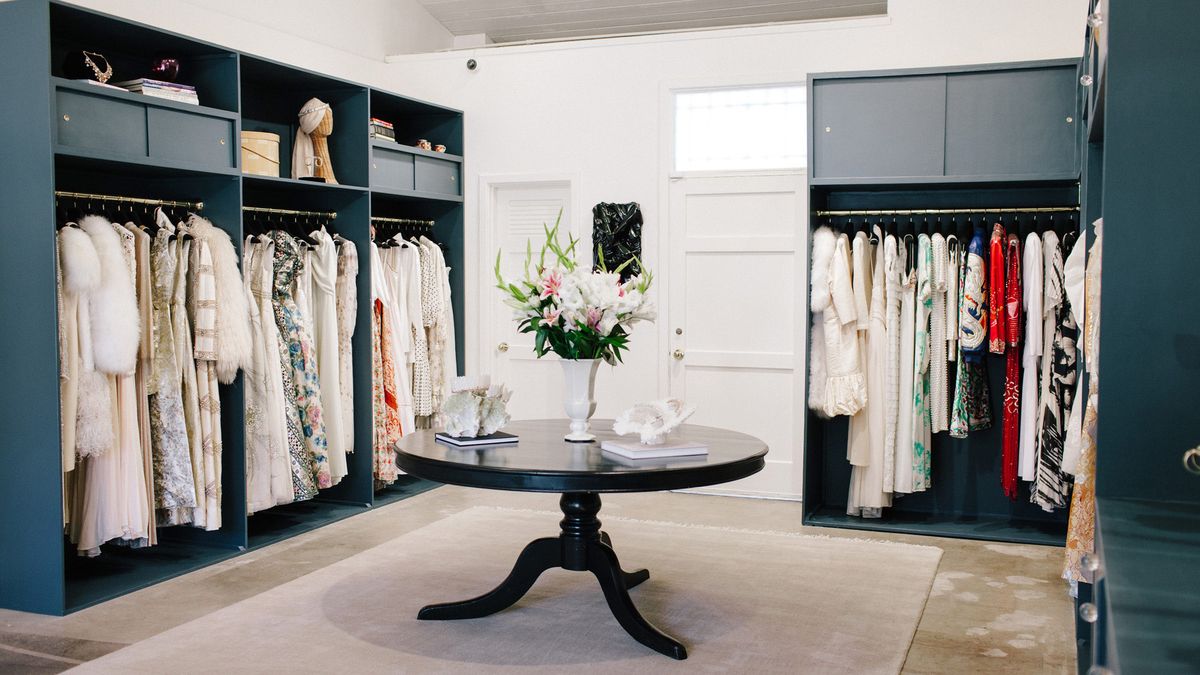 Weddings
Anything to avoid that crazy sales pressure.
Bustle and Coveteur are working together to bring you the best mix of the season's fashion and beauty releases, shopping tips, and service stories in ways that are both inspirational and attainable. Check The Fall Style Edit channel weekly to see what we're up to.
I'm not sure if I've ever been as excited for anything as I was for wedding dress shopping. There are so many parts of our wedding that I get giddy about, but the dress is at the very top of my list. It's a once-in-a-lifetime experience, the first thing my husband will see me in, and it gets to be uniquely me—as traditional, edgy, simple, sexy, covered, or hippy as I want it to be.
So, when the time came, I got my crew together, blocked off a couple days, and set up appointments at seven bridal boutiques in NYC whose Instagrams I had stalked pretty heavily in advance. You see, thanks to a strange law in the bridal world, each boutique in each state has exclusivity over their designers, which means that in order to try on Rime Arodaky, I had to go to The Mews; to try on Sarah Seven, I had to go to Lovely; and to try on Daalarna, I had to go to Schone.
Hence the seven different appointments.
I dreamed of a breezy, light-filled loft with a crew of my best girl friends sipping champagne and combing through endless designer dresses, insisting I try on the dress with the feathers to send pictures to my grandma. Music. Veils. Crowns. And eventually tears when the yes-to-the-dress moment came.
The reality was running around the city from appointment to appointment, swapping friends left and right so everyone got her turn (boutiques cap you at two to four guests), being limited to one hour at each boutique and five to six dresses max, and standing naked in a small room with a stranger who was politely trying to avert her eyes as she helped me in and out of each dress. No one offered me champagne.
By the end of the day(s), I was exhausted, confused, and asking my mom to choose a dress because they had all blurred together at that point and I gave up.
---
Enter Floravere: the new chic online bridal boutique that sends designer wedding dresses to your door so that you can try them on in the privacy and comfort of your own home. After you try on your dresses, you just send them back, and if you happen to have found the one, you place an order in your measurements, and they send it to you. They even allow you to customize certain parts of the dress to make it your own.
The dresses came in a big, beautiful box with clips and instructions on how to pin, a note from my "personal stylist," champagne gummy bears (girls after my own heart), adorable pintrill bridal-themed pins, and a few other goodies to get the party started. About five minutes after we unwrapped the dresses, my MOH got a text from my personal stylist, letting us know she was there if we needed any help or advice—sending her pictures was welcomed and encouraged.
I took my time trying on each dress, friends taking turns helping pin me in and out as best as they could (we did end up sending the stylist a picture of something that wasn't sitting well and she helped us fix it). We danced around the apartment, took photos, looked as long as I wanted in the mirror in as many angles as possible, and Facetimed with my mom. By the end, each of my friends was wearing one of the dresses and we were squeezed on one couch finalizing our Seamless order from Parm.
Although I didn't find the one through Floravere (they're currently working on expanding their line, and their latest collection has a long-sleeved stunner I have my eye on), I did find the bridal experience I was looking for. I think everyone should do the traditional bridal boutique thing because there's something to be said about the formality and years and years of expertise in these institutions, and, hey, who knows, maybe you're the kind of bride it actually works for! But if I could find my dream dress in the warmth of my own home, surrounded by my favorite people, with the freedom to take our time, blast our music, and drink our champagne…I'd choose freedom any day.
Want more stories like this?
Couture-Inspired Wedding Dresses for the Boho Bride
Engagement Rings for the Modern Bride
These Are the New Bridal Designers You Need to Know