Shopping
The 3 Fashion Rules We're Breaking This Fall
Yes, we're wearing white after Labor Day, and no, we're not thinking twice about it. In collaboration with Prada.
Alec Kugler
Meagan Wilson
Everyone is complaining about summer ending, but to be completely honest, we're over here feeling a little sick of straw bags, bikinis, and open-toe shoes. Fall is almost here, and that means we cannot swap all of the above out for shearling jackets, oversized sweaters, and patent leather boots. Something most people may not realize is that fall is truly the best season for breaking fashion's most stringent and outdated mandates. It's the season where you can wear a miniskirt with thigh-high boots, or a dainty, white dress with an oversized bomber jacket. And for those who aren't habitual risk-takers, we've outlined the outdated style rules you should forget about immediately. It may sound intimidating at first, but luckily we have *just* the Prada (aptly named the Etiquette) bag that breaks all the rules for you (and looks really good while doing it).
---
1. You can't wear white after labor day
Newsflash! You can and you should be wearing white after Labor Day. Honestly—who made that rule up in the first place, and why? (Hint: It was for completely arbitrary reasons.) As far as we're concerned, all-white everything is an absolute wardrobe staple and we won't be putting away our white boots or white jeans just because summer comes to an end. Instead, we'll be pairing them with our favorite fall pieces (just about anything goes with white, anyway). White is an incredible color for fall because it provides an amazing base for layering—anything goes with white! Great news, considering Prada's Etiquette bag has colorful, fuzzy handles. After all, the real key to pulling off white after summer is to pair it with standout accessories, and always add some darker tones to balance things out. Hint: An all-white outfit + a black bomber jacket + this character of a nylon carryall = your new favorite fall outfit (trust us).
2. Don't mix prints or colors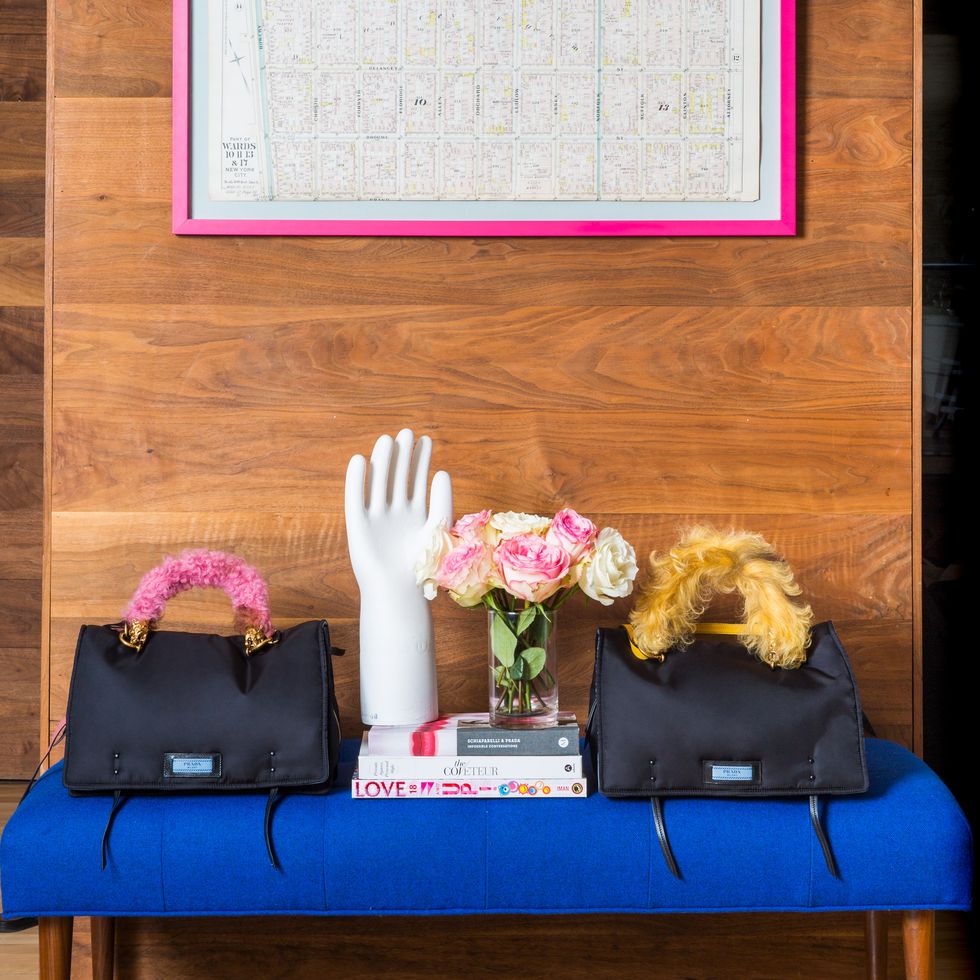 Does anyone truly believe this anymore? Not saying we don't *love* a good monochrome outfit (head-to-toe red will be everywhere this season), but fashion was never meant to be predictable. It doesn't matter if your outfit conventionally "matches." A touch of brightly hued shearling or fur, whether it be in the form of an oversized coat, or the handles of a handbag (can you tell how much we love this Prada bag?), is the best thing to throw on right before you leave the house this fall. Don't even think twice—just trust that it looks good.
3. Before you leave the house, look in the mirror and take off one thing
Speaking of throwing on something before leaving the house: What do we think about this old-fashioned myth? Let's just say we belong to the school of more is more (is more, is more). That motto is definitely more our speed. Personally, we never leave for work without thinking of a handful of ways we can take our outfit to the next level and bump things up a notch. Sometimes all you really need is that pair of sunglasses or a statement bag to make your outfit unlike anyone else's in the room. And the best part about always taking a perfectly oversized tote like this one? You can fit more stuff in it to throw on later.