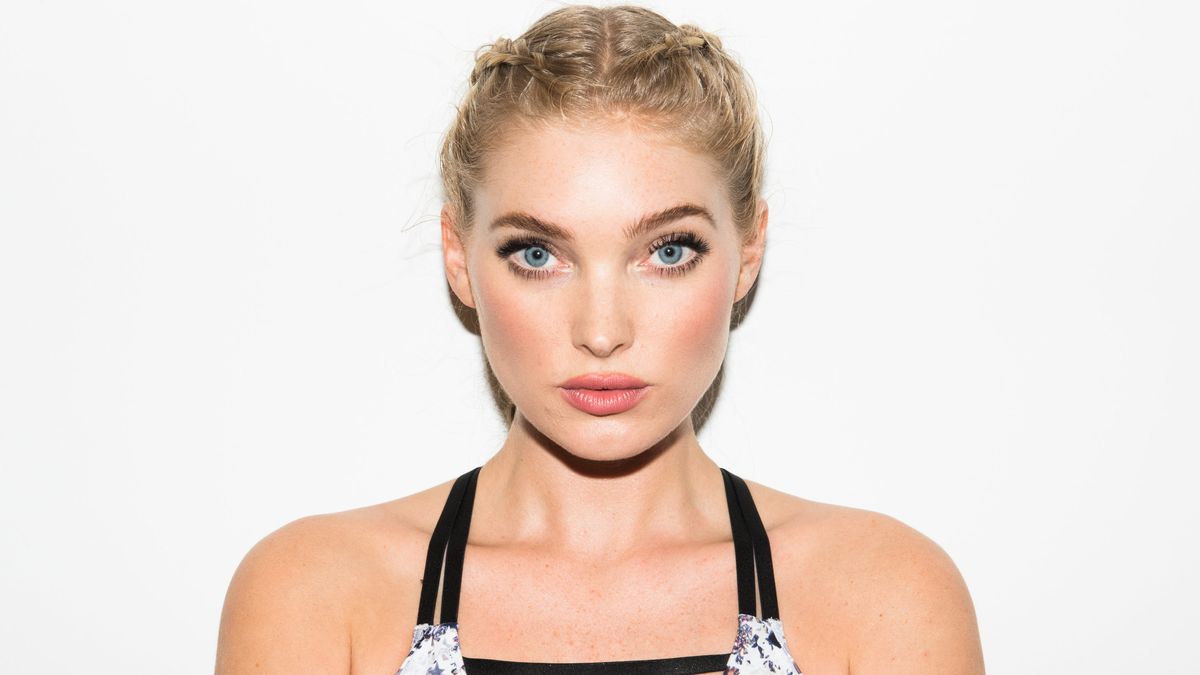 Models
Ready your pen and paper, my friends.
Admittedly, a genetic jackpot-winner like model Elsa Hosk—the Victoria's Secret Angel who has modeled for Dior and Dolce & Gabbana, is a spokesperson for Biotherm skincare, and is now collaborating with Tory Burch Beauty for their latest fragrance, Bel Azur—was blessed with some assets we're just not going to sprout anytime soon. But even the Swedish super wasn't born with absolutely everything she needed to get her wings. We asked Hosk to pony up her best beauty and health secrets, and we got some pretty good stuff.
1. Your blood makes the best skincare.
"I use Dr. Barbara Sturm—she makes this blood cream that's incredible. She draws your blood. The first time I used it was during fashion week in Paris and I had been so tired and cold, my skin was a crazy shade of grey. [Dr. Sturm] came to my hotel room and took my blood and the next morning they sent my cream to my hotel. The morning after that, my skin was back to life. I didn't believe it at first, but it was really amazing."
2. A vacation fragrance will make you a better model.
"I love the Tory Burch Bel Azur fragrance to feel fresh, even if I'm in the city and I have a lot of work coming up. It has this vibe of vacation and traveling and the blue ocean. It also has peony and neroli, which are two of my favorites. I put it on and it takes me back to being on vacation—it can be a reminder in the middle of your stressful life. Smells for humans are so important, and as a model, being relaxed is everything."
---
3. Oxygen facials are where it's at.
"I don't do a lot of facials, but I do really like oxygen facials. It looks like a face-lift. I go to Mzia Shiman. I started going to her because she would always be around before the Victoria's Secret show and she would always give us facials before. She did half my face and left the other so I could see the results, and it was really good. If I have a big red carpet or a big shoot coming up or a PR day, I do that."
4. Prepping for the Victoria's Secret show is all in the legs.
"I start getting ready for the show about two months before. The show is in November and we just had the fitting, so I've been working and getting ready. I go to Dogpound and train with Kirk, and he's just amazing. He does a mix of weightlifting and we focus a lot on the legs. Those are important for me to work on because on the runway you're wearing really heavy wings and really high heels, so you need really strong legs so you don't fall."
5. Don't run too hard—you might puke.
"I just started running. I don't time it; I don't put any pressure on myself, I just go the pace I want. I think that's a really beautiful way to feel yourself and feel your body and see the city. I usually run around 5 miles or I'll do a long run like a half marathon. That's really grueling. I usually do it with my boyfriend. He runs races, but he goes my pace. You shouldn't really push yourself too hard because it makes you want to throw up [laughs]. Even if you go slow, the next run you'll be stronger and go faster."
6. Don't be afraid to turn it out at night.
"I usually leave my makeup bare when I don't have to work, but if I have a day walking around New York and there's paparazzi, I try to put on concealer and lip gloss. If I go out at night, I'll really turn it out. I do the contour and concealer and cat eyeliner. I have a Tom Ford contour kit, RMS concealer, and my liquid liner by Kat Von D. It's so good. I've tried everything because that's the only makeup I do on myself, and that's really the best. It's really easy and lasts. Then I use Maybelline Great Lash. Never fails me."
7. Buy two of these face masks.
"The Biotherm mud mask is really good. It's a green metallic shade. It draws out all your impurities. My boyfriend steals it all the time. I'm always out of it."
8. Cutting out dairy—sigh—actually works.
"I try to eat healthy and a plant-based diet. I watched the documentary What the Health, and it affected me a lot. I was like, 'OK, I have to change how I eat.' In Sweden we eat a lot of dairy, cheese, and eggs, so I've cut that out for the past 5 weeks and I'm seeing a big improvement in my skin and in my belly. And I feel much better. It makes you realize there's definitely something to it."