Love Your Levi's? You Can Thank Karyn Hillman for That
She's the denim guru behind our favorite cult-classic styles.
Career
If you want to make a vast understatement, say that Levi Strauss & Co. is synonymous with denim. The quintessentially American brand is a vital cornerstone of our denim culture, which dominates everything from street style to our favorite Coveteur Closet alums. Everyone loves a pair, whether it's a vintage find that's been patched and repaired, or a fresh new style just waiting to get broken in. But how has the brand managed to stay on top of the denim game for so many years (144, to be exact)? That's a question for Levi's Chief Product Officer Karyn Hillman.
As a true fashion industry veteran, she's got quite an impressive résumé, with stints at both Calvin Klein and Gap over her 25 years in the business. Since joining the Levi's team in 2013, she's helped redefine denim's on-trend silhouette as well as maintain the cult-classic shapes we all know and love. It doesn't hurt that she's also a die-hard denim-phile—she's rarely seen not wearing a perfect pair of jeans. The day of our shoot at Levi's San Francisco headquarters, Hillman was wearing one of her favorite styles—the 501—and showed us the most *epic* Trucker jacket we've ever seen. Clearly, she knows how to curate a pin collection, and there's no one better to guide us through everything the historic brand is working on currently and in the months to come. (Hint: If you like customizing and reworking old denim, you're in for a treat!)
---
Why are you passionate about denim and Levi's in particular?
"Denim is the most effortless, cool, and expressive item of clothing in the world. As a California girl I've always been pretty casual, and denim speaks to my lifestyle. I've been wearing denim for as long as I can remember, in particular my Levi's 501s and Truckers."
What exactly do you do as Levi's CPO?
"Everything I do revolves around product and the people involved in making those products. I oversee all of the design and product innovation for [the brand]. I work with a group of incredibly talented designers and creative teams, and together we bring our Levi's product and brand identity to life."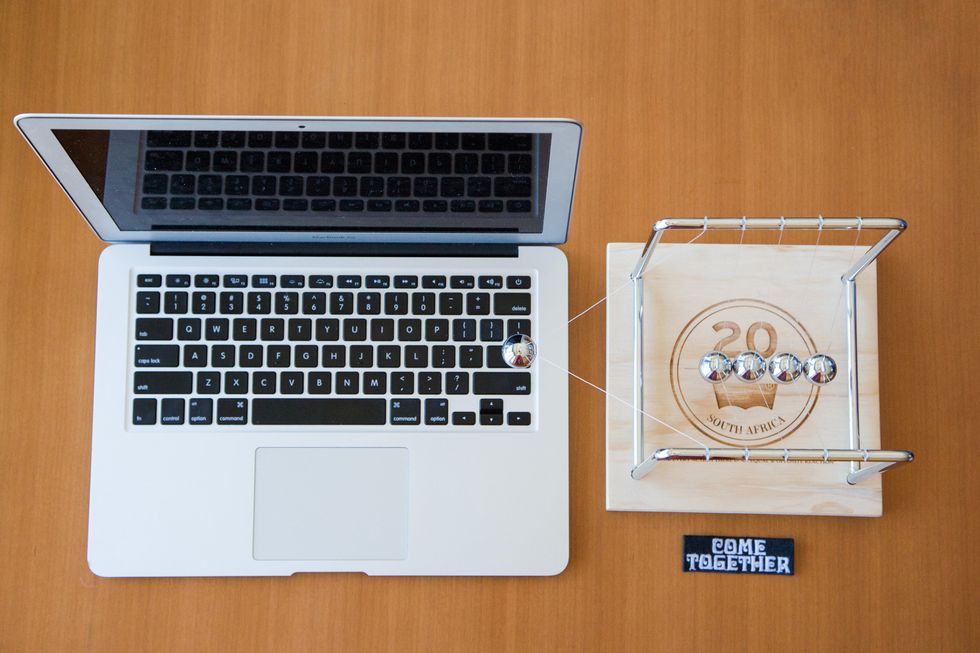 How do you approach designing?
"Design is about observing and understanding people, culture, trends, and lifestyles—including the shifts in people's values, behaviors, and expectations. From there, you work your way back into the product while always staying very true to your brand DNA and product identity. It's an ongoing innovative process. I spend a lot of time observing, listening, asking questions, connecting the dots, and identifying what I call bright spots."
What makes denim so universal and wearable?
"Denim is so versatile, comfortable, and easy—it's the perfect foundation. One pair of jeans can take you from a music festival to the office, to a dinner, or even a formal event. It's truly democratic, and yet so personal at the same time—anyone can make it their own."
Why do you think Levi's has become so iconic in American culture?
"Levi's is truly an authentic jeans brand. We invented the first-ever riveted blue jean in 1873, and then we introduced the first-ever blue jean for women in 1934. From the beginning, Levi's was created as a brand for a new American workforce, and we've been innovating since the birth of our first pair of jeans over 144 years ago. With so much choice out there, people are gravitating to authenticity, so being the trusted original is a definite advantage in a competitive marketplace."
How is the brand reimagining its classic shapes for 2017 and beyond?
"We are constantly referencing our archives for style inspiration and interpreting our discoveries in ways that feel modern and fresh. We are also inspired by our fans and how they wear and customize our products, whether it's oversized, super snug, cropped, cut off, tapered or nipped in—the inspiration is endless. Denim is constantly moving and changing—we must tweak and refine for the times."
What are you most excited about for the brand in the coming months?
"For fall [2017], we launched the Levi's Altered Denim collection, inspired by how our fans deconstruct and alter their favorite Levi's pieces to create new shapes and styles. Levi's Altered epitomizes our approach to remastering classic designs. We have a range of fits including 501s, a wide leg, a straight leg, 721s and 711s, as well as our denim Trucker. We focused on authentic red casts and soft blacks from medium to light finishes with beautiful worn-in character. All design details are purposeful and speak to the customization process of a jean or a Trucker—twisted seams, covered coin pockets, staggered shadow patches, released and raw hems, and tailored seams."
What is your favorite piece of denim that you own?
"My 501s (501 Skinny, 501 Short, vintage 501s) and my 721 High Rise Skinny jeans. Also, right now I'm loving my jeans on the shorter side, high above the ankle. Whether they're skinny or more relaxed, they're perfect with every shoe—from a sneaker, to a mid-height boot or loafer, to a pretty heel."