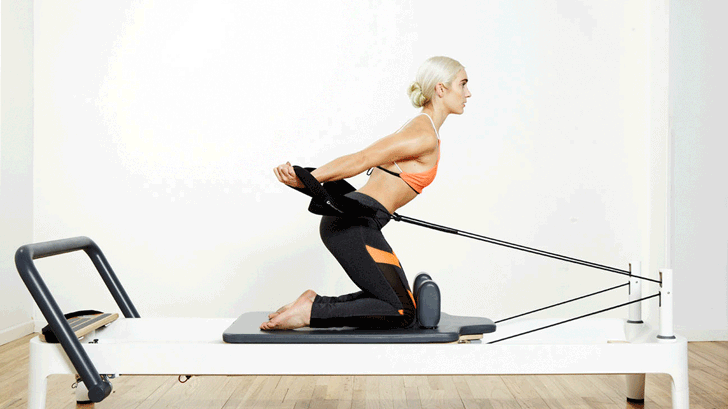 Fitness
Where to Get Your Best Workout in the Hamptons Before Summer Ends
Because rosé all day won't burn itself off.
Remember when a beach vacation was time to just lounge oceanside in your Tularosa two-piece and hit up Happy Hour like it was going out of fashion? Ha...no more.
In case no one told you, sweaty post-SoulCycle selfies are the current Instagram mainstay when it comes to showing off the Hamptons lifestyle. And here you were thinking that you just needed to show up and master the candid flamingo pool float. 
Thanks to the influx of NYC fitness institutions setting up camp out East, it's never been easier to stay on top of your wellness game. Whether you're taking your seat on the Jitney or Blade-ing it, there's a class waiting on the other side for you. 
Here's how to ensure you can have your lobster roll and eat it too.
You know... Strengthen, lengthen, tone—aka what you would ask for should the fitness gods grant you three wishes. Don't be fooled by the slow pace of this 50-minute class; the core-chiseling, low-impact workout doesn't count Sofia Vergara, Nina Agdal and Martha Hunt among its fans for nothing.
SLT combines high-intensity and Pilates-style movements, allowing for constant tension and engaged muscle groups. Think definition without adding bulk. SLT currently offers classes and private sessions at their East Hampton and Southampton studios. In fact, their East Hampton spot is located a stone's throw away from the buzzed-about Eleven Madison Park Summer House pop-up (in what used to be the beloved Moby's space —*RIP*—on Pantigo Road).
Should you manage to wing yourself a reservation, now you have a way to torch off that fried chicken picnic in style. Plus, you may spot Jacquelyn Jablonski or Vogue's Selby Drummond on the reformer next to you.
Do you aspire to build a booty that is the literal equivalent of a peach emoji? New York Pilates are so adamant they have the method down, that they've gone and put it on a hat.
OG Pilates instructor Heather Andersen, she who gets "abs shaking and booties quaking," is taking her inimitable blend of badass tunes and spring-based resistance training to Montauk in an airy beachside studio, with spaces limited to 14 people per class.
Instead of reaching for a Bloody Mary to dust off the cobwebs after a late night, maybe some deep house drops and leg lifts is what your soul really needs.
Is there anything more thrilling than the thought that you could be tapping it back with a celebrity in your midst? SoulCycle's Bridgehampton location, where it all really took off for one of the world's biggest fitness phenomenons, in a 250-year-old potato barn on Butter Lane has long been a favorite of the elite.
Other Hamptons locations include Montauk, Water Mill and East Hampton, allowing for optimal sweat sessions or, dare we say it…doubles à la Kelly Ripa and Lena Dunham. Gulp.  
To celebrate the Bridgehampton studio's tenth year, SoulCycle has collaborated with Lululemon to launch Below the BARN, a chic space for wellness enthusiasts to zen out with essential oil stations, yoga, Ping Pong, Montauk Juice Factory tastings and floral arranging classes. Think of it as an aprés-sweat experience sure to send those endorphins through the roof.
Did you know that the Upper East Side's favorite boutique rowing studio had its beginnings in Southampton? Keeping arms toned and cores tight since 2016, instructors have now glided out to set up an East Hampton outpost. It's all very fitting, seeing as 50-minute classes are conducted on rowers with water-filled flywheels.
"Rowing works 80% of all muscles," East End Row's Hamptons Fitness Director Albee Rogers says. "We call it the perfect exercise since it is low-impact, highly effective and revs the body into the after-burn zone." Sign us up; we can hear the enticing ocean sounds already.
Let's hit the barre? No, not the bar. BARRE. We're sure a few people have gotten their wires crossed over this proposition, but one thing is for sure: Your body will thank you for choosing the calorie-burning option. Physique 57's signature classes have long been the go-to for a sculpting, stretching and toning total-body workout. Alec Baldwin (!) has even been known to stop by the Bridgehampton studio for some squat pliés—yes, really.
Triple. Calorie. Burning. Floor. Four words that are enough to make us cancel our plans at The Palm and hot-foot it down the street to The Tracy Anderson Method studio in East Hampton (there is another TA location in Water Mill too.)
Don't let the assortment of resistance bands hanging from the ceilings faze you—it's all about the aforementioned oak floor. The Super G Floor minimizes impact and burns three times the calories, thanks to a mechanism based on NASA findings. We're not even kidding!
Tracy Anderson Method offers muscular structure and dance cardio classes for everyone—beginners, advanced, normal humans….celebrities. Fans of the super sweaty workout speak for themselves. Everyone from Hilary Rhoda, Khloé Kardashian and Olivia Palermo to J.Lo and Gwyneth Paltrow swear by classes led by this petite and sinewy powerhouse.
Single classes at the aforementioned classes can cost up to $45 a pop. We all love a bargain, so sign up for ClassPass ahead of your trip and you can gain access to over 40 boutique studios, including some of the aforementioned, at discount rates.
Sun, sea, sand...and sweat. Your new recipe for a vacation that's as good for the body as it is for the mind. Repeat after us: Obliques, then beach!