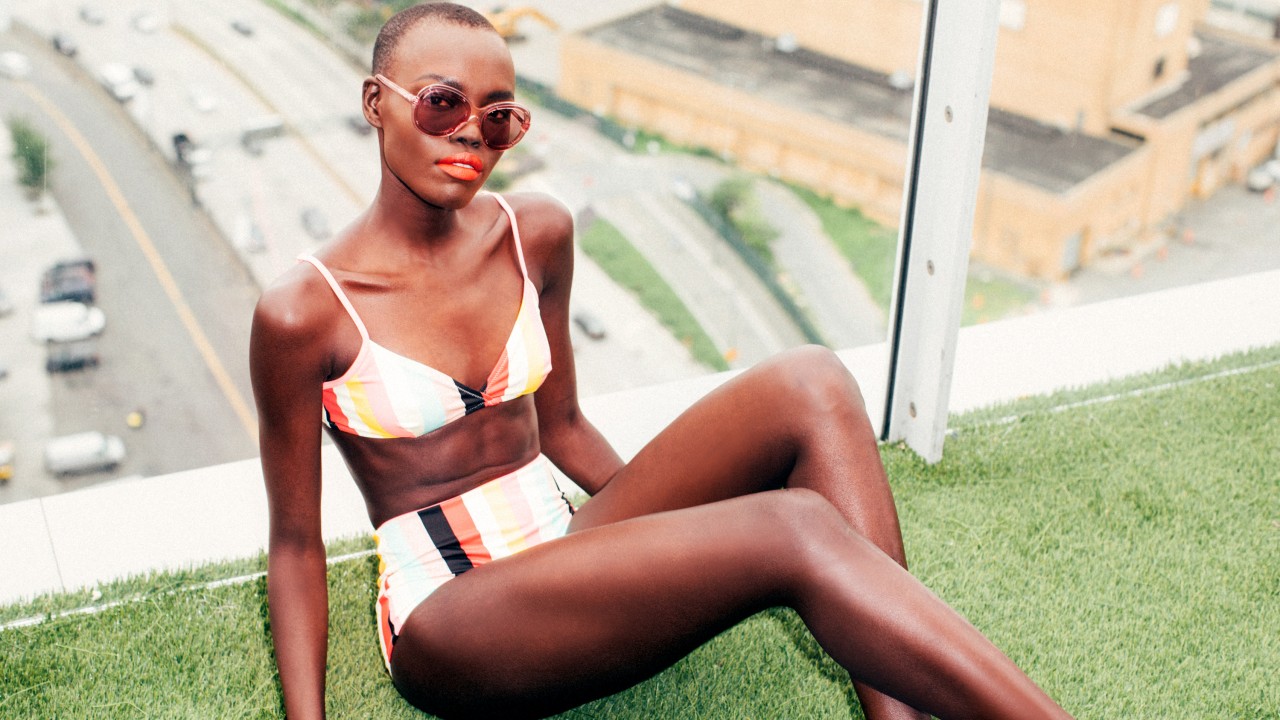 These Are the Swimsuits We've Been Wearing All Summer
Whether you're a one-piece or bikini girl, get ready to hit 'add to cart.'
We're officially entering what's known as high summer—also known as the point in the season where all of the celebratory, most special hallmarks of the season have become merely a way of life. Balmy after-work rooftop drinks are just another item on your to-do list. Summer Friday and weekends away are de rigueur. Summer hasn't lost any of its sparkle, per se, but we've become, well, adjusted. For us, one of the first signs of complacency is our summer swim game. The (yep, often pricey) more trend-driven numbers we picked up months ago are quickly gathering dust as we reach instead for the tried, true—and truthfully tired—suits that have seen us through many a season. So now what?
To promptly shake us out of our rut (and because we'll basically take just about any excuse to play dress-up poolside), we enlisted a handful of bikinis and one-pieces that have been haunting our open browser tabs as of late, and took over Le Bain and the rooftop space at The Standard High Line with model Grace Bol (and Myla Dalbesio—watch this space for her feature coming soon!). We'll take the credit for being just the push you need to finally hit Purchase on that cool two-piece that'll make the cut for the rest of the summer.
---
We know you have your reasons for shying away from a white suit. But you have to admit it doesn't get much cooler than this Solid & Striped lace-up number (in collaboration with Staud, purveyor of all of our seventies superbabe dreams), which is all the reason we're taking the bait. From the realm of fancier, fantasy summer shopping comes the white CHANEL Gabrielle backpack (those two-tone chain straps!) and silver, sparkly Roger Vivier slides.
Bathing Suit, Solid & Striped; Backpack, CHANEL; Sunglasses, Christian Roth; Earrings, Kate Spade; Shoes, Roger Vivier
Lisa Marie Fernandez's hotly hued neoprene suits are pretty much a constant on our summer wishlists. We like this one because the femme-y ruffle detailing makes the whole thing a lot more wearable (mustard yellow + scuba = not for the faint of heart). Add a pair of cha-cha earrings (shout out to Kate Spade), coordinating slides and sexy-sleazy (know what we mean?) yellow-tinted sunglasses to tie it all together.

Bikini, Lisa Marie Fernandez; Sunglasses, Dior; Earrings, Kate Spade; Shoes, Eugenia Kim
 
If you haven't procured a pair of fluffy or feathery summer slides yet…well, we don't know what to tell you (other than get on it, immediately). They make even kicking it in your swimsuit all day feel fancy—pretty much everyone on set had a hard time leaving these Manolo Blahnik ones behind. Ditto the alligator-embellished Amélie Pichard bag, a perfectly cheeky spin on the basket bag trend that won't leave you feeling (or, y'know, looking) like everyone else on your feed. They added just enough look-at-me to an otherwise understated pastel blue (but perfectly sexy—hello, those snap fastenings?) Solid & Striped x Staud one-piece. Bring the whole thing full circle with a pair of coordinating aviators (these guys are Illesteva) and swingy gold earrings.
Bathing Suit, Solid & Striped; Bag, Amelie Pichard; Shoes, Manolo Blahnik; Sunglasses, Illesteva
A graphic suit (like this candy-striped, high-waisted bikini) is hardly an excuse to shy away from impactful accessories. We figured you'd take our words lightly, so we decided to demonstrate with a birdcage bag (parrot included!), '60s-ish magenta CHANEL sunglasses, bubblegum-pink mules and a fistful of sparkly Delfina Delettrez rings.
Bikini, Solid & Striped; Sunglasses, CHANEL; Shoes, Amelie Pichard; Bag, Kate Spade; Rings, Delfina Delettrez