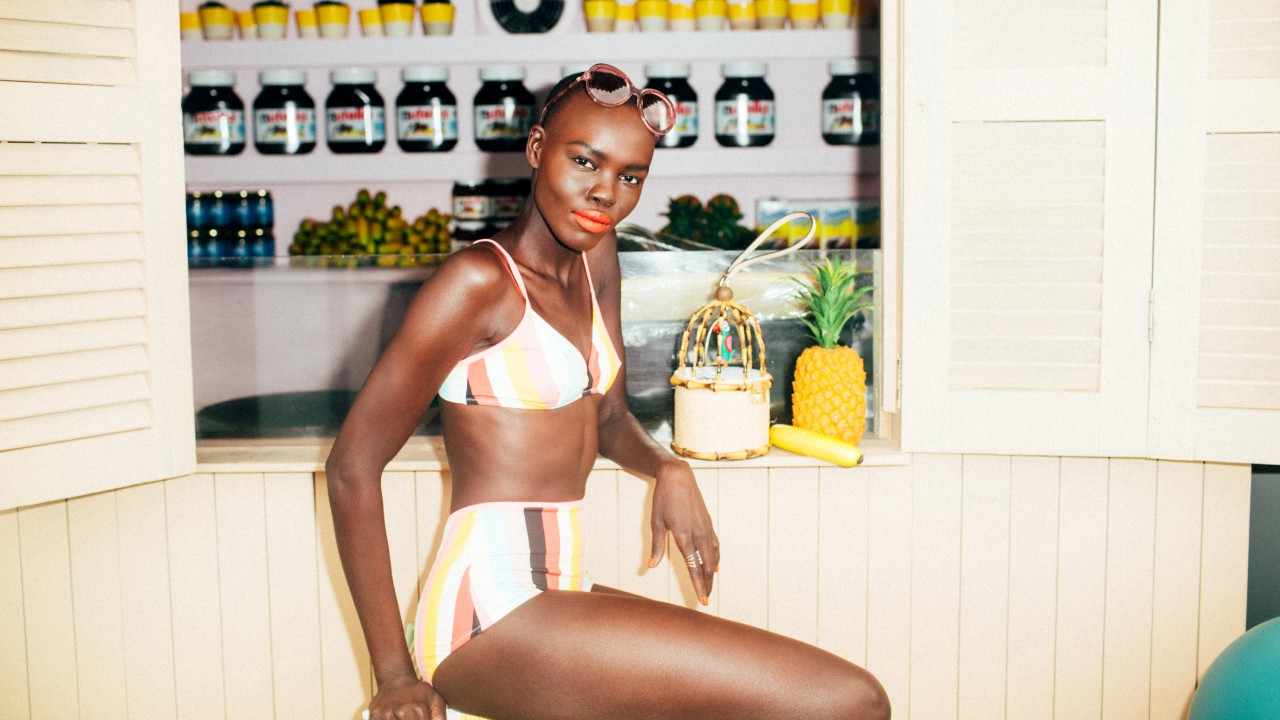 Model Grace Bol's Summer Style Essentials
The Balenciaga face talks shea butter, her favorite Hermès bathing suit and summer vacation plans (hint: a road trip!).
Grace Bol is a boss. The model possesses this kind of cool, unassuming elegance that would otherwise allow her to fly completely under the radar—were she not, you know, just under 6 feet tall, with a striking buzzed crop, and skin so luminescent you can probably see it from space. Her vibe in front of the camera, of course, is another matter entirely. It's cliché by now, but believe us when we say she transforms the moment she notices a camera's lens is trained on her. Even the slightest movement, from a tilt of her chin to an arched brow, completely changes the direction of whatever she's projecting entirely. It's precisely why she's a favorite of cool-kids-club designers like Sies Marjan, and Demna Gvasalia of Vetements and Balenciaga, but also a regular on the runways of everyone from Rick Owens to Balmain.
Hailing from Kansas City, Missouri, by way of South Sudan, Bol's approach to her personal style and beauty is equally unassuming. Between takes, we caught up with The Lions' face on all things personal style, beauty essentials, and everything she's getting up to this summer.
Shot on location at The Standard High Line.
Her jet-setting summer plans (the perks of the job!):
"I started my summer a little early. [laughs] I've been to the Bahamas, for a shoot with Numéro. And I went to Greece, to go shoot for Roland Mouret. It was on my [must-see] list, so that was great. And I was in Paris for couture."
The unexpected next stop on her itinerary:
"Now that I'm back, I'm going to take a vacation through America with friends. Hopefully go ride a roller coaster, stuff like that. [laughs] We have a road trip in mind!"
How her style changes in the warmer weather:
"I start to wear less black clothes. I wear more colors, bright nail colors here and there. I'll wear skirts, dresses, sandals, sunglasses—I have some new Fendi sunglasses I really like, and a new Loewe bag."
What she looks forward to most about summer:
"I like being more active in the summer, so I look forward to [the] outdoors, going to the park, summer shopping, walks by the Hudson river, being by the beach."
What's on her summer soundtrack:
"I listen more to African music, and reggae. And one of my favorite, favorite artists is Lucky Dube. African music gives me energy, it gets me excited and jumping around! The reggae is more of a mellow feel, more relaxing."
Her go-to beauty essentials:
"Body oil, shea butter."
The (incredibly chic) swimsuit she's living in all season:
"My favorite bathing suit right now is by Hermès. It's a stringy two-piece, light blue—it's like art. I love that. And I have solids from Victoria's Secret, Calvin Klein, and La Perla. If I want to go chic, I go for La Perla."
What you'll find her sipping on in the sweltering NYC heat:
"In the summer I love lemonade! And I do a lot of coffee. [laughs] But I still drink it hot, no matter what the weather."