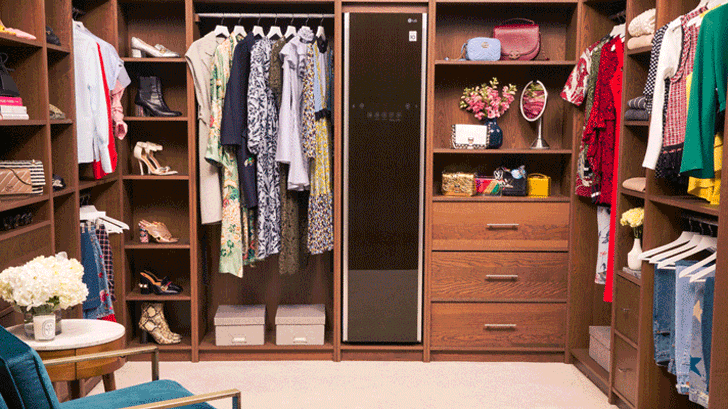 Decor
Let's just say that after going inside 700+ of them, we've learned a thing or two. In collaboration with LG.
Alec Kugler
Jenny Wichman
We like to think it's not too often that we toot our own horn (sidebar: do people really say that?!), but if there's one area of expertise we know we have down, it's closets. We literally wrote the book (or, at least, one book) on it! We've spent the last six years raiding wardrobes all over the world, so we feel pretty confident in saying that when it comes to envisioning a dream closet, we're the ones to bring it to life. Kind of like our own little Pimp My Ride revival.
So we did! With Gucci, Louis Vuitton, and Chanel as our proverbial building blocks. And when designing it, we knew exactly what we wanted. Ample dressing space (because entire glam rooms are indeed a thing; plus, getting dressed is more fun when you do it with friends). Shelves on shelves on shelves to display exactly where our paychecks are really going. And, finally, a new-ish addition life will officially never be quite the same without: the LG Styler. Here, get in on the lessons we've learned along the way (and why the next addition to your wardrobe might have nothing to do with shoes or bags, but everything to do with the life-altering equivalent of a personal dry cleaner).
---
Before editing down the contents of the wardrobe, it's time to hone in on those staple pieces that could use a little extra love. Take your most well-loved shoes to a cobbler to be resoled, send your pricey bags off to the leather spa (some luxury fashion houses will handle this for you), and make time to properly treat your more delicate items. We've taken to popping them into the LG Styler before we hop in the shower (it can refresh pieces in 24 minutes flat without shrinkage) so we don't have to give it a second thought. If that wasn't quite enough, the LG Styler will also create pant creases (perfect for your next "I'm wearing a power suit to work so no one knows I'm hungover" moment). Another bonus: rather than having to deal with the nasty (and clothing-ravaging) chemicals you'll find at the dry cleaners, the LG Styler is powered solely by steam. 
Now that that's out of the way, first things first? You probably need to get rid of a few things. And by a few, we mean anything you haven't worn (or, as a compromise, that you haven't at least seriously considered wearing), anything you've been meaning to donate (or sell!), and anything that just doesn't belong. Give yourself the safety net of a few opaque linen storage boxes for odds and ends that don't quite fit anywhere else but that you can also use to quickly stash things in a pinch.
Now that you've pared things down, you need to keep them organized. We like the method of keeping everything out in the open, where you can see it (so you know exactly what you're working with). Designating a spot for everything will also cut down on early-morning-rush freakouts as you're getting ready (more on those later). It's occasionally annoying, but it's also easier to put back things immediately-ish after wearing them, rather than having to sort through piles on your floor. Trust us on this. Take smartphone photos or Polaroids as a visual reminder once you find a layout you feel good about.
Your closet itself is now organized, but keeping it that way is another issue altogether. It doesn't stop at keeping the physical space itself neat and tidy: set your closet up in a way that ensures your mornings (and quick post-work costume changes) run smoothly, too.
You already know to lay out your outfits the night before (or even a week in advance, if you're feeling especially ambitious). But far and away the most crucial piece to keeping your look polished and on point is the LG Styler. Seriously! Consider those mornings spent rushing around desperately trying to unfurl your ironing board and tediously filling the water reservoir in your steamer over forever. It's also helps that its incredibly sleek, and completely minimal (so as to not distract from your shelves of sparkly things). Also, take heed, all the types who put things off if it involves calling in professional help or the thought of installing something: this isn't a scenario where you're wasting a Saturday. You simply slide it in to install, and refill water as needed, rather than dealing with plumbing. Need we say more?
Embrace the Matchy-Matchy
One of the unexpected keys to creating a space to stash your stuff that you won't promptly double over with a heart attack after seeing? Keeping things consistent. That means matching hangers, a standard folding style for similar garments (we like to hang dresses, blouses, and trousers, and fold sweaters and tees), shoes and bags lined up and facing the same way. Same goes for anything hanging.
Might as well make it a space you like being in, right? A few choice coffee table books, fresh flowers, some cool prints and photographs, and a candle is a good (and easy) place to start.
Your Closet Organization Starter Pack
---
Matching Hangers
LG Styler
Diptyque Baies Candle
Fresh Flowers
Linen Storage Boxes with Labels
Standing Makeup Mirror
Drawer Dividers
Jewelry Trays