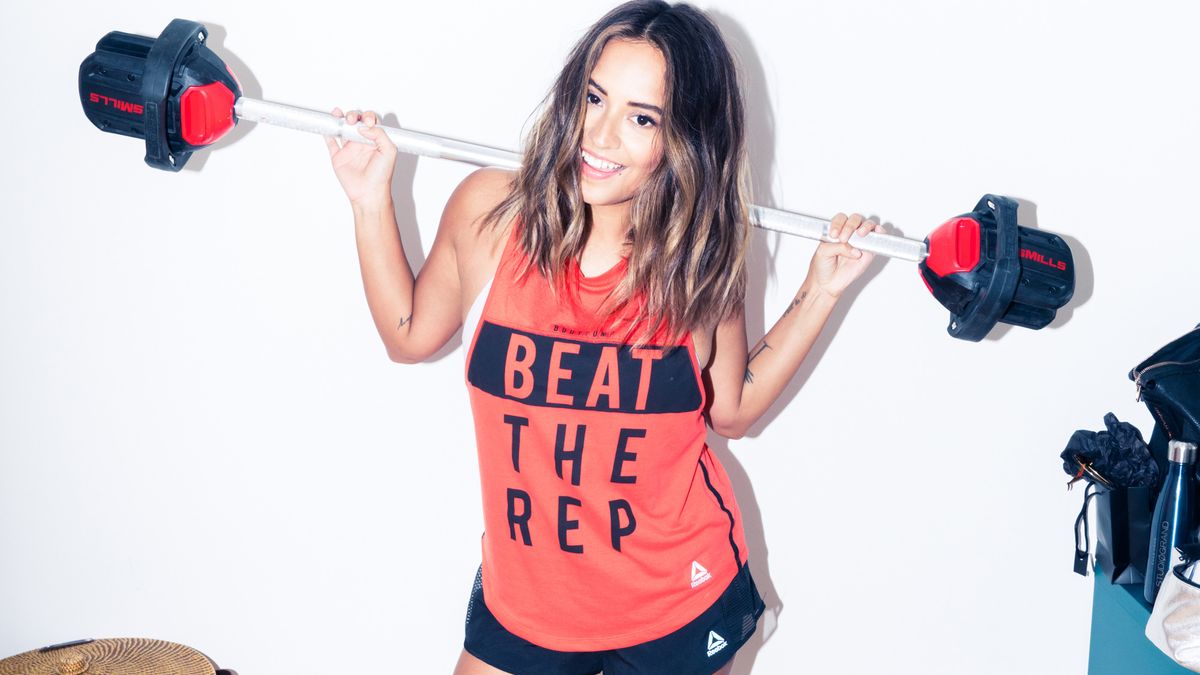 Fitness
This Entrepreneur Does It All & Still Finds Time to Chill
Taste The Style's Cyndi Ramirez-Fulton also fits in a work out. In collaboration with Reebok & Les Mills.
Renée Rodenkirchen
Hair
Hair: Erickson A. for Bumble and bumble
Leave it to Cyndi Ramirez-Fulton to show us up on what it means to have a million things on the go at once and still have it all together. Correction: not only does she have it together, but girl is killing it in every venture she takes on. Her latest is Chillhouse, which, you guessed it, is all about escaping the New York hustle, and she's been knee-deep in its construction all while manning her editorial hub, Taste The Style, and managing to make time for a workout. But, quick question, how do you think she manages to squeeze in a chill? We tailgated her for a day in her life to see just how it's done—so, you know, we can do the same.
---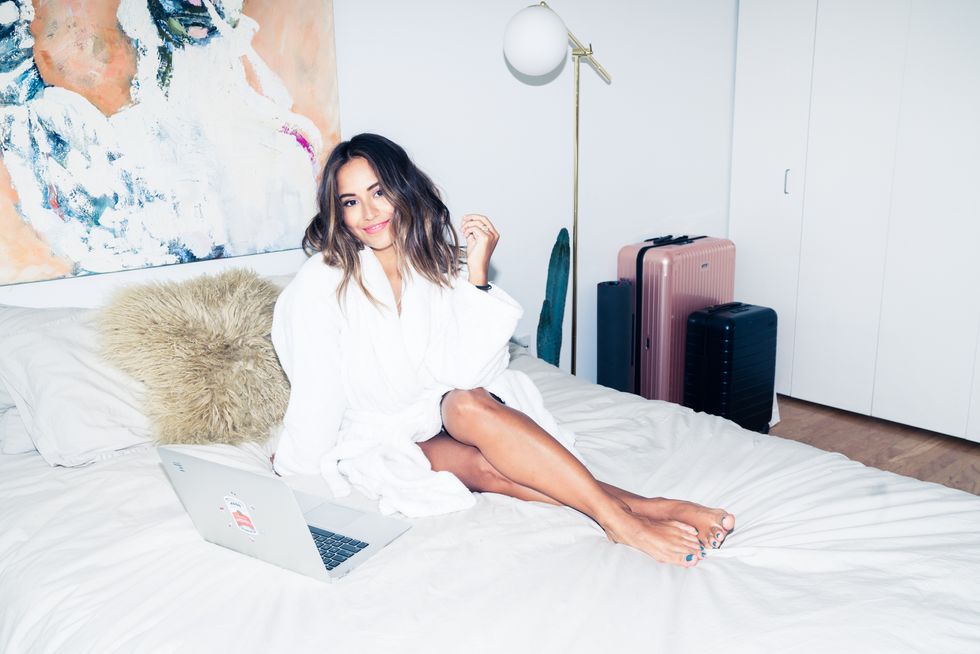 7:30 AM:
"I've been trying to wake up around 7:30 AM but on a naughty day, I can get up as late as 8:30 or 9 AM."
7:35 AM:
"I always start by looking at my phone, taking a big gulp of water, and then my husband gets out of bed before me and makes us green tea every morning."
8:45 AM:
"I need to ease into my mornings, so I like to workout around 9am. I love weight training and find that BodyPump is a perfect option. Doing lots of reps with light weights on the bar gives me great results and it's such a fun and motivating way to work out. I prefer to workout at home with Les Mills On Demand because I don't have to be on a clock. I don't feel pressure to get x amount of time in. I like the flexibility of doing whatever I want without people watching me."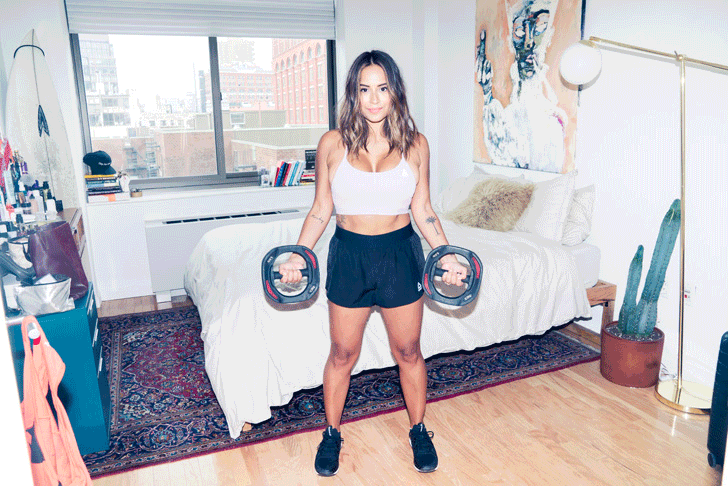 9:45 AM:
"I try to be at the office by 10 AM, and publishing [the features of the day] right before I leave my apartment."
10 AM:
"My closet is full of athleisure these days, and I'm particularly fond of the Les Mills x Reebok collection because its versatile and wearable, especially for when my day is packed. I could easily take it from the gym to brunch just by throwing on a leather jacket. Not to mention my shorts are beyond comfortable and some of the most flattering I've ever worn.
"When I get into the office, depending on the day, I'll meet with my team and we go over the calendar for that week or any partnerships that are in the works."
11 AM:
"It's all over the place—but typically, if I'm just focused on TTS, I'll be going to a shoot, going to someone's home or their place of work, and capturing everything via social."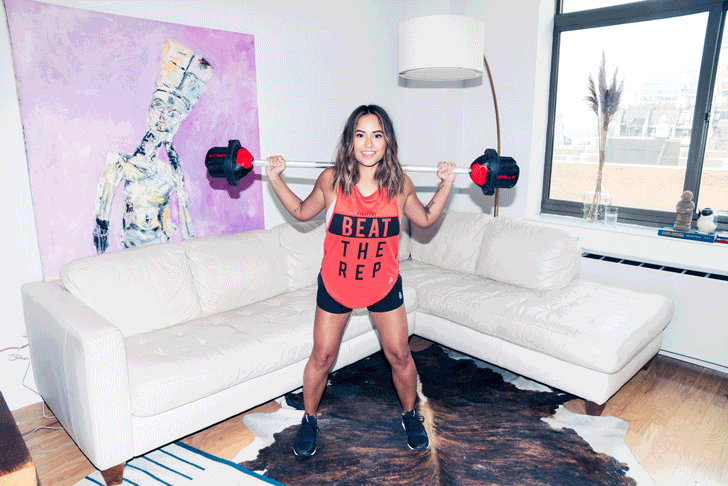 12:30 PM:
"I work in the Lower East Side, so I end up at Dudley's a lot. If I'm venturing off a little bit, I'll go to Nolita—I could be at Lovely Day or De Maria lately."
2 PM:
"With the opening of Chillhouse, we have been there a lot—running back and forth, going to places to get things or making runs for random stuff that we need for the space."
6 PM:
"I try to stick to a quintessential office schedule: 10 AM to 6 PM. I never really stop working, though. For the most part I'm working through the night in some way, shape, or form. Especially right now."
7 PM:
"My favorite way to chill out is so simple: it's grabbing a yummy dinner with my husband and drinking a glass of wine. I love our restaurant, Dinnertable. We own a hidden restaurant in the East Village tucked behind our bar, The Garret East. We tend to go there to have some facetime with our guys but also because we genuinely love the food. It is a very relaxing environment for me. If I'm not doing that, the best thing in the world for me is staying home and watching reruns of shows or binging on Netflix shows like the OA. I didn't go to sleep one night and just finished it."
10 PM:
"Before bed, I just wash my face, brush my teeth, and moisturize with some oils. I have been into my Tata Harper facial oil lately. For cleanser, I've been using a Caudalie foaming cleanser, which is really good. I also use Neutrogena face wipes religiously."