Career
Jessica Grose is all about the 2018 midterm elections.
Weston Wells
When most people think of Lenny Letter, Girls creator and star Lena Dunham comes to mind. But fueling the woman power of Lenny (co-founded by Dunham and longtime pal Jenni Konner) day to day is editor-in-chief Jessica Grose.
Before launching Lenny in September of 2015, Grose, formerly of Jezebel and Slate fame, spent nearly a decade focusing on the stories, issues, and ideas that matter most to millennial women. Oh, and she also wrote two novels (her latest, Soulmates, centers around a murder at a yoga retreat) and had two kids all before turning 35. Not that anyone's counting.
In the past year, the newsletter, featuring raw, humorous, and honest pieces by new voices and famous names alike has been sent to more than 53 million people and was opened more than 28 million times.
We sat down with the editor, author, and mother at Lenny Headquarters—a shabby-chic Brooklyn Heights space which once served as Dunham's apartment—to discuss the "fucked up" political climate, how to raise feminists, and what it's like editing Alicia Keys.
---
What does the editor-in-chief of Lenny Letter do?
"My job is to edit pretty much everything that appears in the newsletter and on the site. I also come up with what we're going to assign and what we're going to cover and then, because we're such a small team, it's a lot of other stuff we've never done before.
"The fun-slash-difficulty with a start up is that anything there is to do, you learn how to do it. I came on to Lenny before it started, so I helped come up with the whole structure and what it would look like. We decided that it would come out twice a week."
What inspired you to work with Lena and Jenni?
"At the time, I had actually thought I was going to be freelance for the foreseeable future. I was doing work I really loved and believed in. I had just finished a novel, and I loved that. I loved the flexibility. I got to be with my kid—at the time there was only one—and I was just happy.
"And then this opportunity came along. Actually, my old boss at Slate, who goes way back with Jenni, recommended me. I met [Jenni and Lena], and I was so blown away by just how dedicated and smart they are, and what a great idea they had for this project.
"The ability to start something from scratch was also really appealing to me. Because I've had other experiences where I've come on to something that was already up and running and where the dynamic could be kind of toxic or difficult, the idea of starting something was really appealing to me. And even though I loved freelancing, one of [the] things I really missed was working with writers. My favorite thing to do is to help young writers at the beginning of their careers find their voice."
Is there a piece you've published on Lenny that you're particularly proud of?
"I love all my pieces equally, and they are all my children and I adore them! But yes, there are a handful of writers that we work with a lot, and I really feel like they've written stuff that is so special and important. One of them is our contributing writer Kaitlyn Greenidge, who is a staffer and has amazing ideas and is the most beautiful writer.
"Another writer we worked with from the beginning was Kendra James, and she wrote about how writing fan fiction taught her about sex, and it was hilarious and so good and really funny.
"Someone we work with a ton and is really special is Lauren Bohn. She's our foreign correspondent who lives in Istanbul and has done some really important reporting on Syrian refugees and has done some really beautiful international reporting, and she's just amazing. We adore her.
"And there's been a bunch of celebrities who we've worked with, and I've just been blown away with how smart and diligent they are. We've worked with Gillian Jacobs a couple times, and she's so smart and a really serious person. Amanda Peet, that piece was such a great piece, and Alicia Keys' piece was really amazing. I don't want to single anyone out at the expense of anyone else, but those are just ones that jump out at me as ones we've been really proud of."
What's it like to edit celebrity writers?
"It's really important to us that with any writer we work with, we treat everybody the same. Everything gets edited, everything is a process, everything we do is trying to bring out the essential voice of whomever we're working with. So whether that's Jennifer Lawrence or someone who's a first-time journalist…
"We also try to work with people who are not primarily writers, because a lot of times those people have a really great story, even if they aren't professional writers."
Obviously, Lena has been an influencer of millennials for some time, as have you. What do you think the millennial approach to feminism is? How is Lenny responding to that?
"I have basically been writing in this sphere for a decade. My first job in feminist media was at Jezebel in 2007, so exactly 10 years ago, and the one thing that has been the biggest change—which is an amazing change—is that it's so much more intersectional than it was back then. Issues of race and class are paramount, and that is how it should be.
"One of the things we try to do is to raise other people's voices. So I find myself writing less and being inspired to write less because I don't think my voice is necessarily one that needs to be prioritized in this moment.
"Millennials—I call myself an ancient millennial, I'm almost 35—this is the most diverse generation ever, and the generation beyond that is even more diverse, so surfacing those writers now is really important."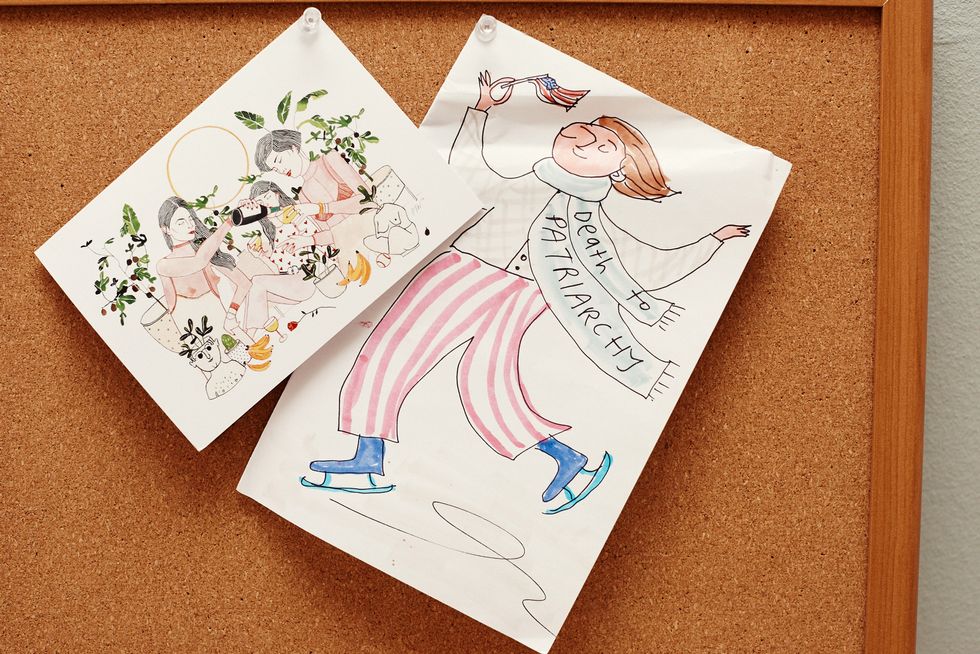 What have you noticed about the "Millennial Woman" reaction to a Trump presidency?
"If you look at the statistics, young people don't vote. And my hope is that this moment has activated people. And I really do think it has. I don't think our readers are exemplary of the generation—I think our readers are very involved and politically active and engaged—but I think, at this moment, young people are saying, 'Wow, I need to participate in the political process or my desires are not going to be heard.' That's really important. It's really fucked up and scary what's going on right now.
"Another issue—which is one that not just women but men are waking up to more—is caretaking. And broadening the idea of caretaking to not just mean children. I think most women, but men, too, will have caretaking responsibilities in their lives, and all the statistics show that women bear the brunt of that caretaking. It's a human issue, so hopefully it will cross political lines. It's something that I am hopeful there will be forward movement on, even during this horrific political moment that we find ourselves in."
Has anything about your approach to Lenny Letter changed since the election or inauguration?
"I don't think our approach has changed—we've always been political, we've always been engaged. But, I remember before the election, one of my editorial goals was to get our readers to care more about midterm elections. Even before the presidential election, I thought one of the ways in which pro-choice people and democrats and women were losing was that people who vote in midterm elections tend to be republicans and older and whiter. So even before the presidential election, as an editorial goal of mine, I wanted to get our readers to vote in the 2018 midterms.
"I remember thinking before the election, 'How am I going to get them to care? If Hillary wins, they are going to be complacent.' So…I'm not worried about that anymore!"
Many progressive millennial moms are all about raising feminist kids. You have two young girls—do you have certain approaches to parenting for instilling feminism in your family?
"I will say that you can say a lot of things to your kids, but what your kids pay attention to is how you behave. So the greatest feminist gifts that I think I give to my children on a daily basis is having their father be an equal caretaker.
"So, our childcare responsibilities are really 50/50. I think day in, day out, my kids see 'You know what? Both men and women can work. [Both] men and women can take care of kids. Nothing is a mommy job, nothing is a daddy job.' Your kids seeing the way you behave is the most important thing.
"I'll also say that there's a lot of focus on the superficial things, like 'my daughter only wants to dress up like a princess,' or 'she only wants to wear pink.' I don't think those things are that important. Those are phases. Those are things they share with their friends. I bridle at the impression that all girly things are 'bad.' All that sort of stuff feels like noise to me.
"One of the things I have been thinking about is teaching my kids about—one of the most important things you can teach boys or girls—is consent. And having control over their own bodies. So, just teaching my older one, nobody is allowed to touch you, you have control over your body—it's an important lesson to teach along the way."