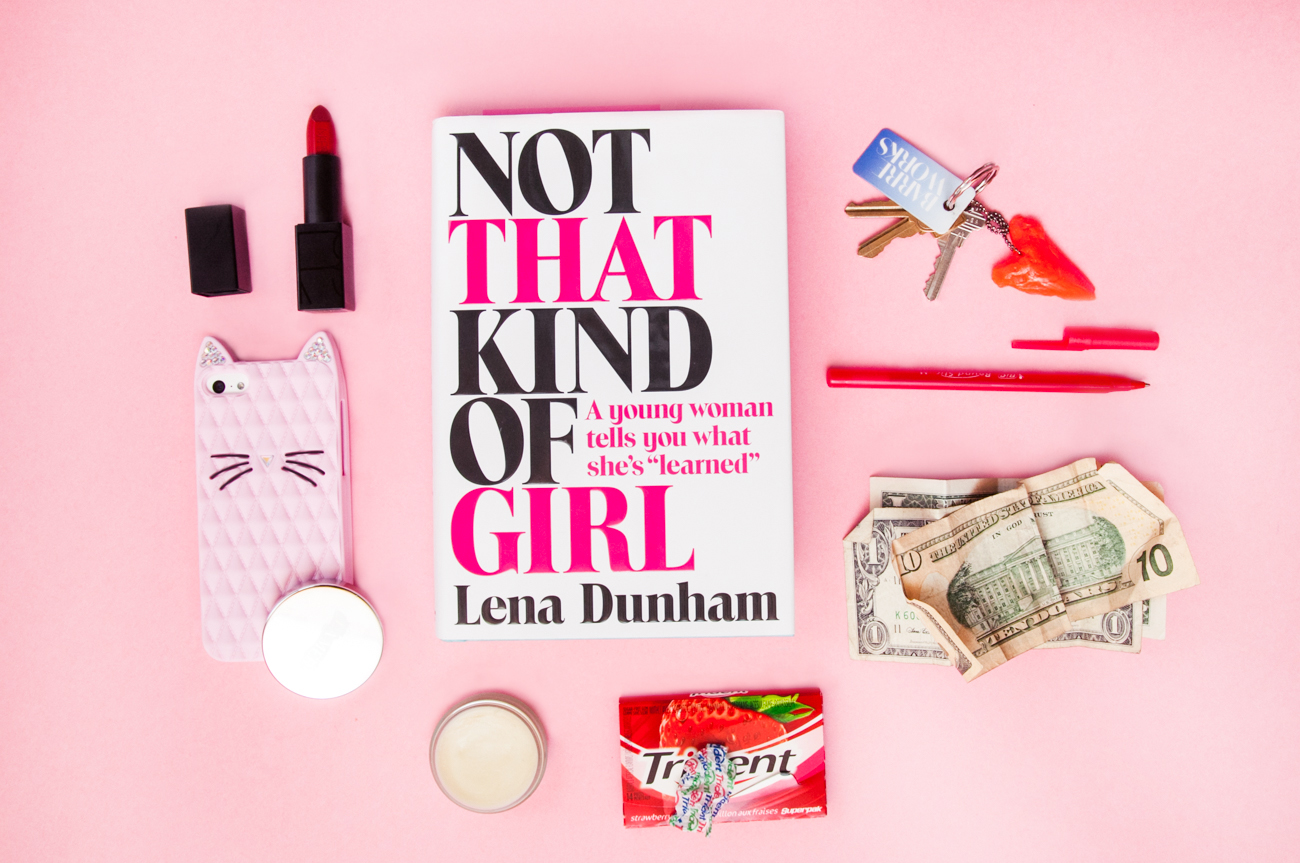 7 Hilarious Quotes from Lena Dunham's New Book
A few make-you-smile excerpts from the must-read pages of Not That Kind of Girl.
Not going to lie: it was kind of like Christmas came early when Lena Dunham's new book of memoir-like essays arrived at our office a full day before it hit bookstore shelves. Let's just say the book is required reading around here. And guys, it was just as fulfilling, life-affirming and relatable as one would expect from the woman who's been reflecting our lives back at us on HBO for the past three years. From Dunham's first time and her first love to her neon-laced college adventures and nudity-required job, it's all there. It's LOL-inducing (though reading particular passages out loud to our ear-bud wearing boyfriend late night may not have exactly resulted in the belly laugh we expected), and there's many profound, make-you-think, maybe even make-you-cry (at least on the inside) moments, too. Herein, we present you with a few of our favorites. But trust us when we say there's plenty more where this came from. Consider this your non-spoiler, Lena-approved appetizer.
1. On her fifth grade IM boyfriend, Igor, who lives in New Jersey and is Russian…
"Igor wants to see a photo of me, so I send him one of me against my bedroom wall, on which I have drawn trees and nudes with Sharpie. My hair hangs in a yellow, flat-ironed curtain, and I am cracking a glossy half smile. Igor says I look like Christina Aguilera. He's a punk, so it seems more like a factual assessment than a compliment, but I am thrilled."
2. On who it's okay to share your bed with…
"Your sister if you're a girl, your brother if you're a boy, your mom if you're a girl, and your dad if you're under twelve or he's over ninety. Your best friend. A carpenter you picked up at the key-lime-pie stand in Red Hook. A bellhop you met in the business center of a hotel in Colorado. A Spanish model, a puppy, a kitten, one of those domesticated minigoats. A heating pad. An empty bag of chips. The love of your life."
3. On being "brave" enough to be naked on TV…
"[A] frequently asked question is how I am 'brave' enough to reveal my body on-screen. The subtext here is definitely how am I brave enough to reveal my imperfect body, since I doubt Blake Lively would be subject to the same line of inquiry. I am forced to engage in regular conversation about my body with strangers, such as the drunken frat boy on MacDougal Street who shouted, 'Your tits look like my sister's!' My answer is: It's not brave to do something that doesn't scare you. I'd be brave to skydive. To visit a leper colony. To argue a case in the United States Supreme Court or go to a CrossFit gym. Performing in sex scenes that I direct, exposing a flash of my weird puffy nipple, those things don't fall into my zone of terror."
4. On the hell that is PMS (we feel you, girl)…
"When I was sixteen I went to the gynecologist for the first time. They tell you that you can wait until you're either eighteen or sexually active, and I was neither, but I needed help. My period—the pain, the volatility, the feeling of utter despair—was taking my family hostage. And if my father asked whether I was possibly menstruating I screamed in his face so loud his glasses shook. Despite my virgin status the gynecologist prescribed birth control, which has helped with regularity, but nothing can help the mood that still descends a few days before my period begins, like a black cloud rolling in. I am uncharacteristically dark and nihilistic. Everyone is out to get me, to hurt me, to uninvite me from their tea parties, to judge my body and destroy my family. I am like a character on Dallas, obsessed with subterfuge and revenge, convinced I have discovered unlikely yet real-seeming plots against me. Once, while in the throes of PMS, I became convinced a man in a black overcoat was following my down La Cienega Boulevard. 'The police will never believe me,' I sighted, and began hatching a plan for losing him on my own."
5. On one of the reasons she loves New York…
"Because everyone gets catcalled. And I mean everyone. If you have a vagina, by birth or by choice, you will be called 'mami' or 'sweetie' or 'Britney Spears.' And the catcalls can be so creative! Once, my little sister was walking down the street in her thick black glasses, and a homeless man muttered, 'Talk nerdy to me.'"
6. On one of the essentials she always carries in her bags…
"An eyebrow pencil because I overtweezed my eyebrows like every child of the nineties and am now stuck with what my sister calls balding caterpillars. Weak eyebrows = weak presentation. It's like having a bad handshake, but worse because it's right on your face."
7. On her post-college limbo…
"It's not like I didn't have plans. Oh, I had plans. Just none that these small minds could understand. My first idea was to be the assistant to a private eye. I was always being accused of extreme nosiness, so why not turn this character flaw into cold hard cash? After hunting around on Craigslist, however, it soon became clear that most private eyes worked alone—or if they needed assistant, they wanted someone with the kind of sensual looks to bait cheating husbands. The second idea was baker. After all, I love bread and all bread by-products. But no, that involved waking up at four every morning. And knowing how to bake. What about preschool art teacher? Turns out that involved more than just a passion for pasta necklaces. There would be no rom-com-ready job for me."