PSA: Striped Shirting Is the Only Thing You'll Want to Wear This Spring
Don't believe us? Read this. In collaboration with Bergdorf Goodman.
Trends
This spring, we're marrying a few (hint: four) of our favorite trends with the style archetypes that just won't quit. Here are the girls we're taking cues from while we get dressed this season, where they'll be wearing it, and how you can pull it off, too.
---
We're just going to come right out and say it: striped shirting is probably the most versatile wardrobe trend you'll ever come across. Especially for spring. Can you think of another universally flattering print that's at once work- and play-appropriate, and looks this good with virtually anything else you throw it on with? Didn't think so. It's at once dressy without being stuffy, can be sexy without being obvious, polished but not boring, cool without coming off as intimidating.
All of the above is precisely what makes it the bread and butter of what we've come to know as The Reformed Prep—a refined magpie whose collection of spangly vintage jewels and sequins is only rivaled by her assortment of all-Americana-inflected everything. Here's how we imagine she styles it when we get dressed in the morning in homage to her.
The girl: The Reformed Prep
Think... Jenna Lyons, Jenny Walton
She never leaves the house without: A leather-bound Moleskine notebook.
The beauty product she swears by: A won't-budge-no-matter-what lipstick in that perfect, nearly-impossible-to-pull-off shade of orange red.
Her slightly under-the-radar getaway of choice:Lisbon, Portugal, where she'll sketch the city's pastel-hued buildings while sipping a glass of port at two in the afternoon.
---
Taking this maxim to heart is the key to looking this good. Look for striped shirting with a twist, like the voluminous, ruffled sleeves on this MSGM blouse. Pair with accessories that, while diminutive, pack serious punch, like these sculptural gold ODLR earrings and patched camo READYMADE bag.
Top, MSGM; Pants, MSGM; Shoes, Vince; Bag, READYMADE; Earrings, Oscar de la Renta
---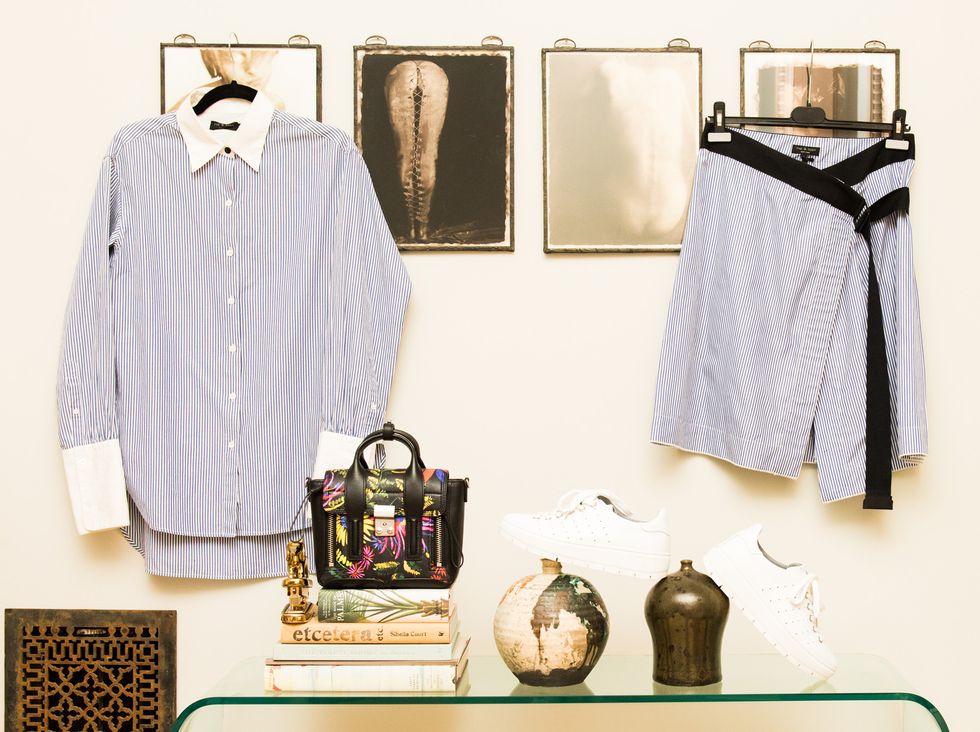 This Rag & Bone set could read slightly corporate with a pair of pumps, which is exactly why it looks so cool when worn with clean white sneakers.
Shirt, Rag & Bone; Skirt, Rag & Bone; Shoes, Rag & Bone; Earrings, Mercedes Salazar
---
In your quest for the perfect striped shirt, you're probably going to come across an option or two with cool embroidery for a little contrast. Amplify the effect with a matching statement earring, like these ones by Ranjana Khan.
Shirt, Tanya Taylor; Jeans, Marques'Almeida; Shoes, Sanayi; Earrings, Ranjana Khan
---
While the notion that horizontal stripes is unflattering has been proven wrong time and time again, the fact remains that the motif can be manipulated to play visual tricks with onlookers. Which is precisely why we love a figure-hugging striped button-down dress that exaggerates everything you'd want exaggerated—Veronica Beard's, worn here, is the ideal. Add a pair of suede cognac-hued sandals to add to the effect, and throw on oversized pineapple doorknocker earrings just because you can.
Dress, Veronica Beard; Shoes, Gianvito Rossi; Bag, Derek Lam 10 Crosby; Earrings, Mercedes Salazar
Shop the trend online or in-store at Bergdorf Goodman (212.753.7300; 5th Avenue and 58th Street, New York, NY or email MyStylist@BergdorfGoodman.com).