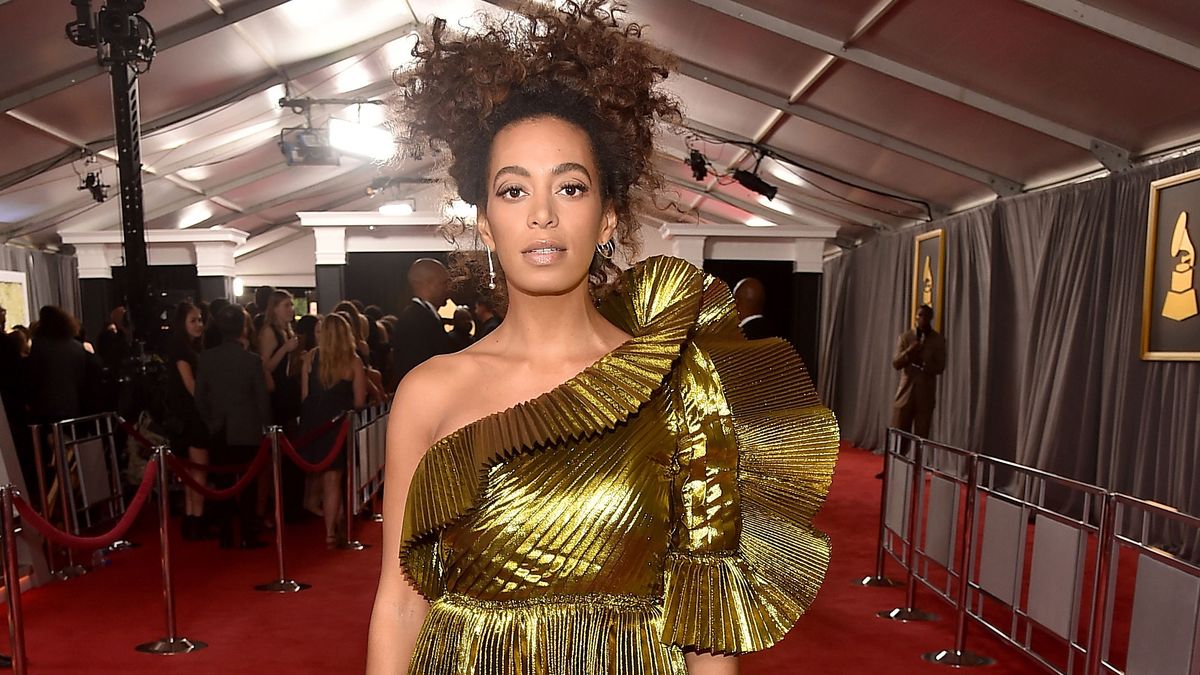 Celebrity
Dana Delaney lets us in on all her tips and tricks.
Before we even get into her red carpet look, let's take a moment to congratulate Solange on her Grammy's win for Best R&B Performance. I mean, we can't really say that we were that surprised (after all, we're still listening to "Cranes in the Sky" on repeat)—but congrats are in order nonetheless. To top that off, she showed up on the red carpet looking like an absolute goddess. Her makeup was on point (as was her flawless hair)—a stunning neutral look complete with 10/10 eyebrows and an eyeliner look we're guessing we're about to see everywhere.
We caught up with her makeup artist, Dana Delany, who is evidently as in awe of Solange as the rest of us. "I was definitely inspired by Solange herself," Delany said. "She's very involved in her look and how she appears aesthetically—and doesn't care what people think. Solange loves a more paired down natural look with an element of interest, so we were really just trying to keep her looking like herself."
Naturally, we had to get the breakdown of the look so we could at least attempt to do it at home. So on that note, BRB, going to practice our eyeliner technique.
---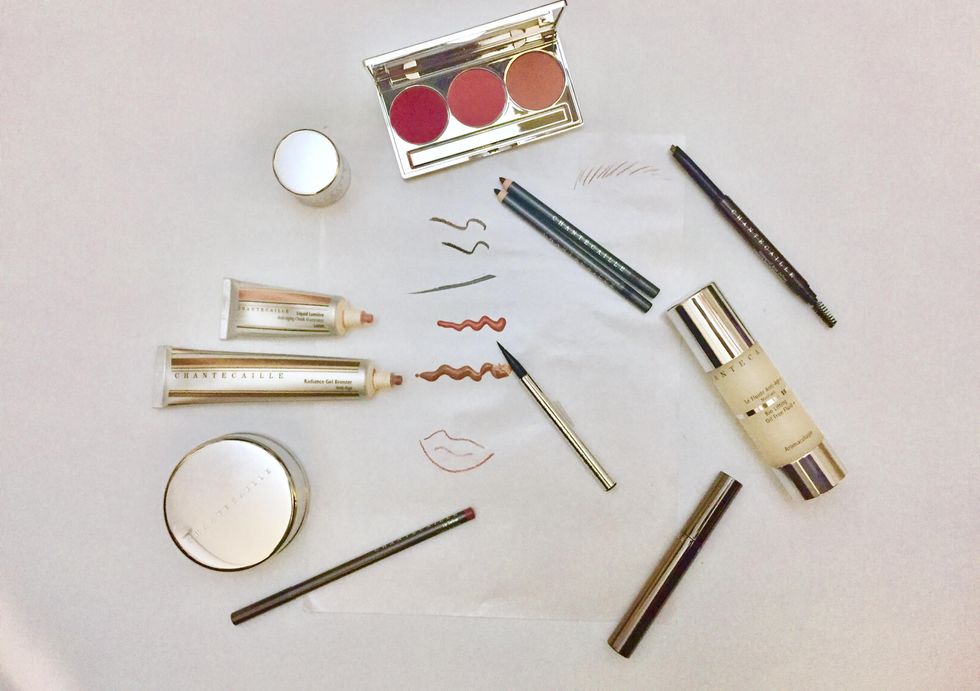 WHAT YOU'LL NEED
Chantecaille Bio Lifting Oil Free Fluid
Chantecaille Stress Repair Concentrate 
Chantecaille Future Skin Foundation
Chantecaille Radiance Gel Bronzer
Chantecaille Liquid Lumiere
Chantecaille Protect the Lion Eye Palette 
Chantecaille Faux Cils Mascara 
Chantecaille Waterproof Brow Definer
Chantecaille Lip Potion
Chantecaille Lip Chic in Gaia
Chantecaille HD Perfecting Powder
Buffing Brush
Small Fluff Brush
Sponge
1. "I massaged Chantecaille Bio Lifting Oil Free Fluid all over the skin using Stress Repair Concentrate mixed in with Future Skin Foundation for a sheer application. Banana Future Skin was used in the center of the face and Suntan Future Skin was blended through the hollows of the cheek as well as the forehead to match her complexion—stippling the foundation where needed for extra coverage."
2. "To add dimension to cheeks I used a buffing brush with Radiance Gel Bronzer and then lightly tapped Liquid Lumiere in Sheen with a wet sponge in sheen on the top of cheekbones as well as the center of [the] eyelids."
3. "For the eyes, I used the Protect the Lion Palette—the Copper Mermaid eye color [and] Luster Glide Sil Infused Eye Liner in Earth lightly smudged into lash line finished with Faux Cils mascara [and] Waterproof Brow Definer in brown."
4. "At the last minute, Solange wanted to add some graphic black lines to her lids so I gently dragged Le Stylo Ultra Slim in black across the lids."
5. "For lips, Solange didn't want a lot of color, so we mixed Lip Potion with Gaia Lip Chic and gently tapped on the center of the lip."
6. "Using a small eyeshadow fluff brush I added HD Powder only where needed in the t-zone."