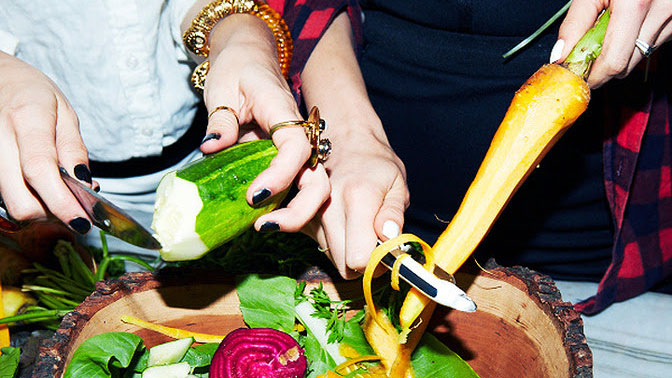 How to Eat Healthy at Your Super Bowl Party
We promise it's not as hard as it sounds. Sakara Life breaks it all down.
Let's just be honest here: we're going into Super Bowl Sunday (football-obsessed guys/girls or not) with every intention of consuming chips, dips, cocktails, and a couple bites of an overly frosted layer sheet cake in [insert NFL team of choice's] colors. That, guys, is life. But this year we're planning ahead like the real adults we are. And in doing so, we naturally turned to Whitney and Danielle of Sakara Life, who have helped us navigate everything from a Thanksgiving feast to our drunken late-night pizza cravings in the name of choosing the healthier option. Here you'll find a few super-easy-to-follow and straightforward pieces of advice to ensure you won't wake up on Monday feeling hungover and bloated. Now go enjoy some of that buffalo dip—and happy footballing!
Pre-Kickoff
"Since you know you're probably going to indulge a bit, start your day off strong with plenty of clean plant foods. If you can, take some activated charcoal a few hours before the party… It's a natural substance that will absorb toxins in your digestive system and filter them out of your body. An easy way to do it is with a Sakara Detox Bar!"
The Halftime Show
"Chances are healthy (and especially plant-focused) dishes will be few and far between at your Super Bowl fête. So don't risk it—bring your own! Recreate a traditional party dish with whole-food, plant-based ingredients, like these nachos. Or, take the even easier route with air-popped organic popcorn sprinkled with superfood toppings like Himalayan salt, raw cacao nibs, hemp seeds, or nutritional yeast. It's a crowd-pleasing snack that never fails and is super easy to make. Same goes for fresh veggies with hummus or Sakara Superfood Salad Dressings."
Post-Party
"Your digestion might be a little off as a result of all those Super Bowl snacks. Our go-to solution is sipping an herbal tea made with bitter herbs (like Sakara's Digestive Tea). Bitter plants ease bloat and activate the liver to produce gastric juices that help break down food.
"After the big game, detoxify while you sleep! Sip some water with chlorophyll and trace minerals (like Sakara Night Water) at bedtime to help heal your gut lining, reboot the digestive system, and send any lingering toxins on their way."