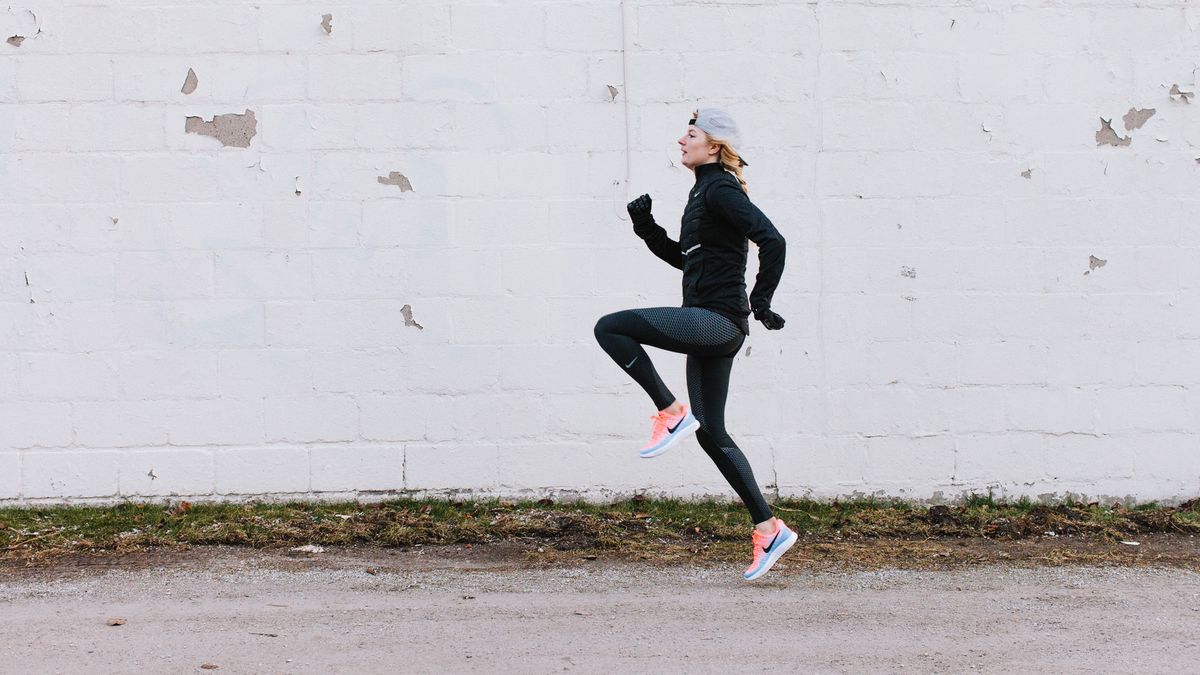 Fitness
Gear up and keep your running game strong all winter long.
Mike Rousseau
For most Canadians (me), running outdoors between the months of November and March is limited to the sidewalk-width dash from the door of an Uber to the door of a Mexican restaurant.
So when Inge Boerma, my Nike+ Run Club Toronto Coach, told our group we would be running outside all winter long, we thought she was joking (I mean, you're talking to people who couldn't feel their faces long before The Weeknd made it catchy—we were picturing a Revenant sequel, only with more swooshes and spandex).
But we quickly learned when they say "no excuses," they mean it.
If it's raining, we run.
If it's a blizzard, we run.
If it's an ice storm, we get a slightly-longer-than-usual pep talk. Then we run.
"I call it a secret weapon," says Boerma. "Maybe my pace isn't as fast [in the winter], but the elements make it that much more of a challenge. I come out of winter stronger than ever."
Now with a few weeks of winter running under my belt (or under the waistband of my Zonal Tights), I've actually started to like—and even crave—running in the cold.
The trick? The right gear.
Here's how to gear up this winter to ditch the treadmill and hit the pavement—no matter how much snow is covering it.
---
ALL ABOUT THAT BASE
You want to be comfortable and dry from Layer One—start with a breathable, sweat-wicking tee, tank, or bra that fits close to your body. Whatever you do, avoid cotton. That whole jumped-in-a-pool-with-your-clothes-on cling? Not so conducive to your fastest mile.

Layer Two is your thermal layer: a breathable-yet-cozy long-sleeved top that goes over your base, and ideally zips up to protect your neck. (The Nike Sphere Element is my go-to—it's basically half running shirt, half light sweater. Plus, the sleeves flip into mittens!)
TOQUE UP & TUCK IN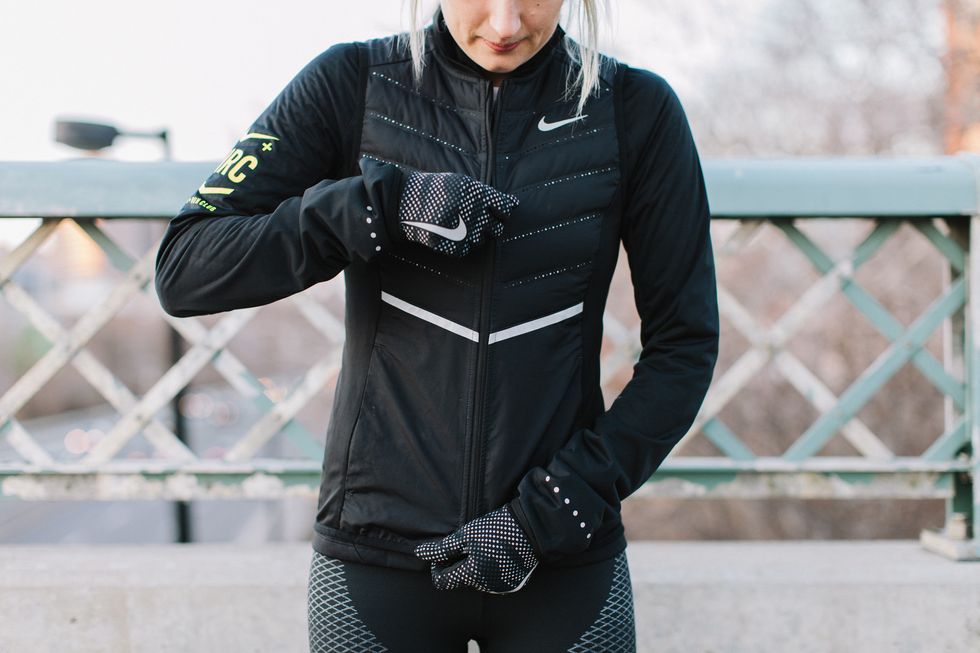 There are no hard-and-fast rules when it comes to accessories (I guess so long as they make you...hard and fast?). If your extremities tend to get cold, chances are you'll be more comfortable running in a toque and gloves.

One trick Coach Inge showed us for staying comfy-cozy was tucking our base layers into our leggings and leggings into our socks to lock that wind and snow out, grade-school ski-lesson style.
LAYER UP, DON'T BUNDLE UP
"[New runners] will always ask, 'Coach, will I be cold?' And I'll say, 'No, man, you're wearing three coats!'" says Boerma, laughing. "You don't need a winter coat, you need a good shield."

One of the first things we learned was the 10-degrees trick: dress as though it's 10 degrees warmer out than it actually is.

If it's snowing, raining, or super windy, don't break out the Moncler. Get yourself a good-quality shell that will keep you dry from the outside in and ward off harsh winds—your shield, in Run-Club speak.

Top it off with a lightweight vest to keep that core cozy, and you're off to the races (literally). The vest here packs away into a pouch the size of a wallet in case you want to take it off mid-run.
GET LIT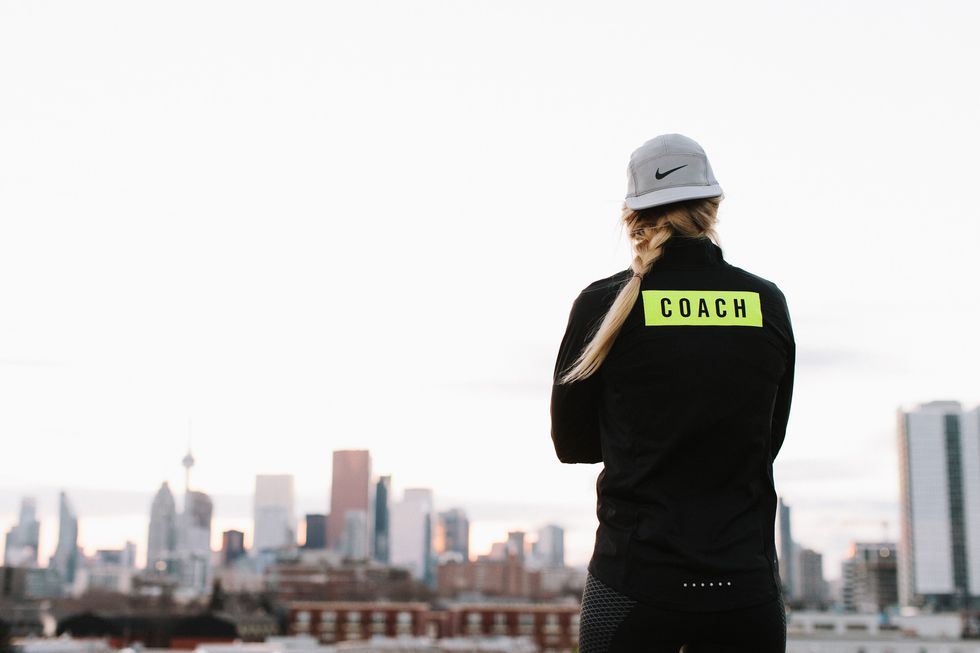 With the sun setting earlier in the winter, it's so, so important to make sure you're seen.
The more reflective gear you have, the better—make sure you're decked out in reflective dots and dashes, especially if you're wearing all black.
GET THE RIGHT TIGHTS
Unless you're going for a geometric frostbitten look, nama-stay away from those yoga tights with the mesh paneling. You're going to need something a little more heavy-duty for winter.

The leggings we use are the Zonal Tights, which basically feel like you're vacuum-sealing your muscles into place, in the best way possible. That means warmer legs, less extraneous muscle vibration, and less jiggle.

Get it right, keep it tight.
KICK IT NEW-SCHOOL
Contrary to popular belief/everything your teachers preached in junior high, your feet aren't going to fall off if you wear running shoes in the winter—that is, as long as you're running in said shoes.
Opt for a pair that are breathable and that fit snugly to the ankle so that no wayward snow chunks find their way inside—Boerma wears the LunarEpic 2s, a super-soft Flyknit shoe with equal parts squish and support (these beauties drop Febraury 2nd, so keep an eye out). If you want a pair with a little more traction, visibility, and water repellence, Nike also does a winterized version of each season's latest shoes called the Shield Pack.
Here's the gist: Either spend five months watching The Bachelor from the comfort of your treadmill and emerge come spring, or dare to gear up and get your elastane-covered ass outside.
Photographed on location at East Room in Toronto.