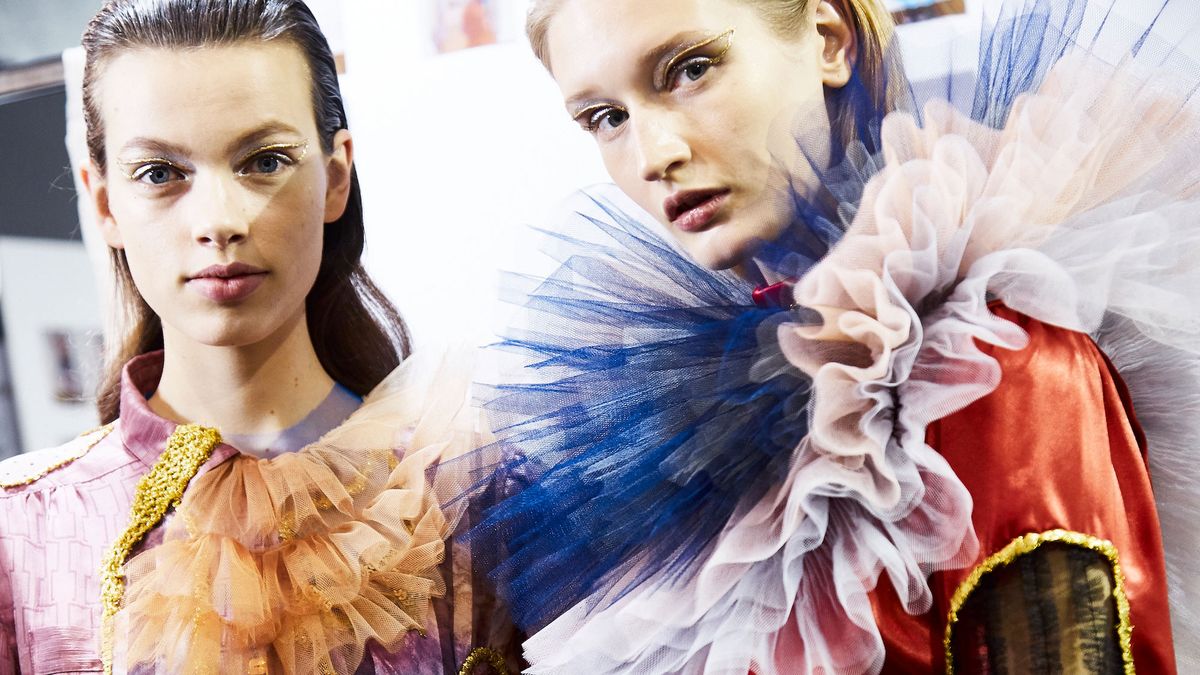 Fashion Week
Viktor & Rolf Recycled Used Gowns for Their Couture Collection
Upcycling at its very best.
Molly SJ Lowe
For Viktor & Rolf's spring/summer 2017 collection, Viktor Hosting and Rolf Snoeren ran with the idea of conscious couture. Last season, the Dutch duo drew from scrap materials from their archives and repurposed them into a charming collection. They also tore up dresses from their previous seasons and reinterpreted them into new guises, making a strong statement about sustainability in the industry.
For their couture show yesterday, they continued to cut up dresses but this time, the collection was made up entirely of evening and cocktail dresses they sourced from vintage shops and online resellers. These dresses, some dating as far back as the 1940s, acted as a base material for the collection and were spliced and fused with other gowns and transformed into couture collages where fragments of each dress were celebrated with a gold-rimmed embroidery. This idea was taken from the Japanese philosophy of filling in broken pottery with gold to accentuate it rather than discount it.
The collection may be made using vintage dresses, but it featured Hosting and Snoeren's contemporary attitude towards tailoring. The mesh of fabrics and textures has been effortlessly manipulated into feminine forms that flounced when models walked. Tulle was the one fabric that was seen consistently throughout the collection, slightly subverted with visual quirks such as asymmetrical hemlines, as oversized neck ruffs, and as contrasting skirts.
Click through to see details of the collection, and hear how the designers brought it all together. Want more couture? We were backstage at Giambattista Valli Couture, and Alexandre Vauthier too. And check out the best street style from the week here.
---