Fitness
I Did BodyPump for 30 Days and Here's What Happened
The 25-year-old workout method made me my healthiest self yet. In collaboration with Reebok and Les Mills.
Renée Rodenkirchen
I'll be honest, in my near decade of working in the industry, I've subjected myself to a whole batch of "challenges," all in the name of journalism—and, okay, improved skin and health, too. You name it, I've likely tried it. But what I've learned from succeeding (finally doing chin-ups!) and failing (a 10-day juice cleanse that lasted  for just five hours) is that, oftentimes, it's not the trends, but the tried-and-true, age-old health and wellness sentiments that lead to the most favorable outcomes.
So when I was challenged to do 30 days of the world's most popular workout, created by New Zealand Olympian Leslie Roy (Les) Mills, BodyPump—it's a group-fitness class scientifically proved to tone from head-to-toe by way of choreographed many-rep exercise and is in over 17,000 health clubs, 100 countries, and on its 25th year and 100th iteration, so you've probably heard of it—I was pretty excited. Now, I'm by no means the ~most~ fit individual, but I do try to get myself to the gym on a somewhat consistent basis, and do little things like take the stairs over the elevator. So, I wasn't starting from scratch, but I had a long way to go to reach my goals—to be stronger and more toned.
---
I have this weird anxiety every time I go to a new workout class for the first time. It doesn't matter how great I've been with my fitness routine, if I don't know what I'm in for, there are butterflies fluttering. So when I arrived for my very first BodyPump class, it was no different. I followed the lead of some of the more seasoned BodyPumpers (what surprised me was the age and fitness level range of everyone there) and grabbed an aerobic riser, a barbell, and a few different free-weight plates—I opted for lighter weights than I usually go for (especially because I'm quite competitive) since this was my first go and it had been a while since I had done anything more than bodyweight exercises—and set up my space. There was no backing out now. The instructor took the stage, the music started and we began doing exercises like lunges, push-ups, squats and chest presses, each until exhaustion. It's all about muscle endurance, low weight (I actually had to run and grab lighter weights than I expected midway) and high reps—as in, 800-1000 reps in ONE workout. That's, like, four times what I would do on my own. Les Mills self-styles this method as Rep Effect, which is billed as their secret sauce for getting results.
The next day, I couldn't move, so gave myself a rest day and focused on foam rolling and using a massage ball to loosen the tension—something I continued to do throughout my challenge. My goal for the first week was to do at least three workouts in-studio with an instructor (I thought this was important to do until I got the hang of all the moves). Let's just say, it was a sore week, and even though I left a day between workouts, my body was pretty achy.
By week two, though, I decided I could do a few workouts from home with the app, which was especially convenient with my unpredictable schedule. But, still, I felt my best workouts were when I was at the group classes, so getting to the gym and out of my house was my ideal. At this point, my body was recovering much more quickly, and I added in an extra workout to maintain good momentum. I was stronger already—I noticed it the most in the number of push-ups I could pump out (no pun intended)—and I found that I was making better decisions in what I was eating too. I felt good and I wanted to keep it going.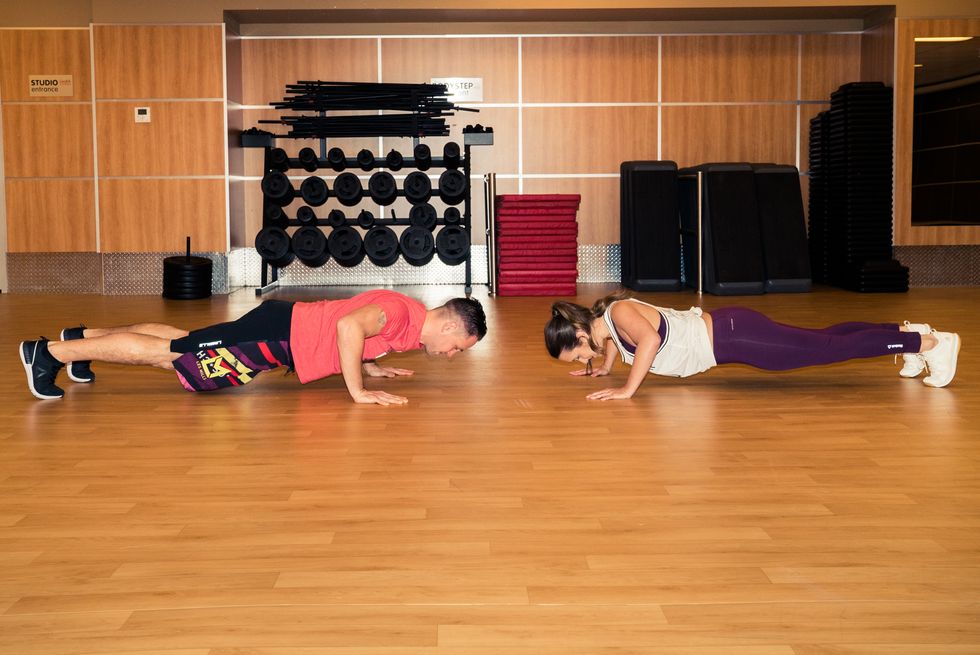 On the toughest days, when I impressed myself with all the creative reasons I could come up with as to why I should skip out on a class, I would throw on my workout gear as fast as possible. Once I was wearing them, it made the decision to go a bit easier—plus, what they say about never regretting going to the gym is true.
As the third week rolled around, I was up to five workouts. I don't like to weigh myself but I started noticing that areas of my body were more lifted, my arms were more defined but not at all bulky, and my clothes fit so much better.
Week four was a breeze—I sailed through my final few days, feeling motivated, noticeably in a better mood, and strong. I'll file this under my successes because after the 30 days, I really couldn't feel any better. And even though my official challenge is over, I'll be sticking to my newfound routine.
Shop the Story