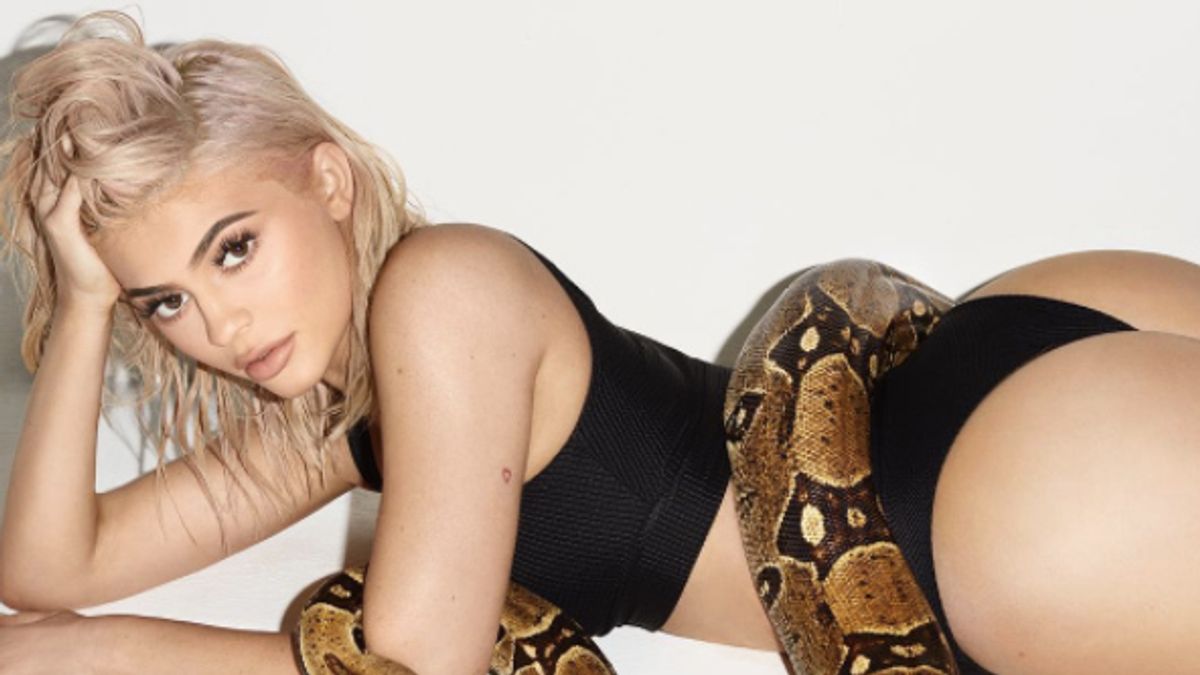 Celebrity
It's all to drum up attention for her upcoming Kylie Shop.
As the notoriously edgy kid sister on Keeping Up with the Kardashians, Kylie Jenner, 19, has made a slower, steadier climb to fame than her four older sisters. While Kendall might be dominating the runways (catch her on the Victoria's Secret Fashion Show tonight!) Kylie's been busy, well, making stuff.
Her beauty line, Kylie Cosmetics, literally sells out the second inventory hits, and now the reality star turned Instagram obsession is making her way into consumer fashion with the Dec. 4 announcement (on her social media accounts, of course) of her latest project: an online store dubbed The Kylie Shop.
In true Kardashian style, Kylie made sure everyone (including us) would be talking about her online retail business, which launches Dec. 10, by attaching the news to a bit of other guaranteed-to-go-viral news—her dripping-with-sex calendar, shot by controversial photographer Terry Richardson. He's been charged with sexual assault and sexual harassment numerous times by models, and many, many brands and magazines refuse to work with him for that reason. Needless to say, her choice to work with him is questionable.
She shared the The Kylie Jenner 2017 Calendar cover, in which she's wearing a black lace bra and a black crown atop a cascade of long, distressed blondish/pink hair, with her millions of followers on Instagram and Snapchat:
---
"So, I made my very own calendar with Terry Richardson," she announced in the December 4 Snapchat story.
She also grammed this photo from the calendar's April page on her @thekylieshop Instagram account. (Not to be confused with her personal account @kyliejenner.)
The shop will sell apparel like hoodies and t-shirts, as well as phone cases and, presumably, some of her cosmetics.
The youngest of the Kardashian/Jenner clan, Kylie developed a massive Instagram following early, at a time when Kim, Khloé, and everyone else over 20 were still Tweeting and all "what's with this photo app?"
Now she has 80 million followers on Instagram and has been one of the most-followed celebs on Snapchat. (She also has the official Kylie Jenner app, where, for $2.99, her fans can access exclusive videos or articles featuring things like beauty tips or tours of her Hidden Hills, California, home.) It goes without saying that the girl knows how to get attention.
The choice to shoot the calendar with Richardson sends a strong message—despite having photographed loads of starlets (including Lindsay Lohan, Miley Cyrus, Rihanna, and practically Kylie's entire family), the allegations against him are overwhelming.
While we can't imagine she didn't consider what message her choice would send (we're sure she knew it would garner attention), we're left wondering at what cost.
What do you think of her choice of photographer? Let us know at feedback@thecoveteur.com.