Fitness
It's how she gets *that* Victoria's Secret Angel body.
Alec Kugler
It's no secret that parading down a runway in nothing more than a diamond-encrusted brassiere and oversized (often interpretively themed) wings takes a certain level of confidence, and, well, toned-ness in the general body area. But just because you're a magical creature like Adriana Lima, who has stomped down the VS runway more times than any other winged model, doesn't mean that finding a workout that gives you consistent results isn't a necessity. For her, it is. "I've been doing it for over 10 years and I always say that it's a mind/body workout. You challenge your endurance, speed, and mental capabilities because it really takes so much energy. You push yourself out of your comfort zone and fight through feeling tired and in pain. I have been working out seven days a week for the show, but this has been the usual workout schedule for me over the past several months," she says of her intense workout regimen.
Which is why we strapped on our boxing gloves to join her in the ring for her all-time favorite way to get her sweat on (and get those ridiculous abs), by boxing at Aerospace with her trainer, Michael Olajide, Jr., and see what it really takes to be a longtime VS model. The answer: Work, guys. Work.
---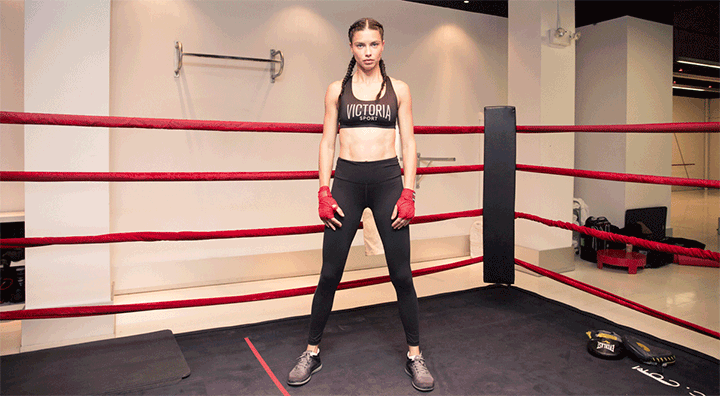 "Start with your feet shoulder-width apart. Swing one arm over your head as your other arm swings behind your back. Start lightly and pick up speed and intent as you go for an intense ab workout. Do this for 2 minutes."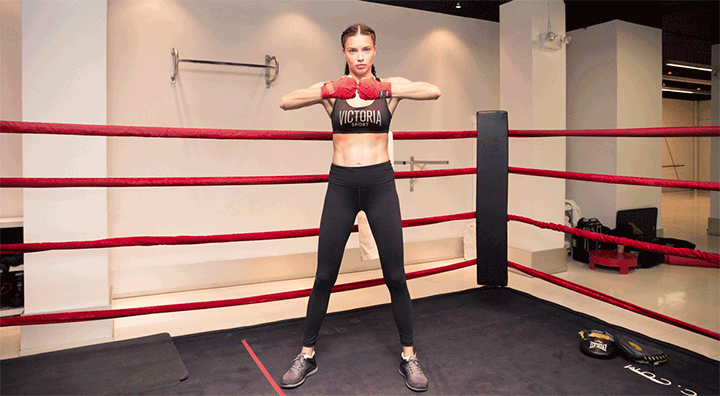 "Start with feet wider than shoulder-width apart and your knees bent. Make a fist. With your palm facing down, interlock your knuckles. Your elbows and fist should be shoulder height. Flex every muscle in your body, especially your abs and quads, and slowly begin twisting left to right. Build up your speed to maximum output. Do this for 2 minutes. Three rounds."
"Begin with your feet shoulder-width apart, your abs tight, and hands at face level. Rotate your fists as you punch at face height. Remember to pull your hands back as fast as they go out. Use your speed. Punch for 2 minutes. Three rounds."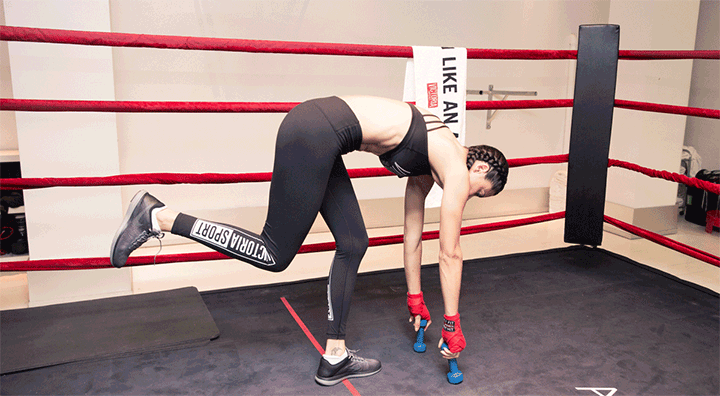 "Balance on your right leg. Bend your leg and touch the ground with your fingertips. While keeping your hands on the floor, straighten and bend the leg. Alternate 30 seconds each leg. Three minutes."