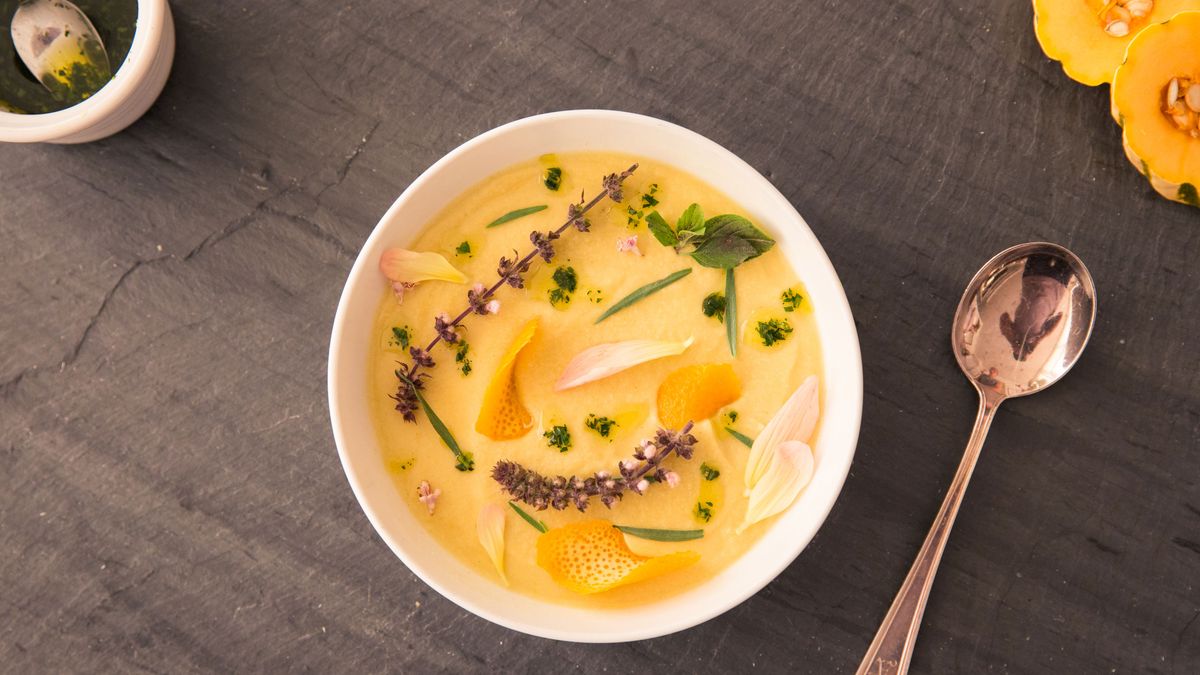 Food
So you can be healthy and cozy at the same time.
Alec Kugler
You know those days when you just want to curl up on the couch with something warm and delicious that makes you feel all cozy inside? This happens to us pretty much every day, which results in us eating soup almost religiously come winter, hence us being on the hunt for the absolute best soup recipes out there—you know, the ones that make you feel like you're back in mom's kitchen? So we decided to head on over to Splendid Spoon founder Nicole Centeno's apartment to stock up on recipes and get cookin' (literally)—it seemed only fitting considering she just came out with a soup cleanse cookbook, and even offers a soup cleanse delivery service. Meaning not only will the below recipes help you feel warm and comforted all winter long, but they'll also keep you nourished and your immune system healthy. Double win.
---
---
SWEET POTATO CUMIN
---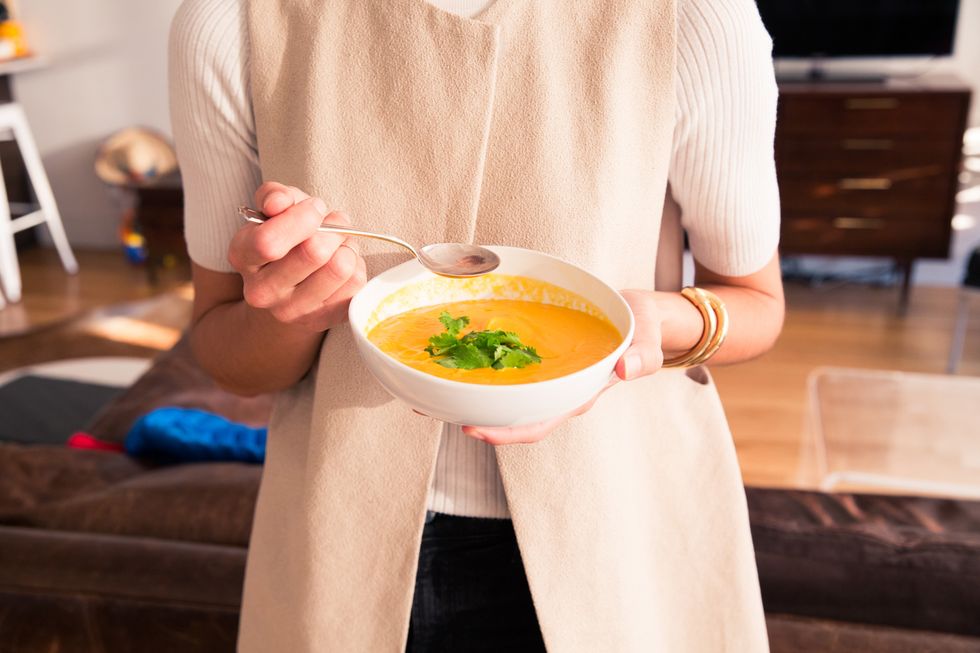 "I love this soup—the fat from the cashews helps increase absorption of beta-carotene from the sweet potatoes. Beta-carotene is lauded for sharpening eyesight, and it's a key player in a healthy immune system. The ground red pepper and fresh cilantro add just the right amount of kick and freshness to excite your palate."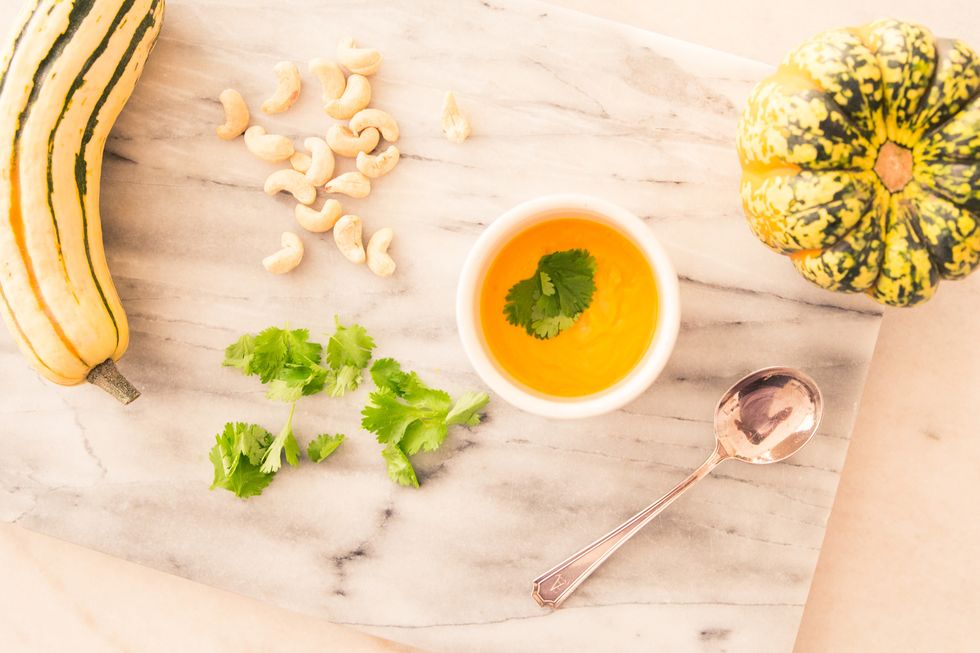 INGREDIENTS:

1 1/2 lbs sweet potato (peeled and cut into one-inch chunks)
1/4 cup raw unsalted cashews (soaked in water overnight)
1/2 cup fresh cilantro (loosely packed)
1/2 teaspoon ground cumin
1/2 teaspoon sea salt
4 cups water
pinch of ground pepper
Directions:
1. Preheat the oven to 425°F.
2. Wrap the sweet potatoes in foil and place on a baking sheet. Bake for 25 minutes, or until a knife can be inserted and removed from the potatoes with ease. When the potatoes are done, open the foil carefully and let cool before handling.
3. In a countertop blender, combine the cooked potatoes, cashews and soaking water, cilantro, ground red pepper, cumin, salt, and 3 cups of the water. Blend until very smooth (you want a thin milk-shake consistency), adding the remaining water as needed to reach this consistency. Enjoy warm or chilled.
---
ANTIOXIDANT STEW
---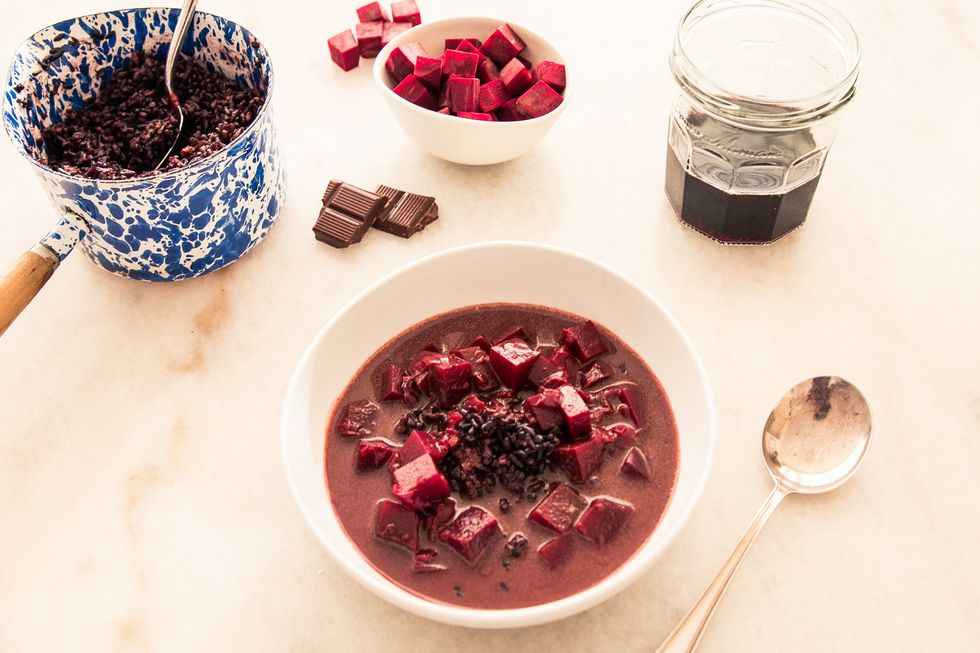 "I love the antioxidant stew, because it's kind of a paradox. It has ingredients that can be considered vices (wine and cocoa), and others that are aphrodisiacs (beets and black rice), but with the heat from your stove it's also a very satisfying nutritional experience with a combination of protein and complex carbs. This stew is sexy, satisfying, and redemptive all at once."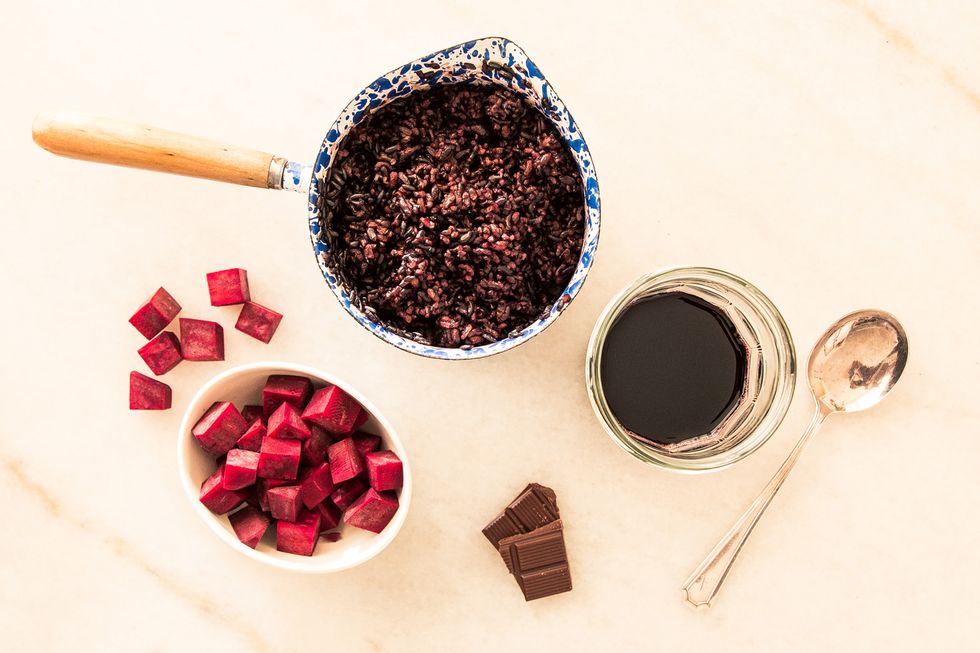 INGREDIENTS:

2 tablespoons olive oil
1 yellow onion (chopped)
1 clove garlic (minced)
1 tablespoon 100% cocoa powder
1 teaspoon sea salt
pinch of ground black pepper
1 large beet (peeled and chopped)
1 quart water
1 cup dry red wine
1/3 cup black or wild rice
Directions: 
1. In a large pot over medium heat, warm the oil. Cook the onion for 3 to 5 minutes, or until it is soft and translucent.
2. Stir in the garlic and cook for 2 minutes, or until fragrant.
3. Stir in the cocoa powder, salt, and pepper and cook for 1 minute. Add the beets and cook for 15 minutes, or until the beets are tender.
4. Add the water and stir to combine. Increase the heat to high and bring to a boil. Reduce the heat to medium-low, add the rice and wine, cover, and simmer for 35 minutes, or until the rice is soft but still has some bite to it (al dente).
5. Serve warm.
---
DELICATA SQUASH BISQUE
---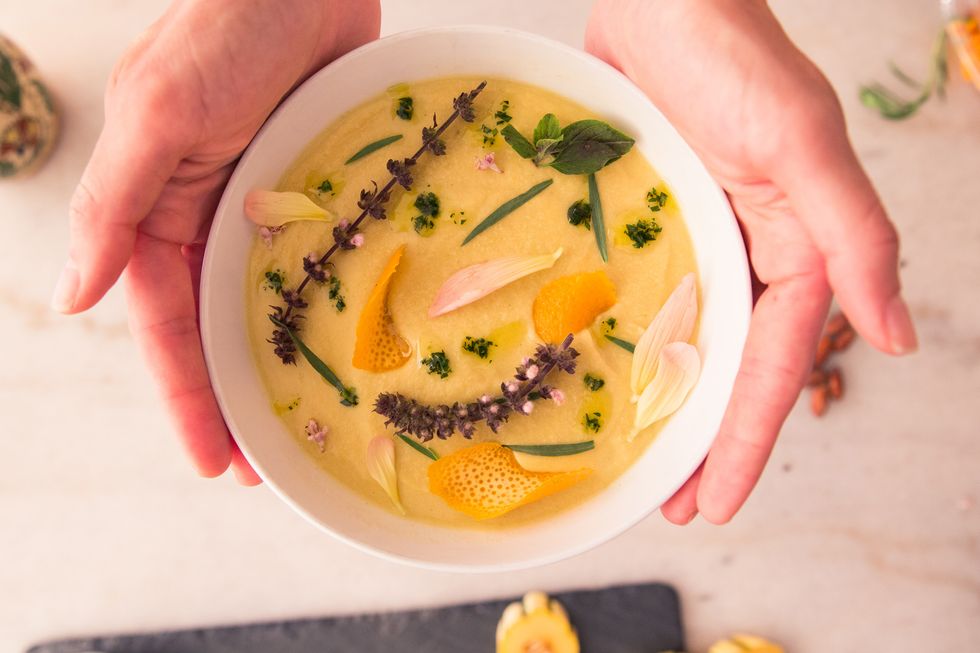 "Everyone loves butternut squash and pumpkin in the fall, but there are so many beautiful gourds to behold as the season shifts into sweater weather. The delicata squash is one of the most delightful. This recipe combines the sweet flesh with earthy navy beans and the heady, floral flavor of tarragon. High in protein and fiber for lasting satisfaction as well as Vitamin A for immune system support."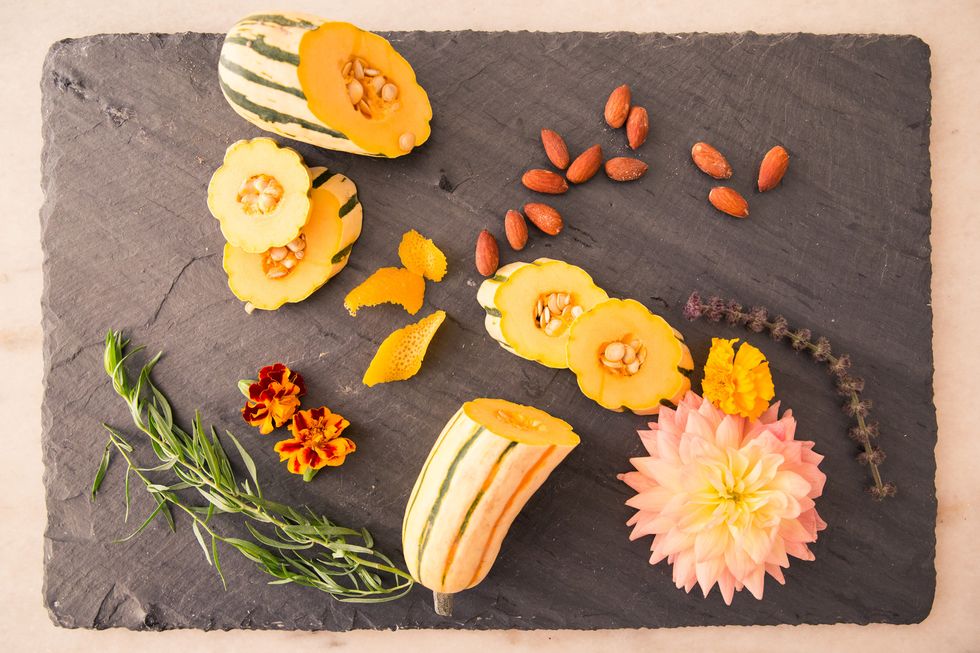 INGREDIENTS:

2 tablespoons olive oil
1 tablespoon fresh tarragon (chopped and divided)
1 medium delicata squash (seeds removed and quartered)
1 small onion (diced)
1 large garlic clove (minced)
1/2 pound dry white beans (soaked overnight and drained)
1/4 cup slivered almonds (soaked overnight and drained)
1 quart water or vegetable stock
1 teaspoon orange zest
1/4 teaspoon sea salt
black pepper to taste
edible flowers for garnish (optional)
Directions: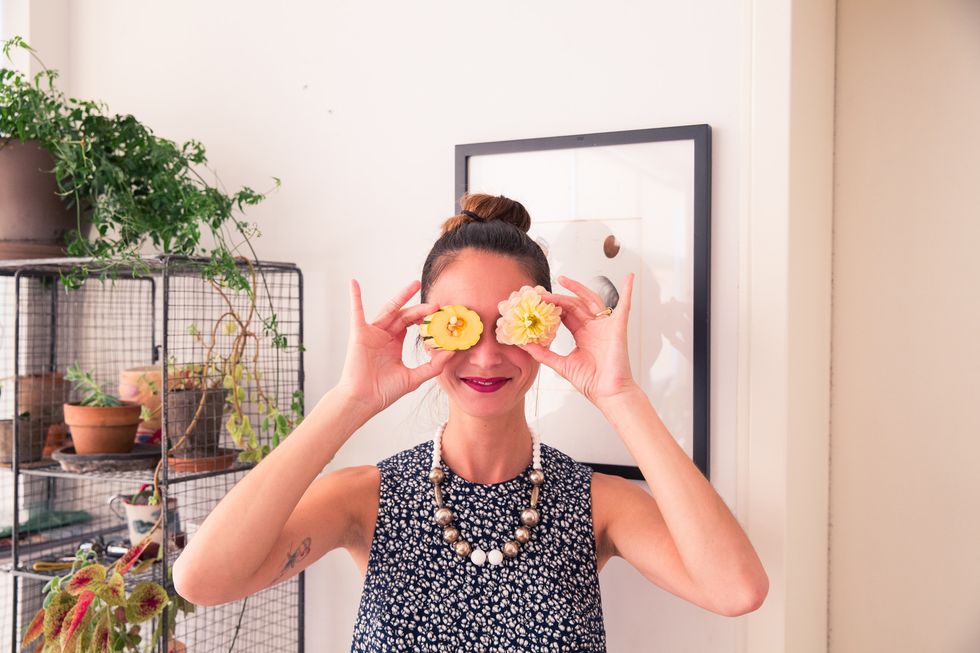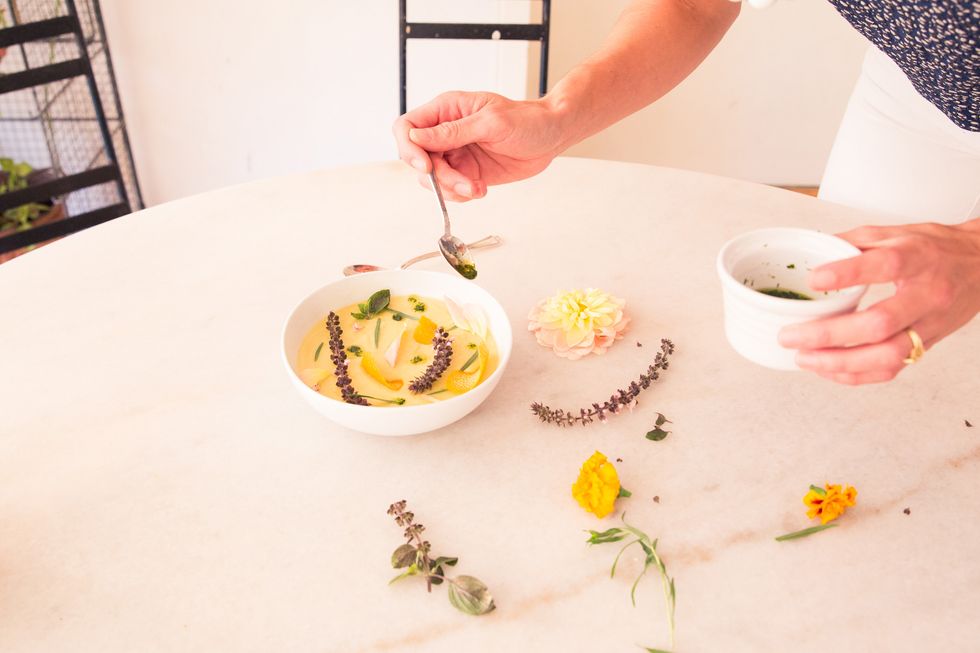 1. Preheat oven to 400°F.
2. Wrap squash pieces in tinfoil and roast for 30 minutes or until fork-tender. Scoop soft flesh out of the rind and set aside (snack on rinds if you choose!).
3. Combine 1 tablespoon of olive oil with 1/2 of the chopped tarragon and set aside.
4. In a medium pot, over medium heat, warm the remaining tablespoon of olive oil. Add in the onion and garlic, stirring frequently for 5-7 minutes.
5. Stir in the beans, soaked almonds, remaining tarragon and water. Cover and simmer on medium heat until beans are tender (about 2 hours). You may also use a slow cooker overnight on low.
6. Remove the pot from heat and add orange zest, salt and pepper. Use an immersion blender or countertop blender to puree until very smooth.
7. Ladle into warm bowls and drizzle with tarragon oil and edible flowers. Store any leftover soup in an airtight container in the fridge for 1 week, or in the freezer for up to 1 month.