Shopping
Crossing fingers, toes, limbs, *everything*.
At this point the election is officially on. People are voting, ballots are being counted, and everywhere, Americans are silently freaking out. Never in living history has an election been so strange or stressful. President Obama's 2008 and 2012 elections were tense, certainly, but not like this. There's never been anything like this.
---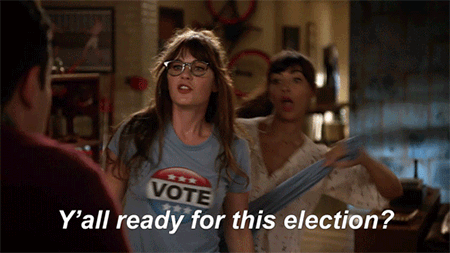 No matter what side of the fence you stand on, you have a 50/50 chance of being extremely happy, or extremely upset tonight—50/50 aren't the official odds, obviously, we're just saying there are two realistic candidates. In either case, we have you covered. We've put together your guide to celebrating like the biggest, thickest, gnarliest glass ceiling in the universe has finally shattered, or moping like all hell has broken loose and...well...we don't even want to think about it.
First off, how to party your face off and not look completely wiped out the next day.
First things first, you're going to want to fix a massive batch of drinks. Allow us to recommend the Strawberry Smash, in honor of that smashed glass ceiling. You can find the recipe here, but if you're going to be too busy celebrating to muddle strawberries (fair), get ready to pop some bottles. Here are some festive flutes to get you celebrating.
Put On Something Fun
 
Next, you're going to want to put on something really fun, and go run around in the streets. Or, if you're anything like us, you'll probably just throw a coat on over your sweats and go outside to celebrate. Here are some fun red, white, and blue coats to inspire you.
While you're running wild like a pack of Nasty Women through your 'hood, blast some positive, champion-worthy tunes, like Céline Dion's "The Power of the Dream" (super appropriate), or Right Side Fred's "I'm Too Sexy" (not at all appropriate, but whatever), or old reliable, "We Are the Champions" by Queen.
Next-Day Essentials
 
The next day, you're going to want to hide those under-eye circles, and try and convince your employer that you didn't actually almost get arrested because you were celebrating ~so damn hard~. Here's our guide to looking awake, and also to getting over a hangover, though, TBH, if things go the way we hope they will, I think everyone will get a pass come Wednesday morning.
Good luck, and may the odds be ever in your (our) favor!