Fitness
Jasmine Tookes and Josephine Skriver are all about the booty.
Alec Kugler
Hanging out with Victoria's Secret Angels Jasmine Tookes and Josephine Skriver at Dogpound in New York, and watching them get their asses kicked by lead trainer Kirk Myers, we couldn't decide if we were envious or relieved about the fact that they work out daily for a living and we don't. They work hard. And it shows.
Tookes and Skriver are actually friends and IRL workout buddies and while we might use, say, spending an hour watching them and their washboard abs as our own sweat sesh motivation, they use each other. They work out at Dogpound, for an hour, every day leading up to the show. "We go really hard for an hour," says Skriver. So, yes, it's their full-time occupation. (Wanna know how to get a butt like them, besides the unattainable gene pool? Exercise. Every. Damn. Day.) "We get to do a lot of things together," says Tookes. "Throughout the year we see each other here and there, but now we're together all the time in fittings and the plane to Paris."
---
Turns out, though, their motivation doesn't actually look all that different from ours. "I look at her body," laughs Tookes pointing at Skriver. "When you see your colleagues and friends in underwear all the time, you see them so often, you notice when their body changes." A little healthy competition never hurt anyone, right? Especially when it won't just be their colleagues seeing them in their underwear, but some tens of millions on HD TV. And it's not just Tookes and Skriver who work out at Dogpound—the whole Angel crew has joined the club. Actually.
As the girls told us, this is crunch time, which, for them, means the workout is all about the booty. These are the four moves that they swear by and do, again, every. damn. day. Do them, and maybe, just maybe, you'll get an Angel butt too.
If you're looking for more Angel exercise motivation, watch our Facebook Live with Jasmine and Josephine (there's a full workout involved).
Jasmine & Josephine's Butt Workout
 
Complete all exercises (1 through 4) on one leg, then switch to the other. 20 reps then 20 pulses.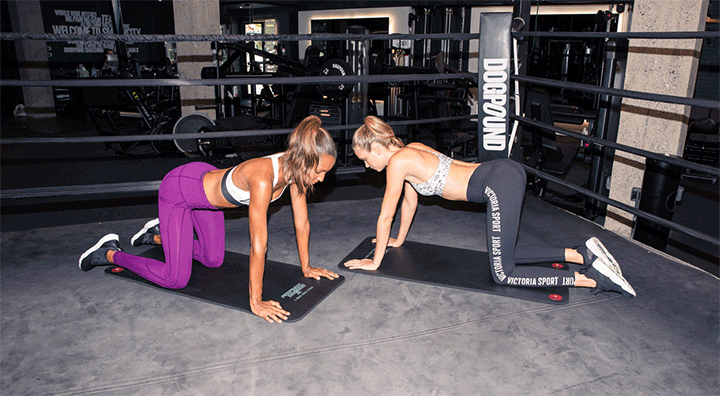 Start on all fours, with your hands under your shoulders, and your knees under your hips. Pull the working leg's knee to your chest, then kick the leg up to the ceiling, holding your leg at a 90-degree angle, and flex your foot. Repeat this 20 times, then hold and pulse for 20.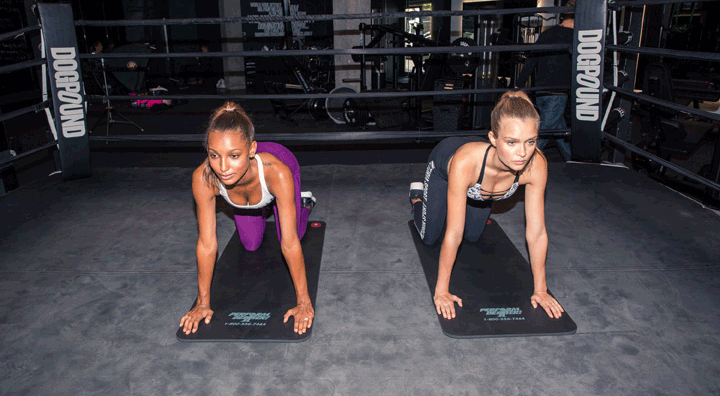 Bring your working leg on a diagonal line away from your body. Keeping the leg straight, pull your foot towards the sky—squeezing your glutes at the top, then crossing your working leg over the stabilizing side. Alternate this movement from side to side, tapping the working leg's foot on the floor without resting. Repeat this 20 times, then hold your leg straight towards the ceiling and pulse.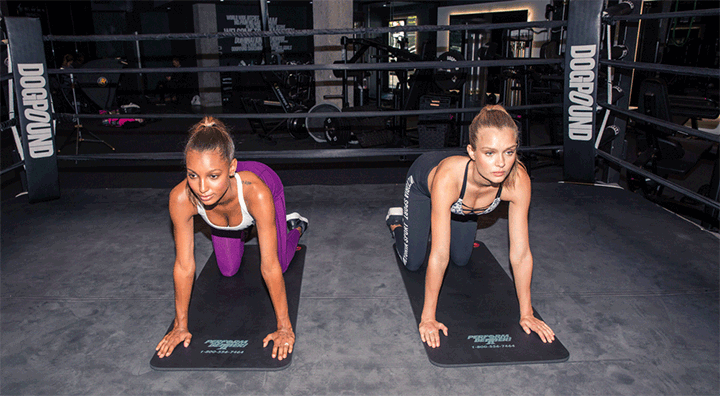 Bring the working leg's knee to the opposite arm, then kick your leg towards the corner of the room on a diagonal line. Repeat this 20 times, then hold your leg out and pulse for 20.
Keeping your working leg held at a 90-degree angle with your foot flexed, raise your leg as high as you can and flex through the outer glutes. Repeat for 20, then hold and pulse for 20.