Career
Movember's CEO on raising over $650 million dollars & getting turned down by one of the biggest cancer organizations (at first).
Renée Rodenkirchen
Renée Rodenkirchen
It's safe to say we had a collective wakeup call when we glanced at our Google calendars this week and realized it was November. Which besides the whole "time flies" thing, marks the start of the holiday season (cue the red Starbucks cups), darker walks to and from work (cue the SAD lamps) and Movember (cue the mustache-dominated selfies). And if you've watched your boyfriend/brother/best friend—who really shouldn't rock a mustache—rock a mustache for a month, you're familiar with the Movember concept. But what's really important here is the charity behind the challenge, and its goal of increasing awareness and ultimately, changing the face of men's health—quite literally. Because those mustaches, no matter how many groans they garner or children they startle, have collectively jumpstarted a conversation and raised over $650 million (!!) dollars towards tackling the major health issues affecting men: prostate and testicular cancer, poor mental health and physical inactivity. Which, FYI, are the main—preventable—killers among men, worldwide. Just take a minute to let that sink in.
What started as a bet between friends over a couple of sunny afternoon beers (proof that the most brilliant ideas really do start at bars) has morphed into a global foundation that encompasses way more than facial hair. Herein Movember Foundation's CEO and co-founder Adam Garone talks to us about the latest MOVE challenge (girls, this is your time to shine), why talking about our physical *and* mental health is key and his thoughts on beard trends over the years (spoiler: he's still a fan of the '70s-inspired mustache). All monthly musings aside, the real wakeup call was when we realized that facial hair really can—and has—changed the world. The sign in Garone's L.A. office kind of sums it up: "Knowledge is power. Mustache is king."
---
ON HIS CAREER BEFORE MOVEMBER
"Straight out of school, I joined the Australian military. I was an officer in the Australian army and went to Royal Military College, which is similar to West Point in the U.S. I finished with three years in the Special Forces—nine years in total. I did a Masters in marketing toward the end of my military career and got out. Right prior to Movember, I was working in the telecommunications industry with a mobile phone carrier, and I was really looking at the convergence of the internet and mobile phone technology at the time."
HOW MOVEMBER CAME TO BE (IT INVOLVED A BET & A BAR)
"Movember started in 2003. It was a conversation between my brother and a good mate, and we were having beers on a Sunday afternoon. I was talking about fashion and style, and how over time things manage to cycle back into fashion. And then we had a couple more beers and pondered what hadn't made a comeback, and at that point the mustache certainly had never made a comeback. So a couple more beers later, I was challenged to bring the mustache back and to put the mustache back on the face of fashion. So in 2003, the campaign really had nothing to do with anything charitable, it was more of a social experiment. Basically who could grow a mustache and have a mustache thick by the end of the month. Thirty of us grew mustaches that year and what really shocked us was the amount of conversation that was created by changing your appearance and growing a mustache. People asking, 'What's going on? Why are you growing a mustache?'  That stuff was intriguing at the time. In 2004, four of us got together—the four co-founders of Movember—and thought, 'How do we put the power of the conversations that are created by growing a mustache to good?'"
HOW WOMEN INSPIRED THEM TO CHANGE MEN'S HEALTH
"We were inspired by the women around us and all they were doing for breast cancer and we just thought there was nothing for men's health. And as we started to research we realized that the state of men's health is in pretty bad shape. On average, we die five years younger than women, and there's no biological reason for that. Reasons are complex and varied, but in a nutshell, when it comes to our health, men don't talk about what's going on, physically and mentally, and they don't take action. So Movember has always been about men's health to a degree. 
In 2004, we married growing a mustache with the charitable purpose of breaking into men's health. For the first time, the area of our main concern was prostate cancer, which has reached as many men as breast cancer does women. That year we had about 450 guys participate and we raised $54,000 dollars. Since then, the growth has been exponential—21 countries are involved now, we've had over five million people participate, and we've raised $650 million."
WHY MOVEMBER IS MORE THAN JUST ONE MONTH
"Initially, for the first couple of years, we just focused on the annual campaign. Then, we established the Movember Foundation as an organization with the stated purpose of forever impacting the state of men's health. As we expanded from one country to the next, it was very important that we have that foundation recognition there from an organizational point of view with our core focus being the annual campaign, which we're in now, in the month of November. We focused on prostate cancer originally, then we added testicular cancer, which are the most common cancers affecting young men, and more recently we've added mental health issues that affect men as well."
ON DEALING WITH REJECTION & STAYING PERSISTENT
"What we quickly realized is how important it is as organization, no matter what sector you're in, to use persistence, Persisting through those setbacks and rejections, and you can only be persistent if you truly and passionately believe in the vision of what you're trying to create. I say this all the time to other entrepreneurs—if you're not truly passionate about the vision of what you're trying to create and you do get those rejections, which are inevitable, you just won't have the energy to go around the rope. We just had to be tough and believe that we could create the biggest men's health foundation in the world and truly do something unique for men and their health."
ON RUNNING A GLOBAL CHARITY
"This time of year, in the month in November, I'm doing media. I'm headed to Florida tomorrow to talk at the Forbes Magazine CMO Conference. I'm working with our technology teams to make sure the platform is running smoothly, looking at the digital media, all those very dynamic elements to the organization to make sure they are optimized.
We get emails or phone calls or someone will tell you in person that because of Movember and the mustache they grew, they had this conversation that will forever change their lives. Often in America, that's at Thanksgiving when guys go home and because of their mustache, the family talks about their health. And sometimes they learn that their grandfather had prostate cancer, so the young guy at the table, doing Movember, informs his dad that he's twice as likely to get prostate cancer and should be getting screened. The father goes to get screened and finds out he does have cancer. And like with many cancers, early diagnosis is the key. So it's those conversations that feed back to us, that change people's lives."
ON TACKLING CANCER (AND MORE)
"The global aim for us is to effectively cure prostate and testicular cancer. And we're on a path to achieving that. It's going to take more funds, more people to do the Movember campaign and more time. But now we're attracting the parts of the world that are working on these complex issues. The bottom line, curing those diseases, that's our ultimate goal. When it comes to mental health, it's a far more complex issue. But the immediate part, for us, is to highlight that suicide rates among men are reaching epidemic levels—80 men a day in the U.S. take their lives. That's just unacceptable. It's a huge health epidemic. For us right now, we are dragging that issue out of the shadows. We want people to talk about it, we want people to associate with the disease, because so much of this issue for men—3 out of 4 suicides are men—so much of this issue is that we are just not talking about what is going on in our lives and how we are doing mentally."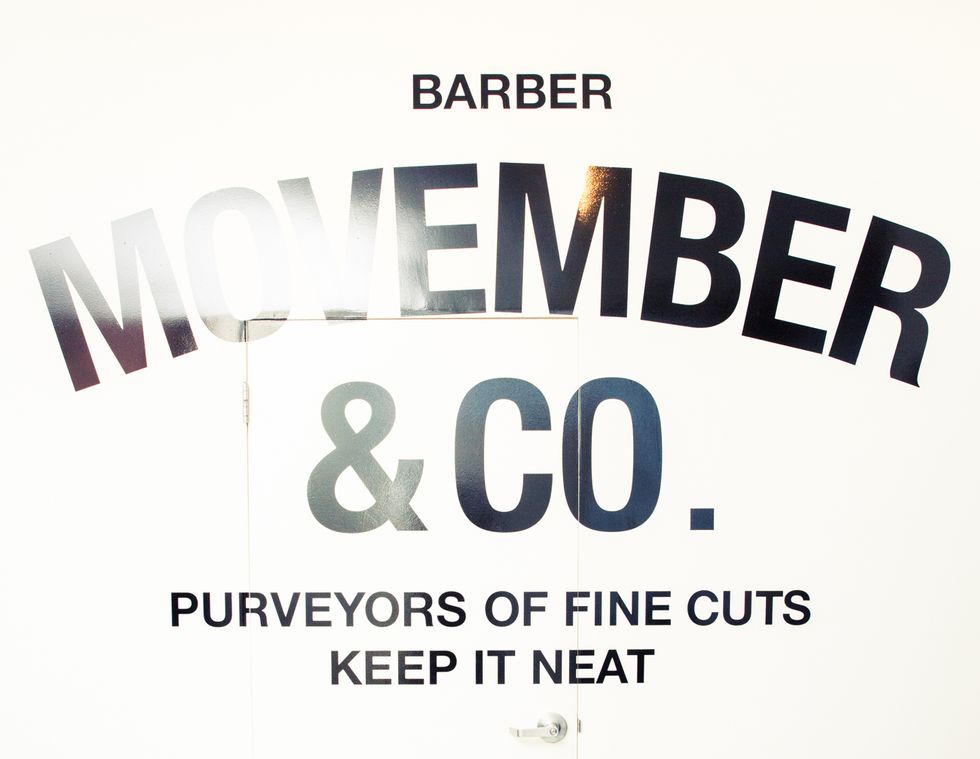 HOW TO TAKE PART WITHOUT GROWING A 'STACHE
"Our aim [with MOVE] was to get more people involved and create something tangible that women could commit to over the course of the thirty days of November. But it was also another way for guys that for whatever reason can't grow a mustache, to be involved. MOVE is the first four letter of Movember. The best thing we can all do for our health—mental and physical health—is to be more active everyday. The best drug you can take if you're diagnosed with prostate cancer is physical activity. Similarly with depression, one of the best things you can do is be active. It's a drug that can be free, and the side effects are amazing. It's always been part of our brand, to physically link to what we're trying to achieve. And it was just a new participation part in the course of thirty days. It's thirty moves, thirty days. How one moves each day is up to them, and is really dependent on their physical fitness level—you can just walk 40 minutes each day.
Also donating at Movember.com—that's how we fuel the programs. We've got workplaces all around the country, around the world actually, aiding and it could be as simple as a bake sale or a trivia night or whatever it is that people want to do. We've got a slew of resources on Movember.com that can help people either grow, give or move."
WHY MEN SHOULD TALK IT OUT MORE
"I think the most important thing as men can do for our health is to be far more open about talking about the big issues and our health with our friends. It's wonderful to talk about this stuff with your partner, your wife or whatever, but just stay connected with your friends, and talking about the big issues. I know we all want to have fun and watch the game or have a few beers, but talking about the big stuff, the real stuff beyond sports and so forth.
We're finding some research which tells us that after men get into their thirties and beyond, inadvertently, they become socially isolated, they put their immediate family and work before their friends. So they become socially isolated. And the other big thing for men within mental health is a significant life issue—that could be a financial issue, a work issue, losing people close to them, a relationship break down, which as you get older, is more and more inevitable. But when you have a significant life moment combined with this social isolation, and then a real reluctance because of the way men have been conditioned as boys, not wanting to talk about what's going on—that recipe is quite debilitating when it comes to our health."
CAREER ADVICE FOR THOSE WANTING TO START A CHARITY
"It's about creating a really strong vision around what it is you want to impact, a change in society. Then understanding how you can contribute to that, ultimately whether it comes back to creating awareness around an issue or funds, and then it's about 'what is that campaign or vehicle to raise that awareness or funds going to be?' And then just attacking it with every ounce of energy in your body and persisting with it, because it's very rewarding when you actually see the impact that you can have. I always say never doubt the impact an individual or a couple of people can create in the world—that's what's always started all these movements and changes, just a couple passionate people."
AND CAREER ADVICE TO IGNORE
"So many people said what we were trying to do was a stupid idea. So many people would just laugh at it and laugh it off. And when you think about it, obviously Movember is established now, but when you're quitting your job at one of the leading mobile phone carriers in the country and in a well-paid executive role, to go off to start a charitable organization that was about getting men to grow mustaches, you get a lot of people saying, 'that is the most stupid thing that I've ever heard.' I think it comes back to that belief in what we were trying to achieve. That advice of people saying 'oh no, don't do that' or 'stay in corporate world', it was not taking that advice and just pursuing, really a dream. That was the most important thing."
ON FASHIONABLE FACIAL HAIR OVER THE YEARS
"I actually think the mustache has come back. I think the height of the mustache resurgence was around 2012. After that, beards, which was purely sparked by Movember and Movember's fashions coming back. A lot of guys kept their mustache s and then grew full beards. That was 2013 or 2014, I think beards are becoming off-trend now, we're going back to more of a, not a totally clean shaven look, but more of a neat look."