Love And Sex
It's not as impossible as you think.
It most likely started over some boxed wine and popcorn with a shot or two of cheap tequila between: you and your friends signed up for Tinder (or Bumble, or Hinge…you get the point). It was more addictive than the buttery kernels you were shoving in your mouth and before you know it, you've developed Tinder thumb (dun-dun-duuuun) navigating through dick pics, gym locker room selfies and trying really damn hard not to accidentally swipe right on your coworker (talk about awkward), before finally deciding humanity sucks and that you'll be single forever.
Or, you're in some low ceilinged bar looking pretty effing good, but by 3 AM not one single person has stumbled over, let alone bought you a vodka soda. The struggle is real, friends. Dating these days is, well, a little convoluted. In our earnest quest to change all that, one lonely singleton at a time, we consulted with Fran Greene, author of The Flirting Guide and body language expert (to help us get over our RBF); Whitney Wolfe, creator of Bumble (so we know how to go from app to iMessage to IRL meeting); and Carlos Fernandes, owner of Churchill and Mr. Flamingo (so we can learn how to pick up over drinks from someone who's literally seen it all).
---
You've already matched. Congrats, you know your profile photo choices were on point. But now, how are you going to stand out amongst the hundred other right swipes on his or her list?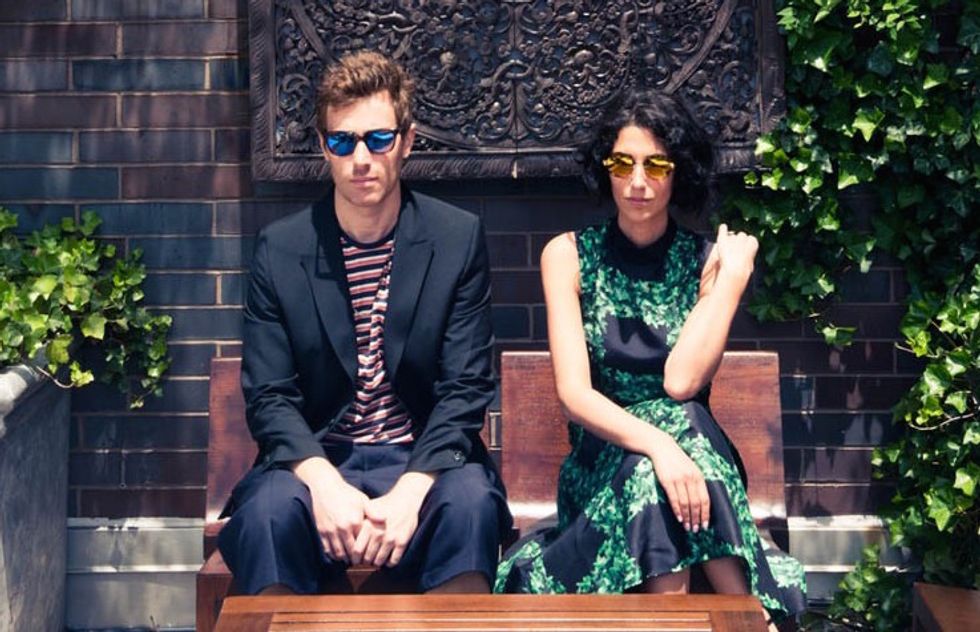 Be Funny
"Have some humor. Stay away from the safe and slightly boring approach of the "hey, hi or what's up". On Bumble, you get to see 6 photos, so pick up something from one of the photos and use it as a jumping off point," suggests Wolfe. "I saw a girl's conversation once where the guy was wearing an Aspen shirt in his Bumble profile pic and she started the convo with "How's your aspen?" and he loved it!"


Use Emojis (Eggplant at your own risk)
"We see a lot of girls start conversations with bee themed emojis, because of the puns. Emojis are fun and playful and a less intimidating form of conversing in the beginning. Emojis add a lighthearted air, which is important!"  
IRL
---
Smile
Give that RBF a break for once. This goes for you too, gentlemen. A genuine smile signals to the people around you that you're approachable. It's actually as easy as that.
Give Them The Eyes
Seems pretty obvious, right? We get it, eye contact, especially in the elevator or pubic transit, can be awkward AF. But if you spot someone cute, catch his or her gaze and hold. "It's about having warm, caring eye contact," says Greene. Don't stare. Repeat step 1.
 
It's All About The Approach
A number isn't going to miraculously manifest in your Contacts, guys. Muster up the courage—because what do you really have to lose?—go up and say "Hi." From there, we promise, the rest is pretty easy. But, "Don't go over to someone and say 'Hi, can I have your number?' because there is no segue. You haven't spoken to the person for more than six seconds. The person that you're going to ask is going to think that you're crazy or that you're not really interested in them, you're just interested in getting a phone number," suggests Greene. The takeaway here: make conversation, even if it's just five minutes.
Body Language
"When it comes to touch, it can really help with the connection, whether it's shaking the person's hand, tapping them on the shoulder or touching their arm when you really agree with what they are saying," says Greene. "And one the thing we tend to do and we don't even realize we're doing it, is that we'll mirror the person's body language when we're starting to like them and were feeling comfortable with them. You move in at the same pace, often times you'll start with being pretty far away and as the conversation becomes more connected, you start blocking people out."
Listen
"Men seem to do this more than women; they don't give non-verbal cues that they are there and listening. You want to nod; you want to have facial expressions that let the other person know that you really hear what they are saying. It's probably the simplest skill but the one that gets neglected the most. And if you really want to make an unforgettable impression on someone, you just have to listen and comment back on what you've heard him or her say. When you're first meeting someone, you want to combine your non-verbal body language with showing interest. The best way to show interest is asking questions," explains Greene.
Find Out If They Are Single
No sign of a tan-lined ring finger? Check. No significant other hovering in his or her immediate proximity? Check.
 
But, you're still not in the clear. So to be 100% sure you're not about to become the sidepiece, find a coy way to ask… without actually saying the words "are you single?" Get creative; we believe in you.
When it comes to lines that work, no one has really seen it all quite like a bar owner like Fernandes, "The best lines I've ever witnessed worked really fast: 'My friends just bet me that I couldn't get your number. If you give me your number, we can have drinks with their money.'"
 
"Then there's the really honest approach: 'I've been gathering the courage to ask for your number...' That works really well."