Fitness
3 Ways to Support Your Team (& Keep Your Personal Style)
Florencia Galarza, captain of Kith's soccer squad and the best dressed sports fan we know, shows us the way.
When it comes to dressing for every occasion, we generally feel confident that we know what we're doing. Summer wedding with ambiguous dress code? Check. A day spent imbibing? Got it. Not to encourage any fashion-girl stereotyping, but when the event is sports-related, we're stumped. Do you wear an official jersey or is that boring and lame? And what's the alternative? With the Olympics just two weeks away (!), and our correlative interest in watching sports mounting, we figured we should get our kits sorted. So, we asked Florencia Galarza to give us a hand.
---
Galarza is not only an insanely stylish sports fan, but the Argentinian-American is a serious soccer player herself: as captain of Kith's team in Manhattan's Bowery league and at the Adidas Fanatics tournament a few weeks ago. Suffice it to say, she knows what she's doing when it comes to dressing the part and supporting her squad. We met her at her local hang, the Football Café on the Lower East Side of Manhattan, where she showed us three athletic-inspired looks, whether you're the vintage-Fendi-pants type or would prefer to go full-on soccer star.
"This is my street-fashion look. I have the Fendi pants and the custom jersey. My jersey is from when I was 10 years old. It's the first jersey I ever had with my last name on the back. I'm glad that I kept it—lately I've been popping the collar and wearing it with my Doc Martens boots. Now I'm ready to go to a soccer game in Europe to blend in. They have the best soccer style there, it's amazing.
"When we're going to watch a game—like, for instance, a championship final—you wear all your gear and look super fly and fresh. Have little things like a team scarf around the neck, a bracelet, or a full kit if you like."
"This is my warm-up look: my black Kith T-shirt and Kith Adidas shorts with Messi Adidas cleats. This is what I wear to play in the Bowery league and to train. For Adidas fanatics, we'll have our amazing customized Adidas for Kith jerseys."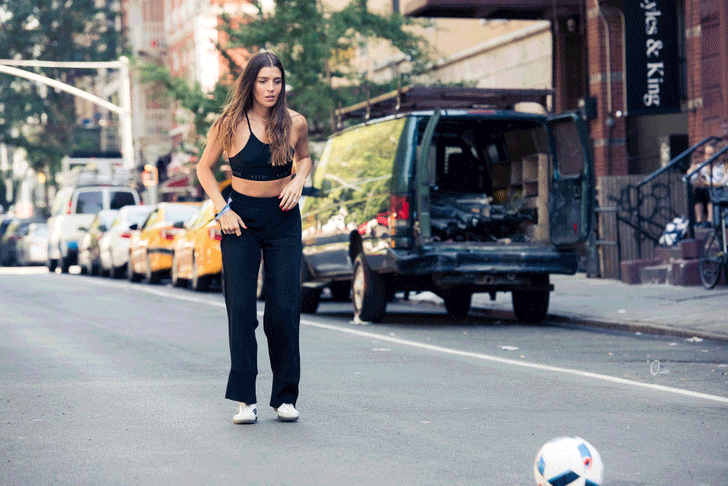 "I'm wearing my Kith sports bra, which has a little side-boob action, Helmut Lang wide pants, which are so comfy and amazing, and then my good old Adidas Sambas. I just wear this around New York."