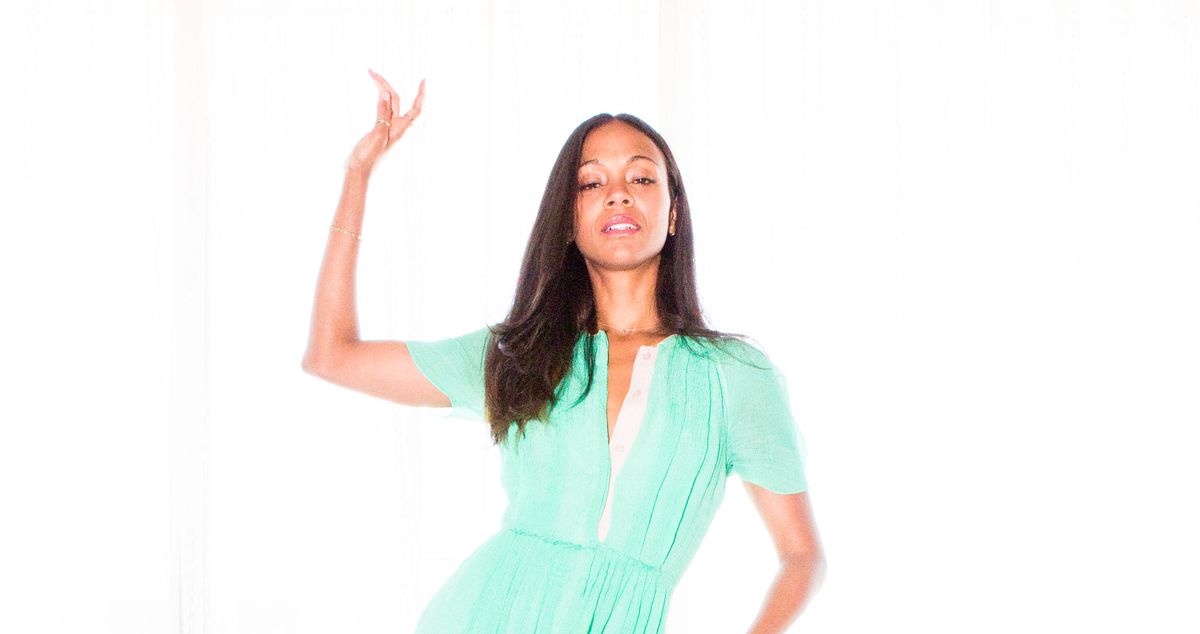 Wellness
She eats popcorn for dinner too, guys.
Adam Torgerson
Training for a role in a major movie franchise isn't always what you'd expect. Take, for example, how Zoe Saldana prepped for her role as Uhura in Star Trek Beyond, the third installment in the Star Trek series. The actress replaced her high-intensity trainer-led workouts with power-yoga sessions and deep breathing exercises. Instead of the same protein-heavy meal for seven days straight, she ate popcorn for dinner (turns out we're not the only ones—celebrities, they're just like us!) and hearty chicken soup. Which makes sense considering Saldana is a new mother to adorable twin boys.
---
Ahead of the film's release this Friday, we chatted with the actress and she filled us in on what her health and wellness routine looks like (whether training for fight scenes or chasing around her sons) and, of course, all things Star Trek. (P.S. For the record, guys, we can attest that even if you're not exactly a Trekkie, you'll enjoy this one.)
How she prepared for Star Trek Beyond:
"The physical side of [filming] wasn't demanding at all for me—I asked if it was okay for me to not try to be a hero in this installment of the films. I have my sons who are six months old. But with that being said I still have a fighting scene, and I'm so happy about it.
"I was already in my process of slowly getting back to my normal routine with my body, so I just started doing some power yoga and a lot of floor work—breathing has been helping me a great deal. I just love it, so that's what I was doing in my spare time."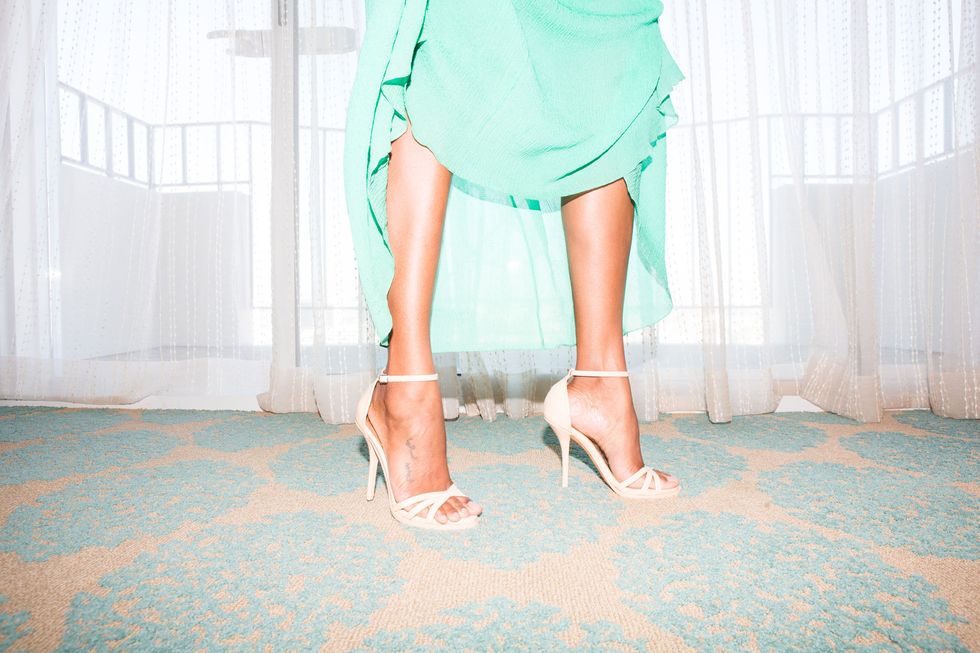 On her wellness regimen before and after becoming a mother:
"Before the birth of my sons, I'd go to the trainer and let him really push me—I like that, but I also had the resilience. This time around it was definitely not like that. Before, it's not like I would ever be reckless—I always had a trainer and we would just change things. I like using as little weight as possible because I like staying strong and feeling strong as opposed to looking strong.
"My eating was actually better back then than it is now. I am a creature of habit, I can eat the same thing for seven days and then switch it up after three weeks. Because I'm so focused on whatever I'm doing, eating is just the fuel that I need. I make sure that when I do eat, it's super clean and healthy. I'm of Latino descent, so I like rice and I love beans."
Her go-to meals (which look a lot like ours):
"My go-to meal was definitely popcorn a couple of months ago. But now it's fruit, especially in the evening. After dinner or right before I go to bed, I like to have a little cup of berries, and I feel so good. [When I'm having them] I feel like I'm having chocolate [because they're so sweet], but it's still nurturing! If I get a sour berry, I have to eat five more because it all has to be sweet. It's like a competition.
"When I'm working, I tend to be pretty clean. Because what I eat affects my energy and my body so much, but I don't like to be that crazy with my diet. Fish, chicken, I'll have steak if I have to. I love protein, but I'll also have a little bit of quinoa to make sure I get iron from my grains. I love chicken soup; I could eat it forever. And all the men in my house thrive on it, so I like having that experience of cooking things that I know will only make [me feel] better. [Eating well gives] us more energy, and I know that what we're going to be going through is a little grueling. My husband and I are already learning from these experiences of me going away for five months to shoot a movie. I work for 16 hours and he has to travel every seven days. The best thing we can do for our boys is make sure that they are eating healthy and they are super happy and that the food they eat doesn't affect their character or personality."
On filming her character's fight scenes:
"[Uhura's fighting scene] was so fast, they were already working with the stunt team and I came on-set, and what I saw was the simplest routine. I saw it as a dance choreography. I just got into it! It was super fun, and it was also a very fast movement that I did and it didn't require me spending countless hours in training."
Her favorite Star Trek Beyond scene:
"I haven't seen the movie yet, but I love when Beastie Boys' "Sabotage" is playing on the ship and it's like, 'Are we going to die? Are we going to make it?' It just feels so awesome. I can't wait to see it!"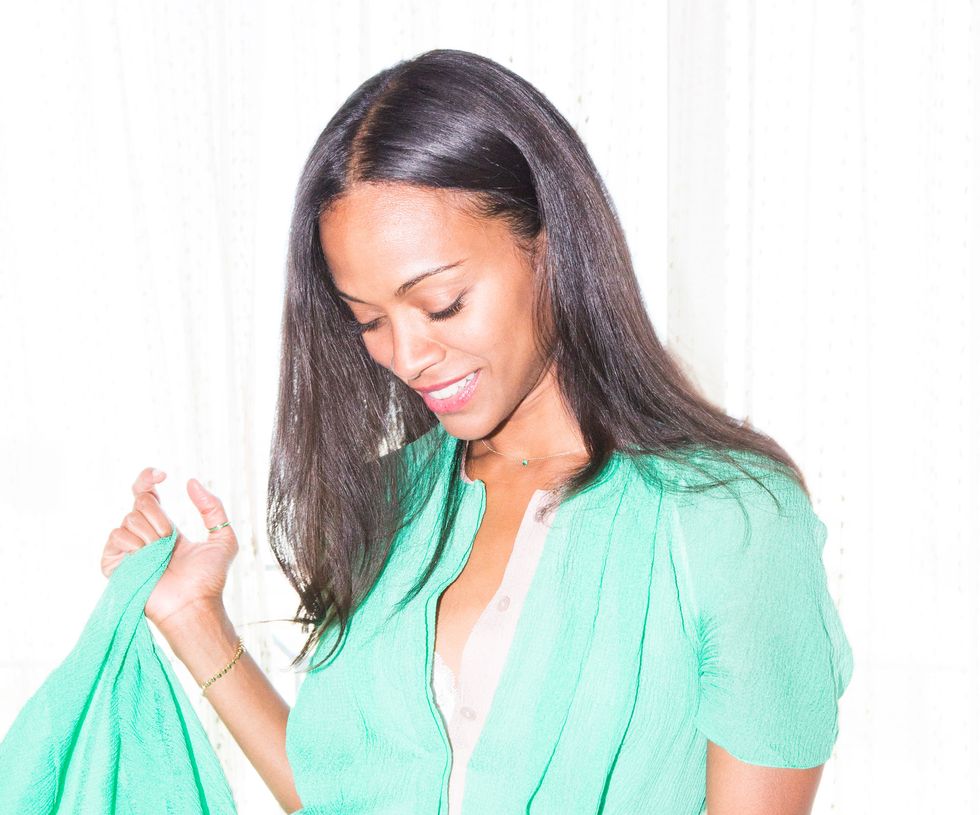 On being the only female in the Starfleet group:
"I hope JayLah becomes a permanent part of Starfleet in the next movie. Sofia Boutella is an exceptional actress. And it does get lonely being the only girl—sometimes you wish there were more of you. So I couldn't be happier and more proud of her to feel like a part of something else in the sisterhood of actresses."