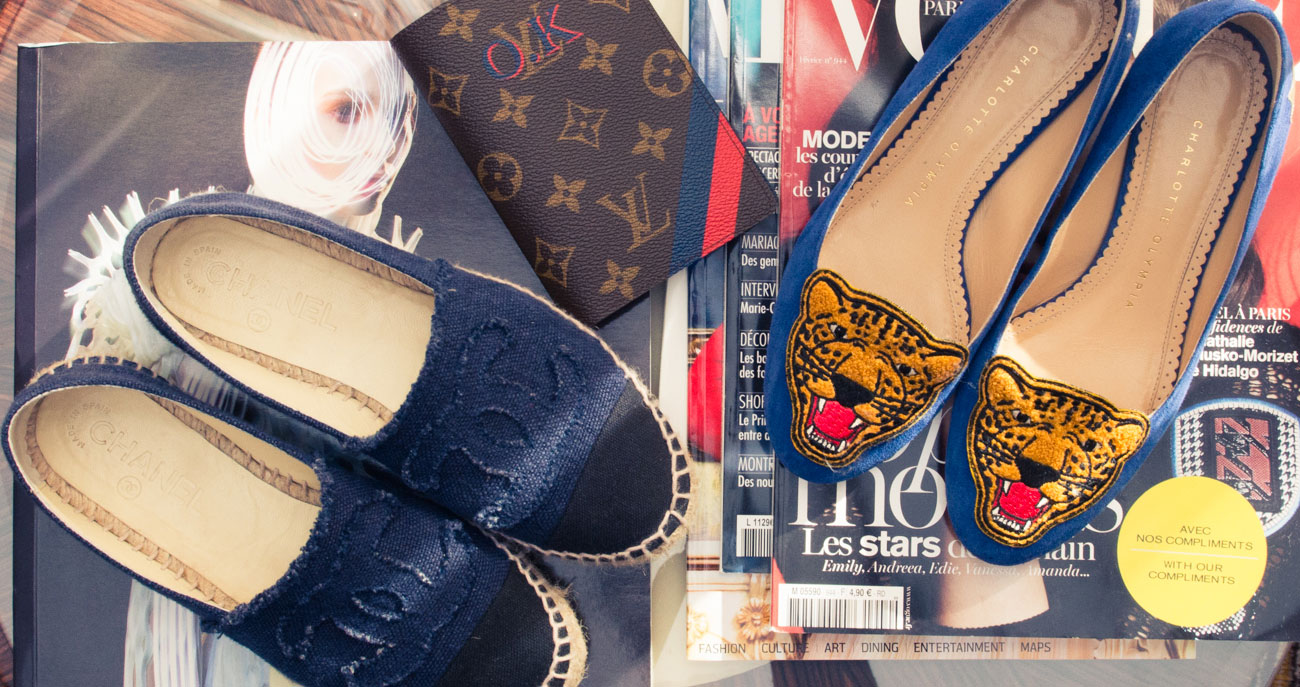 How Editors Get Over Jetlag
When your 9-to-5 includes a lot of travel and you need to get over the time difference fast.
There's a unique feeling that comes over us post- long-haul flight. It's something between a hangover and an all-nighter—where it feels like every single cell in our body has withered and is in desperate need for some (any!) hydration; when your head is pounding from one too many mini bottles of cheap Merlot; when your legs feel permanently cramped from being pretzeled in economy. The latter, however, doesn't apply to our editor friends below… because press trips equal business class. But still, their airline status means they've acquired next-level pre- post- and in-flight tricks for walking off the red eye looking and feeling like polished, put-together humans. Talk about life goals. Naturally we needed to find out how they do it. Because when you have to go from the airport to a chic AF event, there's no other option.
DANIELLE PRESCOD
Freelance Editor
Pre-flight
"I am a psycho about packing! I never eat plane food so I have to bring all my snacks with me: protein bars, fruit, nuts, etc., so that I'm not totally starving the entire time. I also make sure to have adequate entertainment: books, magazines, a fully charged iPad. You never know how long you might be sitting on a runway, and you can't always trust the in-flight entertainment system. I also have my laptop always in case I need to get work done. Beyond that, I try to stretch as soon as I get on the plane. My muscles tend to tense up so I like to be really loose. If I'm not in business, I try to fly in an aisle seat so that I can get up and stretch."
In-flight
"Planes make me narcoleptic, so I always fall asleep really easily. This is not really a tip but it helps for making sure that you don't arrive anywhere tired. Knock yourself out for as long as possible. Sleep is good for you."
Post-flight
"If I have a hotel room with a tub, I always have bath time. It's a really fun series on my Snapchat if you're interested in seeing what delirious babbling looks like. I also always try to eat a real meal after a long flight. If it's the daytime, I will do my best to stay awake and stay busy. If it's the nighttime, I will try my best to unwind."
Her fuel
"Pre flight: [I eat] an omelet with spinach, broccoli, and kale, a side of avocado and some bacon. Also, tea is hugely important to me. If it's a day flight, a matcha latte and if it's a night flight, black tea with almond milk. Post-flight, I'm primal. I want meat, so I always have a cheeseburger with no bun and a side salad."
AYA KANAI
Executive Fashion Director at Cosmopolitan and Seventeen.
Pre-flight
"This Jo Malone Vitamin E gel is a lifesaver. I use it before and during every flight to help keep my skin hydrated."
In-flight
"I try to get as much sleep on the plane as I can. To help with that, I love to keep perfume oils with me as I don't like to take pills. Small flacons and roll-on bottles are perfect for travel and there are some really calming scents like Geisha Violet that are subtle enough to not bother my neighbors and help me fall and stay asleep.
My secret weapon to moisturizing my skin throughout a long flight is the Pocket Spa by Kelley Quan. Airplanes are super drying, so I don't travel without it. You might think other water misting sprays will do the trick, but this product literally changes the game. The mist is so fine you can feel it absorbing into your skin rather than bouncing off like normal water sprays."
Post-flight
"I'm not a purist, so I don't have any particular ritual. An Epsom salt bath is great if you can make that happen. But really, the most important thing is to immediately switch onto the timezone of your new location."
Her fuel
"I drink as much water as I can humanly handle. Before, during and after the flight."
JANE LARKWORTHY
Beauty Editor. W Magazine.
Pre-flight
"I pour two Emergen-C packets into a medium-size bottle of water and chug. I learned that from Vanity Fair's SunHee Grinnell and it has helped—not so much with jet lag, but with germs. I now get travel colds so much less frequently."
In-flight
"Other than popping a klonopin after take-off? Nah, [no other tricks]."
Post-flight
"I basically go back to bed the minute I can get into my hotel room. I try to sleep for at least four hours, sometimes more. I get up around 5:00 or 6:00 PM, have an early dinner, then have no trouble falling back asleep."
Her fuel
"I almost always skip the meals offered on the plane, or at least the dinner. Maybe I'll have one glass of red wine on overnight flights and some nuts, but otherwise, pass. On day flights back to the States, I'll also avoid the food. Not sure whether it helps, but I feel like I don't need too many calories for a day that's spent watching bad movies and sleeping!"
PHILLIP PICARDI
Digital Editorial Director. Teen Vogue.
Pre-flight
"I always get the biggest bottle of Fiji imaginable and drop an Emergen-C tablet inside of it. I drink that while I'm on the plane, and if it's a red eye, I take a ZzzQuil before I board. I know that it's so nerdy, but you will not see me without a neck pillow if my flight is more than six hours! I have yet to find a good, cheap one, so PLEASE holler at me if you see one. I also always make sure my phone is loaded up with at least five episodes of a good television show: Jane the Virgin is the best ever. And for take-off, I always buy the newest issue of Fast Company."
In-flight
"I have Hope Gillerman's Travel Remedy, which is an essential oil that I love—just put a couple of drops on the back of the neck, the wrists, and behind the ears. Manicurist Jenna Hipp once recommended it to me—she used Hope's oils on Miley [Cyrus] before any ultra-long nail appointment to get her to relax…it really does work wonders! Neal's Yard also makes an amazing hand sanitizer that you can travel with—it smells delicious. Everything you touch on that plane is covered in bacteria, so be liberal with it!
In-flight eye patches are fun to do and not as scary as a full face mask. Talika's honestly can't be beat (trust me, I've tried it all). A good face mist is imperative so you can keep moisture in, too, and Chantecaille Rose de Mai is the most luxurious spritz ever. And, of course, make sure you pack lip balm (I love Tatcha's) and a good hand and nail cream for dry or cracked cuticles (I love Clarins).
I always make sure I'm wearing good socks—I love nothing more than taking my shoes off in-flight! Before I go to sleep, I put on sunglasses… even if it's a red eye. Also, If you're afraid of doing eye patches or sheet masks on the plane, I totally feel you—bring a leave-on mask instead. Sisley's Black Rose is the BOMB for restoring hydration to tired skin. You'll get off a red eye looking better than you boarded."
Post-flight
"[I drink] tons of water, and a good run as soon as I get to the hotel will usually do it. If my hotel has a bath, I drop a cap full of Hope's Travel Remedy into hot water and let myself soak."
His fuel
"This is going to sound counterintuitive, but a regular Coke is pretty much my cure for everything when I'm feeling a little off-kilter. I'm so not the person to ask about food. I have the appetite of an adolescent boy, and you will for sure see me at Burger King before a flight ordering a Whopper with fries! #BurgerKween"
LEAH WYAR
Executive Beauty Director at Cosmopolitan and Seventeen
Pre-flight
"I chug water. A dermatologist, whose husband was a pilot, once shared her 'triple-eight' rule for combatting the extremely dehydrating plane air: Drink eight ounces of water an hour before, during and after the flight. Also, arrange for an aisle seat—it makes pee breaks less stressful!"
In flight
"I try to fall asleep as fast as possible. I'm a sucker for in-flight movies, so I won't even tempt myself by browsing. My essentials: a sleep mask, earplugs, and Donormyl—a French sleeping aid that never gives you a hangover (I stock up every time I'm in France). And no wine: it's dehydrating and oddly makes me jittery, especially with the Donormyl.
A lot of people do the sheet mask thing. I just can't look like Jason in-flight, so I layer instead: First, Beauty Rx Exfoliating Serum to prevent dryness, then I spray on Chanel Hydra Beauty Essence Mist, apply Lancome's travel size Genefique Concentrate and Eye Cream, and finally seal it all in with a flash balm (either Clarins or Chanel).
I'm also obsessed with Hope Gillerman's Travel Remedy: it's a roll-on that prevents plane bloat with essential oils like cedar and birch. I love it on my legs and feet."
Post-flight
"It's all about sunglasses—when you block out light, you trick your brain and allow it to adjust gradually to the new time zone. I pop them on as soon as I land, ideally for two hours. It looks pretentious AF, I know, but it helps.
The last few times I've gone to Europe, I've booked a massage or facial (usually at the hotel spa) within two hours of landing. It's basically an expensive nap, but it also unkinks any weird knots or aches in your neck and shoulders that inevitably happen from sleeping on a plane."
Her fuel
"Coca Cola Light! I crave it the second I land in France…I think I need the sugar and fizz to wake up."