Nutrition
The Tricks You've Never Tried to Stay Healthy While Travelling
According to the woman behind one of NYC's favorite workouts (who happens to basically live on a plane).
A few weeks ago, we were chatting by phone with Anna Kaiser (if you recall, she filled us in on hating colonics and loving ice cream—we can relate). And while she spoke eloquently on everything from wellness gadgets that activate brain waves to the benefits of alkaline water, her tips on keeping healthy habits while you travel really piqued our interest. With a schedule that occasionally sees us making the 24-hour trek from Moscow to Los Angeles (actually, make that a cool 36 hours when your flight's cancelled and you're stuck in Dubai...true story), we can confirm that the struggle is real. How tempting is a grilled cheese and massive plate of French fries via room service after crossing multiple time zones? Very. Luckily, Kaiser's genius tips (we can attest that hitting up a local grocery store upon your arrival makes aaaaall the difference) will save you the next time you hear the siren song of greasy food and a long nap.
---
How she stays healthy despite an insane travel schedule:
"I traveled 140,000 miles last year. I always bring snacks with me [to the airport]—I'll bring a green apple or a grapefruit, something that's very hydrating and also has fiber to keep me full. Or I'll bring crackers and chicken jerky, green juice or almonds. I try to stay away from bars at all costs—they're basically glorified candy bars."
How water makes all the difference:
"I always bring Essentia with me. It's alkaline water, and I'm obsessed with it—it's really changed my life. It's ionized, which hydrates you eight times better than other alkaline waters. I find that with flying and inflammation and dehydration, it's really important to drink high-quality water before and after you fly. They sell it at airports now, too, which is amazing."
How to navigate plane food:
"I do [eat airplane food], but it depends on the food. Sometimes I'll have the salad portion of the meal, or if it's a beautiful fish then I'll have the fish and kind of avoid the sauce and the rice."
Her in-flight beauty routine:
"I have an amazing Sisley eye mask that I put on right when I get on the plane, which keeps my eyes hydrated. You actually don't need to wash it off with water, you just wipe it off whenever you want to. Always bring an actual eye mask too so you can sleep and block out the light around you. And I always bring an extra pair of socks for security and to keep my feet warm."
Her foolproof method for defeating jet lag:
"I have a streaming membership [to AKT InMotion], and I actually do stream the AK Tread workout when I get [to my destination]. My favorite is the tread workout—it's really creative. I'll come up with new ideas on the road when I'm doing the tread workout. You bring weights on the treadmill, and you stay there for an hour and do different cardio moves. I like to play when I'm traveling and come up with new ideas for that workout. It keeps it really interesting and different. The great thing about the treadmill is it moves you, it gets you going, instead of standing in a cold-feeling gym with mirrors, staring at yourself like, 'What am I going to do?' That's one of my tricks, I love that workout.
I always work out the next day [after traveling] and the same day that I fly, whether it's before I get on the plane or after I land. It's usually before I get on the plane, just to open my body. Maybe I'll do some power yoga, and I'll definitely do cardio after I land to get the extra water out of my body and help me de-bloat. Exercising also helps to balance your circadian rhythms. But when you get a good night's sleep, wake up with the sun, go outside, try to stay up all day and get your cardio in, you feel amazing the next day. It takes me about two days to feel normal."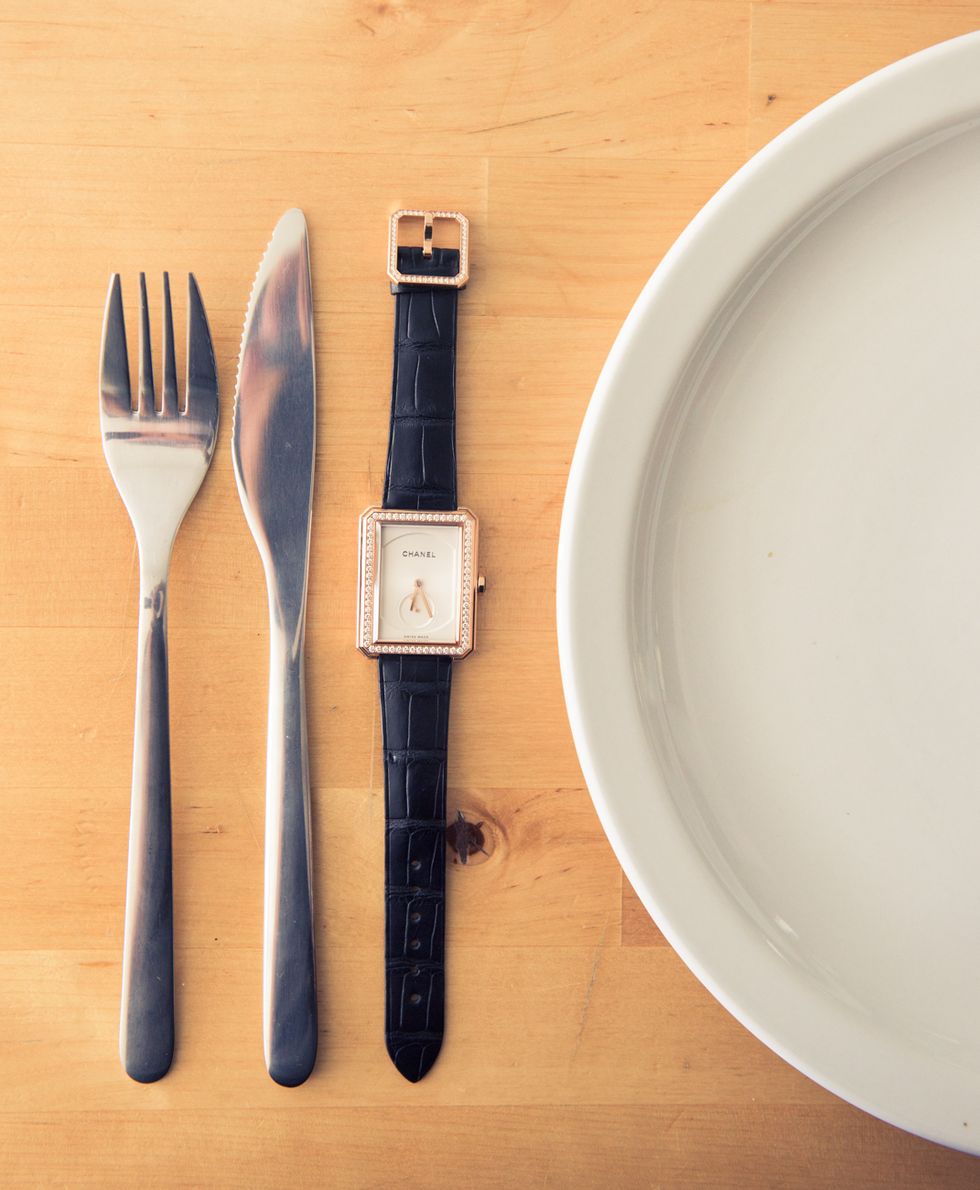 How she maintains healthy eating:
"I always go grocery shopping whenever I get to my destination. It's a great way to see the city and a good way to keep healthy snacks in your hotel room so you don't end up going for the mini bar. And then you don't end up paying $5 or $10 for water—which is so annoying! I usually buy one- or one-and-a-half-liter bottles and try to finish three of them a day. It's good to count because otherwise you're not really sure how much you're drinking."
A game changer when it comes to getting your sleep back on track (if you can find it):
"Oh, you know what I discovered?! Emergen-Zzzz. It's like Emergen-C—it's a tonic that dissolves in water, but there's melatonin in it. It helps me sleep at night if I have jet lag and I'm in a totally different time zone. It's incredible, but it's really hard to find!"