Get Well
Lauren Gerrie on her insane (literally) workout regimen, choosing deliciousness over health, and the "ballerina diet".
Renée Rodenkirchen
Lauren Gerrie is one of those do-it-all types that leaves you with one (annoying, self-sabotaging) question: How? Gerrie initially came to our attention through her endless stream of dinner parties with her "creative culinary company" Big Little Get Together (of which she's co-founder with partner and best friend Flannery Klette-Kolton), and their, ahem, VIP client, for whom Gerrie cooks every day; the one and only Marc Jacobs. But after photographing the chef-cum-entrepreneur at her apartment, we gave her a call to talk about exactly what she cooks for Marc (four years of cooking for the man allows for a first name basis); but while she put together his lunch, she told us a whole lot more—like the fact that she does Insanity every day (you've probably seen the informercials, which, if you're like us, scared you away from ever attempting it yourself), teaches a dance class inspired by Jamie Lee Curtis and "sexy dancing", doesn't believe in gluten-free anything, and has a serious thing for a particular type of lemon ice cream. However it is that you do it, Lauren, we salute you.
---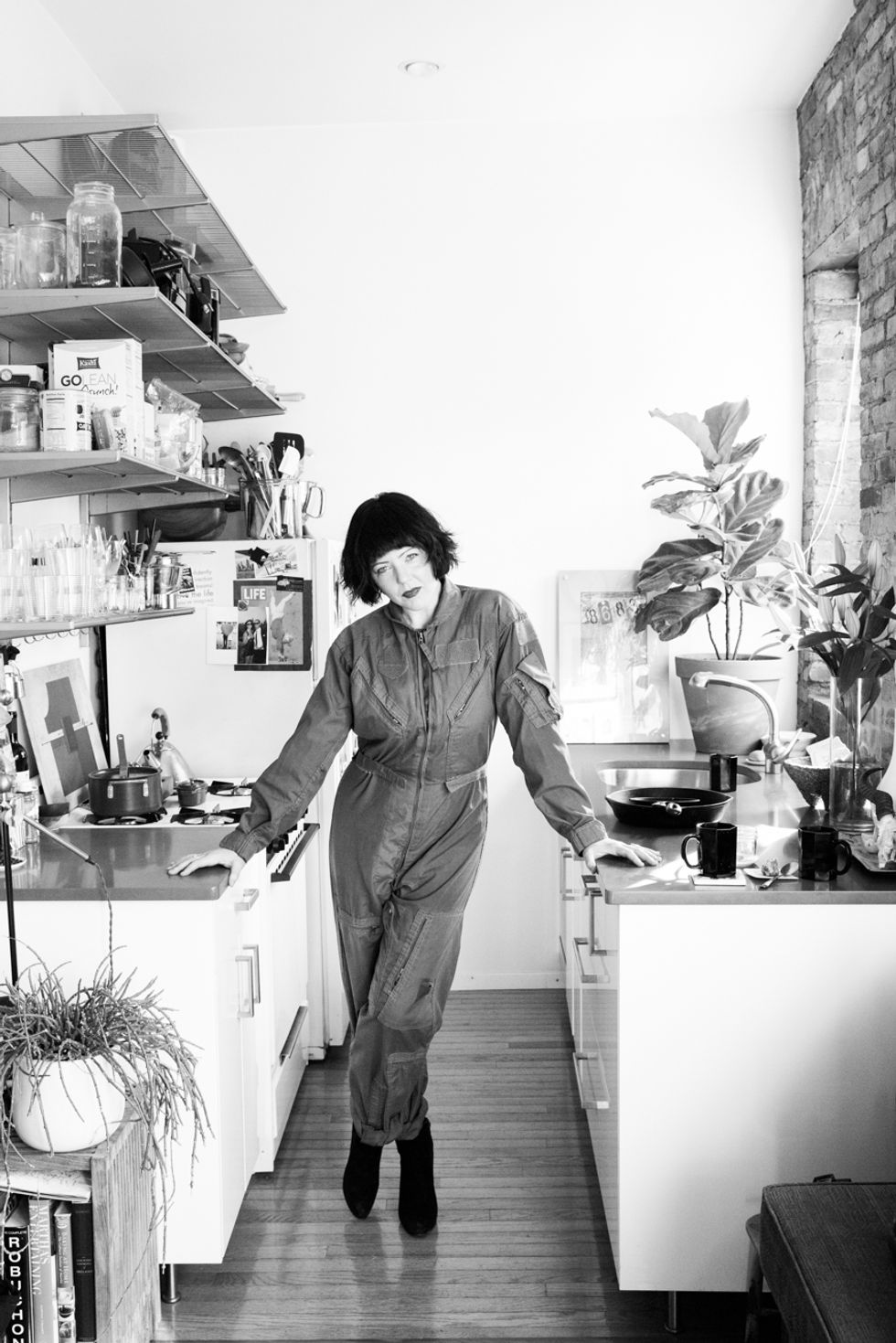 On her career (and cooking for Marc Jacobs):
"All through high school and college I had worked in restaurants and bars, and front of house; I was serving and bartending. I always loved the high energy of being in a restaurant and being involved in food, and I also grew up in a very food-centric family. I think the love was always there, but I went to New York to be a professional dancer and I went to college for graphic design. After I was done with school I travelled through Europe—pretty cliché but, I did—and I met this really incredible family in Tuscany, Italy. They owned a restaurant and pizza joint. Their whole lives revolved around food. The following summer I asked if they would be willing to have me come and work for them and they said yes, which was amazing.
After my experience in Italy and seeing that sort of lifestyle, I came back to New York and was like 'this is it'. It was pretty synchronistic, because I had met Flannery, my business partner and best friend, right before leaving for Italy, so when I got back she was really enthusiastic and curious about what I was doing. We ended up cooking together a bunch and then did a big party for a friend of ours and after many, many bottles of wine, came up with a name. All of our friends were like, 'You guys are really good at this, you should really think about doing this!' and since we came up with the name Big Little we had an LLC a week later. We jumped into it pretty blindly but, after being in Italy I just really knew that this was what I wanted to do. It wasn't so much about having this obsession with being a chef, I just wanted to be a part of the culinary world and the pull towards it was very, very strong for me.
Now we have had the business for almost ten years and we think of our company as a creative culinary company. We don't have any set menus and we work with a really wide variety of clientele. The creative culinary definition embodies not only dinner parties, but also doing brand experiences, consulting, and doing some styling and recipe testing, and it allows us to be a part of a broader spectrum of the culinary world.
 
I'm actually at [Marc Jacobs'] house right now, cooking for him. It's been about four and a half years now. My boyfriend, who used to the director of digital for Marc Jacobs, introduced me to him. At the time Marc was working on the house that he lives in now, and once it was built, his assistant was like, 'you know, he has a chef in Paris and now he has this house here so do you want to try being his chef here?' I mean, of course! We had a trial period and it stuck: Marc and I got along really well.
I'm here everyday for lunch and dinner and I also stock the fridge and the pantry, and do any sort of prep anytime he has any dinner parties or during fashion week. When they're at the office for hours on end, then I do food for the office.
 
But during fashion week my workload lessens. When you're really intensely focused, you kind of let other things go by the wayside and you allow yourself to give in to guilty pleasures. During fashion week I find that he tends to eat less and when he does eat it's usually junk food or be simple things—although this season was pretty good; he ate pretty healthy for most of the time which I think was really good for him. And because I'm so aware of his habits, I know now that during fashion week I can take on other jobs. During fall fashion week I did a dinner for Carine Roitfeld. With my normal schedule I probably wouldn't have as much as a flexibility to do things for other people, but Marc is the person who referred me to Carine and a lot of other people. He's obviously willing to share me… for the week, I guess.
 
For Marc, I cook a lot of chicken—it's one of his favorite proteins. I work with it a lot: be it whole roast chicken or different cures. Like any of us, he goes through periods of things he likes to have. For lunch right now he's on a real chicken and rice kick, so I brine chicken for 24-hours in a sugar and salt brine, and then I sear it in a cast-iron skillet, shred it, and serve it with very simple steamed rice. At other times it's been a variety of different salads—usually just very clean food."
On food that makes your feel good: 
"I like eating food that makes me feel good, that's incredibly flavorful, but where the flavor comes from natural ingredients. I think, inadvertently, my food happens to be health-focused. I love using butter, but I get really great butter. I definitely am not a fan of the gluten-free thing—I think that everything in moderation is a really good way to approach everything. I cook with mindfulness towards health, but it's more important for me that it's delicious."
On all-important exercise (and fitting it all in): 
"I am an exercise-aholic. It's like a joke between all of my friends: they are always so impressed, slash think it's crazy the amount of shit I can pack into one day. I think it goes back to my dancer days. I still dance; I teach an all-levels dance class with a friend of mine who I've been dancing with since I moved to New York. We teach a dance class that's called 'Move'. It's very aerobic and playful, but I like to channel Jamie Lee Curtis. We love sexy dancing—it kind of takes its roots in that.
I'm also a big cyclist; I ride my bike everywhere. And I do a lot of Pilates at Flex Studios and I do Nicole Winhoffer. I'm a big fan of Nicole and that's a nice way to get that cardio element into exercising. I also do Insanity everyday. I love Insanity! It's where I've seen the biggest transformation in my body, other than being a professional dancer. If you do it for the two months, your body will become incredible: chiseled and long, lean… I call it the naked body. You get the body where you want to take pictures of yourself in front of the mirror; you're not hiding from the mirror after the shower.
Working out is a huge thing for me. I'm on my feet all day, standing and lifting a tremendous amount—cooking is ultimately manual labor: you're hunched over and cleaning, washing dishes. Exercising and really balancing out body positioning is crucial.
On mental health and dancing: 
"For me, dancing and exercising is very much about mental health. I'm able to tune out at that point: I can't take any phone calls or emails. I'm not so much of a meditator, I'm really bad at sitting and being quiet—or sitting still in general. It always goes back to some sort of physical activity for me: going on really long bike rides really gives me a wonderful peace of mind and brings a sense of calmness. I also love going on vacation and laying on the beach and drinking margaritas—so that too. I do all the work so I can have periods of straight zone-out."
On water and having a "vessel": 

"I drink a tremendous amount of water. I have a really big Klean Kanteen that I carry around with me everywhere. That's actually one of the things that I really promote with my clients and friends is having a vessel: if you have the water vessel and you carry it around, and it's with you everywhere, then you'll drink it. I really don't like plastic water bottles—I'm pretty strongly against that."


On falling for juice cleanses: 
"I think it's surprising to most people, but I really don't have a lot of sit down meals. I don't have a standard breakfast, lunch, dinner. I drink a lot of juices as well. I'm consulting on a new juice project that's going to be juice and healthy grab-and-go in Pittsburgh. In my research for that I did my first total juice cleanse, and I chose to do it with Pressed Juicery. They don't claim to be 100% organic; they try to use organic ingredients as much as possible where they can, but I think it's also really important that they're offering the juice lifestyle to people who, before, would be like, I'm not paying $12 for a green juice, which I totally understand. They do a three-day juice cleanse and I ended up doing the cleanse for two weeks—that's how good I felt. I basically didn't want to stop. Because I was still working out, I was also very conscious of that, so I still ate when I got hungry or needed something to chew on—I would have almonds or cashews, or I would mix some chia seeds with my water. It was radical. And now I definitely incorporate juicing into my life as a crucial element to getting certain sources of vegetables and fruit."
On her morning routine and the "ballerina diet": 
"I can't imagine any adult that lives a crazy lifestyle that doesn't have coffee but, I wake up really, really early and have a glass of hot water and lemon juice every morning and then I work out. I'm a big morning-worker-outer, usually because it's just the best time for me to integrate it in. Then I'll usually go home and shower and, if I'm going to eat at that point, then I'll have two soft boiled eggs and a grapefruit. Flannery and I call it the ballerina diet because it's what Natalie Portman ate in the Black Swan—we always make a joke about it. But the acid of the grapefruit and the protein of the eggs really keep you going for a long time.
Then I go to Ninth Street Espresso every morning; it's where Flannery and I met, and it's in our neighborhood—and I think it's the best coffee in New York. We're loyalists there, and it's also a huge part of our community—we've met almost all our closest friends through Ninth Street. I have the Red Eye, which is drip coffee with an additional espresso shot, and that usually catapults me into whatever my day will entail! That's usually the only time I have coffee, although I will say that when we're doing a lot of events there might need to be an afternoon cup. For the most part I try to limit myself to one cup a day."
On her guilty pleasures: 
"I mean, I'm a chef… I have a huge oral fixation problem. All my restaurant experience was as a pastry chef and pastries have always been a huge part of my life. My sweet tooth is definitely my guilty pleasure. I would probably skip mains for the most part if it meant I could have the best dessert ever. I love ice cream. I interviewed one of my friends, Sarah Kramer, who is now an LA chef—she owns Madcapra in Grand Central Market—and we were talking about fat girl things. She was like, it's McConnell's Ice Cream. They have lemon and marionberry ice cream… It's like this creamy-lemony ice cream and then it's swirled with marionberry, which is a hybrid berry of blackberry and blueberry and raspberry, and it's got this incredible tang to it. I love anything lemony—I love lemon curd and lemon tarts. Put that in front of me and I could just kill it. In a very quiet, lonely session of eating I could do it—if I was a fly on the wall right now I wouldn't want anybody to see me inhale that food."
On cooking for herself as a chef: 
"When I cook for myself it's usually pretty simple: I make a lot of salads for myself. I think that's probably the basic thing that I crave the most—also, it's really easy— and I think that's the thing that a lot of chefs do for themselves. I also love making pasta. It goes back to my first gig—I was the bitch of the kitchen and I was with all the Nonnas, making really delicious gnocchis and pastas by hand. I still really love doing that—and it's so much simpler than most people think. I love doing anything that really involves working with your hands and having a bit of patience—that's why I love pastry. For myself I predominately make salads, eggs, and if I'm going to pick some sort of protein, it would definitely be fish—a very simple, prepared, seared piece of delicious, seasonal, local fish. And probably followed by a bowl of granola!
I'm a big snacker, so I snack a lot of nuts and raw fruits and raw vegetables—that's the type of stuff that I crave. I'm definitely not a pescetarian—I like having pork and red meat, but I don't crave it that much, so I wouldn't say that I integrate it into my daily routine. I eat a lot of eggs and a lot of cereal—I love me some cereal!"
On being mindful about food: 
"I think, for the most part, we know what's good for our bodies and what we really want; it's just the guilty things that get in the way. Now I'm less hard on myself. I used to be very scrutinizing of myself: 'Okay, you're only going to eat this, or you're only going to eat that, or you've already had this today, so you can't have anymore of that'. I don't do that anymore. I try to be mindful of what I'm eating so that when I choose to put something in my mouth—and I think we are very lucky to be able to have that choice—I try to be conscious of what it is and how it got to me and who brought it to me. I know that might sound a bit cheesy or obvious, but it's something that I truly live by. I just started watching Michael Pollan's new Netflix docu-series, Cooked. One of the chefs that he has on it says something like, 'I think people should eat whatever they want. If you want a pie, if you want a batch of cookies, have it! But challenge yourself to make it from start to finish. I'll guarantee you that by the end of doing that, you won't want to eat it because a lot of effort goes into making a pie, or doing a whole chicken, or something like that.' I think that's a really, really good point that as chefs we understand because we do it so often. If you couldn't do this yourself and really commit to it, then you should really think about why you're putting it in your body. Go from there: if you still feel good about it, then fuck it! Go for it."
On her advice for being healthier (hint: get up an hour earlier): 
"Ultimately the whole idea is that if you eat well and do the things that are good for your body, your body will treat you well in response and you'll ultimately be better as a person and you'll be better at what you're doing. If you're eating crap food, you're probably always going to be tired, and somewhat grumpy, and on edge. If you're inspired to eat healthier, do it in a simpler way. I'm not a big fan of following a diet or limiting yourself to this, that, or the other thing. Just always reiterate that whole idea of thinking about what you're putting in there. If you really think about it, it will be easier—it's not that hard to figure it out. Like with people who are thinking of working out and they're like, 'oh I just don't have time.' The truth is that you can make time. Yeah, you'll have to wake up an hour earlier, but I guarantee you if you wake up an hour earlier and do that exercise, you won't feel the difference in a negative way, you'll only feel it in a positive way. It's worth it!"