What Ballet Dancers Really Eat
Forget the Black Swan clichés. Here are nutritious (& delicious) meals dancers rely on for fuel.
Nutrition
It's all too easy to fall on the tired tropes that dancers are obsessive, pin-thin perfectionists. While we're not ones to minimize the very real pressures (and effects of said pressures) of the job, our recent visit to the National Ballet of Canada's studio and HQ pretty much instantly shot down any notion of the Black Swan types dancing in our heads.
Does the profession require serious dedication and discipline? Yes. Are these girls strong as hell? Yup. Do they view food as fuel rather than foe? You bet.
---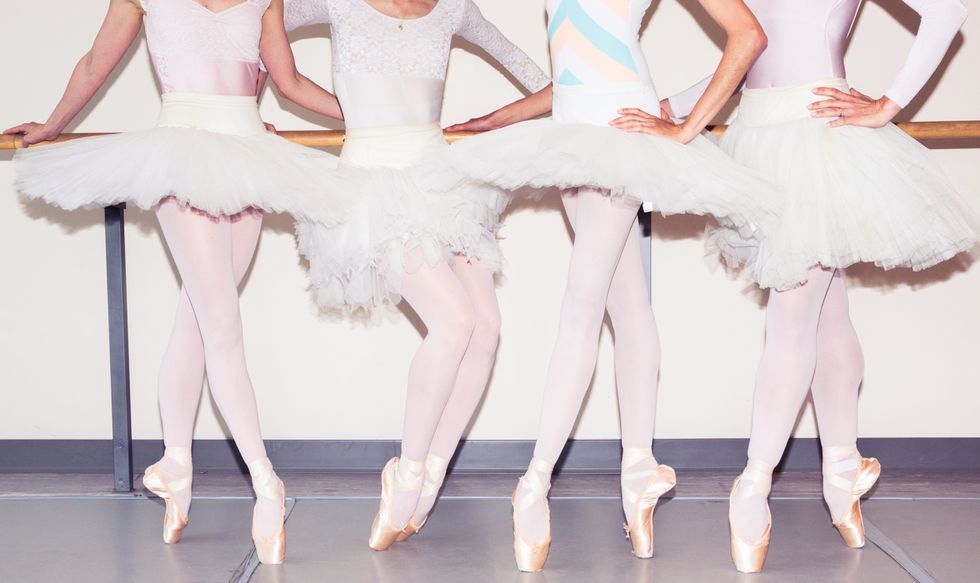 We spent the afternoon with four lead dancers working on the company's upcoming performance of Sleeping Beauty (like, in an IRL studio with IRL tutus and everything), dining on the protein-heavy and complex-carb meals that keep them going. And yup, wine, coffee, and kombucha are included in their day-to-day, too. Ballerinas: They're just like us!
---
Jillian Vanstone
Principal Dancer
---
BREAKFAST
coffee
1/2 grapefruit
2 boiled eggs
sautéed spinach in olive oil
LUNCH
greens
chicken breast
sweet potato
olive oil vinaigrette
green tea
 
DINNER
baked salmon with grainy mustard and steamed and buttered broccoli
sliced tomato
water 


SNACKS
1C blueberries with dry roasted almonds
Lindt 90% dark chocolate
water throughout the day
---
HOW DOES YOUR DIET DIFFER DURING THE SEASON VERSUS OFF-SEASON?
"I have to be strict about my eating during the season to fuel my performance and make sure that I recover from performances as well as I can. I'm very health-conscious and aim for foods that are very nutrient-dense. During a long rehearsal or performance day, it can be really hard to sit down for a proper meal, so I sometimes end up splitting my lunch into two and having snacks on hand. I don't want to feel too full before dancing, but I also need energy. I also make sure that I am getting enough fluids. 
 
"During the off-season I can be more relaxed. It's nice not to have to plan as much. Even when I'm not dancing, I'm still pretty nerdy about being healthy, but that being said, I try to follow the 80/20 rule."
 
FILL IN THE BLANK: "My last meal on earth would be ______"
"Caesar salad, duck confit with fries, and chocolate-covered almonds."
 
DO YOU HAVE ANY GUILTY PLEASURES?
"Chocolate!"
 
WHAT ARE THE MOST IMPORTANT  NUTRIENTS IN YOUR DIET?
"I aim to incorporate as much nutrient-dense food as possible. I wouldn't say one nutrient is more important than the other. I make sure I get enough protein to support my muscles and enough carbs to fuel my performance and recovery. Healthy fats are so important for nutrient absorption and other important body functions. I just try to get the right ratio of nutrients for my body, and I eat lots of veggies, which seems to be the one thing we can all agree is good for us. 


"I have been eating gluten-free for almost 10 years. I spent a year dealing with some awful stomach issues; when I figured this out, it made such a difference. I don't buy 'gluten-free' products, though. They are expensive and are never the same as the real thing. I just eat things that are naturally gluten-free, including when I decide to indulge."
Baked Salmon with Grainy Mustard and Steamed Buttered Broccoli
SALMON:
1. Place uncooked salmon, skin side down, on a parchment-lined baking sheet and cover with grainy mustard.
2. Cook for 10-12 minutes at 350 degrees.
GRAINY MUSTARD:
2 tbsps of pommery mustard
2 tbsps maple syrup
1 clove of garlic, finely chopped
salt and pepper to taste
---
TANYA HOWARD
First Soloist
---
BREAKFAST
coffee
2 eggs/frittatas
2 pieces of toast
 
MORNING SNACK
fruit salad
 
LUNCH
chicken club on a croissant with aged cheddar
roasted Italian potato salad
iced tea or San Pellegrino 
 
AFTERNOON SNACK
coffee with granola bar or nuts
 
DINNER
chicken and rice with veggies
---
HOW DOES YOUR DIET DIFFER DURING THE SEASON VERSUS OFF-SEASON?
"I'm a little more careful with what I eat during the off-season because I'm not working the same amount of hours, so I'm not burning as many calories."
 
FILL IN THE BLANK: "My last meal on earth would be ______"
"Bison Aussie burger (burger with fried egg, pineapple, and beets!) and sweet potato fries."
 
DO YOU HAVE ANY GUILTY PLEASURES?
"Chocolate. Every day."
 
WHAT ARE THE MOST IMPORTANT NUTRIENTS IN YOUR DIET?
"I have no dietary restrictions, but I feel like I need to have protein with all my meals. Especially before a show."
Chicken Club Sandwich with oven-roasted chicken breast, crisp double-smoked bacon, fresh tomato, cheddar with an herbed aioli

ROASTED ITALIAN POTATO SALAD:

1. Quarter 3-4 red-skinned potatoes and roast at 325 degrees with olive oil, salt, and pepper until fully cooked inside.
2. Remove from oven and toss in sundried tomato vinaigrette with white beans, sun dried tomato strips, quartered artichokes, and fresh basil.
VINAIGRETTE RECIPE:
1/2 cup olive oil
1/2 cup sundried tomato water
2 tbsps. red wine vinegar
1 tbsp. Dijon mustard
1/2 cup torn basil leaves
1 tbsp. honey
1 clove of garlic
salt and pepper
1. Using 1 cup of real dry sundried tomatoes (not the ones packed in oil), soak for 15 mins in a pot of just boiled water.
2. Cut the tomatoes in strips for the salad, and use the soaking water for the vinaigrette.
3. Combine all ingredients and whirl with a hand blender.
---
JORDANA DAUMEC
Second Soloist
---
BREAKFAST
two eggs with a bowl of rice
a latte (coffee is a must!)
 
MORNING SNACK
some honey Greek yogurt, cashews, or a banana 
 
LUNCH
a salad with some kind of protein, like chicken, as long as it has a nice dressing, OR
a sandwich, maybe with salami and a garlic aioli. Garlic aioli always makes everything so much better. And ginger ale.
 
DINNER
Usually a Japanese meal, some kind of protein like steak or fish (my favorite is sockeye salmon cooked in a pan with butter!) with rice, miso soup with daikon and tofu, and a side of avocado, cucumbers, and tomatoes.
 
AFTER-DINNER SNACK
Some kind of dessert like ice cream or a cookie. 
---
HOW DOES YOUR DIET DIFFER DURING THE SEASON VERSUS OFF-SEASON?
"During the season I tend to have more snacks throughout the day. Rehearsing and performing takes a lot of energy, so it needs to be replenished. When we are in our off-season, I tend to do a more relaxed diet, where I eat when I am hungry, not just based on what time it is, but I make sure it's still good for me and it's enjoyable to eat."
 
FILL IN THE BLANK: "My last meal on earth would be ______"
"Pizza. Definitely a New York-style pepperoni pizza. My favourite! That answer hasn't changed since I was a kid."
 
DO YOU HAVE ANY GUILTY PLEASURES?
"The top of the guilty-pleasure list would be desserts. I need to treat myself to something every day—makes my stomach smile. Anything from ice cream (which I sometimes make myself) to small desserts from our local bakery."
 
WHAT ARE THE MOST IMPORTANT NUTRIENTS IN YOUR DIET?
"Everyone gets their protein and healthy fats in different ways. I try to switch between the usual proteins like beef, chicken, and fish, then add things like avocado, broccoli, and asparagus. Other snacks like cheese, yogurt, cottage cheese, and bananas with peanut butter are great too during the day when you need a pick-me-up. 
"It's important to eat well, and by doing that, you help prevent injuries and build stronger muscles. Not only are foods like these good for you, but they taste great, and it's always fun trying to figure out new recipes with them."
EGGS with Asian Brown Rice Salad
EGGS:
1. Fry 2 eggs in pre-heated cast iron skillet with sesame oil and butter.
2. Top with a drizzle of soy sauce and a sprinkle of roasted sesame seeds.
ASIAN BROWN RICE SALAD:

1. Cook brown rice in a 1:1 water : vegetable stock and 1 tsp. of five spice.
2. Toss butternut squash in sesame oil, garlic, salt, and pepper and roast at 350 degrees until tender.
3. Toss purple kale with rice wine vinegar, soy sauce, honey, sesame oil (1 tbsp. each for 1 head of  sliced kale), and roast at 350 degrees until tender.
4. Blanch 1/2 head of broccoli and toss with dressing.
DRESSING:
1/4 cup soy sauce
1/2 sesame oil
3 tbsp rice wine vinegar 
1 tsp Sriracha hot sauce (or more to taste!)
Toss all the vegetables and rice together with pickled ginger, sliced green onions, and toasted sesame seeds.
---
ANDREEA OLTEANU
Corps de Ballet member
---
BREAKFAST
2 baked eggs with bacon on a bed of greens
cappuccino
 
MORNING SNACK
apple with cinnamon
 
LUNCH
any kind of fish (usually sardines or mackerel)
dark green vegetables
a bottle of Kombucha (I make my own!) or coffee
 
AFTERNOON SNACK
99% or 100% chocolate and nuts 
 
DINNER
protein (steak, chicken, or shrimp)
veggies
glass of wine or an Old Fashioned or another cappuccino 
---
HOW DOES YOUR DIET DIFFER DURING THE SEASON VERSUS OFF-SEASON?
"During the off-season my meals tend to be more balanced than during the season. Because we work unusual hours during the season, if I'm not careful enough I can miss out on meals. I usually have to make sure that I get all the protein and good essential fats I need to have energy."
 
FILL IN THE BLANK: "My last meal on earth would be ______"
"Sourdough bread straight out of the oven with butter and salt, a rib-eye steak grilled in charcoal, home-cut fries with feta cheese, Haagen Daz coffee ice cream, and a shot of espresso to finish."
 
DO YOU HAVE ANY GUILTY PLEASURES?
"Haagen Daz coffee ice cream."
 
WHAT ARE THE MOST IMPORTANT NUTRIENTS IN YOUR DIET?
"Healthy fats and protein. I really notice a difference in my energy and mood when I don't take vitamin D and omegas. I eat mostly organic and stay away from bad sugars, carbohydrates, and processed foods."
Baked eggs
 
1. Preheat oven to 350 degrees.
2. Lightly oil muffin tins.
3. Crack eggs into muffin tins and add salt, pepper, and a dash of smoked paprika.
4. Bake for 7-10 minutes.
5. Add herbs/spices as desired (caramelized onions and sweet peppers; cherry tomatoes and basil; smoked salmon and fresh dill); Andreea's had mizuna, beet sprouts, and slivered leeks.