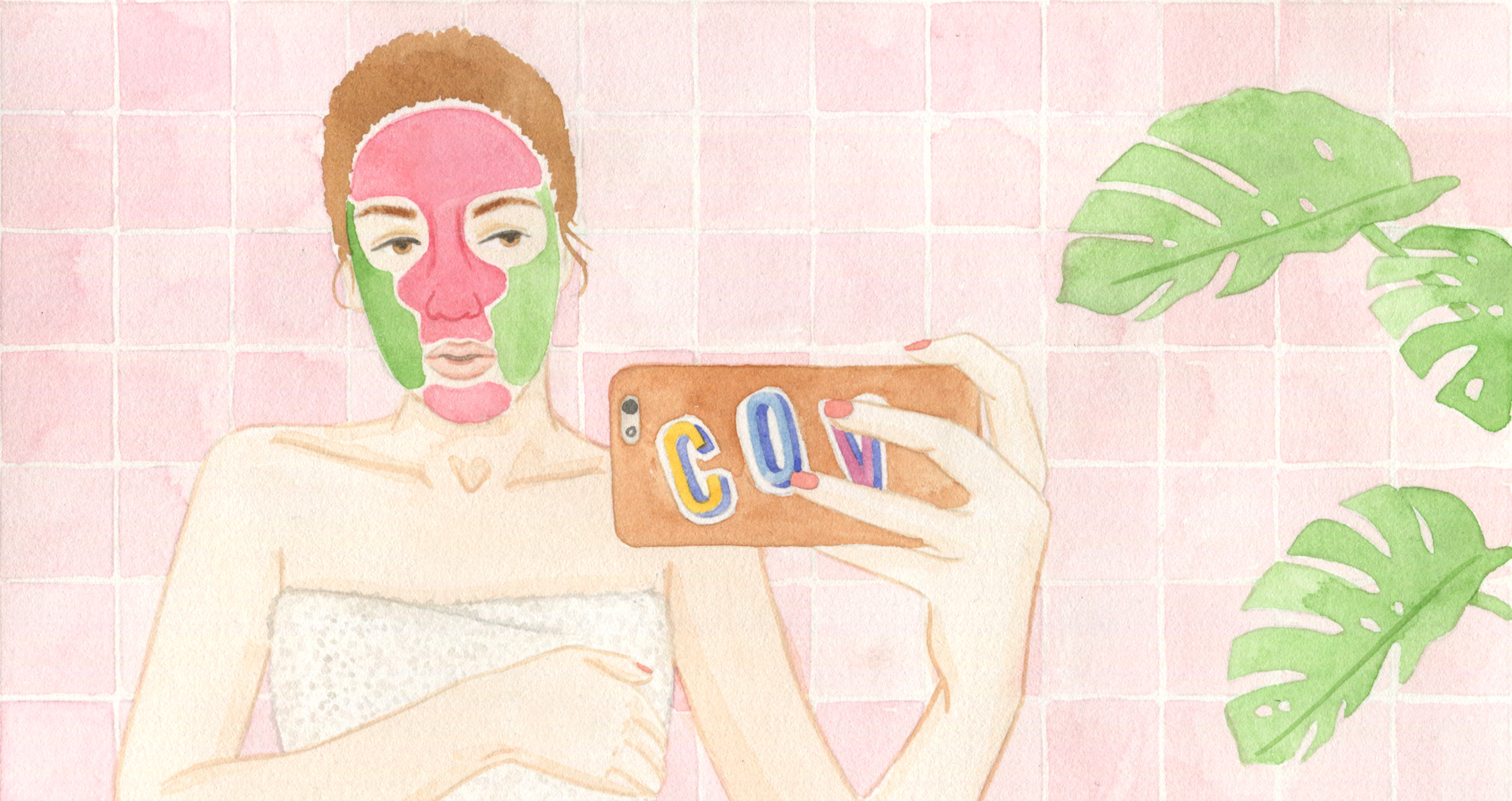 Editors' Picks: The Skincare Routines We Swear By
Cleanse, exfoliate, moisturize. You know the drill.
As editors who talk about everything from our waxing preferences to diet coke addictions publicly, we also have a tendency to habitually dissect every. single. step. of our skincare routines with one another and then share and recommend accordingly based on our own personal experiences (we test a lot of stuff, can you tell?). And like a lot of our discussions lately, we decided to share our entire AM and PM skincare situations—between the five of us, there's something for everyone, from slightly oily to combination; normal-ish—with you. Our kind of weird habits and can't-live-without products—some splurge-worthy (Caudalie) and some not so splurge-y (Cetaphil)—are also disclosed in full below. We may all have different skin types but it's safe to say our office might be the reason for any Bioderma shortages.
Meagan Wilson
Senior Editor & Social Media Manager
Because I'm both a) a creature of habit and b) the type who hates to have anything around that I'm not truly obsessed with; my skincare routine is a reflection of that, in that it's mostly made up of hard-won favorites and holy grail items that I (gasp!) actually purchase.
Every morning, I skip washing my face (Michelle Phan says it's cool, guys), but wash my hands (!) with a facial cleanser before I even think about touching my skin because I'm a complete fucking freak. Occasionally I even have a drugstore cleanser dedicated solely to this, but right now, I'm into Dr. Lancer 'The Method' Cleanser. It's lotion-y, fragrance free, and gets the job done. Then, I layer on Somme Institute Double Defense with SPF 30—I'm a P50 devotee (more on that later), but skip it in the A.M. because I have an unsubstantiated theory that it will make my makeup seep into my pores—before starting on my makeup.
Nighttime is where the real games begin. You know how I said I'm a sucker for routine? I start (after washing my hands because again, freak) by removing makeup with Bioderma Sensibo H20, and have for almost two years. My love goes so deep I hauled two one litre bottles back from Tokyo. They have pumps, too, which is a complete gamechanger. From there, I do a quick wash with Dr. Lancer's cleanser and then go on to mask a couple of times a week, where Korean anything obviously dominates. Caolion's Steam Pore Pack is the KEY, especially if you have congested or broken-out skin, and it's an amazing spot treatment, too. Extra points if you rinse off with a face towel soaked in steaming hot water for bathhouse vibes. I mix it up with My Beauty Diary sheet masks if I need to hydrate.
From there, it's all about swiping a cotton pad with a few drops of Biologique Recherche's P50 all over, concentrating where I need it. I'm not exaggerating when I say this stuff has literally changed, not just my skin, but relationship with it, too. It's hand-in-hand for birth control (TMI? Whatever.) when it comes to getting breakouts under control for me. It's pretty much faded any hyperpigmentation I had, and even if a spot does crop up, it pretty much obliterates it overnight. I follow all of  that up with Mizon's All-in-One Snail Skin Repair Cream, which is literally 92% snail slime, but I don't care because it's actual magic. Now that it's cold and my skin has a tendency to get a little dry, I alternate between that and Fresh's Seaberry Oil before crawling into bed.
Noah Lehava
Senior Editor
I'm really non-comital when it comes to my skincare routine. I guess it depends on my laziness factor for that day or if a fancy new press sample lands on my desk (I'm easily enamored by a face oil or sheet mask). My morning routine is about as simple as they come. Hopefully I have a clean face—but if there was some stubborn mascara or I had a few too many glasses of Malbec and (gasp!) didn't wash my face the night before, I'll Biorderma and go. It's amazing for taking off every last ounce of pigment and leaves my face feeling super clean. To help feel more awake pre-coffee, I'll splash my face with cold water. It also adds a bit of moisture before I put on a few serums—I vacillate between SkinCeuticals, M16, and Caudalie depending on how my skin feels that day.
In the evening, I use Dermalogica's Daily Microfoliant Powder Cleanser in the shower, which gentle polishes away all my dry skin. It's gentle enough to use every day and leaves my skin feeling :sparkles: clean. While my skin is still damp from the rinse, I moisturize with Dior's Capture Totale Universal Texture Creme. It's super hydrating and I'm obsessed with the smell. I also snagged the Rich Texture Creme version for those extra dry days. And just before bed, I dab on a few drops of Caudalie's Overnight Detox Oil, which, I swear, I'll use every day for the rest of my life—it's that life-changing.
RenÉe Rodenkirchen
Senior Photographer & Video Manager
I'm very barebones when it come to my skin routine. For me, the less fussy I am about my routine the better my skin is. Firstly, I stay away from wearing too much makeup. I don't want to clog up my 30-something year old skin. I want to stay young forever—a girl can dream right? But, if I do wear makeup I always wash it off with an oil. I'm a huge lover of oils for my skin, body, face, hair, you name it! I was using coconut oil for a really long time, but I constantly found that my skin didn't absorb it well and it stayed oily for too long. Then I moved on to almond oil from my local health food store, which was way better for absorption. BUT (!) then I did a photoshoot with Chantecaille and was given their Rose Oil.... total game changer. It's now part of my daily routine—I shower, wash my face with water and then apply the oil. My skin looks brighter and smoother since I started using it about four months ago. I also used to get little bumps around my eyes and these have since shrunk and/or disappeared since using it (so I'm pretty much obsessed). For night, I'm a big fan of the Sunday Riley line and am hooked on their Luna Sleep Oil.
Also, since coming to terms with the fact that I'm not in my 20s anymore I've started paying more attention to how I treat my skin and how I can slow the aging process. A couple of months ago I started using a retinol peel about once or twice a week. I love it because it makes my skin feels younger and really soft. I was also lacking an exfoliant in my routine, so this was the perfect addition plus it's paraben, sulfate, and phthalate free.
Emily Ramshaw
Senior Editor
My skincare routine is constantly changing because, you know, press samples. It's also relatively minimal. Mostly because I'm lazy and have no patience for standing around in the bathroom when I could be, like, watching Netflix or something. But here's the long and short of it: I literally use a different cleanser every week, right now I'm on Clinique Acne Solutions Cleansing Gel. I shower at night and wash my face then. In the mornings I use Biologique Recherche Lait U because someone gave it to me and told me it was good (see how conscientious I am!).
But I do have some can't-live-without-them-products: Biologique Recherche P50 pretty much changed my skin, which isn't even an exaggeration. I swear it's because of this cult French exfoliating toner that I finally got a handle on my adult acne (all the, um, dirty details are here). I use Skinceuticals Blemish + Age Defence serum almost daily after the whole cleansing and toning thing, especially when I have a breakout—it's the only acne-fighting product I've found that doesn't totally dry me out. And then there's the all important moisturizer. Right now I'm obsessed with Bare Minerals Bare Haven Essential Moisturizing Soft Cream, which is relatively easy on my wallet and actually keeps my skin soft all day long. Then there's the occasional, when-I-have-a-second, treat my skin products. I will use any and all sheet masks—I get a kick out of the weird process of pasting them on my face and then taking selfies—but this is like a once a month thing. When I really want my skin to "glow" though, I like Ole Henricksen's Power Peel—but I wrote many more words on that here.
While apartment hunting recently I may or may not have judged potential places on whether or not the bathroom storage was capable of housing all my skincare. Actually. And the winner has not one, but two, medicine cabinets :zap:. As a result of all the products, I switch my routine up quite regularly depending on how my skin feels.
In the AM, I splash my face with water or use a gentle cleansing milk. Then I moisturize the hell of out my entire eye area, because for some reason my eyes are *always* dry. I haven't found a moisturizer I love yet, but right now I'm using Caudalie, which seems to get the job done. Then I apply serum and moisturizer—I've been using Clinique's Dramatically Different Lotion since my mom gave it to me when I was like, 12, but I'm still so in <3.
For nighttime, I've been religiously soaking cotton pads in Bioderma Sensibo H20 to remove eye makeup for years. It's so gentle and one swipe gets everything off (no mascara stained towels here) so yeah, it really lives up to the hype. In terms of cleanser, I was team Cetaphil forever (and still am) but lately I'm into Tacha's Cleansing Oil, which removes all traces of dirt and makeup. Then I'll supplement with Peter Thomas Roth's Vitamin C Brightening Powder (which I've been using weekly since we tested it out here) for exfoliation or if my complexion is looking dull. Then, the most important step, Differin Gel spread over the entirety of my face. Incase you didn't read about it here, I've been victorious in my battle against adult acne (so dramatic, I know) thanks to my dermatologist prescribing this years ago. My face is also really dry (the retinoid doesn't help) so oil is my friend and Rodin is the OG. I'd rather look a bit shiny than parched. And the face masking obsession never ends, I probably do it three times a week. This Glamglow treatment is a super effective way to spot treat, dap it anywhere (spots, dry skin, clogged pores) and let it do its thing.